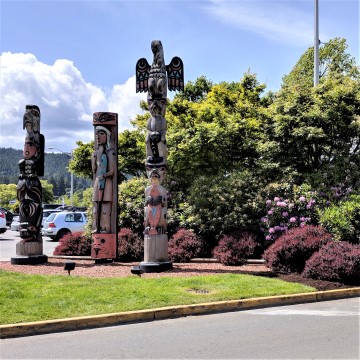 As most of you are aware, we tend to travel as a family more often than not and there are only two occasions I travel without the kids. The first is for our romantic parents' escape where Chris and I focus on ourselves and really unwind (we manage two of these weekend trips a year if we're lucky) and the second is a solo trip I take for work functions or conferences. Last year I experienced Fogo Island and this year I visited Victoria for a Travel Media Association of Canada Conference. After our year of travelling together and being with each other 24-7, it truly felt bizarre being on my own. It wasn't a trip I necessarily wanted to take on my own but I also knew that it was part of my job and something we'd all benefit from and so I pulled on my big girl panties and spent 4 days away from Chris and the kids.
My journey started before the crack of dawn on Wednesday when my parents dropped me off to the airport. I caught a beautiful sunrise at the Toronto Pearson airport before heading to Edmonton for my connecting flight to Victoria. From the moment I said goodbye to my parents I had that nagging feeling that I had forgotten something. Passport? Had that. Wallet? Yup in my purse. Laptop and Clothes? Check and Check. Oh well, I'll eventually figure it out and deal with it, right?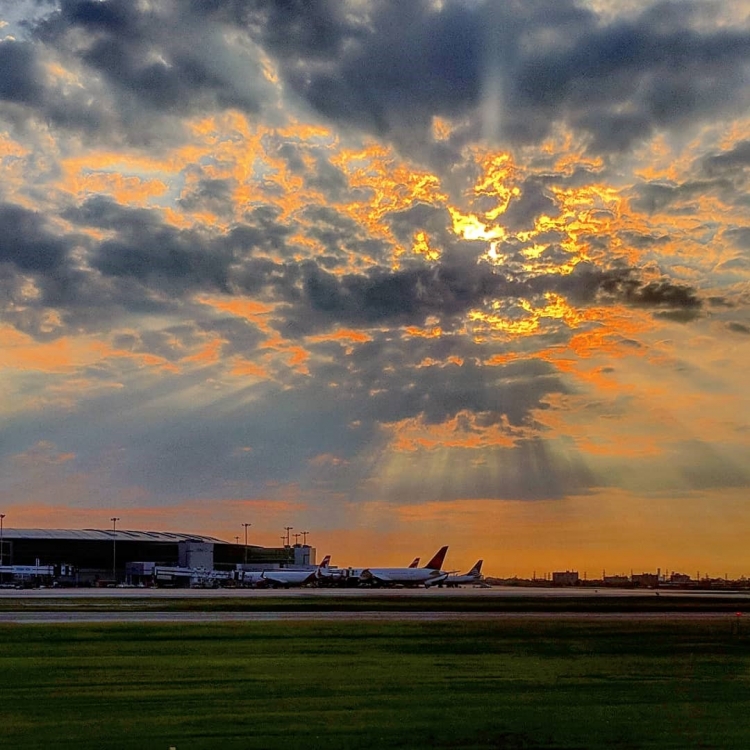 With no kids and a two hour layover in Edmonton, I gladly accepted the invitation to check out the Plaza Premium Lounge at the Edmonton Airport. As you know, we've always enjoyed our visits to the Toronto Plaza Premium lounges with the kids and so I took this chance to experience it on my own. The food was delicious as always and I even had the chance to meet the chef who makes everything on a daily basis. With a hearty breakfast in my belly, I managed to get some emails out before catching my flight to Victoria. I love the Plaza Premium Lounge because it enables us to relax and unwind but also offers a great selection of beverages (alcoholic and non-alcoholic) and the food is always good. It's hard to eat properly on travel days and I find that their lounges always offer healthy options and warm dishes.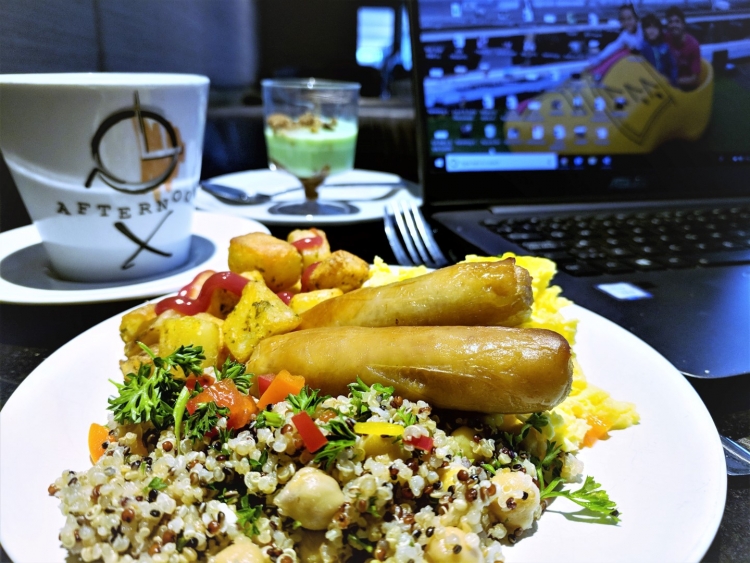 My flight was fairly uneventful but I did have the entire row (on both flights) to myself and so I watched the Netflix shows I had downloaded and attempted to take a nap. I watched all six episodes of  "Call your Midwife" a period drama set in London. While I didn't have kids along, I ended up having to listen to crying kids and screaming women in childbirth. Probably not the smartest documentary to have downloaded!
You'd think that over the span of 12 hours I would have managed to shake that  "I forgot something" feeling off, but I couldn't. It was only when I laid my head on the fluffy Fairmont Empress pillows that I realized what it was. Family. Not having to worry about snacks, forgotten toys or someone fighting with another meant that I had less to worry about but also meant that I was out of my element. I'm so used to travelling with others I need to keep tabs on that it felt like I had a missing limb on this trip. It took me an entire day to really get comfortable without the three of them. I've been on many work trips in the past but after travelling full time with them, this was a bit of a different experience. I did my best to stay connected with them back home but the time difference, the soccer classes and general shenanigans they were up to without mom around, made it hard. I did manage to Skype with them twice during the four days; once just as soon as they were tucked in bed and once when they were back from swimming. Chris had everything under control and I didn't do any prep work this time around! Chris impressed me when he sent me a photo of the kids ready for school in superhero costumes – he had even drawn the wonder woman logo for the costume!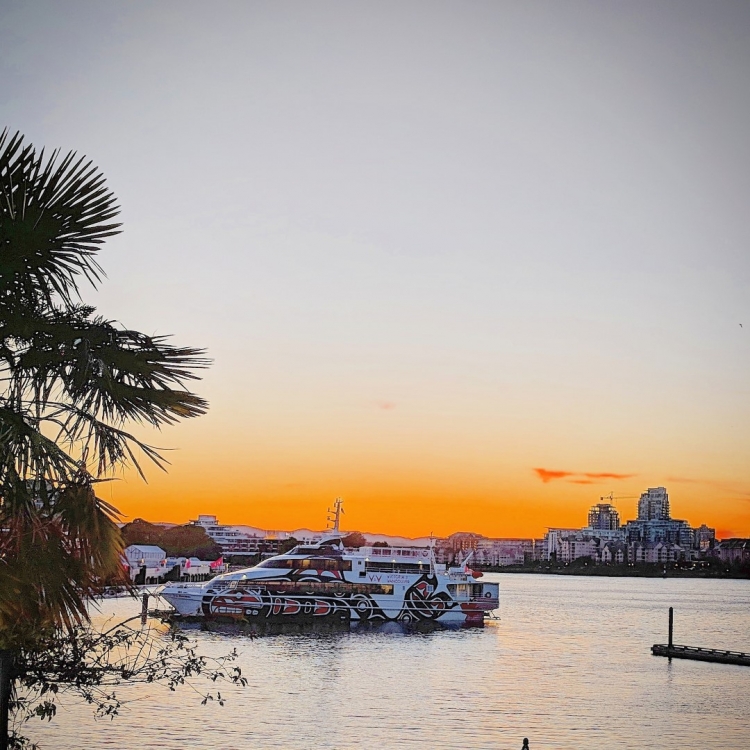 As for the conference itself, it was an amazing experience. In between the usual meetings and presentations I made new connections, reconnected with old friends and even had the chance to watch some Orcas and Humpback Whales in wild! One of the tours we did was with Eagle Wing Tours and our 3 hour trip on an open boat saw me get wet as I marveled at mother nature's majestic work. I was told that many families take the tour and the guide was very knowledgeable so it would be a great science and marine biology lesson for older kids. While it did take us an hour each way to get to the whales, I can see older kids enjoying the fresh air hitting their faces and mountain views on the journey to the whales. Younger kids are apt to be bored and then yell "where are they??". One thing I'll highlight is that this isn't an up close and personal experience. These are animals in the wild and you're observing them from a distance, something we should teach our kids to appreciate. Eagle Wing Tours are Canada's first 100 % carbon-neutral whale watching company and they donate a portion of the ticket sales towards sustainability initiatives. Definitely a tour worth putting on your list if you've never seen whales in the wild before. Just don't expect any "Free Willy" style scenes, okay?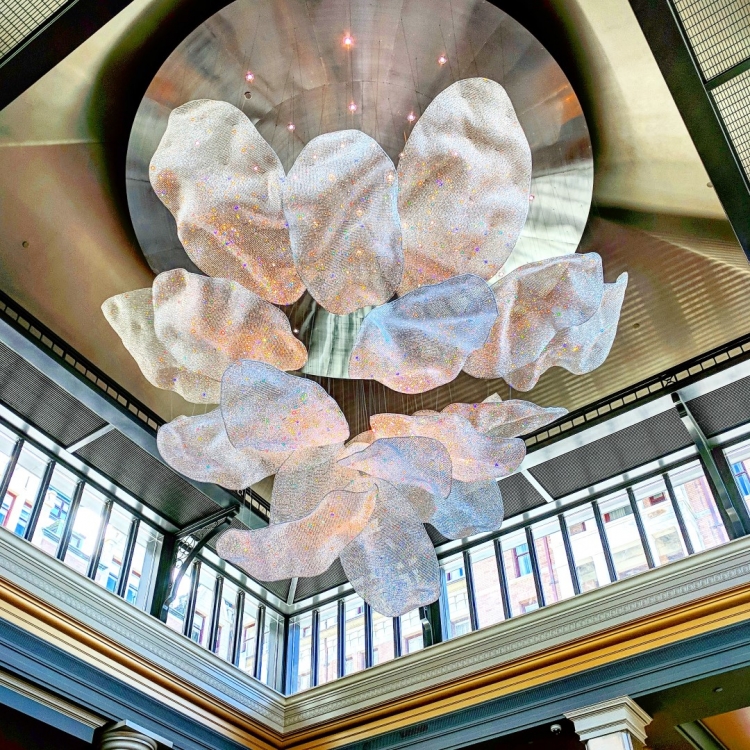 I dined and caught some pretty sunsets, stared at the STUNNING chandelier at the Fairmont Empress lobby and most of all, I networked and met inspiring individuals who are travelling to amazing places and sharing stories about these places. My return journey was a more peaceful one as I knew that I was heading home and should enjoy the quiet time as much as possible. I flung open our front door around 7 a.m. on Sunday morning and the kids were already huddled around their ipad (I took Baby Boy's one with me on the trip!) and didn't even acknowledge my arrival. I was informed that they didn't miss me because I Skyped with them! Go figure! I took that as a sign that I could take a much needed nap ( I rarely sleep well when I travel solo) and have slept for 16 out of the 24 hours I have been back!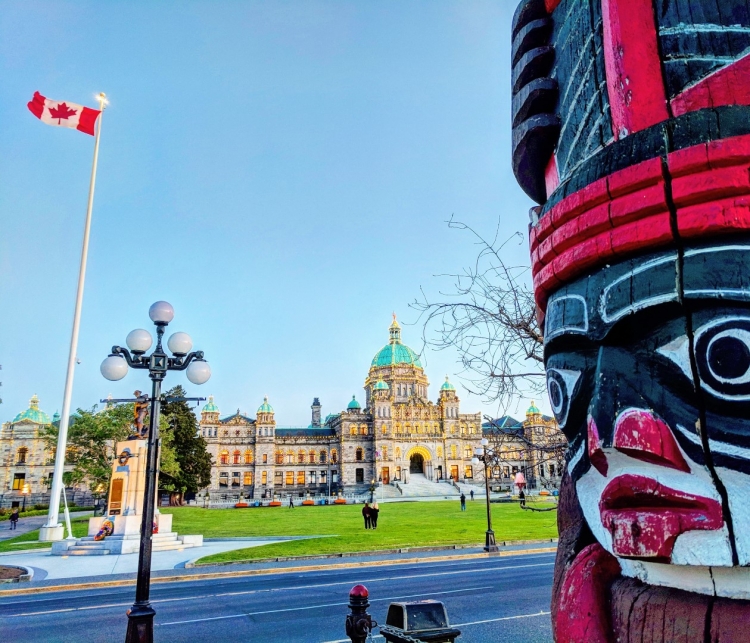 This was a travel themed conference and I had the chance to do some unique pre-tours but I wasn't ready to do them without the kids and so I didn't do much beyond the conference but if you follow the #TMACVictoria hashtag you will see what experiences are in store when you visit the pretty city of Victoria in British Columbia!