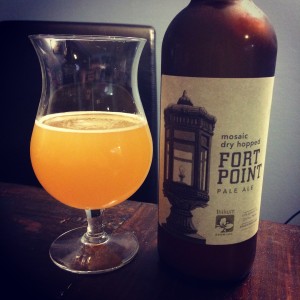 A couple months ago, I lamented that fact that I was unable to find even one good craft beer store in downtown Pittsburgh. On our recent trip to Boston with Porter Escapes, I had the opposite problem, an enviable list of options that I had to narrow down, lest I buy too many beer to pack in my suitcase for the plane ride home. Due slightly to our good fortune in staying at the Langham Hotel and then the Fairmont Copley Plaza, I found myself surrounded by a number of beer stores that my research had indicated as great places to buy craft beer, and so I picked out 1 shop near each hotel and also made it a point to visit the Trillium Brewery near the Children's Museum. I did not come home disappointed.
The Boston Wine Exchange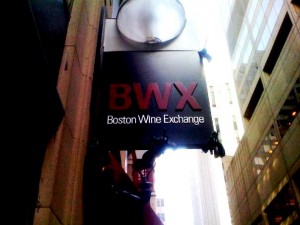 We started our trip at the Langham hotel, which is a five minute walk from both Federal Wine & Spirits and the Boston Wine Exchange. Opting for the latter, I made my way down to the shop the morning before we left the Langham and opened the door to find an inviting shop lined with spirits and wine. Any other day, I might have browsed the spirit selection but, pressed for time, I went straight to the back left corner of the shop to find a room filled with some of the best craft beers the United States, as well as Belgium, have to offer. The Belgian section contained a number of interesting lambic beers, a style I can't get enough of, and line along the top of the  cabinet were empty bottles from the Cantillon Brewery, a sort of secret code in the craft beer world that told me that the owners of the shop know their beer. One the opposite site, I discovered several options from The Bruery, a renowned California beer maker that produces some of the finest sour ales and bourbon barrel aged beers in the world. Though pricey choices, since I consider vacation a time to treat myself, I decided to pick up several of these $25 bottles. Shortly afterwards, I noticed a couple bottles of Deliverance Ale from the Lost Abbey, a beer I had been seeking for a while, and on the advice of the shopkeeper also picked up a couple 4-packs from Night Shift Brewing, a Massachusetts brewery, including Awake, a porter aged with counter culture coffee, and The 87, a very nice Double IPA. After walking out of the shop with 7 bottles and 8 cans of beer, I feared I might have reached my weight quota for the trip. This shop does have a couple stairs and I did pop by when everyone was at the hotel but the stroller would have fit and there was a nook to park the stroller if needed.
Trillium Brewing Company
Luckily, I had a small travel scale with me, and after shifting to the Fairmont Copley, I did a quick weight check to find that I had at least 6 Kilos of space left and began planning my next shop visit. My intention had been to visit Bauer Wine and Spirits at some point, since it is the top rated beer shop on the BeerAdvocate page for Boston (and because, Jack Bauer), but found myself close to the Trillium Brewery on our Saturday morning afternoon to the Children's Museum. Trillium has a whopping 14 beers on the Top 250 Beers list on Beer Advocate and I was surprised to discover that many were available in bottles when I walked in. While reading up on the brewery before visiting, some user comments had indicated that there is no beer sampling in the shop, which is true, and that only growlers are available for sale, which is false! The small bottle shop had close to a dozen bottles available for purchase, mostly American Pale Ales, IPAs and Double IPAs, and I was pleased to be able to pick up the highly ranked Galaxy and Mosaic Dry Hopped Fort Point Ales, the Double Dry Hopped Sleeper Street IPA, and the Secret Stairs Boston Stout, a delicious brew that I had tasted at Row 34 two nights earlier. Resigned to only being able to buy 4 of the options, I none-the-less left the brewery a happy man, and am excited to crack open a Trillium beer this weekend. This was a small spot and there's no way a stroller would have fit in here – so keep that in mind if you have little ones with you on your visit. 
The Urban Grape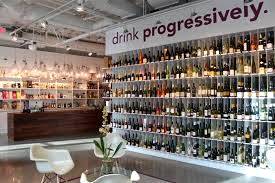 On our final night in town, we had a friend join us from Maine, and after enjoying some fine beers at the Salty Pig near the hotel, we discovered The Urban Grape. I had recalled seeing high ratings for the shop in my research and so Yashy and I stopped in to pick up a bottle of wine, and I was pleasantly surprised to find a very large selection of craft beer opposite the store's elegant display of wine. This is one of the most inviting beer and wine shops I have ever entered, with each bottle in the store prominently displayed, essentially on individual pedestals, along the wall. Even with our double stroller, we had plenty of room to explore (and it's best to keep the kids strapped in, given the number of bottles on display). I quickly investigate of the beer selection, found another beer from the Bruery I had to try and then let one of the staff members twist my arm into picking up a Darkest Night Stout from a local brewery called Down on the Road (each trip I make is a search for well known favorites and unknown discoveries). Realizing I may have overdone it, I spent the walk home wondering how many beers I would have to consume that evening in order to get our two suitcases under 23 kilos each.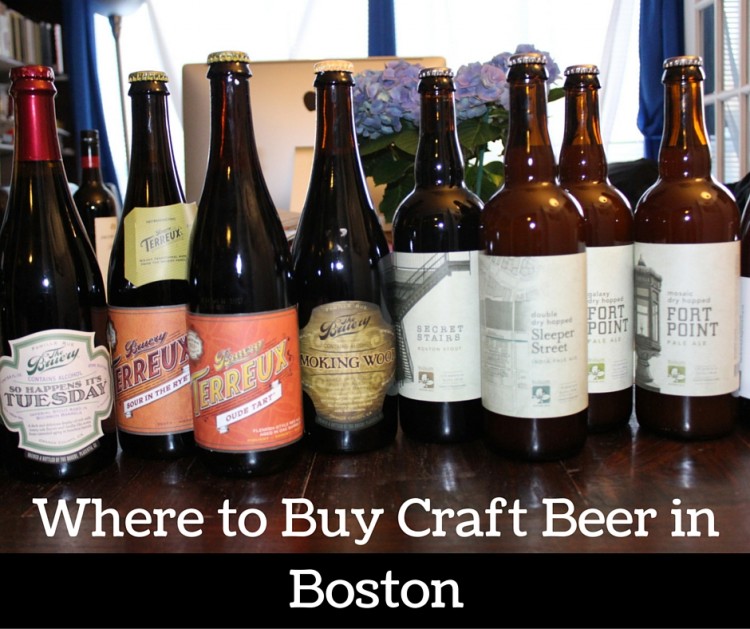 As I pulled out all my packing supplies and began to wrap the bounty in preparation for the flight home, I stuffed 8 well wrapped 750 ml bottles into the small suitcase I brought along for the specific purpose of bringing as much beer home as possible. With the bottom of the suitcase now filled, I stuffed in some cloths for additional padding and managed to squeeze in 4 cans of the Night Shift beer, leaving a couple for evening consumption. I had a couple more beer that I could easily pack into the other suitcase we brought for clothes and toiletries, you know, the non-essential items. The final weight on my beer suitcase, 21.5 Kilos – almost too easy. That's when I realized that I had forgotten about the 4 large Trillium beers I had stashed underneath the stroller that afternoon!
Having exhausted my bubble wrap supply, I took the old fashion route of wrapping the bottles into the thickest clothes we brought with us, stuffed in all the rest of our gear and pulled out the scale, 1.5 kilos overweight. After pulling out Yashy's computer and one of the smaller bottles from the Maine Beer Company (one of my favourite recent discoveries), putting it into the other suitcase, bringing its weight just shy of 23 Kilos. I was now sitting with 2 suitcases over 22 but under 23 kilos, really hoping that my scale was accurate. It was, the beers all arrived home safely, and Boston has provided me with one of my best beer hauls in years.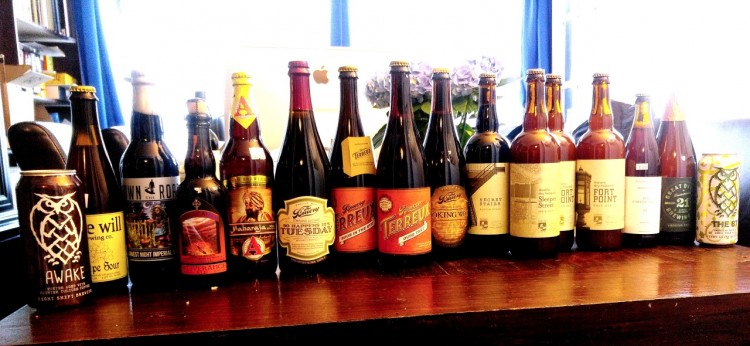 Yashy lived in Boston many years ago and I know this trip reminded her of how amazing a city Boston is, even with kids. With some amazing travel deals available through Porter Airlines and Porter Escapes, I wouldn't hesitate to go back, mainly for the beer of course!