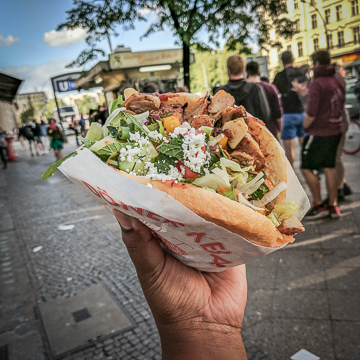 What a joy it is to eat in Berlin. Unlike in many European cities, it's fairly easy to stumble upon a great meal for less than 10 Euros. From Turkish Doners to Polish soup, Berlin's international mix of cheap eats is a foodie's dream. Each day brings a new culinary treat for those willing to explore the city's many neighbourhoods.
Best of all, Berlin's transit system will take you to dozens of different areas in less than 30 minutes. A few of the places we found are located near Alexanderplatz, which is one of the main hubs of the city. From there, a web of streetcars and subways can take you to all parts of the city, where there is so much great food to be found. The price of food in most cafes and restaurants we visited were a definite highlight of the site, and I began to wonder where all of the pricy restaurants were located (I am sure there are quite a few).
Here are some of the best cheap eats in Berlin
Delores
Have you ever heard of Calimex? That's what this local burrito shop claims to offer. Offering a self described mix of California healthy eats mixed with Mexican fire, Delores is the place to go for a hearty, high energy lunch (or late snack). I ordered the Wicked Beef burrito, which cost € 7,00, and contained adobo beef and smoky peanut salsa. It was just so good that I can't even imagine how frequently I would eat here if I lived in the city. In addition to burritos, Delores serves up quesadillas, soft tacos, soups, salads, and even offer their own branded beer, a pilsner produced by Maxbrauerei Biermanufaktur. With two locations in the site, one near Alexanderplatz and a second next to Wittenbergplatz, it's fairly easy to stop in when you are exploring the city.
Mustafa's Gemuse Kebap
Mutafa's is no secret. It's one of the most popular places to eat in Berlin. For that reason, you can expect to wait for 30 to 60 minutes in line in order to secure one of their delicious sandwiches. The small stand located on a Mehringdamm sidewalk draws such a crowd that there are a number of thriving food stalls operating in its shadows (including the next place on the this list). So what's all the fuss about? Well, Mustafa's makes a very tasty sandwich for under € 5,00. It's such a good value that it's easy to understand the appeal. Berlin has a large Turkish population and a great sandwich shop is never too far away when you are exploring the city. Mustafa's was the best one we ate, but the overall quality of the Turkish food we ate in the city was very high.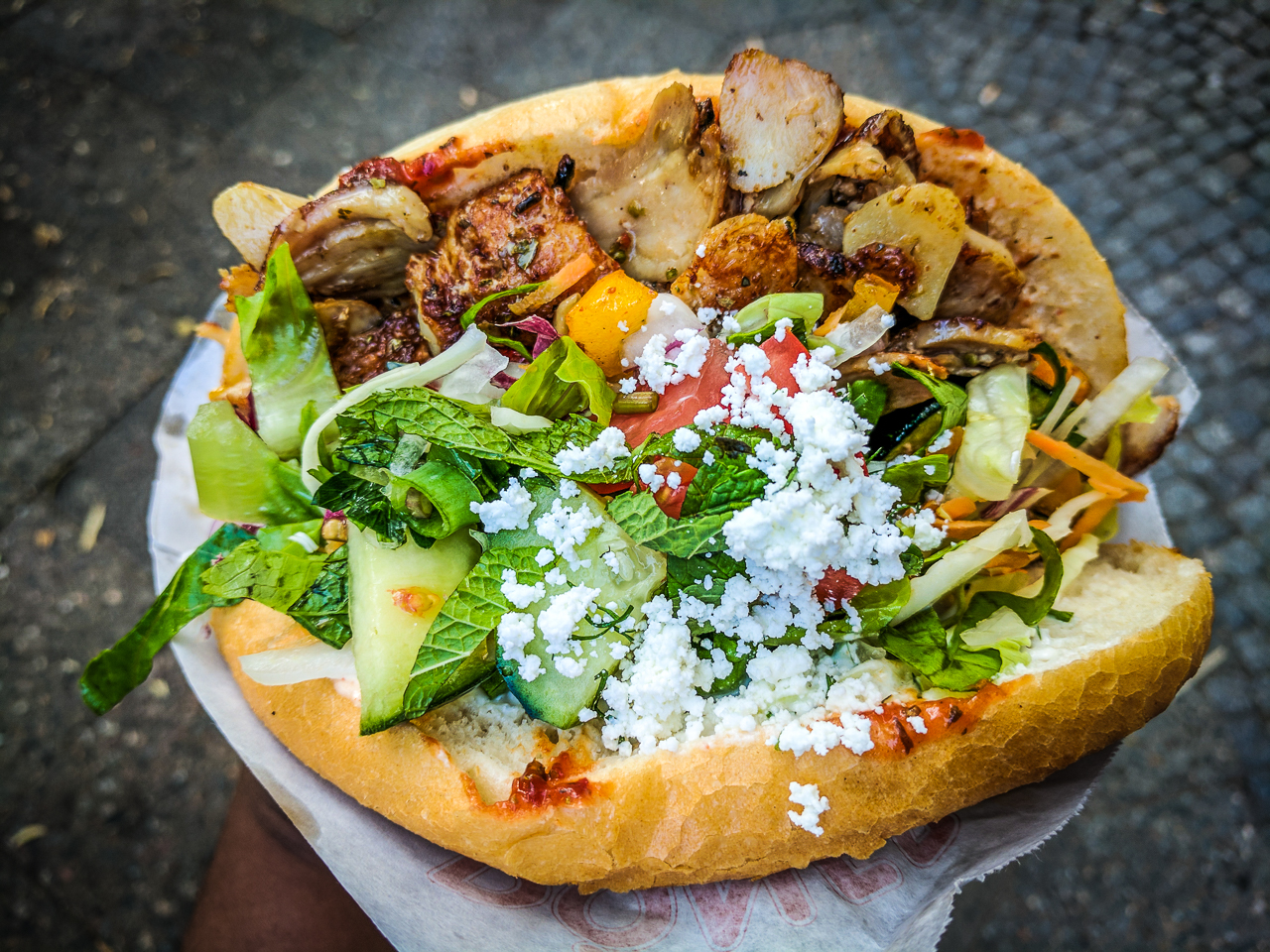 Curry 36
Located roughly 20 meters down the street from Mustafa's, Curry 36 offers up a dish that is near and dear to German hearts, currywurst, which consists of chopped up pork sausage doused with a sauce derived from Ketchup and curry powder. Not being a ketchup fan, I passed on this one, but Yashy and the kids devoured a plate as we waited in the Mustafa's line. The currywurst at Curry 36 comes with fries too. If you are visiting Berlin and looking for a dish that the locals eat, this is the one to get.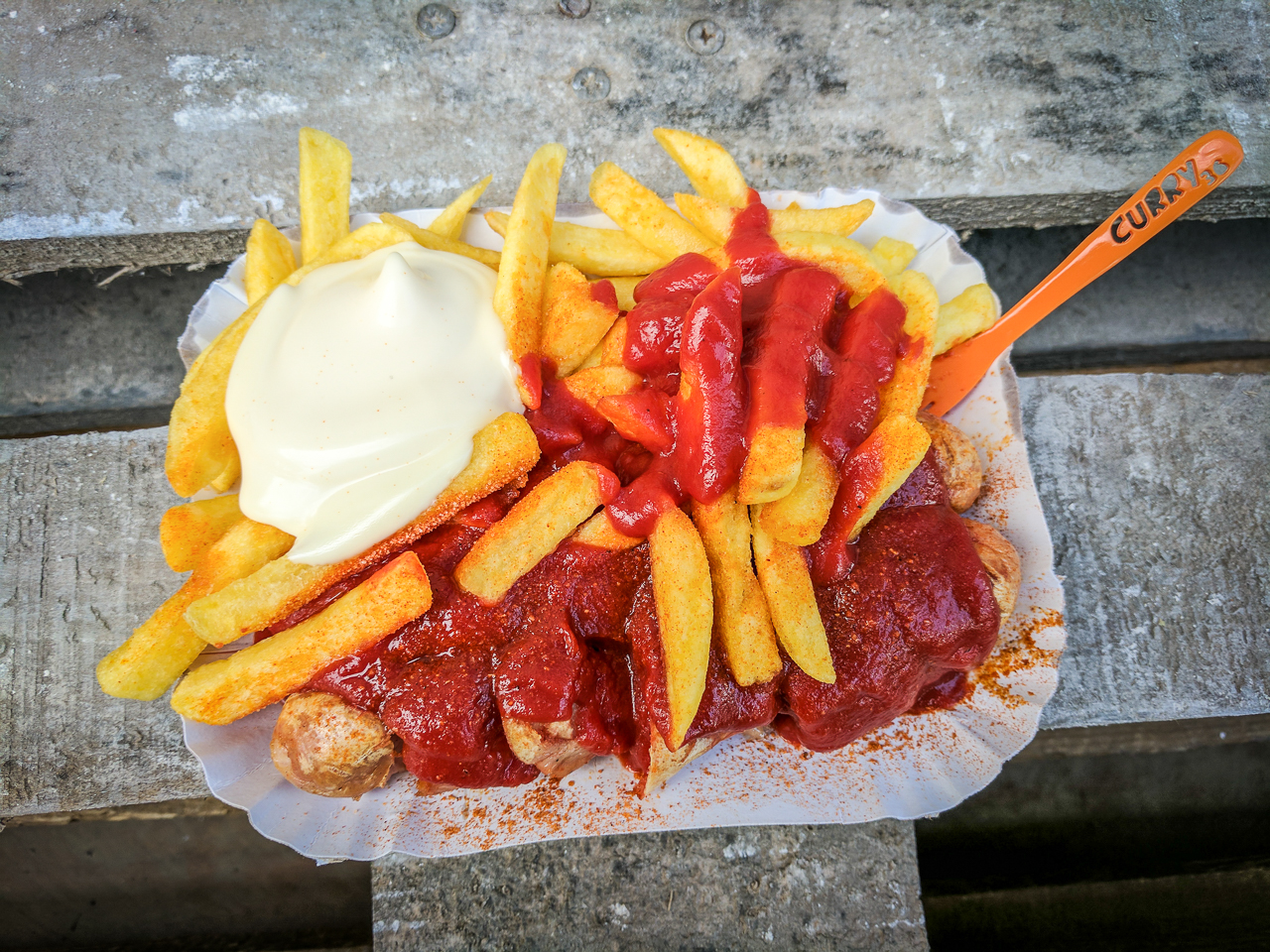 Tak Tak Polish Deli
Get the Zurek! A Polish staple, this soup has a slightly sour taste and features white sausage and potatoes, and it's delicious. We visited Tak Tak as part of the self guided bitemojo food tour, which offers users a chance to explore a number of neighbourhoods in the city. Tak Tak is located near Rosenthaler Platz, in an area that is home to a number of great cafes and food stops. We also tried the excellent beet root soup. Both dishes were affordably priced and every item on the menu was under € 10.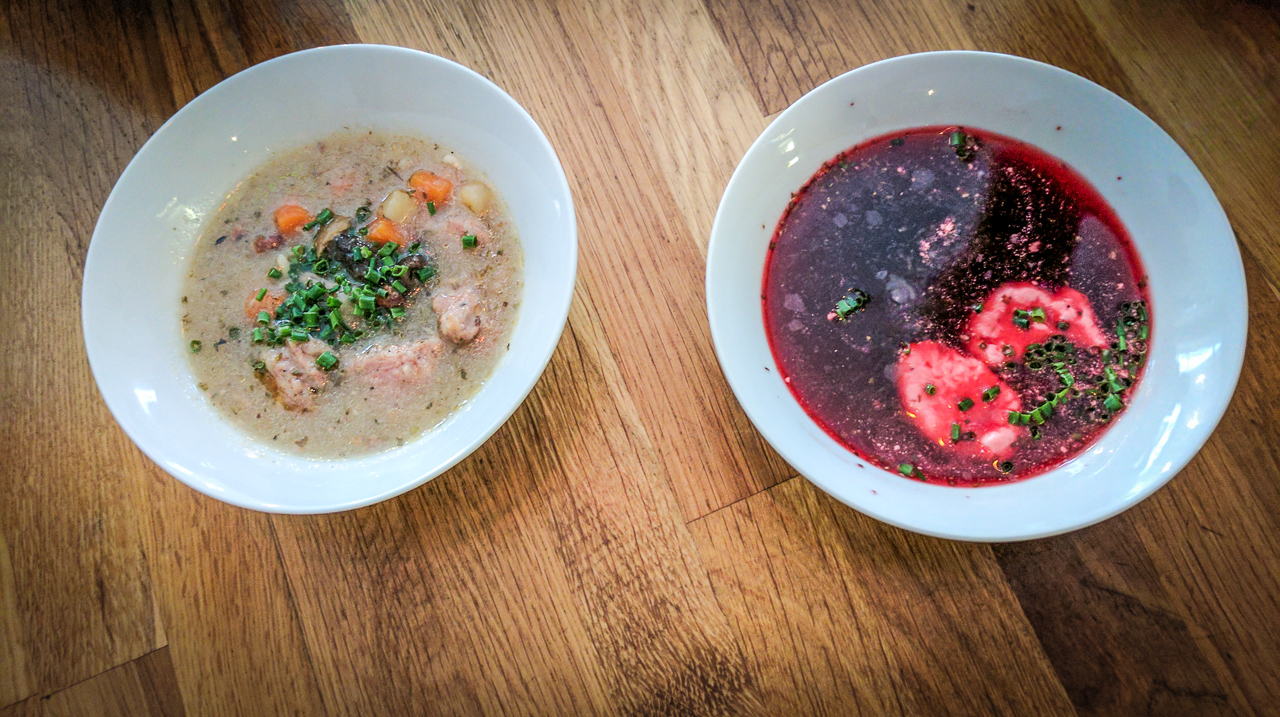 Eisenbergs
Once you are ready to find dessert, we would suggest visiting Eisenbergs, a small cafe near the Hackescher Market that offers soups, sandwiches, coffee, and most importantly Kalter Hund, which literally translates as cold dog. This layered dessert is a mix of chocolate and crushed biscuit that tastes as good as it looks. The owner of Eisenbergs also works the counter and is a delight to converse with, as we knows a lot about traditional German desserts.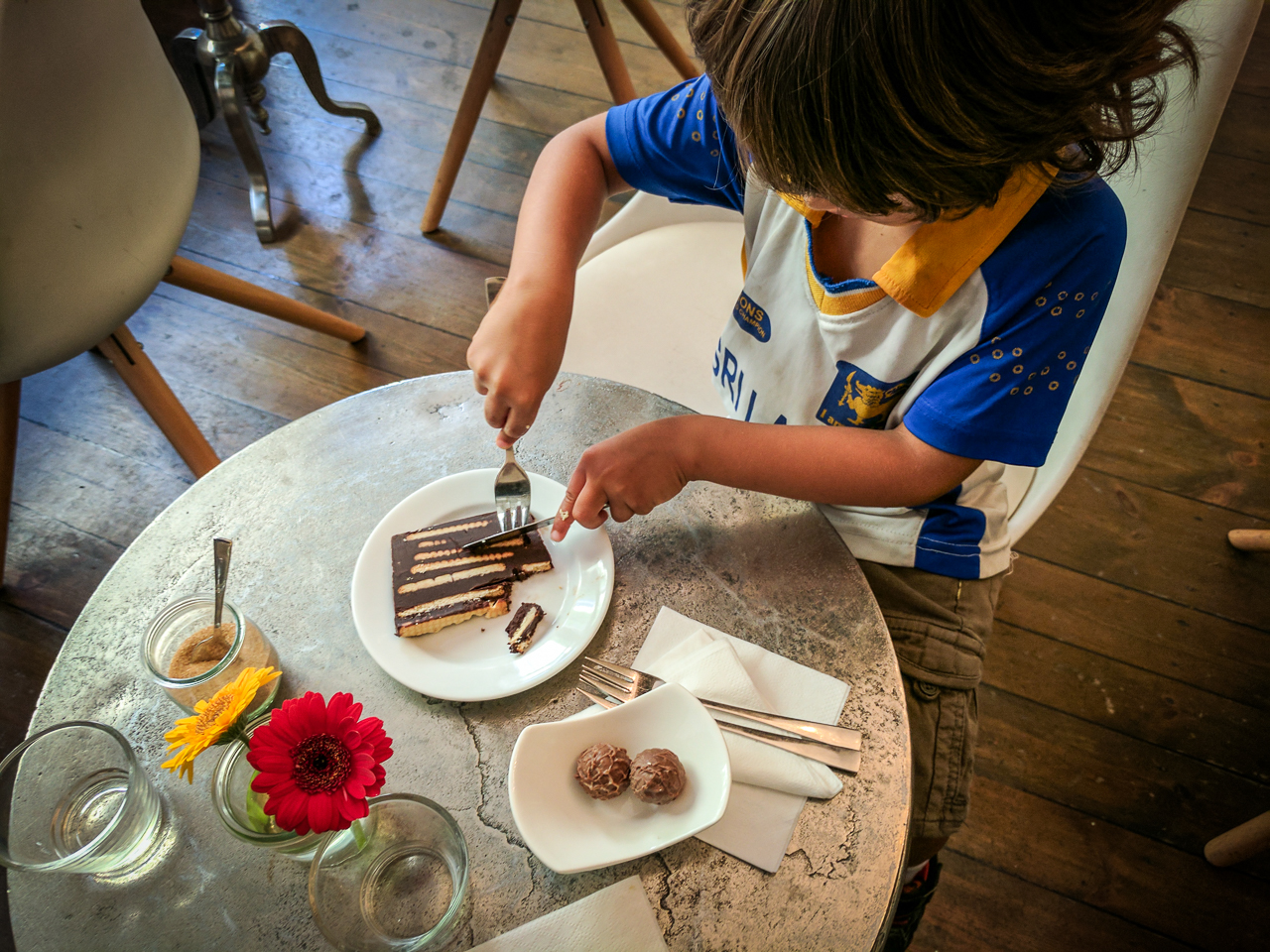 Not once during our trip to Berlin did we pay more than € 15 per person for a meal, and we usually spent much less than that. Best of all, the city contains a diverse mix of cuisine that is sure to appease everyone in your group. Currywurst may not be your thing but there is always something else around the corner. Berlin is filled with amazing sightseeing opportunities and a wealth of historical sites. Fortunately, there are great cheap eats to grab when you need some down time.