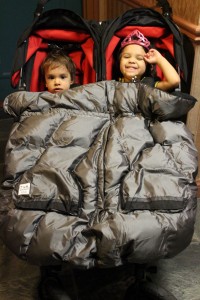 Over night it went from warm to freezing and we scurried around to find our winter gear. I still wear Baby Boy occasionally and I pulled out our Pookie Poncho from last year but it's getting snug and for the most part we're cruising the city in our double stroller with both kids strapped in. I was tucking them in with two blankets but half the time the blankets would be lost along the way or dragged through the mud (soon to be snow). Once  a stranger even chased us down to hand over the blanket that had fallen in the middle of a street. I turned back to 7 A.M ENFANT and decided to test run their DUO double stroller blanket.
Disclosure : I received a complimentary blanket, but as always, opinions are totally mine. 
The 7 A.M Enfant DUO  is perfect for families looking to keep their kids snug and dry this winter. There's a couple features that really stand out having used it for the last month :
The DUO

attaches fairly easily and securely onto the frame of the stroller

and has an elastic drawstring to hold it in place (despite Baby Boy's kicks)
A center zipper allows kids to

easily climb in and out of the stroller

, one at a time or together. This also means that one can be fully covered and the other can have a bit of breeze, if they prefer that. The kids can also interact with each other without a barrier between themselves (could be a good thing or a dangerous one!)
The DUO is  

water-repellent

on the outside
The inside is lined with

soft fleece

 to keep them warm and the

bottom portion has a water-repellent

fabric (so muddy boots won't soak the blanket)
There's two large

zip-able pockets

to store mini snacks, gloves or princesses
It is

machine washable

! That's a huge win!
They always have

fun colours

…seriously check them out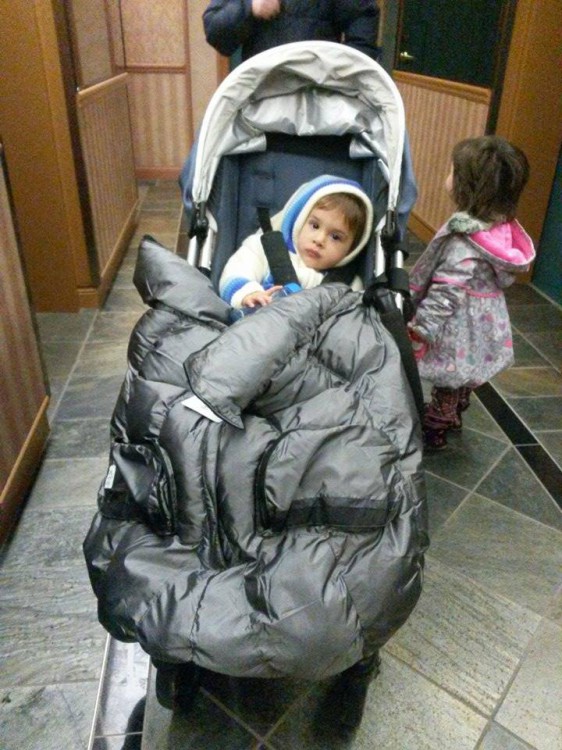 So the DUO is TOTALLY for a double stroller but out of desperation I tried to use it on our single UPPA… it worked! Not ideal and had a few extra gaps but Baby Boy was quite happy. This isn't a permanent solution but I was glad I was able to snag it on both our strollers without any issues. Both Baby Boy and Little Monkey enjoy getting into the DUO and they enjoy the fact that they can hold hands and poke each other without a barrier. Our Pookie Poncho is still in great condition, as is our WarMuffs so I anticipate us using the DUO for the next few winters.
How do you keep your little ones warm in the stroller?