We have been visiting Long Point Provincial Park for quite a few years and it's truly one of my all time favourite Ontario beaches. Even during the pandemic, it's a special place for us-we spent a week in the area last summer and this summer we did a day trip. It's truly a great space for families to explore and have fun at. If you're looking for ways to sneak in some summer fun, this is a great day trip from Toronto and also a fab weekend getaway in Ontario! This year Ontario Parks has some new offers and programs to make it easier for families to have a safe and fun visit to the parks, so read on to learn more about them!
Disclosure : This post is in partnership with Ontario Parks but, as always, opinions are TOTALLY ours!
What's Happening at Ontario Parks this Year?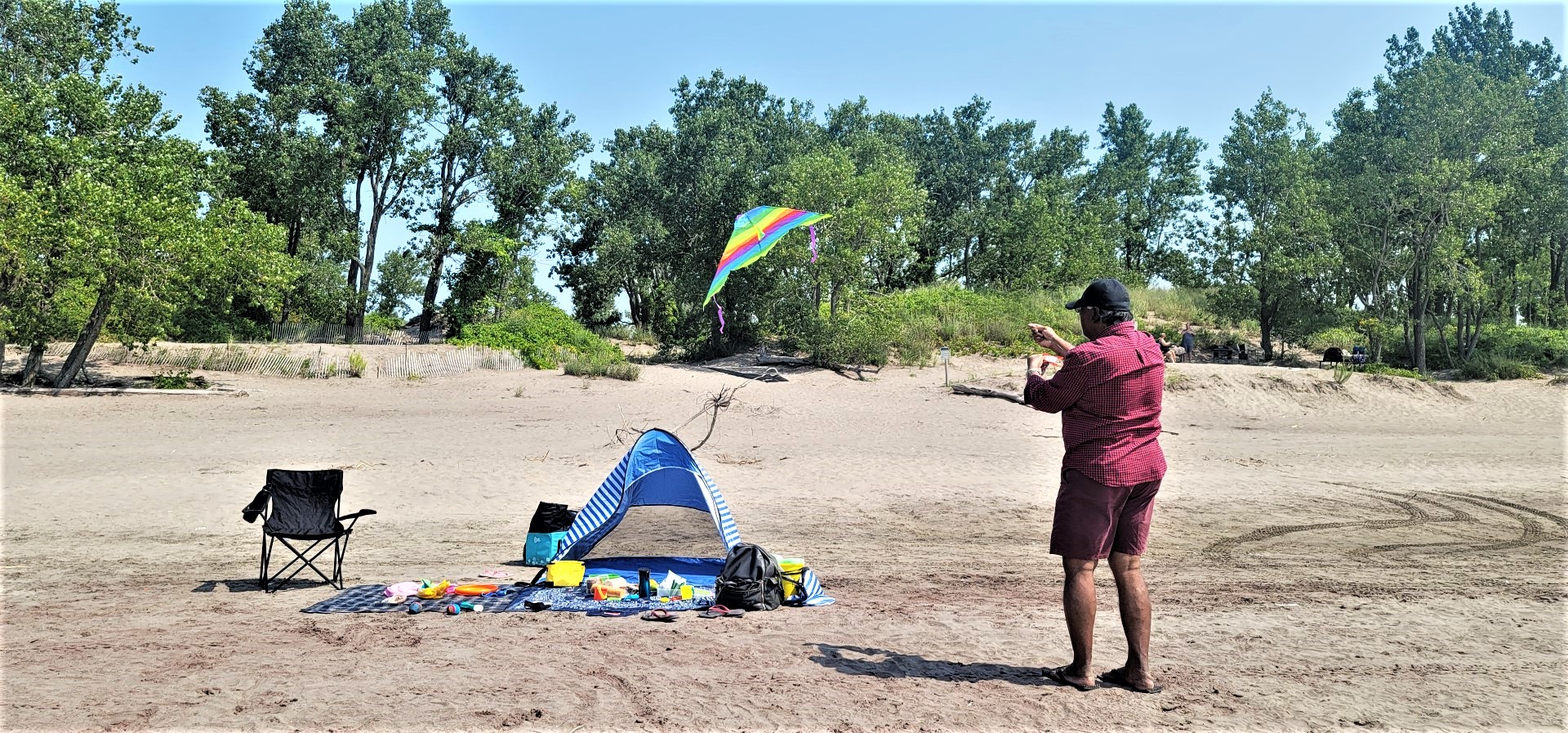 Pre-Book Permits
The biggest news for us is that you can now pre-book your day use parking permit this year up to 5 days in advance. Given that the outdoors are a popular spot during the pandemic, this ensures that you don't have to wait in long lines to enter the parks only to find out that you can't enter it. I heard many stories like this last year and so I'm delighted to see this option at select Ontario Parks this year. Daily vehicle permits are available in advance of arrival at 17 parks (Long Point Provincial Park is one of them) and it guarantees your spot. The permit provides entry for one vehicle and its passengers and most permits are valid from 8:00 am to 10:00 pm ( but can vary by park). Remember that you can only reserve 5 days in advance and permits are around $18 (see below for current free week day news).
Please note that if you are a seasonal permit holder you still need to "reserve" your spot in advance of arrival for day use entry at the 17 parks selling advance daily vehicle permits.
If you're visiting other Ontario Parks beyond the 17 offering pre-registration, you can turn up on a first come first-served basis.
Free Week Day Use at Ontario Parks
This is very exciting news!! This year, from May 1st to September 2nd 2021, you can visit any Ontario Park on week days Monday to Thursday for FREE!! You still need to reserve your spot at the popular 17 parks but there's no cost associated with it. This is what we did when we visited Long Point Beach on a Monday!
Not to worry, in keeping with COVID-19 protocols, Ontario Parks have measures in place to address overcrowding and to promote physical distancing in park spaces and buildings during busy visitation times. They do this by limiting occupancy for both, day use and camping, in select provincial parks. I can speak from experience that the day use parking areas in Long Point Provincial Park was not busy at all! We even drove into the campsite area and noticed that some spots were empty!
Where is Long Point Provincial Park?
Located in South West Ontario, this Ontario Park is about a 2 hour drive from downtown Toronto and is the fourth oldest Provincial Park in Ontario (Est. 1921). As you start driving into Norfolk County, this Ontario Beach area can be found on the northwest shore of Lake Erie on a part of a sandy spit of land called Long Point. The area was designated a UNESCO Biosphere Reserve because of its biological significance and many birding fan flocks this way because Long Point Provincial Park is home to one of the largest bird and waterfowl migration and staging areas in North America.
Things to do at Long Point Provincial Park and Beach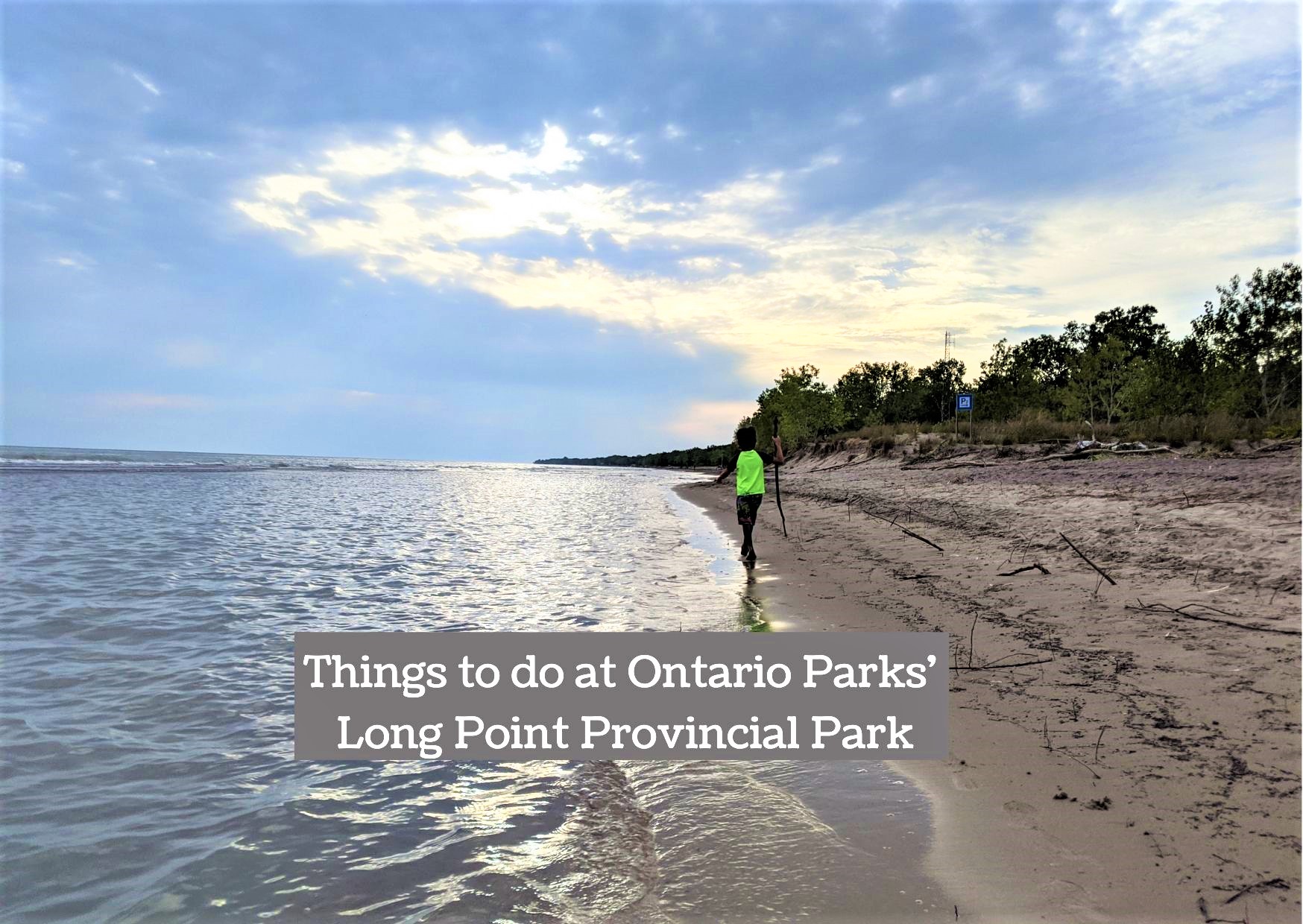 The reason we keep returning to Long Point Provincial Park is not just because of the beautiful waters, it's also because we keep finding new ways to amuse ourselves whilst at Long Point Beach.
What is there to do at Long Point beach? SWIM of course!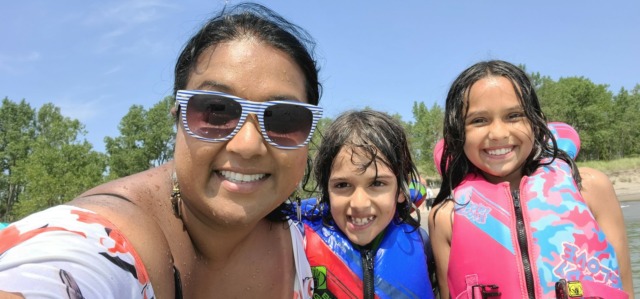 Well obviously you can swim in Long Point Beach! I mean, after all, I did rave about our week long hang session at Long Point Beach last year. Parents will love that this beach has a shallow entry and miles in, I'm still only waist high in water despite being barely 5 ft! There's over 1.5 km of sandy beach on the warm waters of Lake Erie so enjoy splashing around. The undertow in this area can be bad which is why we recommend using PFDs like life jackets for kids. Ontario parks has great tips when it comes to water safety! We never had any issues but have heard of undertows and quick shifting sand bars in this area which is why we never swim alone and always ensure that the kids are always in the water with an adult and a life jacket. If you can, stay for the sunsets because they're very pretty here!
I will also highlight that Long Point Beach also has mats to make the beach entry more accessible to people using wheelchairs or strollers and there are designated areas for pets (including a pet exercise area).
Looking for advice on the best swimming life jackets for kids? We have some tips!
Camping at Long Point Provincial Park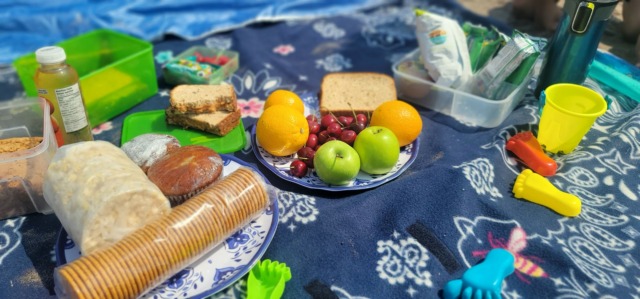 Much to Chris' chagrin, we're yet to go camping with the kids (I have two disastrous camping experiences in my history that I don't think I'll ever be ready for traditional camping) but we know of many families who love the camp grounds here. The facilities are many and I can attest to the fact that the drinking water is one of the best I've had in the area!
Ontario Parks Ambassador Program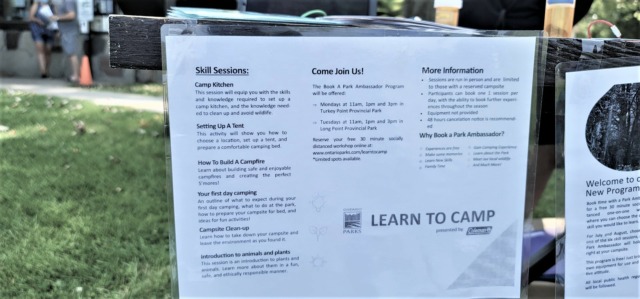 On our recent visit we met with Park Ambassadors who taught the kids about the local critters and birds. We noticed signs calling out drop in times when we drove in and popped by for a few minutes so that the kids could touch small snakes and see various bird eggs. If you're camping on site you can book free 30 minute sessions where they come to your campsite and take you through the camping skills programs. There are six skill sessions and the Camp Kitchen and How to Build a Campfire were most interesting to me! Though the Campsite Clean Up session is one that's very important too. Obviously the drop-in one we did was the Introduction to Animals and Plants session – totally in line with Akira and Apollo's interest.
Water Activities at Long Point Beach
Needless to say there's plenty of ways to enjoy the water surrounding Long Point Provincial Park. You can paddle, kayak, jet ski etc. but you can also fish and bird watch. While there are no rental facilities right in the park, there are quite a few spots you pass by on your drive in and with R&R Outdoors I know that they'll set you up with everything you need, including fishing licenses, and will drive your gear to where you want to start.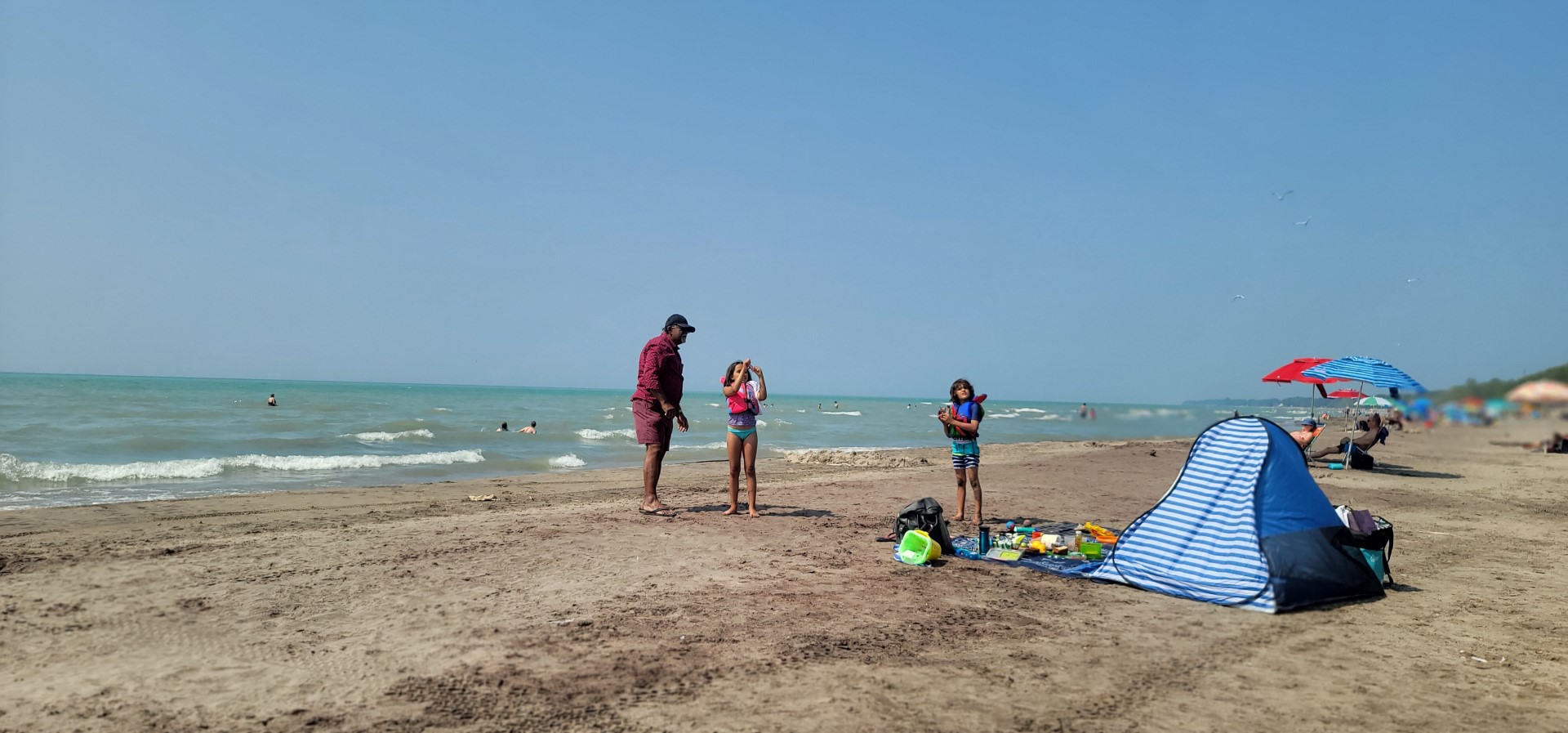 If you're planning to stay in the area and looking for more things to do in Long Point, here's how we spent our week long Ontario cottage trip in Long Point last year!
Ontario Beach Day Tips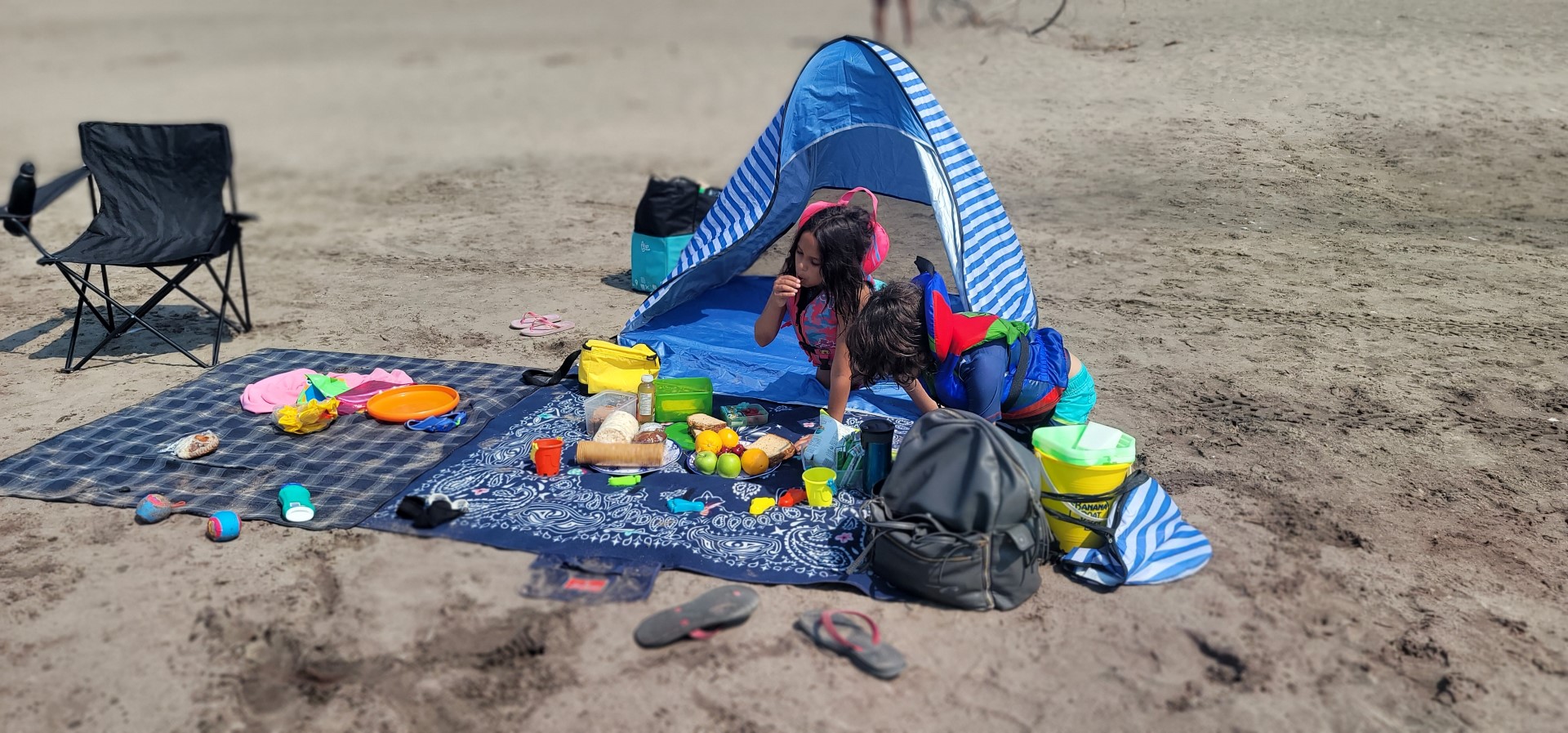 As you plan your day at the many Ontario Beaches, please keep these tips in mind. We should all take steps to be safe, enjoy responsibly and leave the places we visit cleaner than when we arrived.
Bring blankets, mats and towels to ensure that you have a comfy visit (small pop up tents are also great for some shade but please note that large tents are not allowed on any Ontario Parks beaches)
Pack a low waste lunch. I always have homemade lunches with us for our trips but I also bring a few packaged items since that's just the way I roll. What I do is pack everything in bento style lunchboxes so that we can drop seeds, peels and wrappers into an empty compartment and take it back with us because the garbage bins aren't always right next to where we plop down! Ontario Parks has some great advice on how to plan a low-waste day!
Be sure to pick up the Discovery Activity Books which are available, in French and English, in ALL Ontario Parks (usually by the main office). Easy way to keep kids busy when they want to take a break from the water – get them to take the pledge to explore, observe and discover!
Please please please… take your trash back with you. I bring a plastic bag to take trash that I see as we explore the beaches and parks. It's a simple action we can do for our community
Pack a wet bag for all the wet clothes, towels e.t.c. It's an easy way to keep the sand from getting everywhere too!
As always during these times, practice safe distancing when at the beach. I know it can get crowded at times but it's also very easy to get back in the car and go to another spot. We've done that numerous times when visiting our local Ontario beaches this summer and have ended up with areas to ourselves! For example, most day users will stop at the 1st beach at Long Point, but we continued on to #5 because we knew it would be less busy!
If you're not sure which Ontario Park would be best for you, check out this park locator which will narrow down the options based on the amenities you're looking for!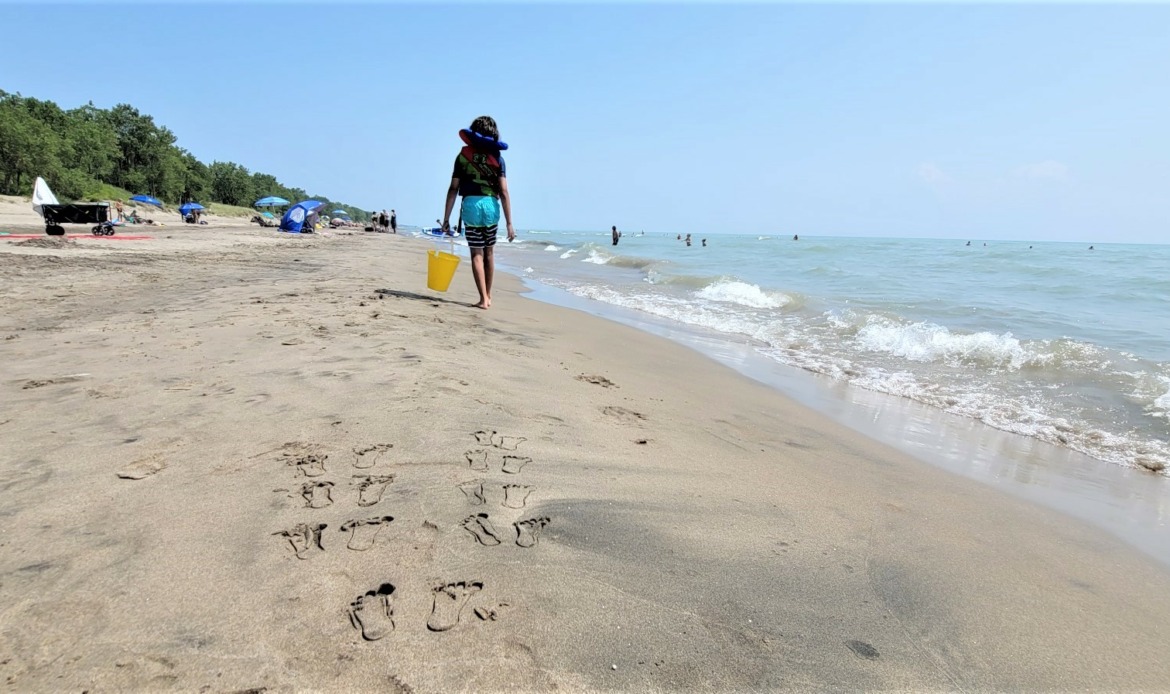 Leave nothing but footprints behind, take your memories and your garbage back with you….