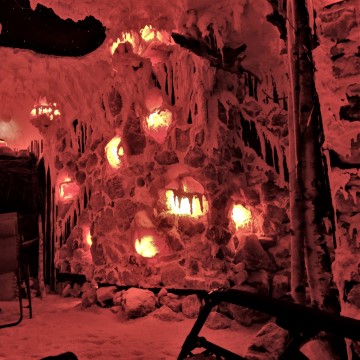 My parents have recently shut down their Niagara on the Lake bed and breakfast and were eagerly waiting to take the kids away for a weekend. Last Friday the kids had a PA day so they enjoyed an extra long weekend in Niagara on the Lake while Chris and I enjoyed 3 glorious kid-free days in the city. We did a bunch of things, enjoyed a date night in Toronto, took the opportunity to sleep in and linked up with friends. I even gathered some girls and hit up a salt cave in Toronto!
Shopping, Movie and Dinner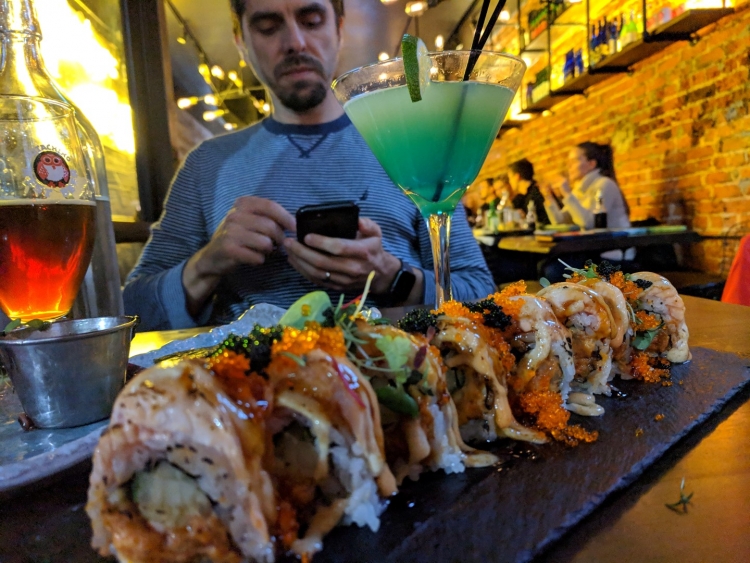 We decided that the first day would be all about us and so we went shopping in Yorkville for a new winter coat (one Chris thought would take him 45 minutes but in reality took 3 hours spread out between two days!) and then caught a movie. As usual I didn't know what I was going to watch and while I enjoyed Widows and (for a change) appreciated the ending, it was a bit too violent for my liking. After the movie we walked over to The Haam which is a spot I'd definitely return to because I loved the vibe and tunes. Also, how can you go wrong with Asian fusion? Sadly they didn't have the desert I wanted so Chris convinced me that we should go have his desert of choice – beer! A night cap at Brew Hop was a lovely way to end our day. Ironically, we were home by 9:30 p.m. and decided to catch up on our TV shows. Don't worry, we were saving our energy for the next day!
Sante Healing Spa and Salt Cave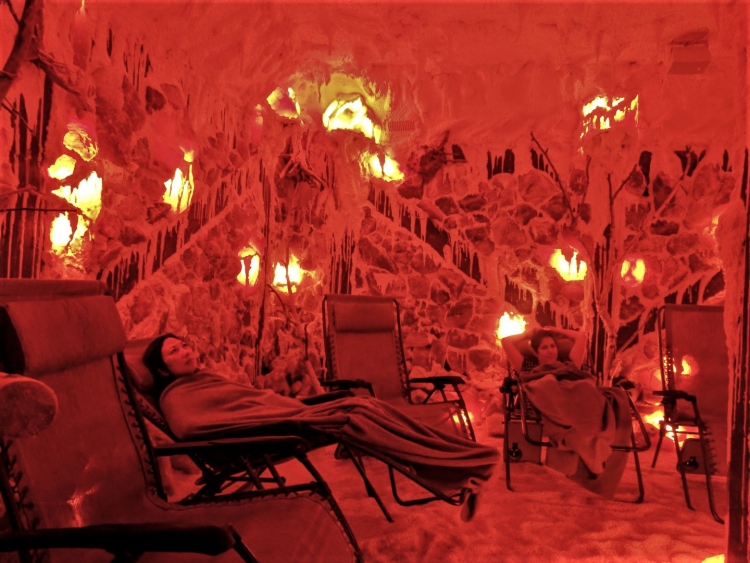 Saturday was a day of self-care. I started the morning at boot camp and then linked up with two girlfriends for a salt cave session. My parents had visited a Salt Cave a couple years ago and they seemed to like it so we were curious about the experience. We had a private session so my friends and I had the cave to ourselves. The cave is a re-creation of a Polish salt mine and according to history, the benefits of salts were discovered when salt miners realized they weren't encountering the harmful effects miners in other industries were. Instead, they were able to breathe better, beat congestion and boost their immunity. This is one of the reasons Sante Healing Spa and Salt Cave encourages families to come in for sessions before the flu season.
You wear your regular street clothing and can either enter the cave with socks on, with slip on shoe covers (the provide) or barefooted. The cave was decorated with Himalayan salt lamps and the floor was filled with small salt rocks, similar to sand at the beach.  As soon as we walked into the cave I could taste the salt that was being released into the air and could hear the soothing trickle of a waterfall. We then sat on fully reclinable lawn chairs and covered ourselves with the blankets they provided. All we had to do was relax and lay there. Yup. That was it.
We sat quietly and tried to stay still. We didn't have to. We could have easily chatted with each other but it felt right to be quiet. They actually allow you to bring your phone inside so guess what I was doing? You got it… scrolling through Instagram even though my signal was weak. At the end of the session, we didn't feel any different. Unlike with a massage or steam room, there's nothing tangible but we did learn about the benefits of being immersed in a salt cave. We were inhaling the salt and some of the benefits include better breathing, healthier skin (also helps with rosacea, acne, psoriasis), stronger immune system and sounder sleep. Ironically, I didn't sleep well that night but there are MANY reasons for that (including alcohol, sleeping away from home..etc etc). I was told that Dry Salt therapy is like a toothbrush for your lungs and skin, EVERYONE can (and will) benefit. It is a total detox for the following conditions: Allergies, Asthma, Breathlessness and Chest Tightness, Bronchitis,Chronic Sinusitis, Ear Infections and a whack load of other conditions.
While I didn't take my kids along, they do welcome families and the cave even has some buckets and play toys for little ones. You may need to book a private session for this one as I don't think it would have been fair to have my kids yapping away in the cave when others were trying to meditate and relax.
Sante Healing Spa and Salt Cave overs a variety of other salt services including Infrared salt sauna, salt pool floats and hand & foot detoxes. What intrigued me was the oxygen bar. I had a slight headache in the afternoon and it was still lingering on so when I was informed that a burst of oxygen would help, I decided to try a $10 oxygen infused mocktail they had on offer. It was a protein drink with a bit of juice and some oxygen. It is unique and I have never had anything like that before. We needed a spoon to "drink" the mocktail and it had the texture of foam you see on plates at fancy restaurants. It was delicious and yes, my headache did subside an hour and a half later! Coincidence? Maybe, maybe not.
Sleepover and Games with Friends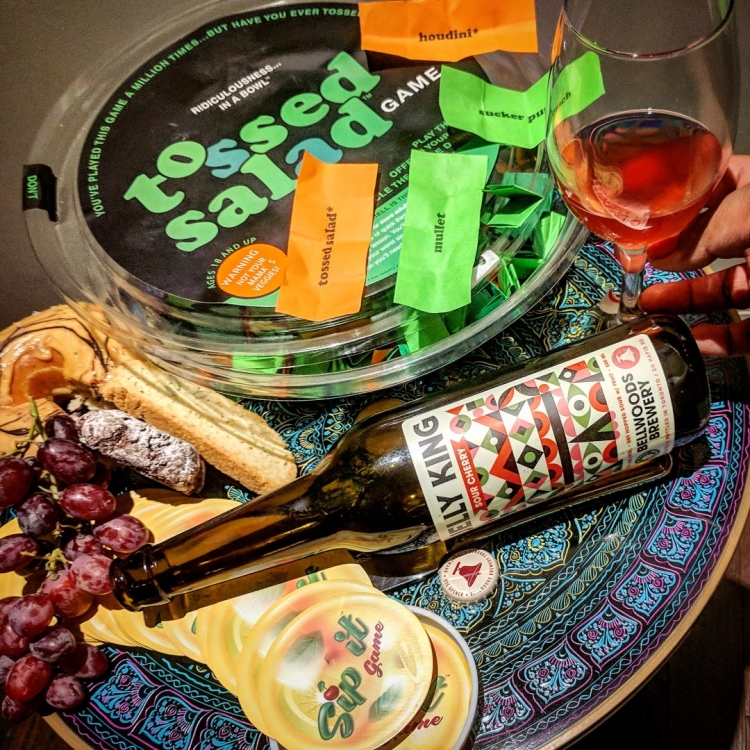 Relaxed after that session, us girls joined the rest of the guys at our friend's new pad in Oakville. That evening we had quite the dinner with dishes like biriyani, donuts, kebabs and birthday cake (yup, two friends were celebrating birthdays as well). We tend to hangout frequently but usually my kids are around and we all do a great job censoring ourselves. None of the others have kids so I always appreciate them taking the extra effort to keep their F bombs in check but on this occasion, we decided to take it a step further and play some hilarious games that had all of us looking up definitions on Urban Dictionary.
The Tossed Salad game is hilariously embarrassing but also amazingly fun. We split the guys against the girls and oddly enough, we won. Not because we knew what most of the words we were trying to describe, but because we attempted to describe the literal word unlike the guys who were trying to explain the urban dictionary meaning! We were so into this game that my glass of wine was left untouched for the entire hour. HAH!
We had a few other games we attempted to play but found them a bit too "lame" for our (older) age group. That said, the one we've been pulling out frequently is Friend or Faux which is a fun game that will have you discovering new things about your friends. Don't worry, most weren't TOO embarrassing!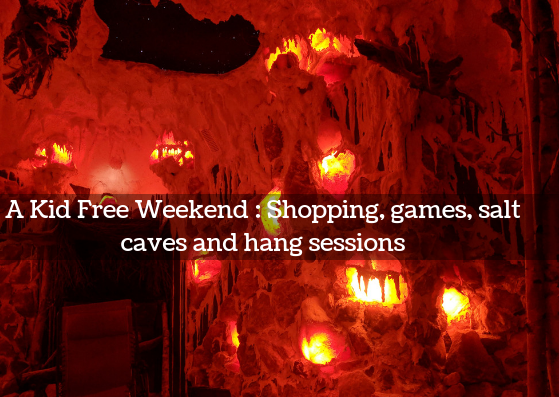 All in all, it was a fabulous weekend and as you know by now, I take any opportunity I can when it comes to connecting with my friends. This weekend was unique because Chris and I were able to give them our undivided attention with minimal distractions. While our friends are definitely used to our kids and their needs, I'm sure they also appreciate being able to have conversations with zero interruptions.