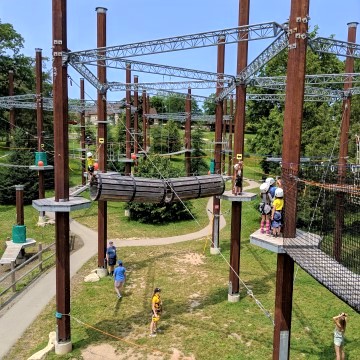 Imagine you and your kids soaring above near Niagara Falls, jumping from one ramp into a zipline and through a wobbly bridge! All while being safely tethered ofcourse. What I love is that little ones as young as 5 years of age can enjoy this outdoor Niagara Falls adventure. If this sounds like an excellent way to enhance your trip to Niagara Falls Canada, you should check out the activities on offer at WildPlay Niagara. I can't believe we hadn't explored this Niagara Falls activity before because it was super fun. WildPlay Niagara has a Whirlpool Adventure course in Niagara Falls and it's fun for kid and adults. During the summer when Chris' uncle was visiting us from abroad we took a same day road trip from Toronto to Niagara Falls and the kids enjoyed our visit to this Niagara Falls attraction. If you're looking for Niagara Falls kids activities, this should definitely be on your list of things to do in Niagara Falls Canada with kids.
Disclosure  : We were guests of WildPlay but, as always, opinions are TOTALLY ours! 
What is WildPlay Whirlpool Adventure Course Niagara Falls? 
It is an aerial adventure course that's located in Niagara Falls, close by to the Niagara Helicopters and Butterfly Conservatory.  Three self-paced courses include dozens of climbing, ziplining, jumping, and swinging aerial games at this Niagara Falls Canada attraction. The place is open from mid May to the end of October but only on weekends outside of the core summer months, so keep that in mind as you plan your Niagara Falls road trip. There is also a height requirement but our rather tiny kids met the height and age requirements so I assume yours will too, as long as they're at least 5 years of age.
Things to do in Niagara Falls Canada with Young Kids –  Adventure Course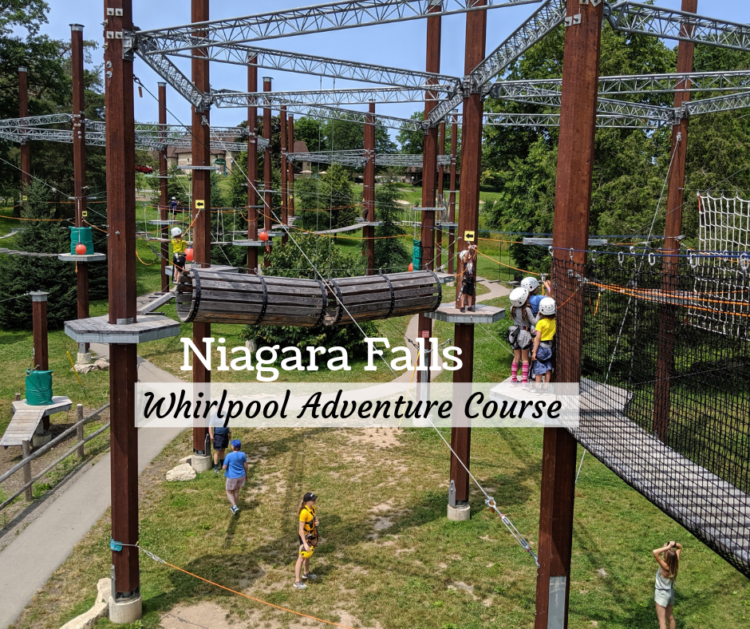 On our visit to the adventure course in Niagara Falls we had 3 kids with us. A 5 year old, a 7 year old and a 11 year old. Baby Boy was our youngest one and he was quite anxious about being "up there" without an adult. In hindsight, I should have joined in on the fun and not just watched from below! He did give it a go but no amount of hand holding by Little Monkey could coerce him to sit on a swinging ball to leap on to the next section, and so he came right back down and played in the grass while Little Monkey and their cousin took 45 minutes to complete the circuit and then go back a second time to finish it in half the time.
There are three courses and depending on your age and skill level, you can choose which one suits you best. I visited Whirldpool Adventure Course with Chris' uncle and aunt as well as my parents and all of us adults only watched from below (no tickets are needed for those not participating) but my mom has already mentioned that she's going to attempt the course on our next visit. On our visit the kids played on the kids course but there were two other courses, Classic and Extreme that they could have tagged on as the minimum age is 5 for all courses. The kids course is designed specifically for those aged 5 to 12 (though we did see some parents joining kids on it). Little Monkey is an adventure junkie and given the fear I saw on her face a couple times, I think it's sufficient to say that the kids course is quite challenging!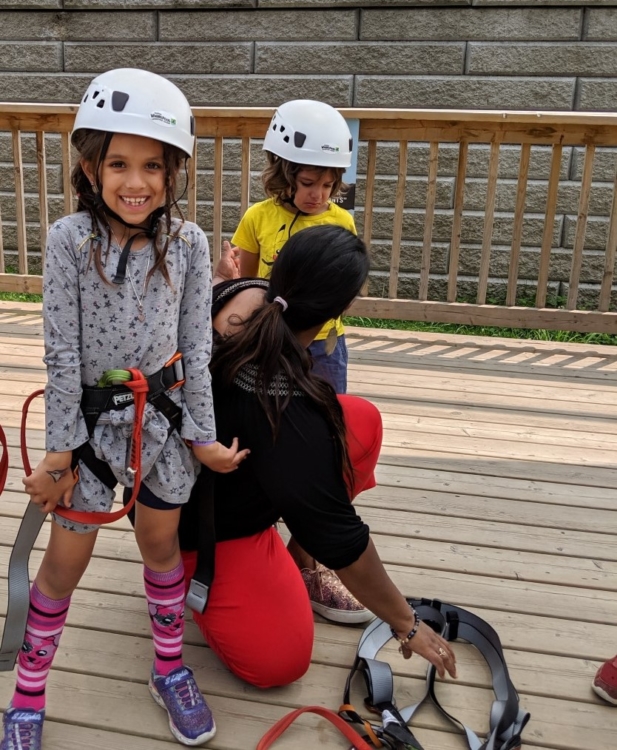 Upon arrival you're asked to fill out a waiver (you can do it online prior to your visit as well) and then the kids were harnessed before doing a test run on the ground level. They had to learn how to click in and out of the various stations and I was very anxious that they may do one wrong thing once "up in the sky" and come tumbling down! Luckily the drop didn't look bad and as long as I was trailing them from below, I would have been able to safely grab them. That was what was going through my mind as they did their test run on the ground but of course, no such drama followed because the course is very safe and there are instructors to help kids in need.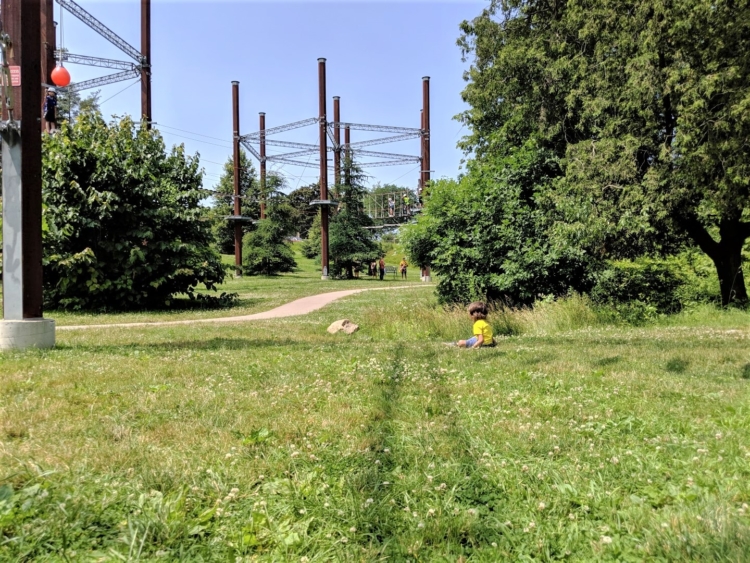 Our plan was to visit for an hour but we ended up spending nearly two hours here because two of the three kids were having a grand time. Luckily there was a small store onsite to purchase water and pizza from as we decided to skip our planned sit down lunch. According to Little Monkey, this ropes course should definitely be on your Niagara Falls itinerary or Ontario road trip.
Parenting Moments Galore at the Niagara Falls Adventure Course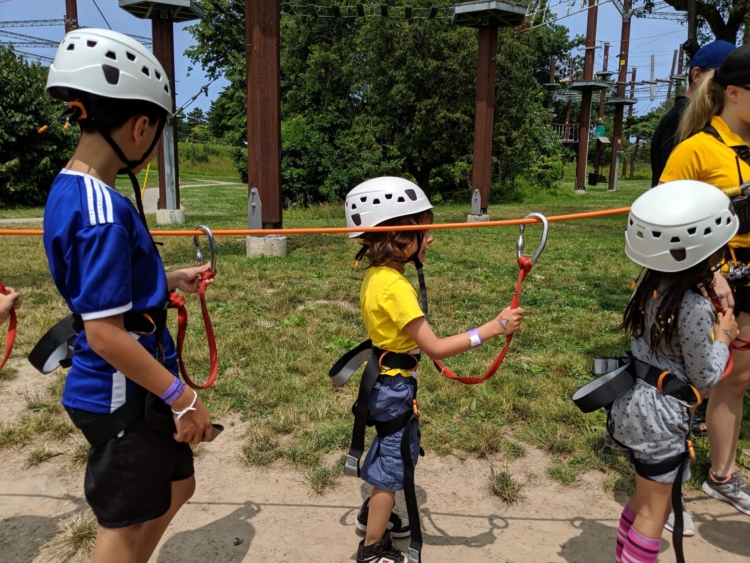 This ropes course is not just a quick attraction to check off a list, it was a character building excursion. It was actually heartwarming to watch parents trying to help kids overcome fear- at times those weren't even our kids we were providing encouragement to! Sometimes we'd be gentle and sweet, other times we'd try bribes and worse was when we'd get frustrated and yell for them to allow the kids behind to pass them by. Every possible emotion was triggered!
Even more heart melting was watching these young kids encouraging and helping each other and making new friends along the way. Baby Boy may not have completed the course but watching his big sister step up and help him without being prompted to, was a nice pat on the back that we're doing a pretty okay job with these two. She even went on to make a friend with another girl and the two of them went through the course together hand in hand. Such cuteness!!
Tips to Keep in Mind for your Whirlpool Adventure Visit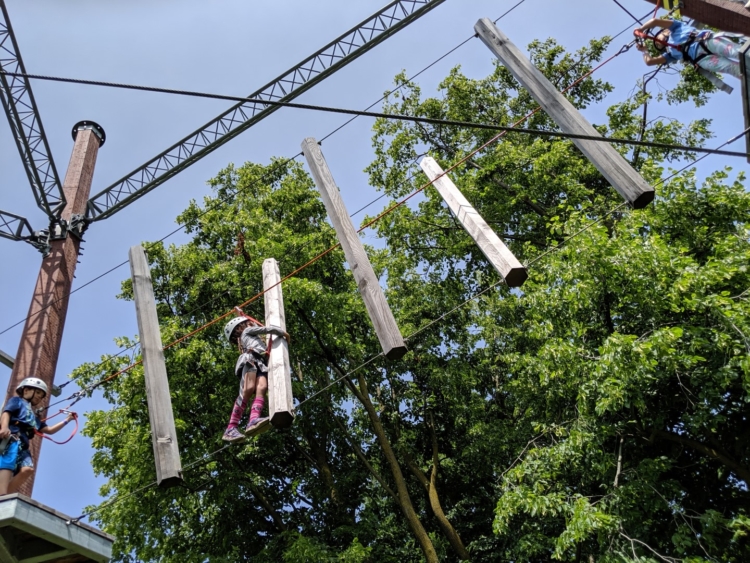 If your child gets nervous easily, show them a video of the place prior to going in so you can help with expectations (wish I thought of this before!)
Ensure they're wearing comfortable CLOSED TOED shoes
Pee before they get harnessed in (there are good washrooms on site)
It can get hot during the summer months so a bottle of cold water for when they finish the circuit is much needed
Entry is timed so keep that in mind as you plan ahead to your visit
In case of any emergency or hesitation, there are trained guides who are always watching. One even noticed that Baby Boy's helmet was askew and quickly dashed across to fix it while he was on the course. However, keep in mind that if your child wants to abort mission immediately, it does take a few minutes to get across the course to them.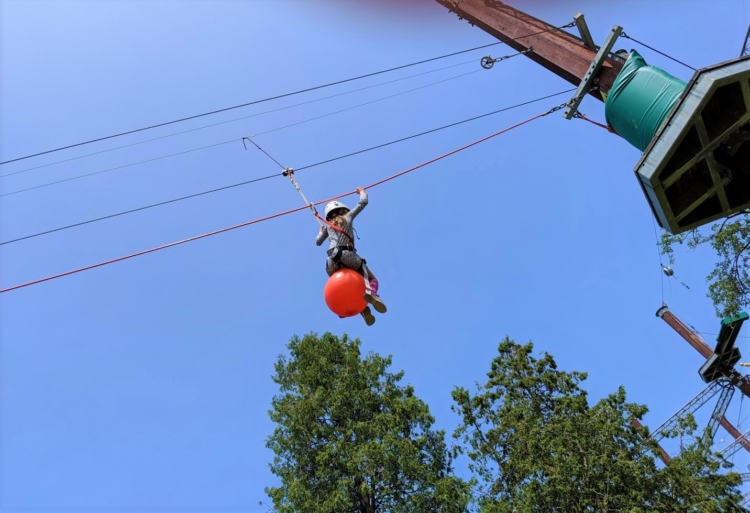 I see us stopping in at the Whirlpool Adventure Course during future visits and I hope to also try out the Zipline over Niagara Falls on our next trip! If you have an adventure loving kid, this thrilling Niagara attraction will definitely make their heart skip a beat and put a smile on their face!