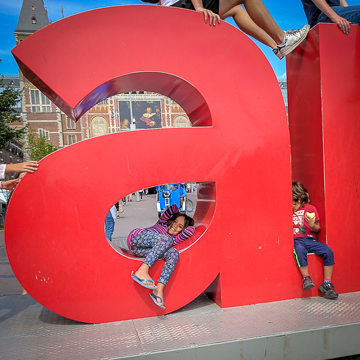 My dad worked for KLM (the Dutch airline) for 25 years and so my childhood included frequent trips to Amsterdam as we accompanied him on his business trips. You see, my mom took every opportunity to travel in stride and so I have fond memories of roaming around Madurodam and eating fries from vending machines in Amsterdam. During our 148 day journey, Amsterdam would be the only city any of us would have visited previously. While our impromptu trip to Amsterdam wasn't my first trip, it was the first time Chris and the kids would visit this fun city. For me, Amsterdam was always a family friendly destination but over the years I heard Amsterdam associated more and more with bachelor parties and couples' getaways. Amsterdam with kids was definitely not part of Chris' plan when he heard about Amsterdam many years ago, but we're here to tell and show you that it's one of our favourite European cities to explore with kids. For families, the Netherlands has so much more going on beyond Amsterdam but on this trip, Amsterdam is all we explored with our kids over the course of a week. We arrived in Amsterdam via train from Cologne,Germany and flew out from Schiphol airport to Zagreb, Croatia. The city is well connected via public transit and so you definitely won't need a car while you're there!
Where to Stay in Amsterdam with Kids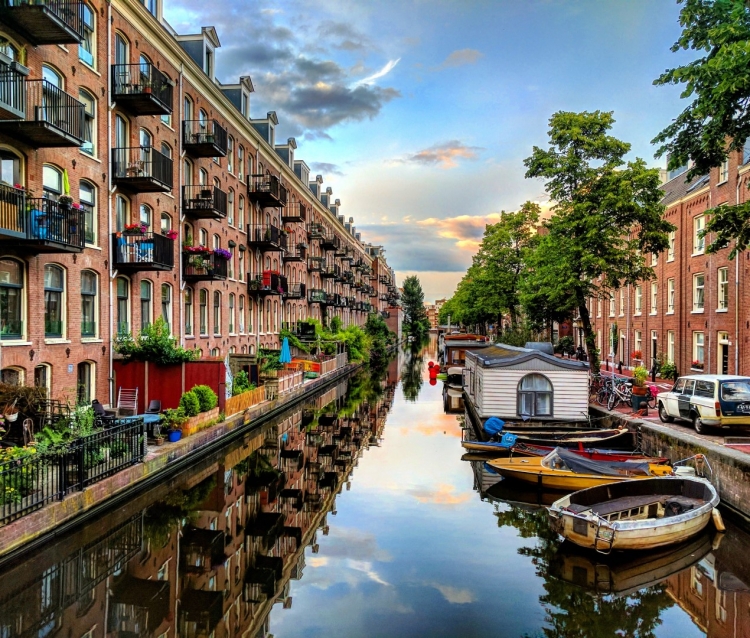 Amsterdam is a compact city that's easy to navigate. We found it very easy to walk around Amsterdam with kids and only brought our stroller out a couple times. The one thing you need to watch out for are the many bikes whizzing by and yes, you'll see parents riding along the streets and canals with kids attached to their bikes. I've never seen as many bike contraptions for kids as I did in Amsterdam! So at the end of the day, as long as you're within the inner canal belt, it doesn't matter too much where you stay. Most of the hotels are in the Old City area which is close by to the museums and attractions. Of course if you can find a house boat you should definitely stay in one as that was my first choice but the busy summer season and a last minute plan did not fair well for that wish. We found a GuestToGuest home in Jordaan and absolutely loved our location. My visits as a child were spent in hotels and so I was thrilled to experience life away from the main hub. The Jordaan area is very picturesque and there's no shortage of bars and restaurants. It's also only a 15 minute walk from the main district. The challenge for us was that homes in downtown Amsterdam are very narrow and come with the steepest steps we've ever seen. We had three flights of stairs to climb each way and we couldn't even have the kids hold our hands (it was that narrow). While we did laugh about it and enjoyed the exercise, if you plan to travel with a lot of baby gear, I'd recommend staying away from homes with stairs!
Where to Eat in Amsterdam with Kids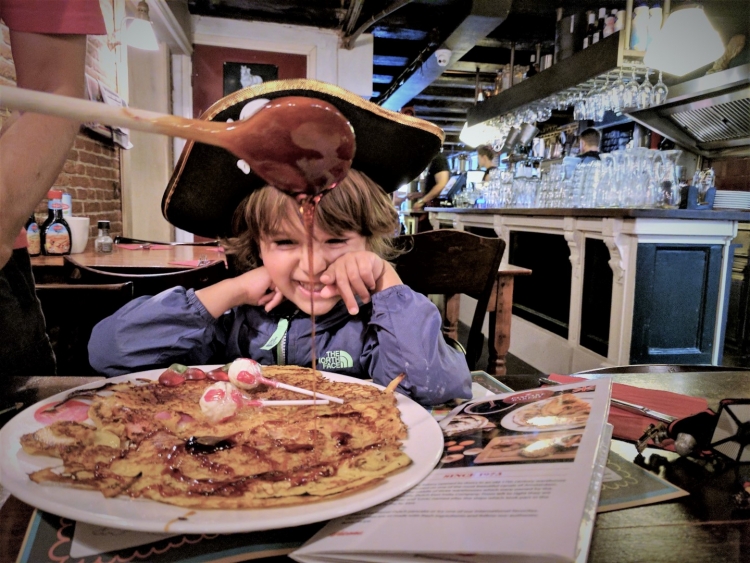 All I remembered about the food was fries and cheese but Amsterdam is actually a great city for food lovers! There's much for your taste buds to discover and while my sushi cravings weren't satisfied, I did find some other fab options. Those with a sweet tooth will love roaming around Amsterdam as there's a bakery at every corner and you can't help but grab Stroopwafels, Fried Dough and cakes every chance you get!
Street Food : As with any big city, we found plenty of local  street vendors. While the kids were more into the fries and pancakes, Chris and I tried the local herring sandwich. Surprisingly, I enjoyed it more than Chris (that never happens with seafood!).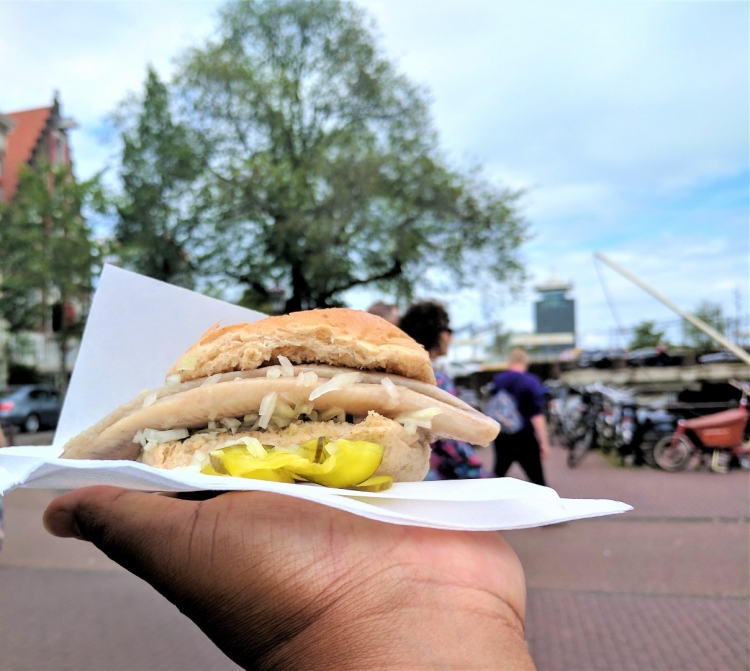 Nel at Amstelveld : This cafe is located right by a playground so if the weather is nice and you're looking to enjoy a drink on a terrace, this is a great spot!
Indonesian Food : Amsterdam has a vibrant Indonesian population and so I was excited to learn about the amazing Malaysian restaurants that can be found throughout the city. At the sit down spots you can enjoy what's called a "rice table" but unfortunately for us, the one we visited "Blauw" wanted us to pay 70 Euros for each of the kids if Chris and I were going to get that. They also ended up charging us 10 Euros because the kids only ordered appetizers and not mains. So lesson here is to call ahead and find out the policies or hit up the smaller take out joints! My friends over at WanderlustingK recommends Pondok Indah and I totally regret not dining there.
Bars : What amazed me was how welcoming bar owners were even after they saw us arriving with kids. For example, we arrive at Cafe Gollem close to 8 p.m. and sat by the bar, sampling great beers and making friends with another couple. The kids meanwhile were tucked away nearby playing and enjoying the juice that was served to them. It was one of our favourite evenings! Another good one was where we met up with the WanderlustingK couple and they took us around to a couple bars so we could try out some local Dutch liquors. We hit up Cafe Tabac and Cafe Papeneilandthe with the kids and didn't get home until midnight!
Pancake Bakery : This is definitely a must visit if you have kids. Each of the pancakes are insanely ridiculous! The kids' ones come with toys (we received a Pirates hat and a light saber) and they had some good savoury options too. Located in a 17th Century warehouse there's simply no better place to enjoy this traditional Dutch delicacy. The Chilean one was my favourite savoury option and the kids loved the Dutch Pancake.
Brouwerij't IJ : As a kid my parents took us on a tour of the Heineken Brewery but Chris is more about the craft beers so we swung by this one and enjoyed an afternoon beer and some nibbles. It can get busy but on a Saturday afternoon at 1 p.m. we had no issues finding a bench indoors. They also offer tours on the weekends.
La Zoccola : Craving pizza the kids and Chris dragged me here one evening and as much as I hate to admit it, after our months of travelling, the wood oven pizza was really good and comforting. It's a small family run joint and the service was very friendly. It's also close by the Central Station if you're in the area and looking for a nibble.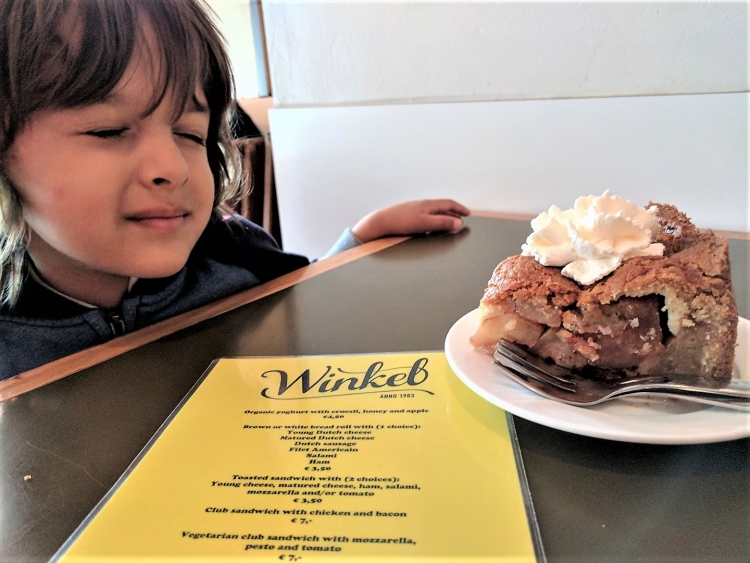 Winkel Cafe : One afternoon while Chris was working, I took the kids here for a treat. This busy cafe is where you can try the best Dutch apple pie. Unlike the American version, this one had more of a cake consistency and was absolutely delicious and warming on a cold rainy day.
Cheese Museum : Alright so it sounds like a museum but it's really all about buying and eating cheese here. Definitely can't get the stroller in here but it's worth a wander through to sample a variety of cheese that's free for all. It's near the Anne Frank museum so you could hit up two museums easily!
Hannekes Boom : I absolutely adored this bar! It's nearby the NEMO Science Museum and is decorated with street art. The food was good and the beers even better, especially as we sat on the patio and the kids got to enjoy the some Bitterballen (meat/cheese balls) and play with their toys!
Kaasland : This is a bakery that was near our home in Jordaan and grabbing cheese and baked goods from here made it easy for me to have fresh snacks with me throughout the day.
What to Do in Amsterdam with Kids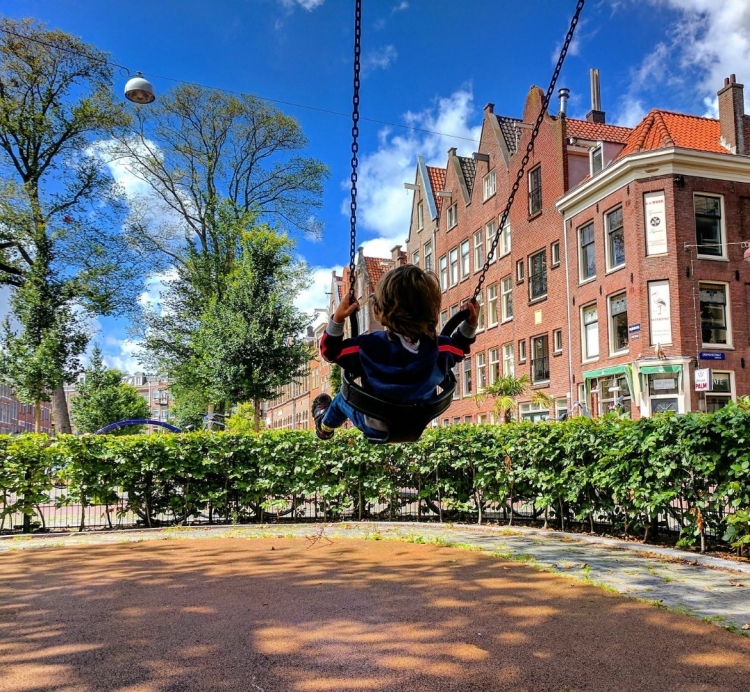 Amsterdam has a very family friendly vibe despite the many coffeeshops (not to be confused with regular coffee shops) that pave the downtown streets. Let's address this concern right off the start shall we? Yes, the Cannabis shops are plentiful and the kids wanted to buy lollipops with narcotics in it but just as we do with beer and other adult beverages we told them that it was for adults and that they'd need to wait until we found one for kids. We once stood outside a coffeeshop as we tried to search on TripAdvisor where we could eat in the area and the kids immediately started asking about the smell. We promptly crossed the street and that was that! Not once did we mistakenly enter one thinking it was a coffee shop. Honestly, it wasn't a big deal. Oh and yes, we walked through the red light district with our kids…continue reading below!
Museums : Amsterdam has more museums than anywhere else I've been. You can find all sorts of ones from tulips to diamonds and even cheese. Pick and choose two or three for your visit. In our case we really wanted to see the Van Gogh Museum but didn't buy tickets online because we had a Amsterdam City Card which gave us access to the museums. The hitch was that we had to turn up and stand in line. No way we were going to do that with two young kids as they would have gone crazy once we got into the museum. So we visited the Stedelijk Museum and enjoyed the art there. Most museums are very kid friendly and offer stroller parking and have a kids' section. With the pass we also visited the NEMO Science Museum and while it was busy, it was also very educational. They have a lovely roof top patio and mini splash pad that's free to enter!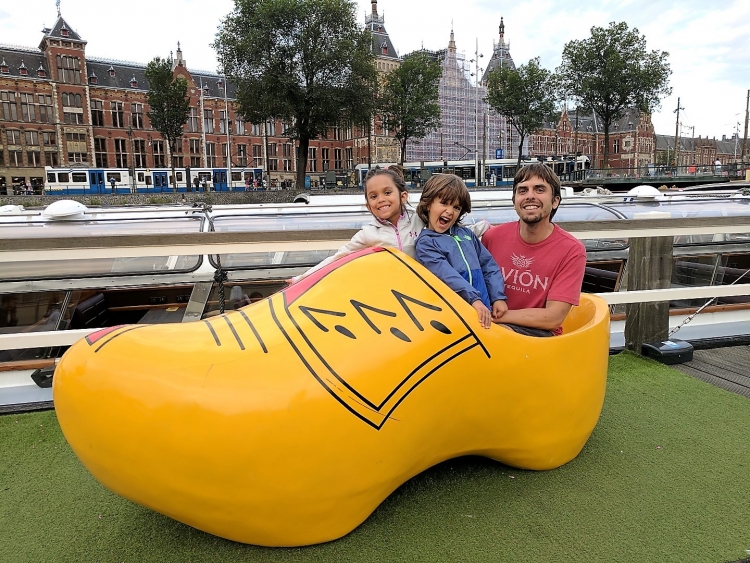 Canal Cruise : You can't visit Amsterdam and not take in a canal cruise. We did a one hour Stromma tour at sunset and caught the best views of the city. Our City Pass enabled us to take any cruise but a friend recommended we avoid the Lovers Cruise because it wasn't as well managed (nothing to do with kids/lovers) but saw plenty of families taking their cruises too.
Playgrounds : It was easy to find playgrounds in the downtown area. Even if it wasn't a full playground, there'd be a swing or a mini play structure to help burn some energy.
OBA Library : If you're looking to escape the rain, a visit to this library is a great idea. The kids section has a play area and ample seating for kids to read at. Just don't fall asleep in the chair as another mom and I did!! The security guard promptly came and woke us up! This is also close by to the NEMO Science Museum.
Red Light District : We decided to walk through the red light district during the day time and while it wasn't the full fan fare you witness at night, we had a chance to see some of the wheelings and dealings but in a very subtle manner.
Markets : There's many pop up markets in the downtown area, especially on the weekends. Albert Cyupsstraat is the biggest but the one near the Noorderkerk on a Sunday is a local favourite. The kids spotted a fresh fruit one in Jordaan and insisted we buy them some fresh juice – we couldn't say no!
Notable mentions : We didn't get to these but they came very highly recommended by local families. Artis Royal Zoo is supposed to very fun in the summer. If the weather is good and you want to go to the beach, you can easily take a train to Zandvoort. Mirandabad is the big pool in the city and has a few small slides and one bigger one. And one final one! De geitenboerderij (goat farm) in Het Amsterdamse bos (Amsterdam forest), is south of the city but a beautiful green space where you can give milk to little goats and see other farm animals, there is a playground and cafe as well.
Amsterdam is a city we can see ourselves returning to and next time we plan to explore a few of the day trips, especially the Alkmaar cheese market as I have fun memories of visiting as a child. Have you visited Amsterdam? What are your impressions for the city?