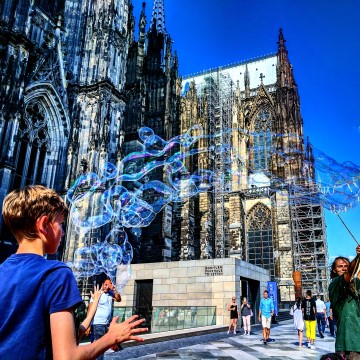 Cologne was our last stop in Germany and it was a city that I had heard much about but had no expectations of. This worked out well for our weekend in Cologne with kids. Cologne is located on both sides of the Rhine, near Germany's borders with Belgium and the Netherlands, making it an easy train ride for us from Frankfurt and to Amsterdam. As soon as we got out of the train station (and the mall connected to it) we were greeted by the massive Dom and I couldn't help but marvel at the Cathedral. If you followed our Instastories during our trip you know how I enjoyed sneaking into every Cathedral I saw while Chris gave up half way into our trip! Cologne is a picturesque city filled with museums, street art, culture and authentic eats- Perfect for a weekend getaway.
Where to Stay in Cologne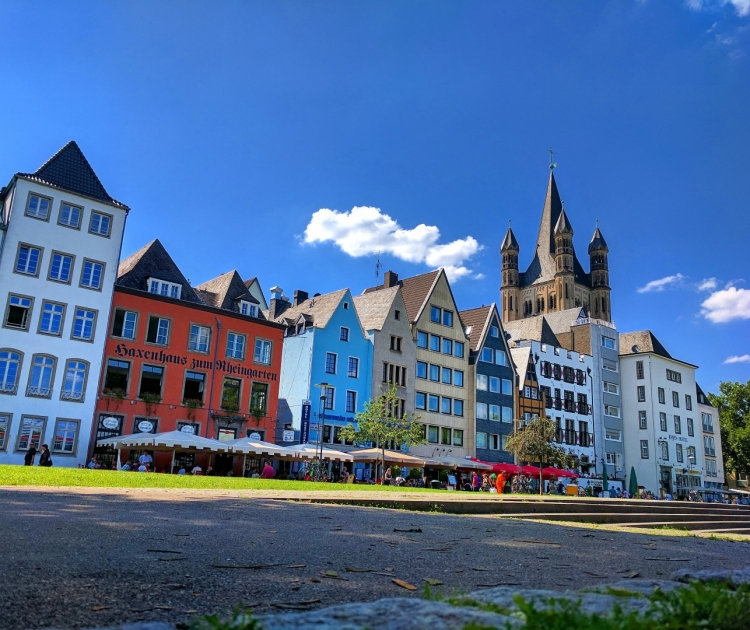 If you can get a spot in Downtown Cologne, make it happen. The city is filled with activities and the night life during our July visit was aluring. Our GuestToGuest house was a 15 minute bus ride away from the downtown core and while we absolutely loved the space and the high speed internet, we found ourselves visiting the city daily. That said, the suburbs are home to some great restaurants so there's that to think about as well. Many of the moderately priced hotels and b&bs are concentrated in the Belgian Quarter and Altstadt but we were staying near Bayenthalgürtel and the bus rides ensured that we got out and explored the cafes and bars we spotted on the drive in.
What to do in Cologne with Kids
There's quite a few things to do in Cologne with kids and we had a busy weekend exploring the area with Little Monkey and Baby Boy. If you plan to visit many attractions and use the public transit, be sure to check out the Koeln Card. It not only offers discounts at many attractions, restaurants and shopping outlets but also unlimited usage of the public transit system. The group ticket is a great deal as it covers up to 5 adults.  Here's what we got  up to!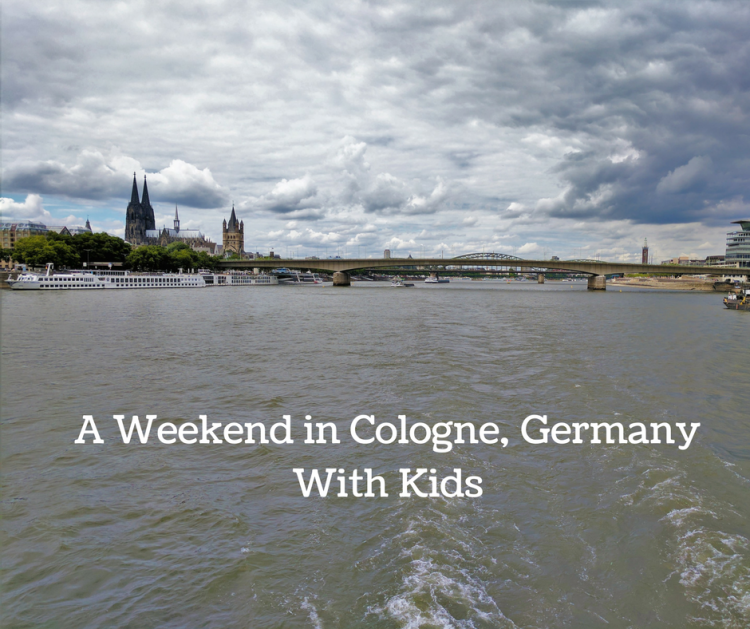 Historic Quarter : We opted to not bring our double stroller and it definitely was to our advantage as the busy narrow streets leading into the city's historic quarter would have been hard to navigate. That said, we did see some families with a single stroller. Roaming around the alleyways took us by restored 14th century houses and Romanesque churches. Timing our visit to end up by the green banks by the river (and near the Fischmarket) for sunset was a brilliant idea!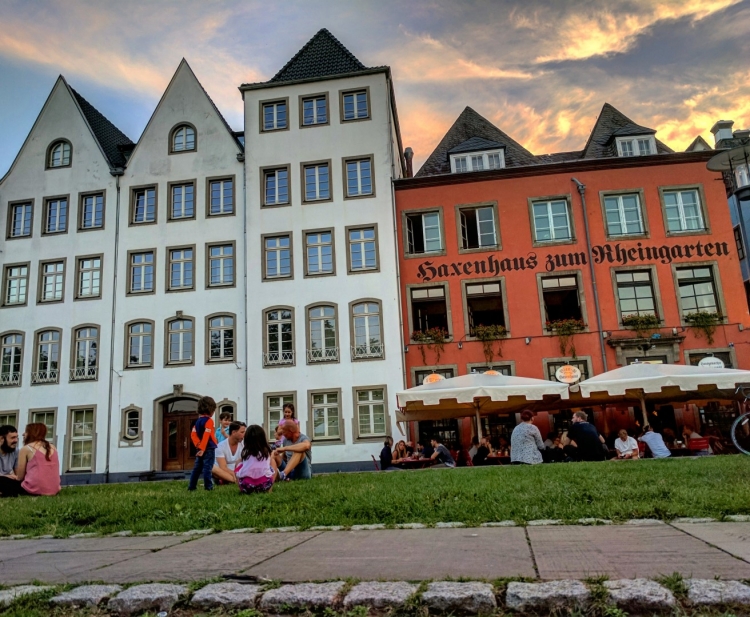 Schokoladen Museum : Our visit to the chocolate museum was a delicious one for sure but it was also educational. Check out the video below to see what the Schokoladen Museum  in Cologne is all about or click here to read the detailed post.
Phantasialand : This theme park is a bit outside of the city but it was a great way to spend Sunday (when most things are closed in Germany). For those with kids who love rollecoasters Phantasialand is going to be a hit. We were surprised by how much the 3 and 5 year old enjoyed themselves and would love to spend the night on the resort on a future visit! Click here to read all about our visit.
Cologne Cruise : As with many European cities, Cologne has a couple river cruise options and we opted for the one hour Panoramic boat ride. What I loved about this one was that there was a play area on the boat and so the kids were occupied. This would have easily been our 15th boat ride within 3 months so they were getting a bit boring for the kids. While they hung out at the play area we sat nearby and took in the views. No headsets here so it was a bit hard to hear the narration as we were on the top deck but it was good day for us. One tip I do have is that you can only get your tickets on the day of the cruise and they tend to sell out or randomly cancel the sails so get there at the start of the day to grab your tickets! There is an online portal but I wasn't able to figure it out!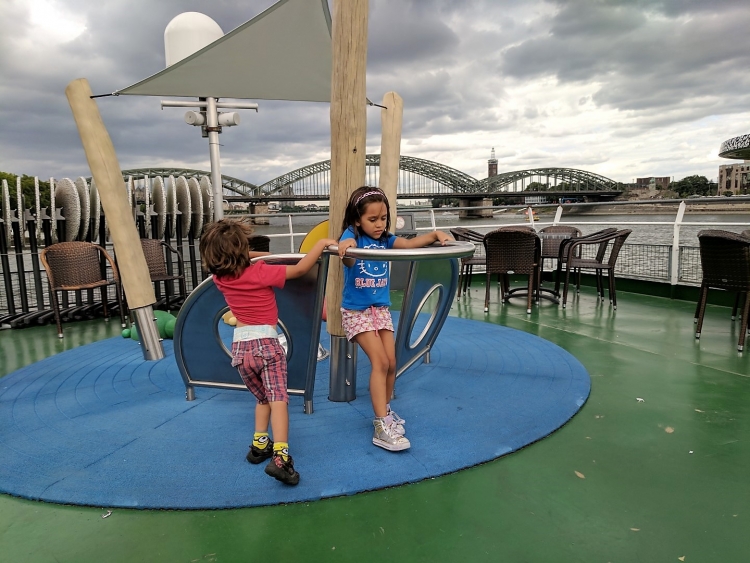 Cologne Cathedral : The Dom is what greets visitors as they step into the city for the very first time. This magnificent UNESCO World Heritage site houses the remains of the Three Wise Men and is Cologne's second-tallest structure, surpassed only by the telecommunications tower. A walk into this cathedral will see you marveling at the stained glass and Gothic architecture.
Plazas : Most of the action happens right by the Dom and during our visit the plaza there was filled with bubble makers and street artists. Little Monkey and a couple other kids also took it upon themselves to jump into the water fountain and cool down on a hot afternoon.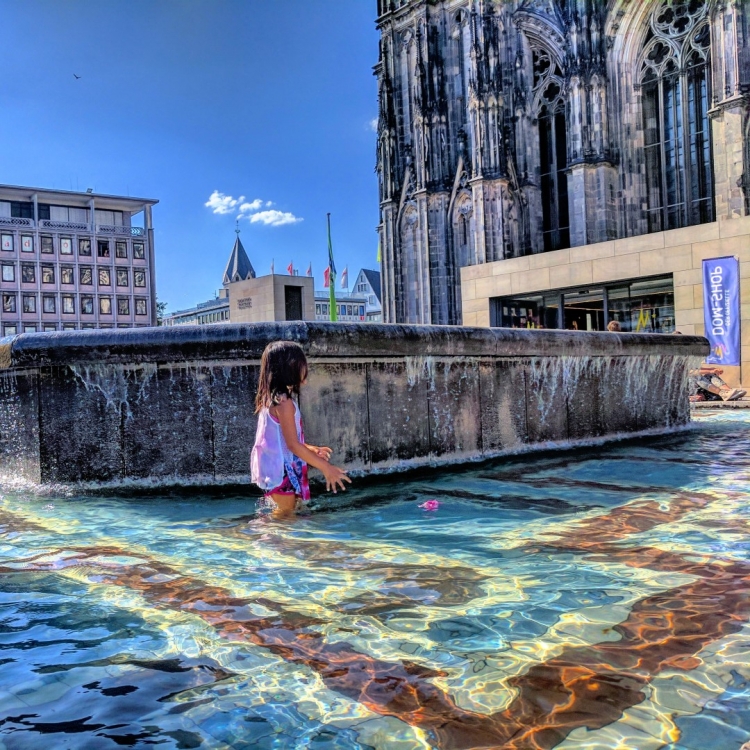 Urban Art : The street art scene is thriving in Cologne and as you roam around the streets you're bound to discover some fascinating pieces by local artists. From the signature Banana sprayer to intricate murals, you can learn about the community via these artwork. I found this piece about the urban art scene to be very informative and it provides a neighbourhood guide for your strolls around Cologne.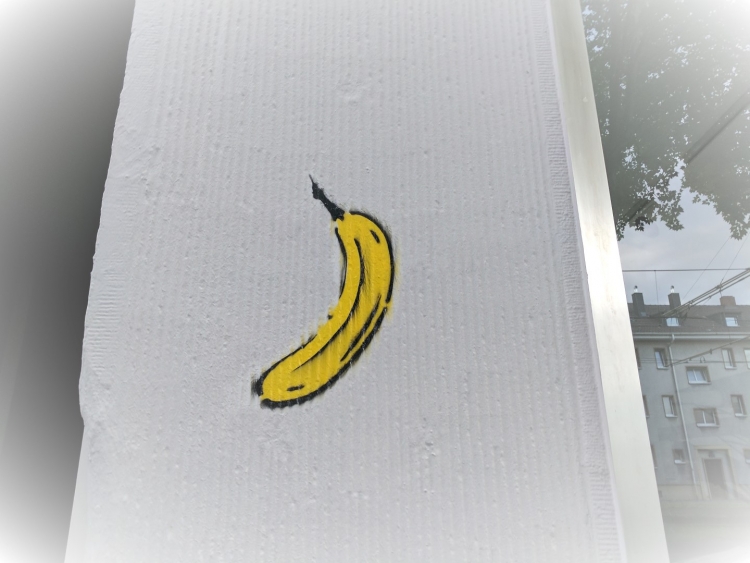 Where to Eat in Cologne
We only had two full days in the city and so we didn't get to even put a dent in the food scene. If you're by the Cathedral, here's a nice round up of food spots to explore.  As we roamed the cobblestone streets we spotted the famous almond pretzels and picked one giant one for us to share before finding Craft Corner for some pints. We also couldn't leave Cologne without a traditional German meal and ended up at a Brauhaus for dinner one night. Given that the kids were missing some of the creature comforts from home at this point we visited a cereal cafe and indulged in some fruit loops and I had a donut milkshake that was Instagram worthy.
The Germans are a friendly bunch and were very kid friendly but definitely remember that most spots were closed on a Sunday (including super markets!).
We enjoyed our visit to Cologne and fed off the student life energy in the downtown core. If you're thinking of visiting Cologne with your kids, you're bound to have a great time!