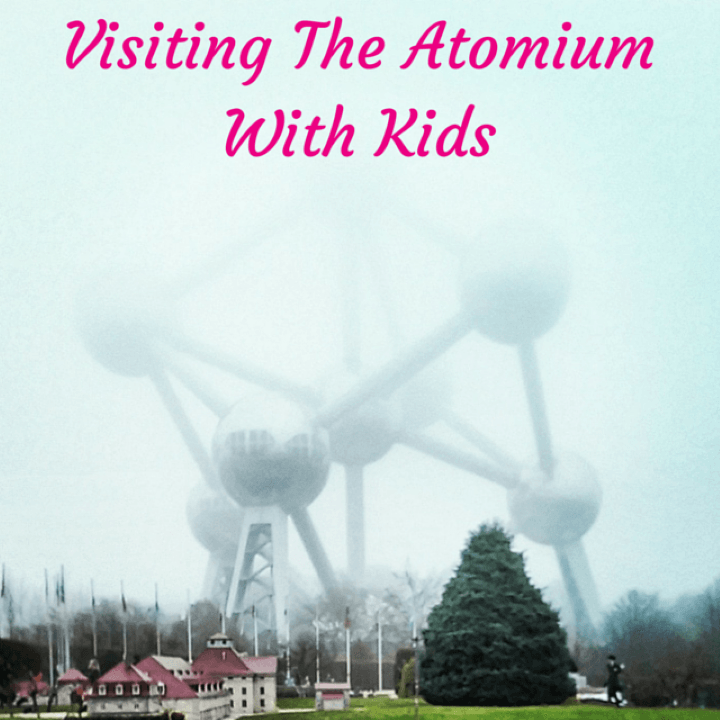 I had been to Brussels during my younger days (I was probably around 10) and the only thing I remembered about Brussels was the Atomium. It's strange but it's one of the monuments from my childhood that stuck with me and I wanted to re-visit the spot with the hubs, Baby Boy and Little Monkey. So, during our recent visit to Brussels we visited the Atomium with the kids. I had high hopes for some stellar family pictures infront of the Atomium but sadly it was a cold and insanely foggy day. Why is it always foggy when I try to visit European attractions? It was the same way with the Eiffel Tower.
We had taken the metro (subway) and because it was foggy we had to keep asking for directions but we got there about fifteen minutes later. The entrance to the actual structure is in a separate building from the ticket office and so you have to line up twice. Admission is free for children under the age of 12 who are accompanied by an adult. No strollers are allowed in the Atomium, you have to park them at the ticket office (no cost- but it will cost you to go to the washroom there!). Baby wearing is definitely the way to go.
Disclosure : Our visit was hosted by Visit Belgium, but as always, opinions are totally mine!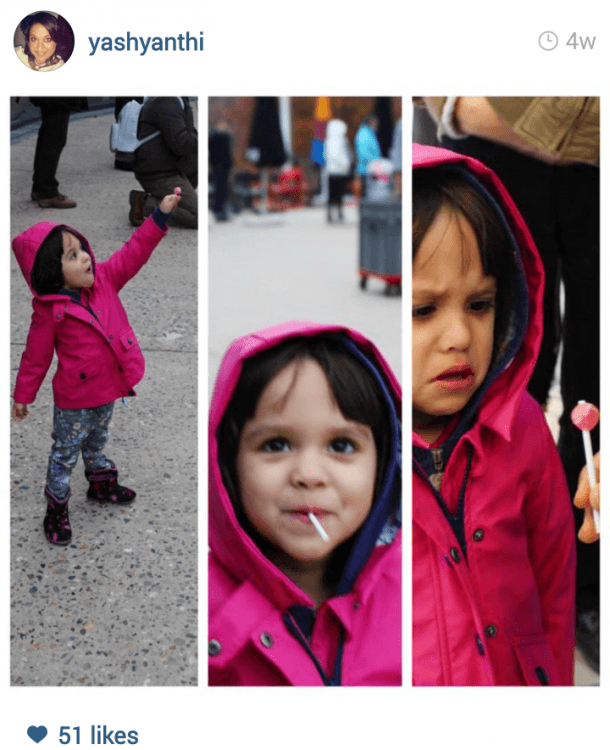 The Atomium was the main pavilion and icon of the 1958 World Fair of Brussels, commonly called Expo 58. It wasn't supposed to stay up past the Expo but here it is today! At 102 meters high, with its nine interconnected spheres, it represents an elementary iron crystal enlarged 165 billion times. It's quite mesmerizing…check out Little Monkey's initial amazement which then turned sour when her lollipop fell on the floor while we were standing in line! She hasn't watched Tintin ( but he's a fave of mine!) and he was there to  greet each of us as we walked through the main entrance. There's many stairs once you're in the Atomium so be ready for that. Nothing too taxing though as it's broken down into quite a few levels. There's 3 escalators and 80 steps to go up and…wait for it … 167 steps and 1 escalator to come down! Between all those levels there's nine spheres, five of which you can go into, and twenty tubes to wander through until you lose all your bearings.
You start your journey by heading up to the upper sphere where on a non foggy day you get a stunning 360° panoramic view of the 19 municipalities of Brussels. There were pictures of what the view looked like back in 1958, so you get to see how much Brussels has changed over the years. Also here's a tip…use the washroom up here if you need! It's free. Did I mention there's a bar and restaurant on this level too? We were on a tight schedule (to drink more beer!) so I didn't have a chance to enjoy a pint here.
Once you're done exploring the 8th level you then come back down the elevator and make your way through the other 4 spheres. During our visit there was a special exhibition titled " Orange Dreams : Plastic is Fantastic" and the bright orange colours mesmerized Baby Boy and Little Monkey. Not as much as the psychedelic escalators, but I was surprised by how engaged the two of them were in the spheres. Little Monkey was really into looking at the various items on display throughout the spheres and there was plenty of space when she wanted to goof around (check out the video!). There is a kids sphere but it was closed during our visit. I believe that's mainly for school groups who might want to sleep over at the Atomium.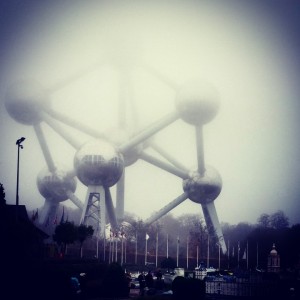 We spent about 2 hours at the Atomium before visiting Mini Europe which is just a five minute walk away. It was a bit of a busy day for us but that's how we like it. Unfortunately Mini Europe turned out to be a mini disaster with the kids but more on that next week! The joys of family travel means figuring out how to turn the meltdowns into fun times!
We have lots more to share about our visit to Belgium but in the mean time, check out Visit Belgium's Family section if you're looking for more ideas, or shoot me an email!