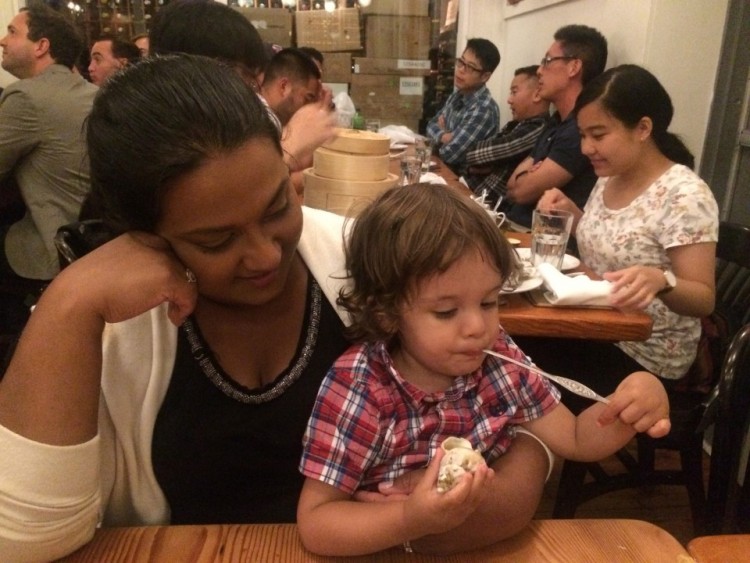 Growing up, I was a very picky eater. My sisters and I would demand that the various foods we ate with each meal be separated on our plates. The range of acceptable items would usually consist of a rotating selection of steak, chicken, rice, potatoes, and pasta – served with no spice and very few condiments. I was the pickiest of the three of us; I would not use ketchup, my noodles needed to be served plain with a bit of butter, and, despite growing up in Nova Scotia, I refused to even try a lobster. The hamburgers I ate were plain, with only the bun, and to this day, I have never tried a Big Mac – too much going on in there. Unless I know every ingredient, I am almost always hesitant to try a dish. My behavior is similar to that of someone with a severe food allergy, or a five year old; I guess you could say I have trust issues when it comes to new flavours.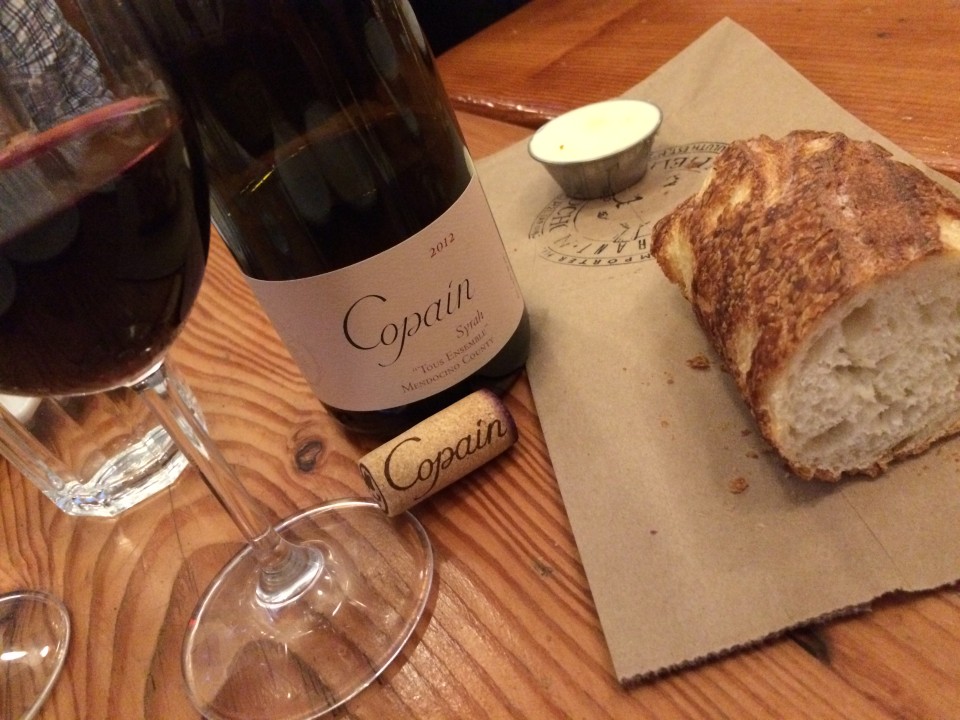 Through my travels, I have slowly learned to let go from time to time. On our recent visit to The Yeatman in Porto, Portugal, when the first two courses of a nine course tasting meal were exquisite, I began to care little about the ingredients being used; the flavours were just too remarkable, and so in the hands of a great chef, my cautionary nature subsides, and I become willing to try anything. At Au Pied de Cochon in Montreal (reservations highly recommended, weeks in advance!), I knew immediately that I was in good hands, and my inner foodie grew more and more excited with each new dish.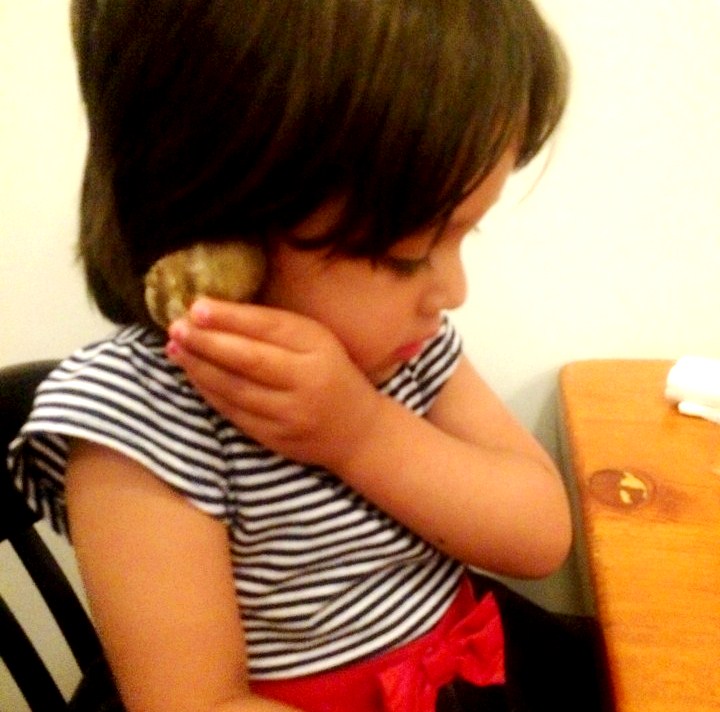 We started off with a couple Foie Gras dishes (everything has Foie Gras here!). Not something I would normally eat, the delicious Foie Gras Poutine made me realize that the chef at Au Pied de Cochon could be trusted. The restaurant had quite a few specials on this night, as well as a daily list of available seafood, and so much of what we tasted was not on the regular menu. I immediately noticed that conch was an option, a food I would often eat when I lived in the West Indies, where conch soup was a favorite of mine. We ordered a batch, and the conch we received was smaller than the West Indies variety, but turned out to be one of our favorite dishes of the night. Every seafood dish we received was fresh, and we ordered quite a few. The overall quality of seafood in Montreal is far superior to what we find in Toronto. I noticed this is in the past and little has changed. We ordered a couple trays of seafood and they were accompanied by a variety of sauces for us to mix and match with each of the items…we all enjoyed experimenting with the sauces! Little Monkey enjoyed hearing the 'ocean' through the empty shells while Baby Boy was eager to dig in.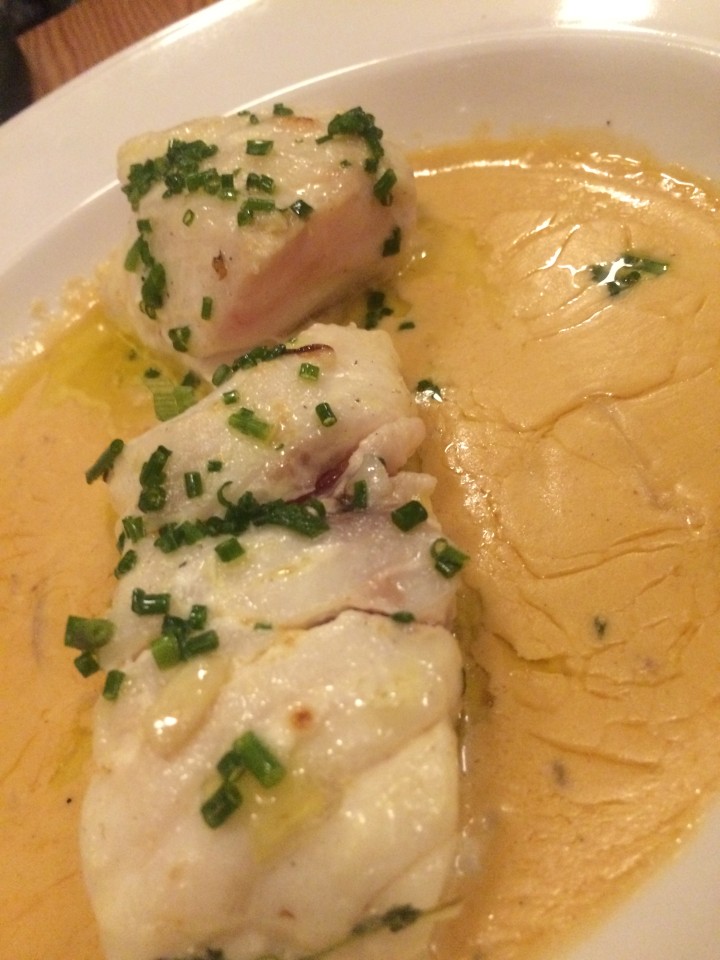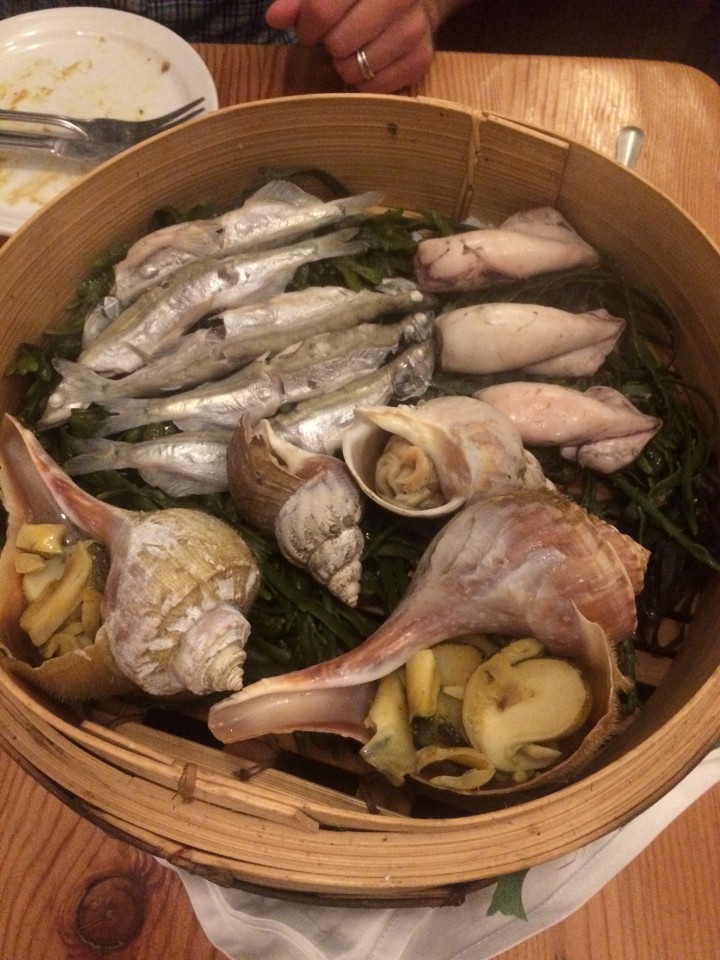 Among the items we ordered from the regular menu were the Tarragon Bison Tongue and the famous Duck in a Can, the latter being exactly what it sounds like, only this ain't no Spam. The ingredients listed on the side include foie gras, balsamic meat glaze, buttered cabbage, garlic thyme, and magret (duck breast). Au Pied de Cochon is known for this dish, the reason being its utter deliciousness. With its tender, tender melt in your mouth feel, the Bison Tongue is also something I highly recommend and was my personal favorite from the meal. Yashy's favourites included the Plogue à Champlain and the House-made Boudin.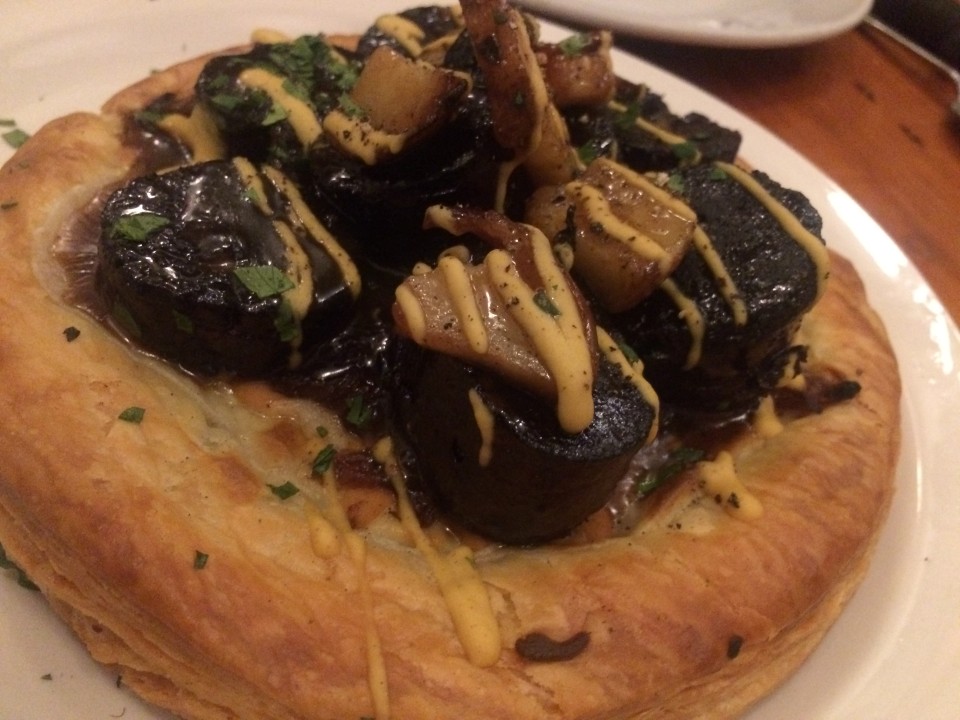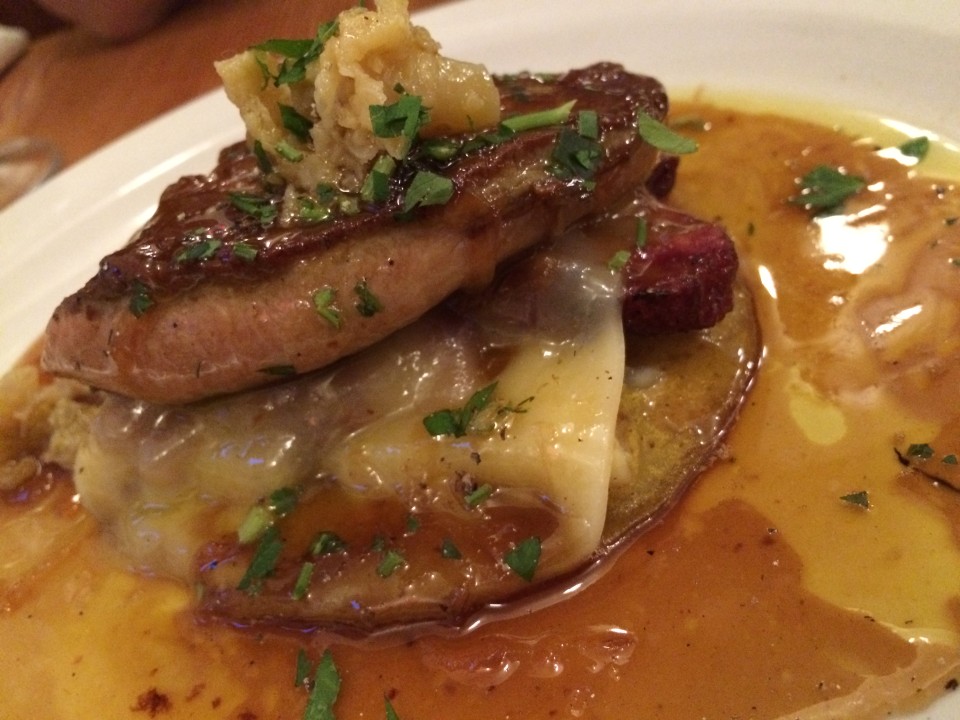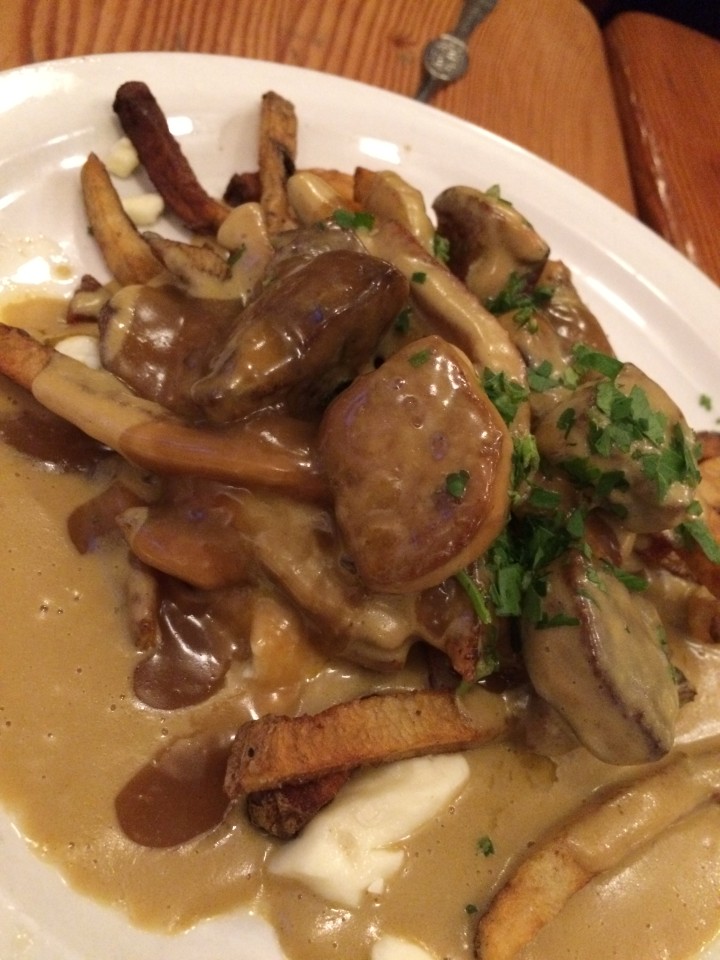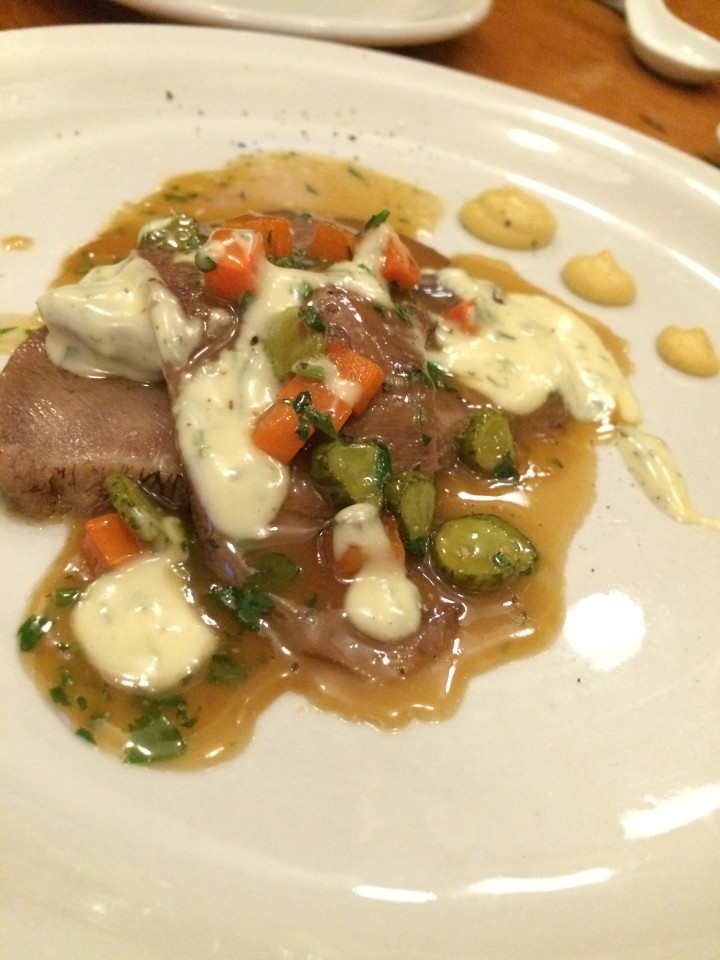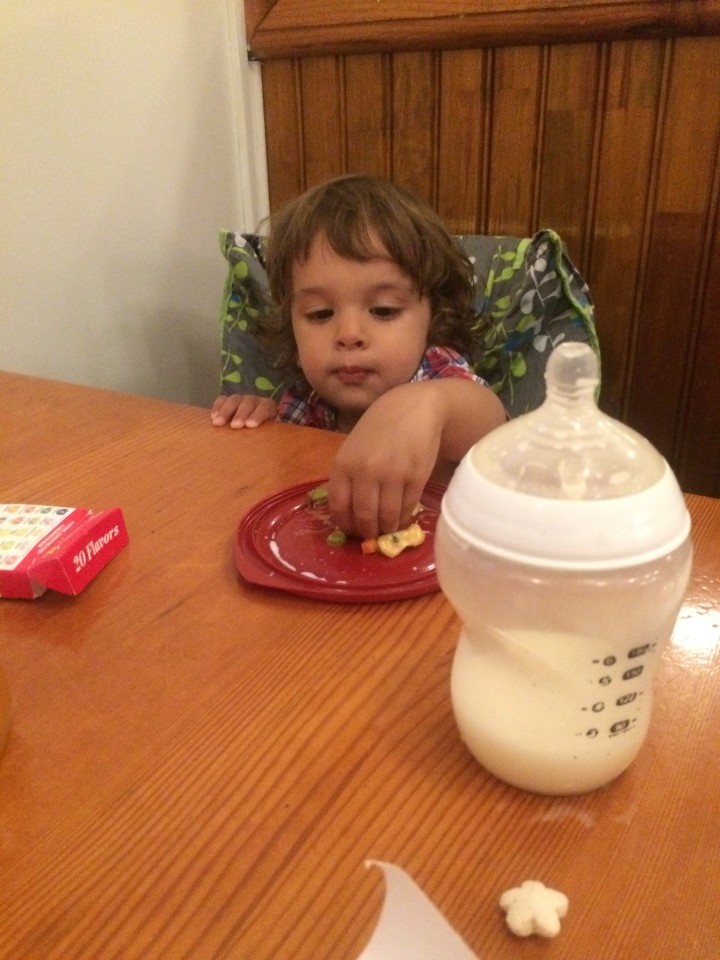 Our server was incredibly helpful in walking us through the specials and made a great wine recommendation when we needed a second bottle. In fact, the whole staff treated us extremely well given that we stumbled into the crowded restaurant with two kids and a very cumbersome stroller (which they stowed away for us, no questions asked). Not once did I feel like we were being a burden, and the kids sat happily against the wall of our corner table, got out their coloring pads, and occasionally sampled some of the great bread, along with some poutine of course. No high chairs here but we had our My Little Seat and the place was quite loud and noisy lively so even if we had encountered a melt down, it would have gone unnoticed (something we love at restaurants these days!).
We visited Au Pied de Cochon on a rainy Friday evening, and the night had not been going well for us. After being turned around at the entrance to the Dieu du Ciel Brew Pub because the children were not allowed to enter, we trudged our way up Avenue Laurier O in search of shelter and a 'calming down' drink while we killed time before our reservation. By the time we found respite in a small cocktail bar, our Little Monkey was fast asleep. She awoke 5 minutes before our taxi arrived to take us to the restaurant, and as soon as the taxi started moving, began to cry about needing to go to the potty. Within 2 minutes, she erupted into a screaming fit, spurring Little Man to follow along. Before long, a traffic jam had entered into the mix, and the 10 minute cab ride started to look more like a 15 to 20 minute journey, a lifetime when a toddler is mid-meltdown. To spare our driver, we eventually jumped out of the cab not 200 meters from our destination, and Yashy whisked Little Monkey away in search of a bathroom while I frantically unloaded our double stroller, a sack with 10 beers I had unwisely purchased, our change pad, and the kids' food and drink bag, all while holding the Little Man on my left arm. When we finally reached the restaurant, we needed some happiness in our lives. We found it at Au Pied de Cochon.