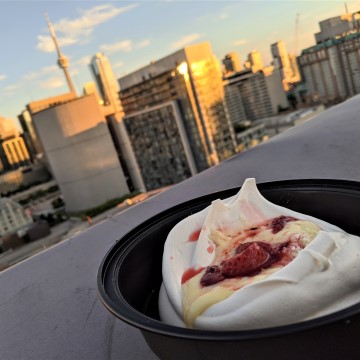 Despite our many travels, we continue to call Toronto home for a few reasons and the dining scene is definitely at the top of that list. As you may know, we locked up our downtown Toronto condo and moved in with my parents at the start of the pandemic. We've been returning every three weeks to check up on our condo for insurance purposes and with each visit I have a long list of Toronto restaurants that I want to order food from. As pretty and relaxing as Niagara on the Lake is, there is a shortage of delivery options and availability of different cuisines. While I will ALWAYS prefer to dine in at a restaurant, having someone plate my food and deal with my dishes, COVID-19 has brought about a few positive changes. In this case, many Toronto restaurants have upped their delivery and takeout games. I thought I'd share a few of the best takeout experiences we've had in Toronto during the COVID era. There are MANY other places I hope to add to this list so keep coming back to see where else we dine at during these crazy times!
Disclosure : While we've mostly paid for our own meals, there are a couple spots where we were gifted take out meals from. 

Since we live across the street from this Thai restaurant we dine here often especially because our moms are huge fans. For Mother's Day we picked up food from this Thai restaurant that has been in Toronto for over 37 years and brought it back to Niagara. Not only were there clear markings on the floor in case there was a line for pick up (there wasn't anyone else when I swung by), but they had a separate area for me to grab my bags from so that I didn't have to get close to the restaurant staff. I will like to highlight that during these difficult times, this Toronto restaurant has provided meal drops at the YWCA Toronto and has partnered with Sustain the Line, Meals TO Heal, and Stand TOgether Canada to deliver hot meals to local hospital staff. We ordered a few of my mom's favourites and the meal came with a little positive message (nice touch right?). Every Wednesday,  the restaurant is offering 20% off all pick up orders that are made directly with the restaurant. You can order a la carte items or keep things easy with their pre-set meals. Add beer and wine to your order and pantry items like curry pastes too. They're also offering a BBQ menu from their patio so keep an eye out for that too.
Who doesn't love Mediterranean fare? Byblos is offering a pop up menu every weekend in June and so we enjoyed two of their share style set menus recently. Each five course menu feeds two adults and I was impressed by the number of spices, garnishes and fancy condiments that came with our meals. You do have the option to add beer and wine to your order here as well. Pick up was easy as the bags were ready for me to pick up and when I got home I was to heat the food. They have planned the menu so that the food was mostly cooked through but once you heat it up in your oven or on a grill, it's perfection. The Grilled Branzino was my absolute favourite and my brother reminded me that it was most likely because we used to eat grilled Hamoor fish during our childhood in Dubai. This Branzino was much fancier than those of my childhood, that's for sure! The kids loved the Branzino too, which was shocking. You can choose between two salads but don't forget to indulge in the fresh pita and goat cheese beet root first course! The meals also came with Truffle Rice which was another favourite of mine.  Ofcourse it should come as no surprise that we all smashed the  Pavlova which came with white chocolate and sumac strawberries. One thing I will highlight is that I definitely did not plate the food well since I got confused on which garnishes went with each dish…so show me your creation as I'm sure it's better than mine!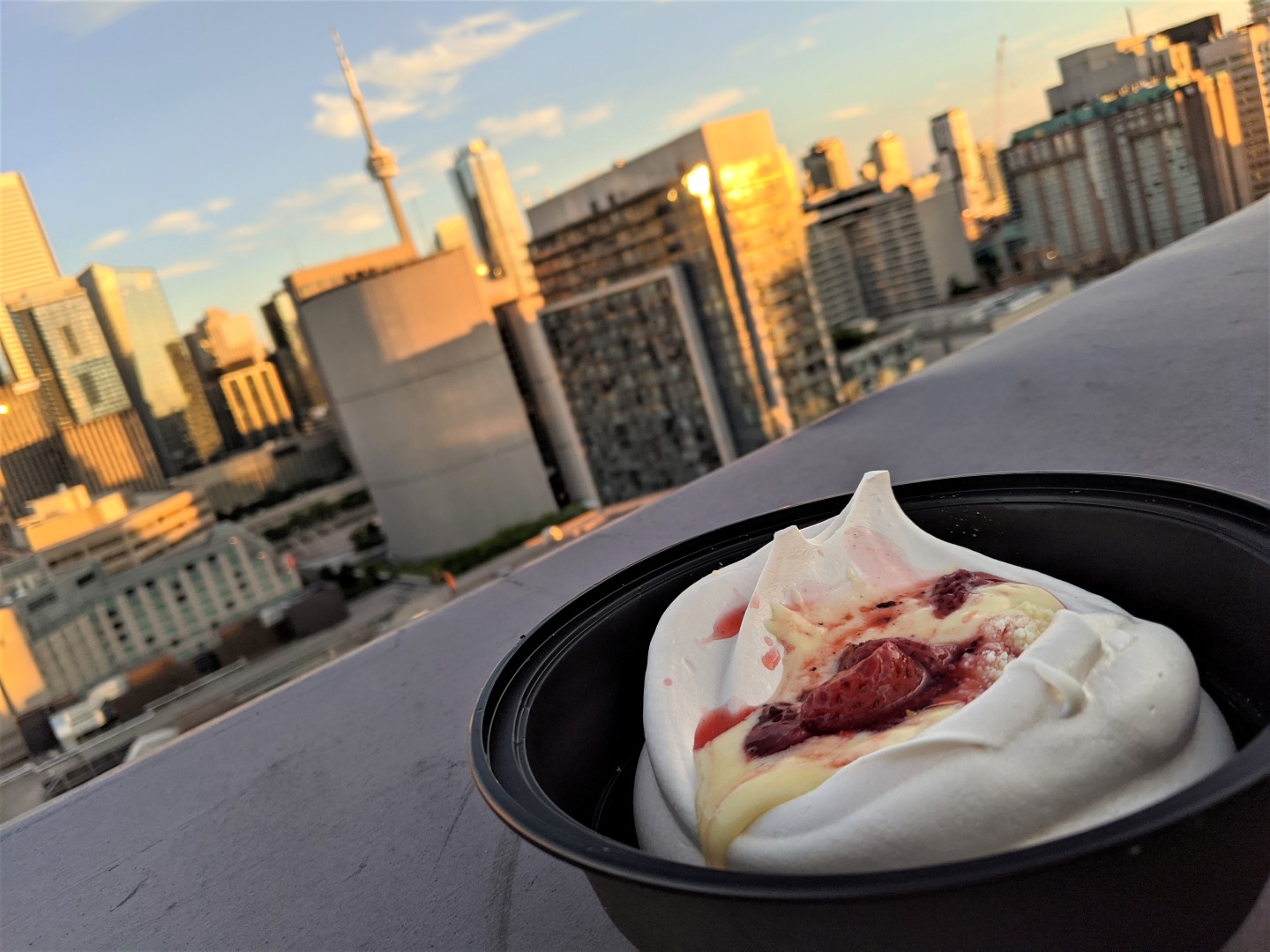 We dined at Chotto Matte with the kids last October and experienced their Jungle Brunch and last weekend we enjoyed a take out meal from this Peruvian Japanese restaurant in downtown Toronto. It had been a LONG time since we had ordered any sushi or raw fish dishes so I was very excited to dig in (the Nikkei Sashimi was my favourite and the kids devoured the California rolls). For a fancy date night in, I highly recommend ordering some of the small share plates from these guys. Pick up was seamless from the side entrance and I had the chance to choose a bottle of wine to add to our meal as well. We had ordered the Pisco Sour and the bartender came by to ensure that she gave me the needed instructions (masked and from a distance). If you plan to order the Pisco Sour, ensure you have an egg at home because raw egg whites don't travel well obviously so they prefer that you use your own. Chotto Matte is one of my favourite late night lounges in the city and we love their jungle brunch too, so it was lovely to enjoy their dishes on our rooftop while we wait for their patio to open when it's safe to do so!
This is one of those spots that we have been dining at since I first moved to Canada in 2005 (it has been around since the 1980s with the current owners Ernie and Linda operating it since the 1990s).  While Bangkok Garden was more traditional authentic, this one's more like fast food Thai. Their previous location was where Chris and I went to on our first non-group date. We have picked up food from Salad King many times but for the first time ever they're actually offering delivery. That's huge news because  I know many Toronto friends who love Salad King's Thai dishes but rarely come downtown to pick it up. Now you can bring Thai Islamic Noodles, Siam Noodles, Orange Beef and all the curries you love home to you! Definitely high on my list for cheap eats in Toronto and I love that I can customize the spice levels (10 or 15 for me please, no 20s).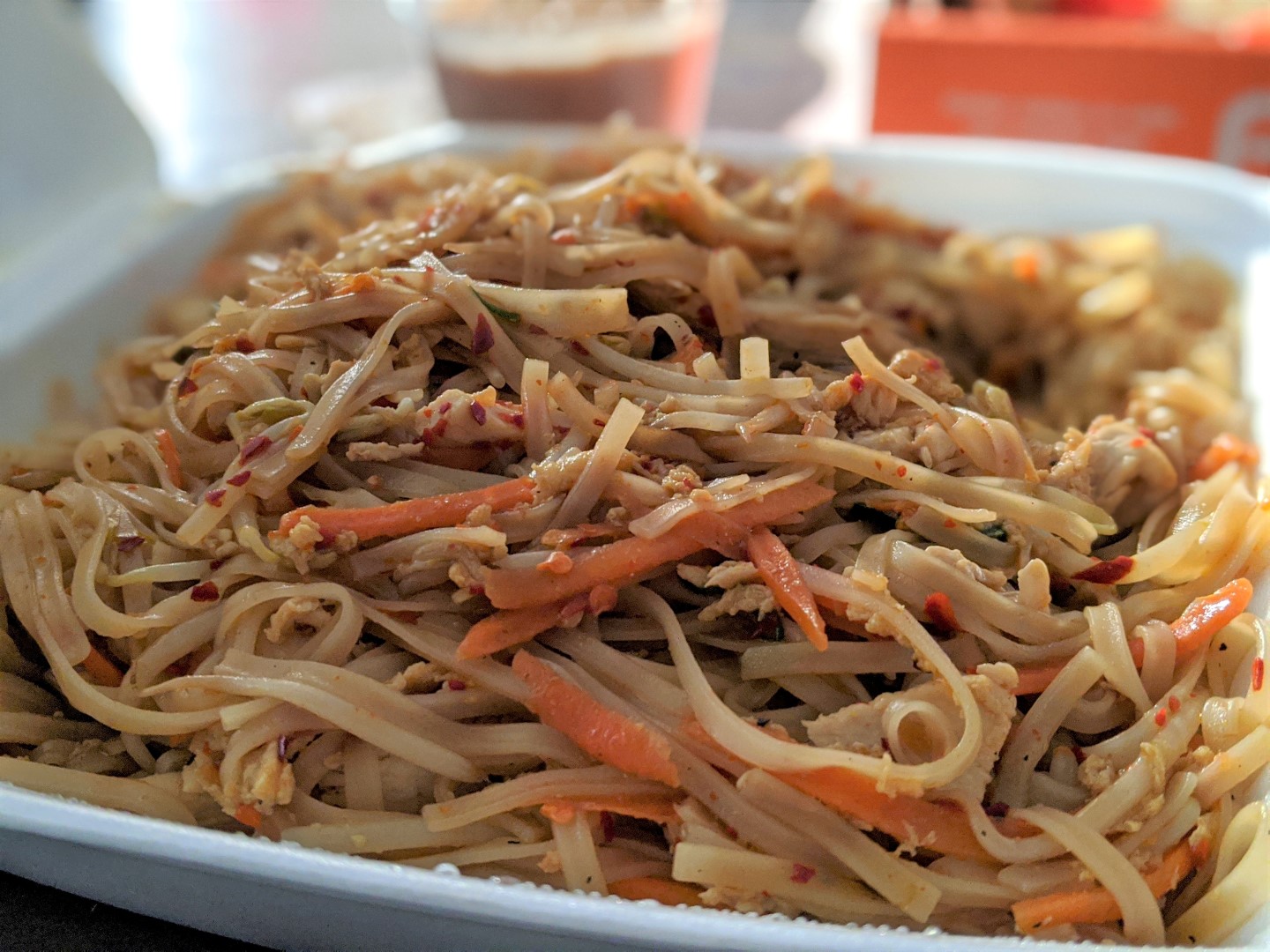 Many of these restaurants are on apps like Skip The Dishes, Uber Eats and Door Dash but during these trying times, if you can afford to pick it up directly from the restaurant, do so because every dollar that ends in your favourite restaurant's pocket is helpful. Of course ordering delivery is better than not ordering at all so but all means, if delivery is the only option available to you, then do it! Let me know if you order in from any of these Toronto restaurants and if you think I should try another one of your favourite spots, let me know! We've done takeout from numerous places over the years but am loving the escalated options that restaurants have come up with during the pandemic. I have a feeling that we'll be doing takeout more than dining out over the course of the next few months.