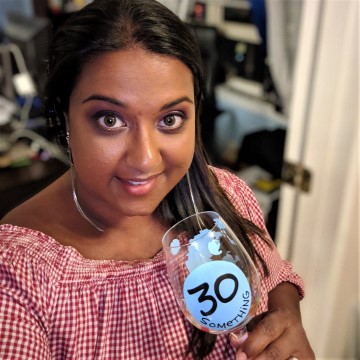 My birthday wish for a couple years had been to go dancing in Toronto but this was the year it finally came to be! Now don't ask me why I wanted to go dancing, perhaps it was a way to re-live my days of reggaeton and ballet extracurriculars during my formative years, or missing those days of performing on stage during my MBA days, either way, each year that was my birthday wish. We realized that Chris' mom was going to be in town and so we invited one of MY kindergarten friends to bring her kids for a sleepover and our plan was to go clubbing in Toronto as her husband would also be celebrating a birthday soon. Yes, our tiny condo housed 4 kids and 5 adults that night in addition to the pre-party and I'm glad Chris' mom was a great sport, taking it all in stride. When I first started planning the evening, my assumption was that the four of us would have dinner and pre-drinks at home before hitting up a lounge or club. We ended up with a group of  nearly 20 people and a super fun night that left smiles on all our faces. Mind you, we didn't end up at a large club because we're old and were skeptical about the big Toronto clubs that charge a fairly large cover of about $25 on average (and with a group our size we knew we'd have to get a booth or bottle service anyways). We did, however, end up having dinner and dancing in the same spot and that was just perfect for us !
Plans were pretty wide open as we had no idea where one can go clubbing in Toronto these days…well, I do but I wanted old school tunes, space for us to sit down when needed and preferably, a bit of a mature crowd who wouldn't be pumping their fists in my face. I'm 39, can you tell? We started off by eating Salad King at home and priming our bellies with some hearty carbs for a night of partying. However I should mention that in the afternoon my friend and I swung by Sephora where I received a full (face) makeover as I was purchasing $50 worth of goods. I always time a purchase around occasions when I may want a professional doing my make up, so this was great timing and some much needed girl time away from our families.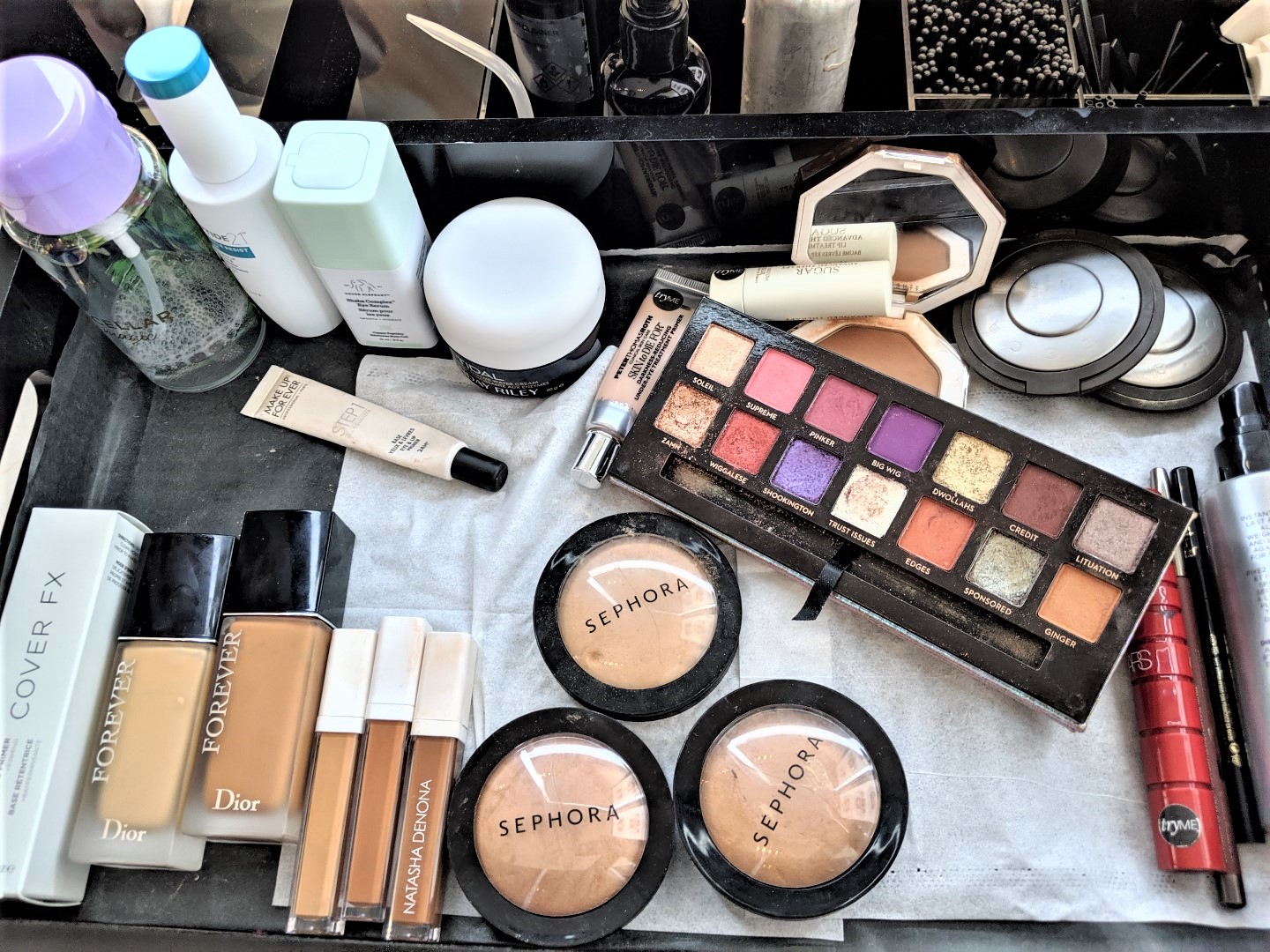 We also had about 5 additional friends swing by for some pre-drinks and my donut-cake cutting (no, the kids and Chris did not get me the special donut cake from Tim Hortons 130 but they did grab some regular ones and piled them up. Remember this donut cake that they also DID NOT buy?).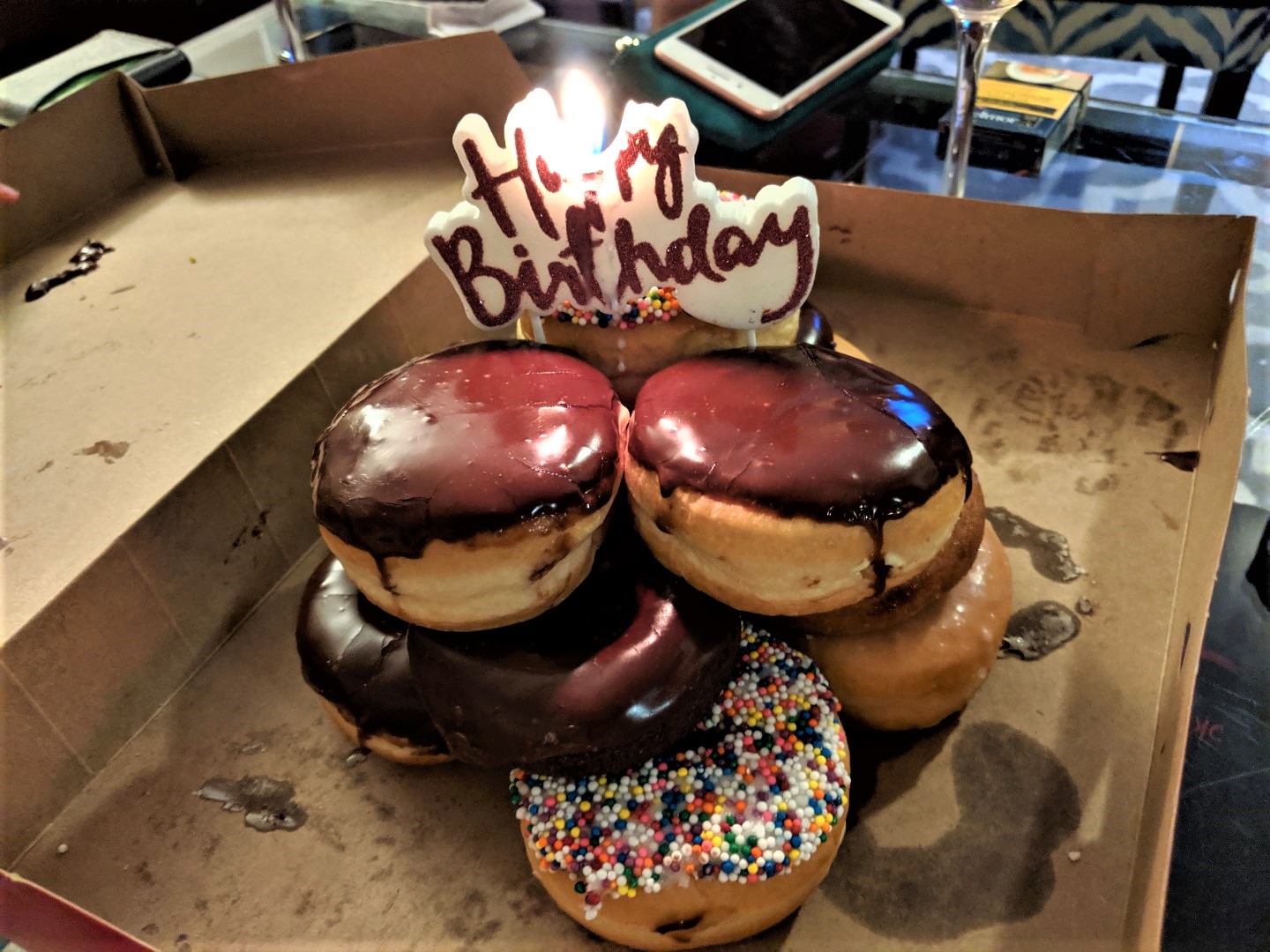 We then bid farewell to the 4 kids and Chris' mom before making our way to MARBL, a marble clad steakhouse. I had made 10 p.m. dinner reservations for 12 of us but on arrival our group size was 20 (friends of the birthday boy also joined us). MARBL generously offered us the chance to head down to their lounge where we could order food and settle in for the night as they didn't have a table to seat all 20 of us at in the main marble heaven (the space is stunning you guys!). Since our plan was to end up at their champagne lounge in downtown Toronto, Mademoiselle, this sounded good to us.
MARBL Toronto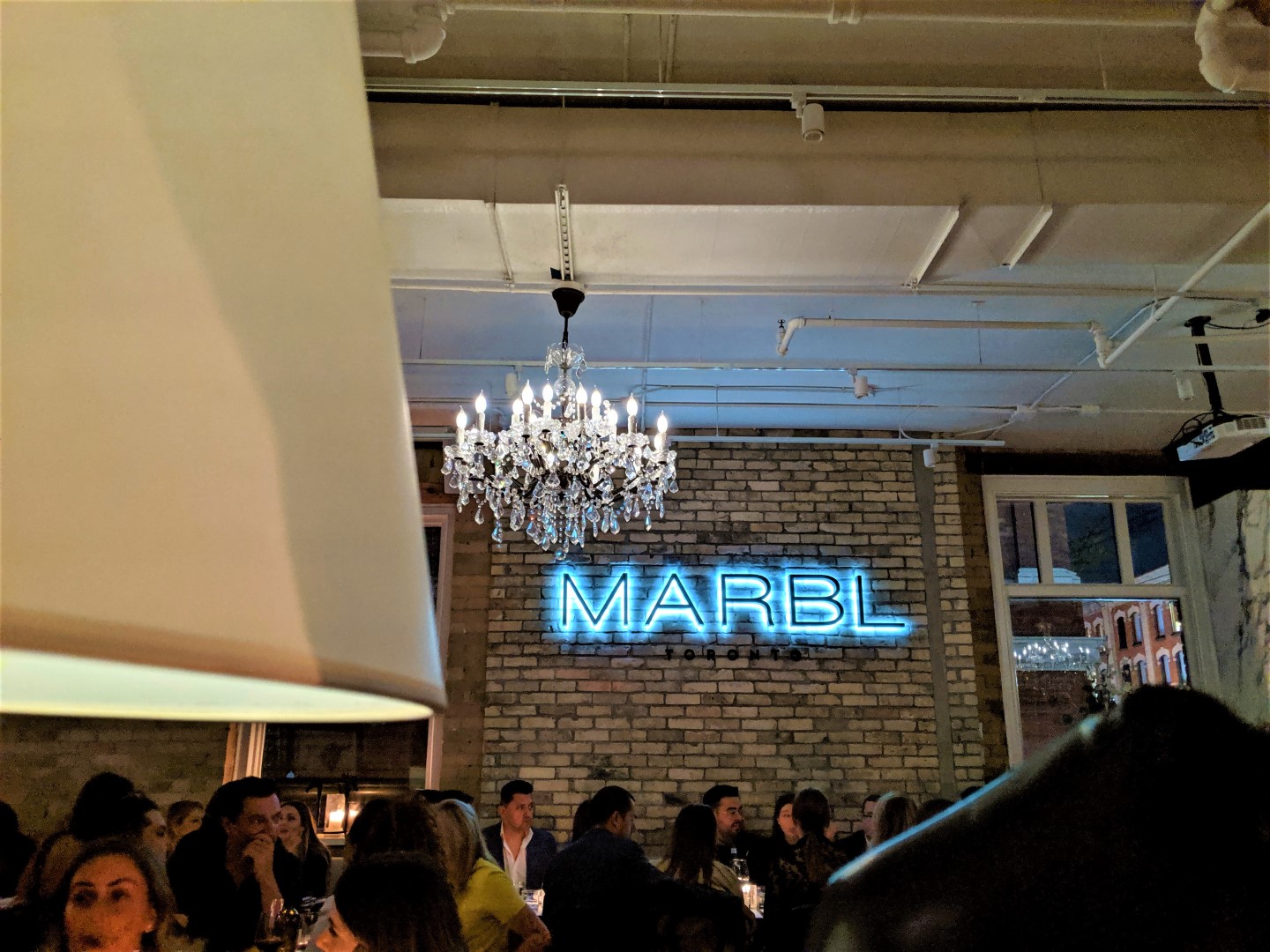 Upon arriving downstairs we quickly realized that we actually had to go upstairs if we wanted cocktails (they only serve basic pours and a couple wines downstairs) and so half of us ended back upstairs but on the patio this time around. We ordered a few dishes, cocktails and bottles of wine before making our way back downstairs with cocktails in hand. The dishes we enjoyed were quite good and I wouldn't mind heading back for a proper meal one day, that's for sure. The Steak Tartare was ordered a couple times and the truffle in it was just perfect. The Lobster Ricotta dumplings had good chunks of lobster and the Lamb was flavourful but the couscous mash was the star for me. Chris also ordered a Smoked Octopus salad that was very well done too.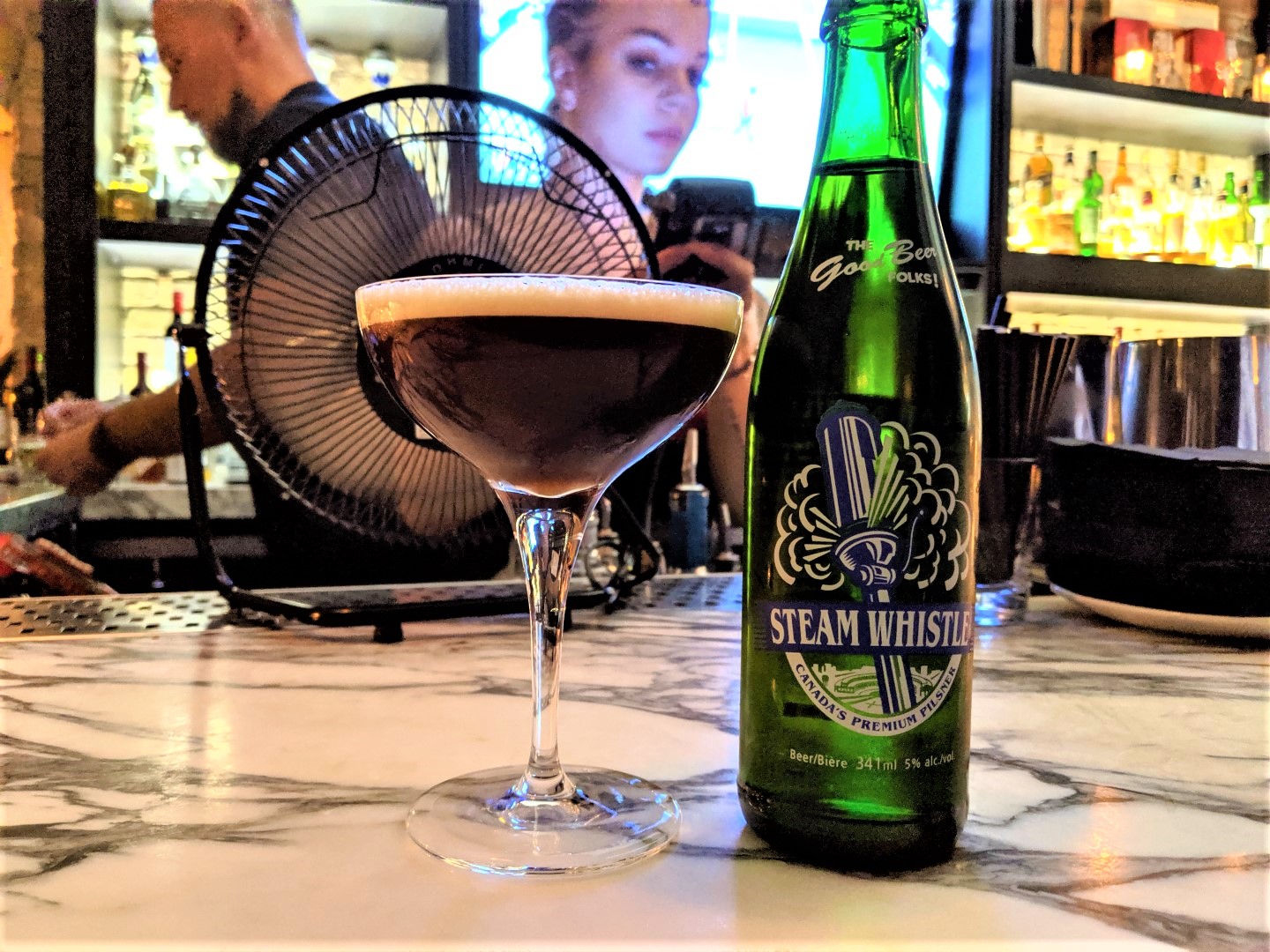 Downstairs, the place was packed come midnight. The DJ was mixing in some old school tunes (albeit for a few seconds before bringing on the next tune) and we had managed to secure two corner tables right by the bar. We did end up getting two bottles of vodka that evening and so we secured those booths for the entire night. Mademoiselle is fairly narrow and while there wasn't a dance floor, everyone was making space to get their groove on. We barely noticed the rest of the patrons because our group was having a great time and providing enough entertainment to keep us happy. We ended up closing the place and were the last to leave…surely a sign of a great night. You can get into Mademoiselle (provided that you're dressed smartly – most of us were in dressy jeans) even if you're not dining at MABRL, but you may have to get there early. It was empty at 10 :30 p.m but was packed by midnight and I assume they give preference to those who are dining at MABL at that point.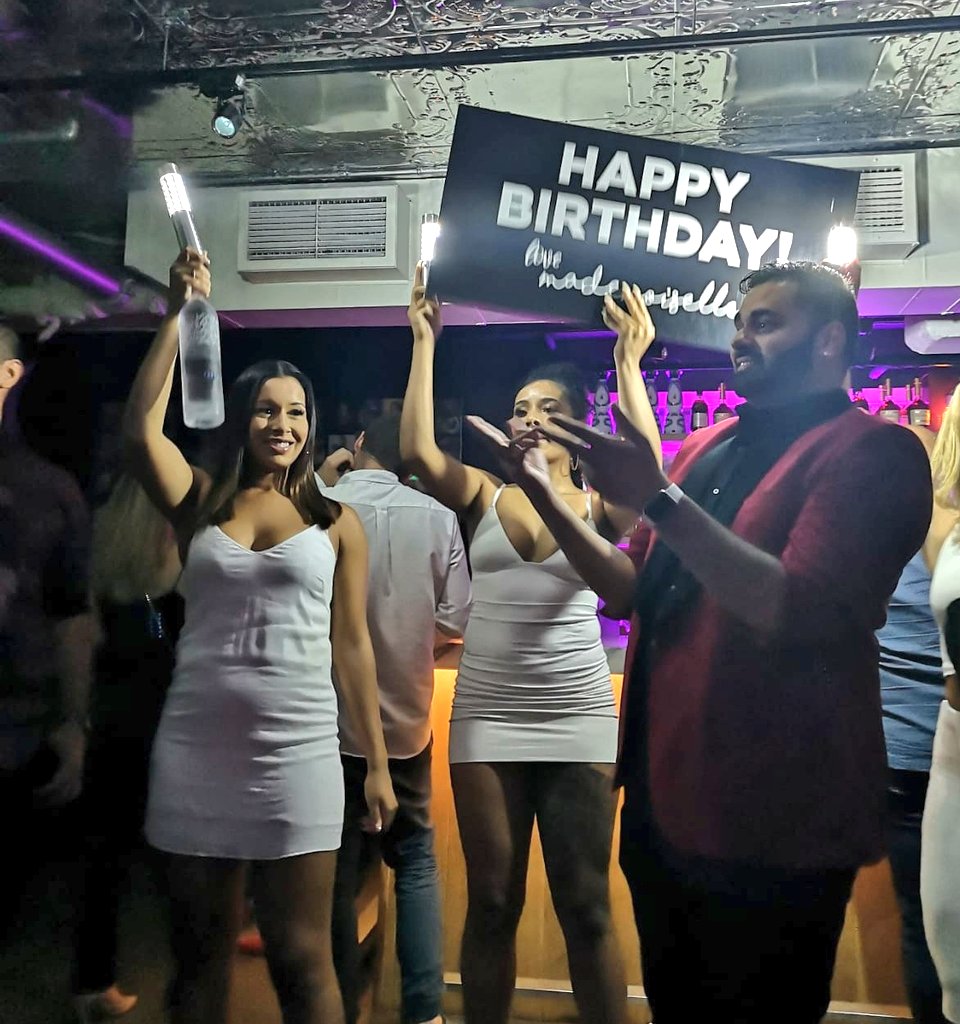 As with any perfect night out in Toronto, our plan was to find a hotdog stand but as soon as we stepped out there was a food truck selling shawarmas and hotdogs and that's where we ended up. Sadly for us, it wasn't good! Most of our friends bid farewell after the club and a few went to a Sheesha lounge while my friend and I went home to check in on the kids and switch into flip flops before linking up at the Sheesha lounge. Of course we got delayed at home (kids were all asleep mind you) and the guys were making their way back to our place by the time we stepped out. Around this time Chris made a good point of calling out the fact that it was 4 a.m. and that we should probably get off Yonge street which is notorious for early morning commotions. Bed time it was!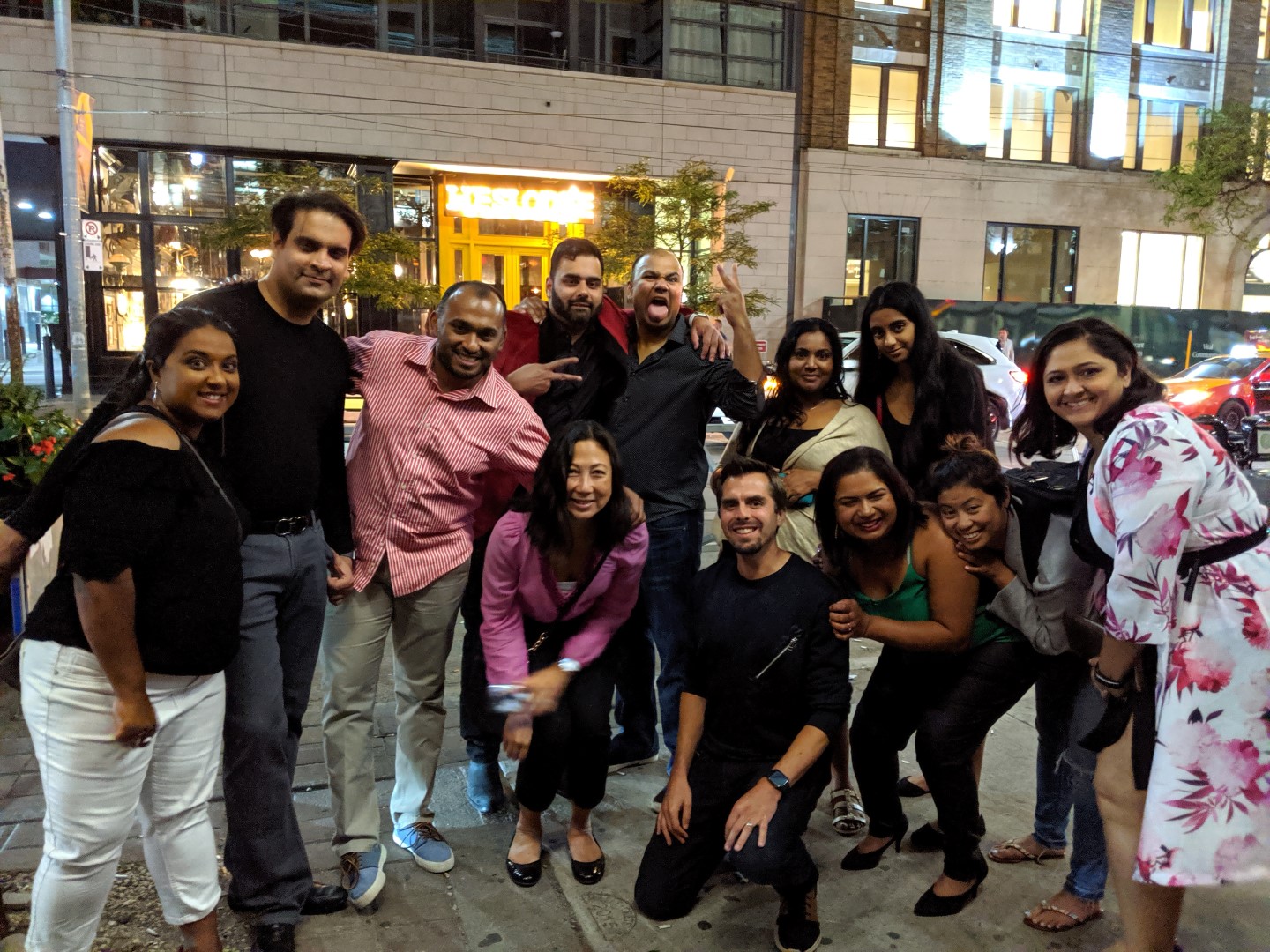 Looking back, I know quite a few friends who say they want to go dancing and then struggle to make it happen. Beyond actually securing a sitter and gathering a group of friends, I think the main challenge is in finding spots to go to. In our case we thought we'd start at BARO which also has a hidden dance club but when we called and found out that there's a minimum $60 spend per person at the rooftop lounge before going to the club where bottle service would be $1000, I felt uneasy in asking others to cough up that much as not everyone would be drinking. Though I would like to go check out Baro one of these days (remember our visit to Valdez and Escobar?). Toronto is home to some classic dance spots like 2Cats (don't cringe!), Lula Lounge and the Underground but if you're looking for something a bit more upscale, look at spots like Mademoiselle, CC Lounge and Arcane. Next up, in November I'm planning for a girls' weekend in downtown Toronto (will technically be my first girls getaway since the kids were born) and who knows, we may just end up dancing yet again! We'll be explore the Ossignton neighbourhood so if you have recommendations, send them my way!