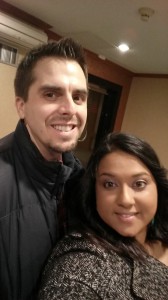 January was a bit of a hibernation month for us and the hubs and I had the chance to sneak out one Friday night when my parents were visiting (and babysitting!). You may recall that I was part of the LGG3Moms program a couple months back…the good folks sent me a thank you gift and so we had a gift certificate for Valdez restaurant that we decided to put to good use during our date night. The plus was that there was a hidden bar behind the restaurant that I had been meaning to check out for quite a few months- this was my chance! Toronto's speakeasy style bars not only offer fantastic cocktails but some of them are actually hard to find. Passwords, secret doors and some amazing bartenders a la New York style can be found once you're at these bars. The good folks at Mom Central and LG Canada definitely knew how often I use my phone to capture our food pictures so it's fitting that all the pictures here were taken on my LGG3.
Valdez was most definitely busy the night we visited and a night time visit is definitely out of the question with young kids. The hubs and I enjoyed a window seat across from the open kitchen and immediately I was drawn to the good tunes and energy of the space. There's a charm that transports you to Latin America as soon as you take your seats.
I'll tell you right now that they have a fabulous cocktail and craft beer list. I enjoyed quite a few drinks and the hubs was able to find some Mexican brews that aren't easily available. The Passion and Whisky Hibiscus Sour were two of my faves.
As we sipped on our drinks we perused through the menu and ended up ordering quite a few dishes (don't worry – we ate it all!). Below are a few highlights that has me wanting to visit them on my next night out without the kids.
We could have ordered each of these on their own but when the Picada put them together, it was like we didn't need to choose but was able to have it all.
beef chuzos + veg skewers + chicken wings + arepitas + lime + chorizo del Jefe
The wings and the beef chuzos were my favourites here. The wings were dry but flavourful with the guava BBQ sauce and the beef was tender and flavourful when dipped in the cilantro and lime dressing.
I always get the Chips, Guac and Salsa whenever it's on a menu. So here we are and yes the chips combo included  plantain, yucca, taro and corn chips.
A Tasting flight is the only way to go when it comes to ceviche.
Tiradito (albacore tuna + tiger nuts + coconut + citrus + yucca + cilantro)  Loved this one!!
Scallops (lettuce + lime + red onion + grapefruit + chulpes)
Atún japonés (ahí tuna + watermelon + radish + ponzu + pickled ginger + pear) Another favourite
El tipico (snapper + lime + onion + tomato + peppers + plantain chips + cilantro)
Mixto (octopus + calamari + mussels + squid ink + maize + citrus + sweet potato) Still undecided if I like the sweet potato in this one.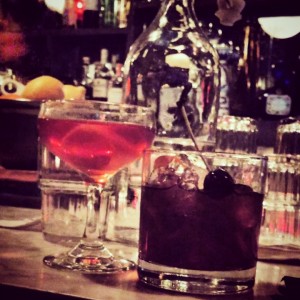 I knew there was a bar called Escobar behind the restaurant and that you walked through a freezer to get there…provided you had a secret password. Without giving away the allure of this secret Toronto bar, I will tell you that your server will gladly give you the password if you dine here before you swing by Escobar. The bouncer does indeed ask you for the password and friends have told me that they haven't been allowed inside if they didn't know the day's code. Yes it changes daily. As do the cocktails on offer. The hubs and I enjoyed the live DJ at the cozy bar as we sipped on two fine cocktails to wind down our kiddy free night out. There's also a special drink you can order at Valdez that will get you the password and coat check but I think I'm going to let you figure out the drink's name. Think Matrix.
If you're looking for a fun casual night out check out Valdez and continue the night at Escobar if you fancy a few more drinks after dinner. Where have you enjoyed a date night at recently?