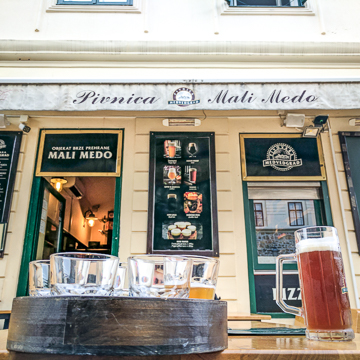 Zagreb has a nice craft beer scene, and visitors to the city's downtown core will find a number of places to drink local beer. Many of the restaurants where we dined offered craft brews as well and unlike in a lot of European cities, the beer is reasonably priced. A few locally based brewers operate in the city, and one of those brewers has several food locations. From speaking with a few Über drivers, I could tell that residents have a passion for beer, and that is usually the driving force behind a good beer scene.
However, one major drawback is the prevalence of smoking at restaurants and pubs in Croatia, both inside and on patios. It is widespread and a serious hindrance to a good beer drinking session. A number of the places we visited did have patios, which helps, but does little to stop the flow of smoke during crowded times.
Here are some of the best places in Zagreb to find craft beer
The Craft Room
This perfectly located pub in Upper Town offers a draught list that features a mix of local and international craft beer. If you want to scout what is pouring before you visit, their Facebook page lists what's currently on tap. The pub also offers a decent range of American style pub food, including a pulled pork sandwich and a Philly Cheesesteak. This place has a personality too. You may not be inspired by the decor, including the stuffed head that hovers above the bar, but you certainly won't forget it.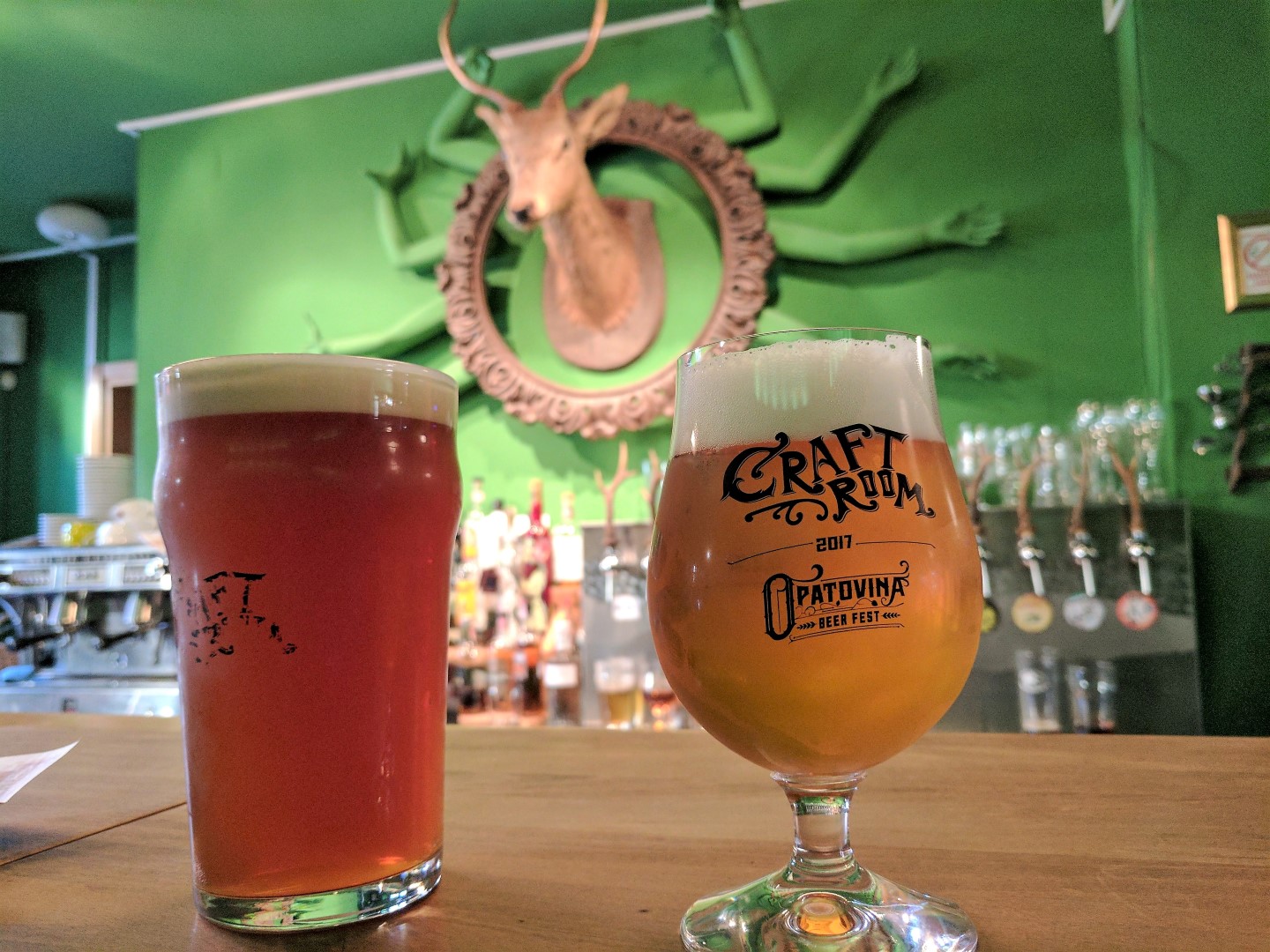 Tolkien's House
I am not sure that you would find a place like this in the Shire, but Tolkien's House certainly houses a lot of beer. Their beer menu spans a number of pages, consisting mainly of European beer but with a few local options. A great feature of this pub is its outdoor patio, which gives visitors the chance to avoid as much cigarette smoke as they can. If you don't smoke, I would not recommend drinking indoors.
Pivnica Mali Medo
Also in the Upper Town, Mali Medo is the ideal place in the downtown centre to grab a meal and get a flight of locally made beer. This is one of a number of pubs in Zagreb that are run by local craft beer maker, Pivovara Medvedgrad. Mali Medo has a large patio that rests along one of the cities busiest pedestrian only streets. I enjoyed the food here as well. For my dinner, I went with the pub sausages and baked beans.  The kids enjoyed the minced meat fingers and fries, while Yashy went with the bear paw steak. The pizza looked good too. By the time we left the city, I was able to try most of their beers, and I recommend the Balthazar Hoppy Lager and the Fakin IPA.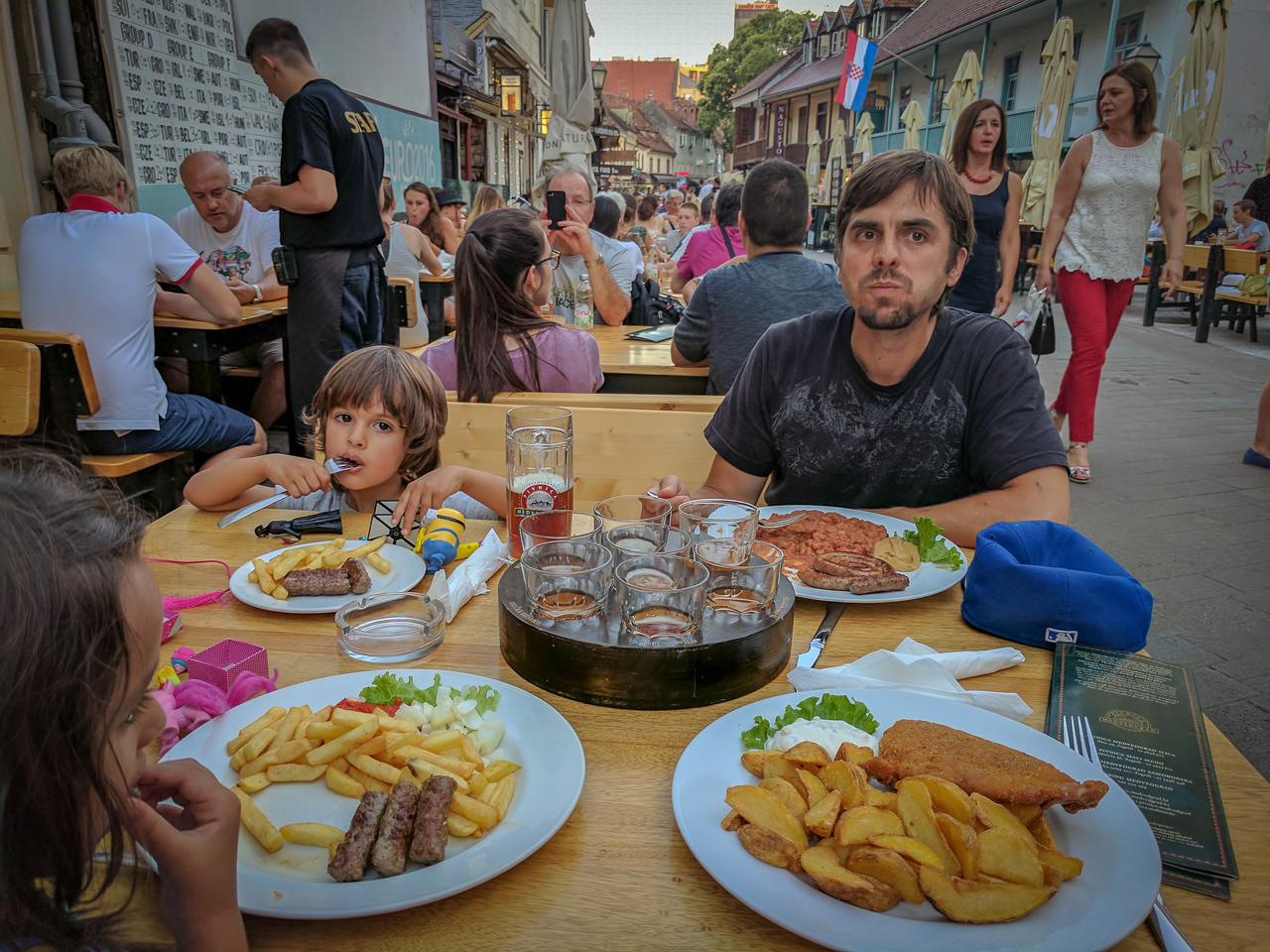 Pivnica Medvedgrad – Ilica
Also a Medvedgrad location, the highlight of this pub is its large back terrace, which gives one the impression that they are drinking in a large treehouse. We visited during the day and so there were few enough people so that we could avoid the smokers, but I could see this place getting pretty hazy at night. They offer the same comprehensive menu that we found at Mali Medo, including the Pub Goulash, a Croatian specialty.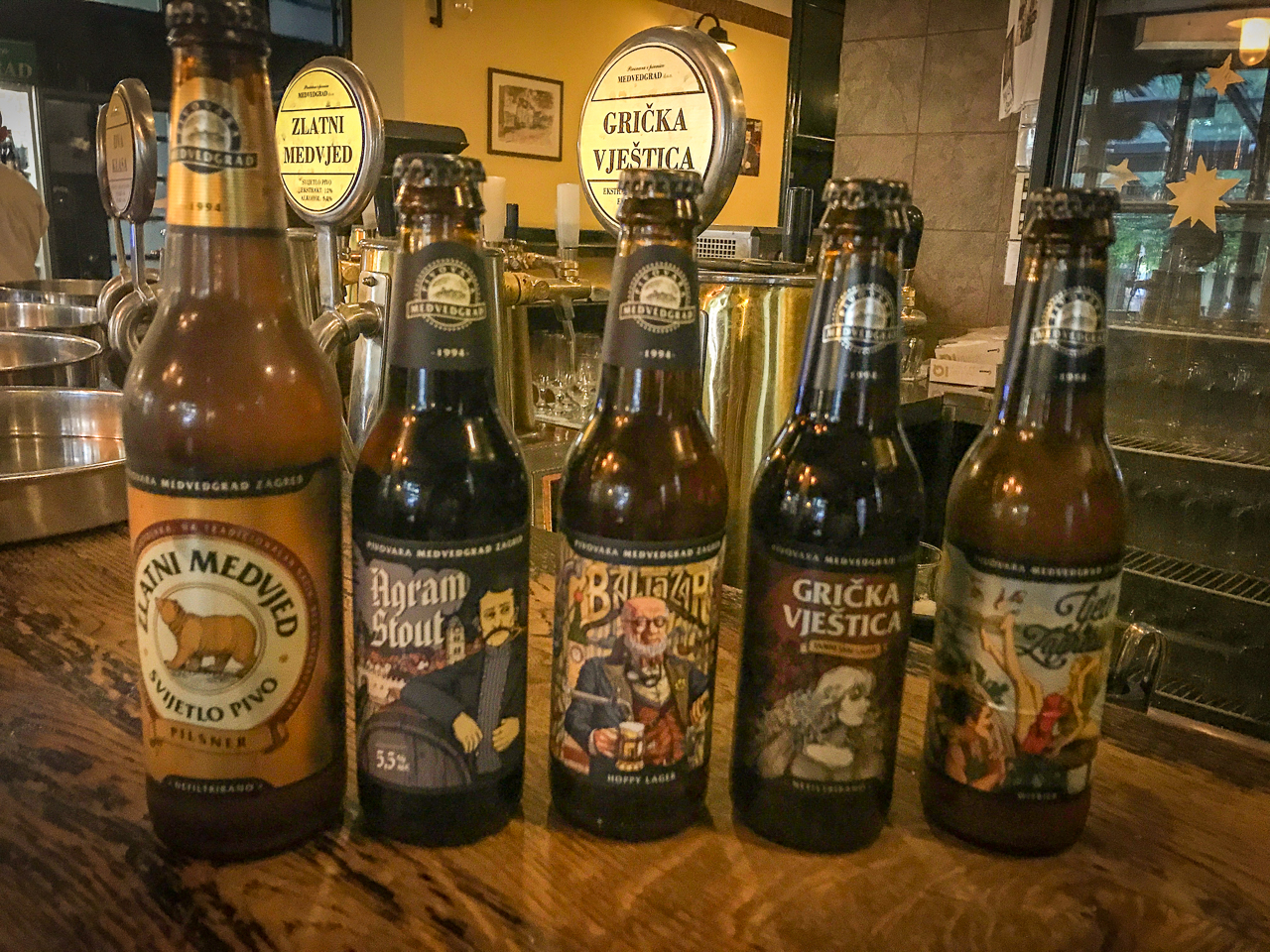 I also enjoyed this promotion, highlighted in their menu. "Every day starting from 5 p.m. you can speculate with beer prices instead of stocks! The price of each beer is formed in response to the market demand. Keep your eye on the big plasma screen and order when the price is lowest."
Great Dinner Places with Craft Beer
Plac Kitchen & Grill
We enjoyed great hamburgers and kebabs at this small diner along the edge of the Dolac Market. It has a vibrant, outdoor patio and we were happy we arrived a little early to beat the lines. With a few craft beers available by the bottle, this is a great place for an affordable meal in the city centre that tastes great.
Mali Bar
Our fanciest meal in the city was still a pretty good deal. Most of the items on the menu were under $20 CAD. I enjoyed a delicious homemade pasta, the kids snacked on mini pork tenderloin burgers, and Yashy ordered the homemade chicken liver and foie gras pate. Though wine is the focus, the drink menu featured three excellent Belgian options from little known breweries.
When we left Zagreb to visit the Croatia's West Coast, we found it more difficult, but not impossible, to track down a good craft beer. Luckily, that was not the case in Zagreb. With a handful of local brewers, finding a restaurant or pub with craft beer in Zagreb is an easy enough task. Most of the styles available are porters, IPAs, dark beers, and lagers. I did not find one sour beer on the trip, but was happy to have a chance to drink local. If you are ever in Zagreb, check these places out.