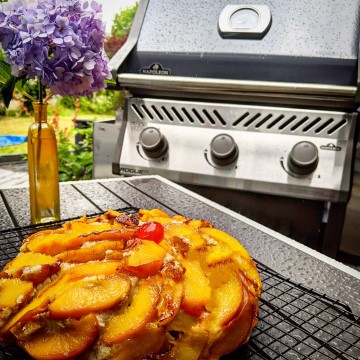 It's peach season in Niagara and on a recent visit to Niagara on the Lake, we purchased a 10lbs bag of Peaches. Beyond having Apollo eat them all, we thought we'd try grilling a cake on the new Napoleon BBQ grill we gifted my dad recently. In addition to grilling meats and veggies, I have enjoyed grilling pizzas and desserts over the years so I wanted to grill a cake that Apollo could enjoy as well.
Disclosure : We were gifted the Napoleon BBQ grill but, as always, opinions are TOTALLY ours!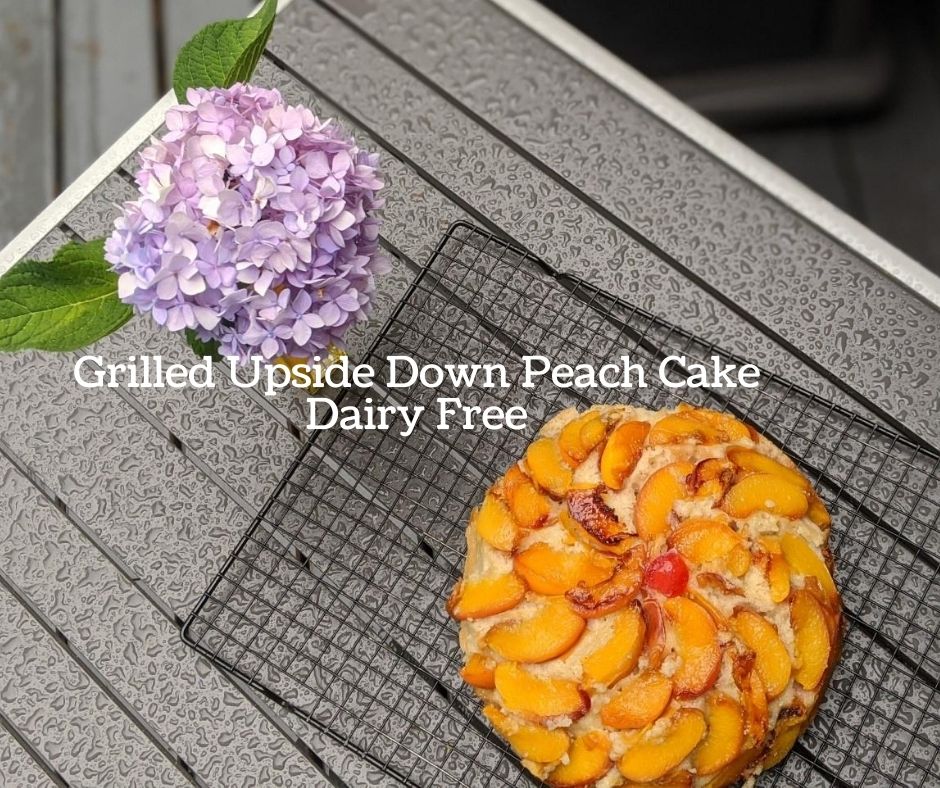 There are many upside down Pineapple recipes we have played with in the past and so I adjusted a few ingredients using those tried and tested recipes. We had a 13 inch cast iron at home so this cake was made in that. Ensure that the baking dish you use can withstand high temperatures as your grill will be heating things up! The 3-burner propane gas Napoleon Rogue XT 425 is a great option for those like my dad who enjoy grilling but are relatively new to the "sport". Exclusively found at Home Depot, this gill lights easily with a battery-free ignition and the dual-level stainless steel sear plates incinerate drippings keeping the grill clean and providing even heat. Doesn't hurt that it has a sleek look and can easily be rolled around as needed.
Dairy Free Grilled Peach Cake Ingredients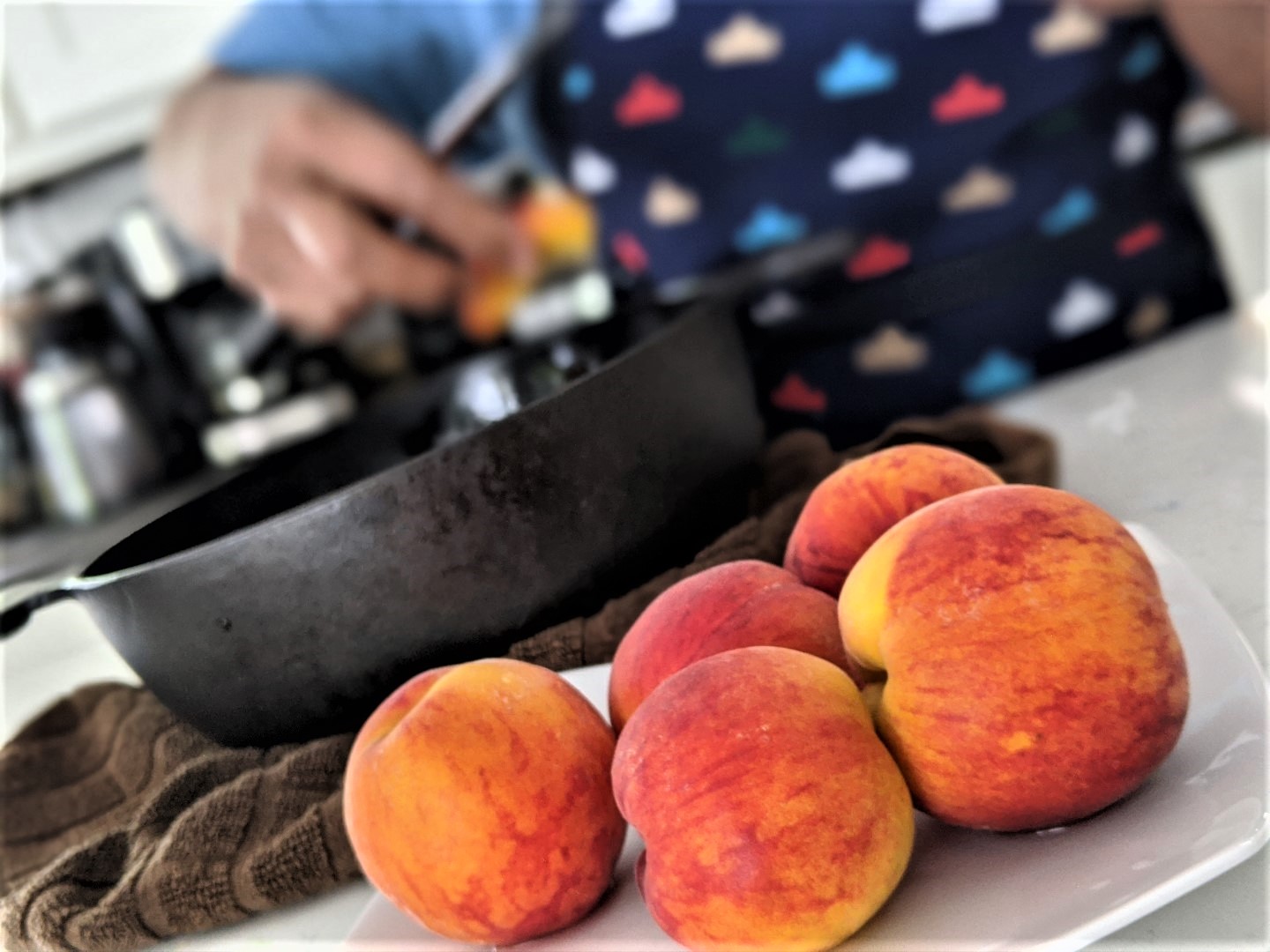 3 Cups Sliced Fresh Peaches (5 to 6 medium)
2/3 Cup Almond Milk (or any milk option you prefer)
2 Tablespoons Olive Oil
4 Tablespoons Brown Sugar
1 Cup Sugar
2/3 Cups Canola Oil
2 Cups All Purpose Flour
1 Tablespoon Vanilla Essence
2 Eggs
2 Teaspoons Baking Powder
1/2 Teaspoon Salt
Dairy Free Grilled Upside Down Peach Cake Recipe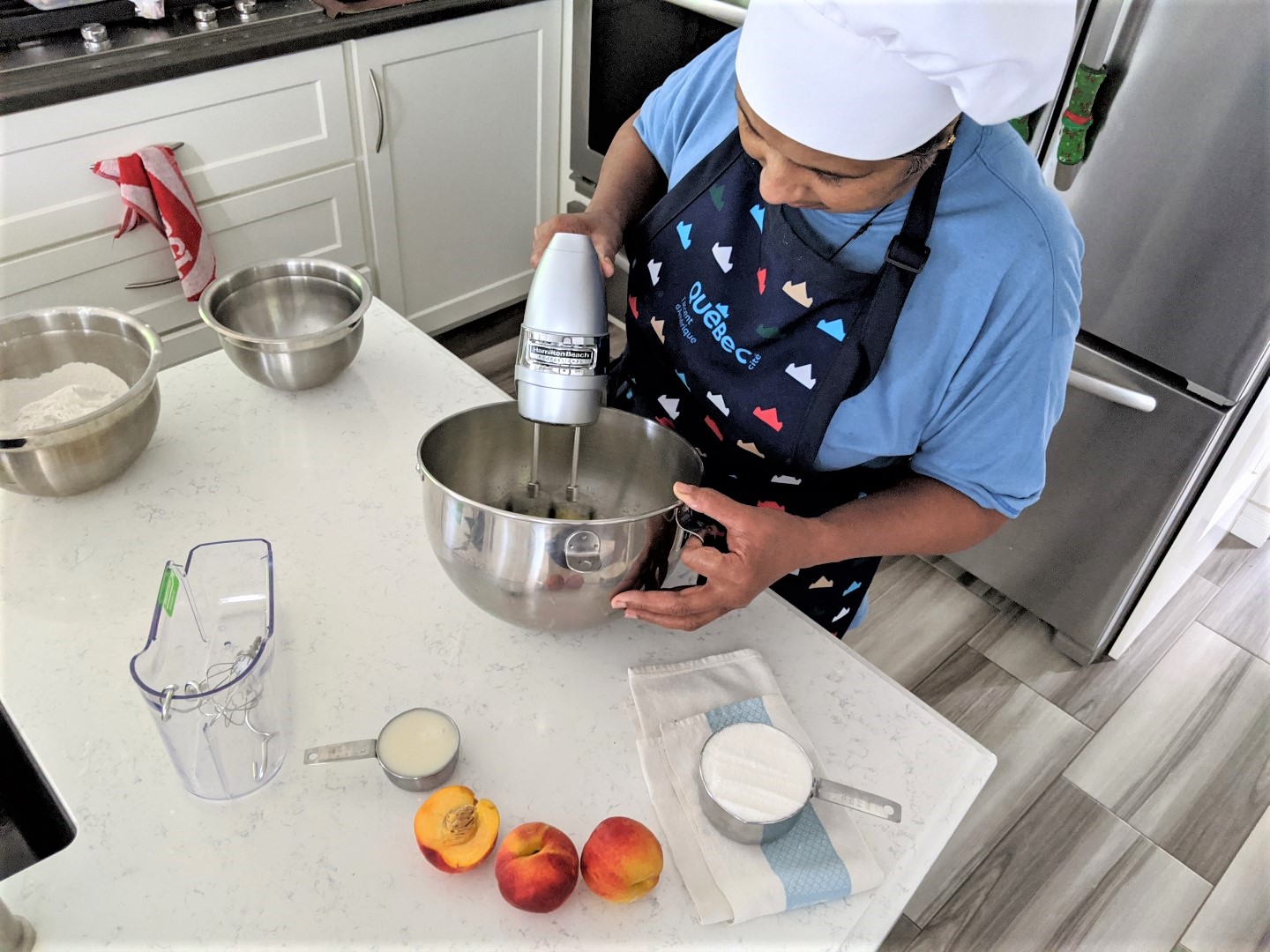 Cut peaches and towel dry to soak any excess liquid
Oil bottom of 13 inch cast iron pan with olive oil (or any oil/butter you want). Ensure every part is well oiled
Turn on your BBQ and preheat to 375C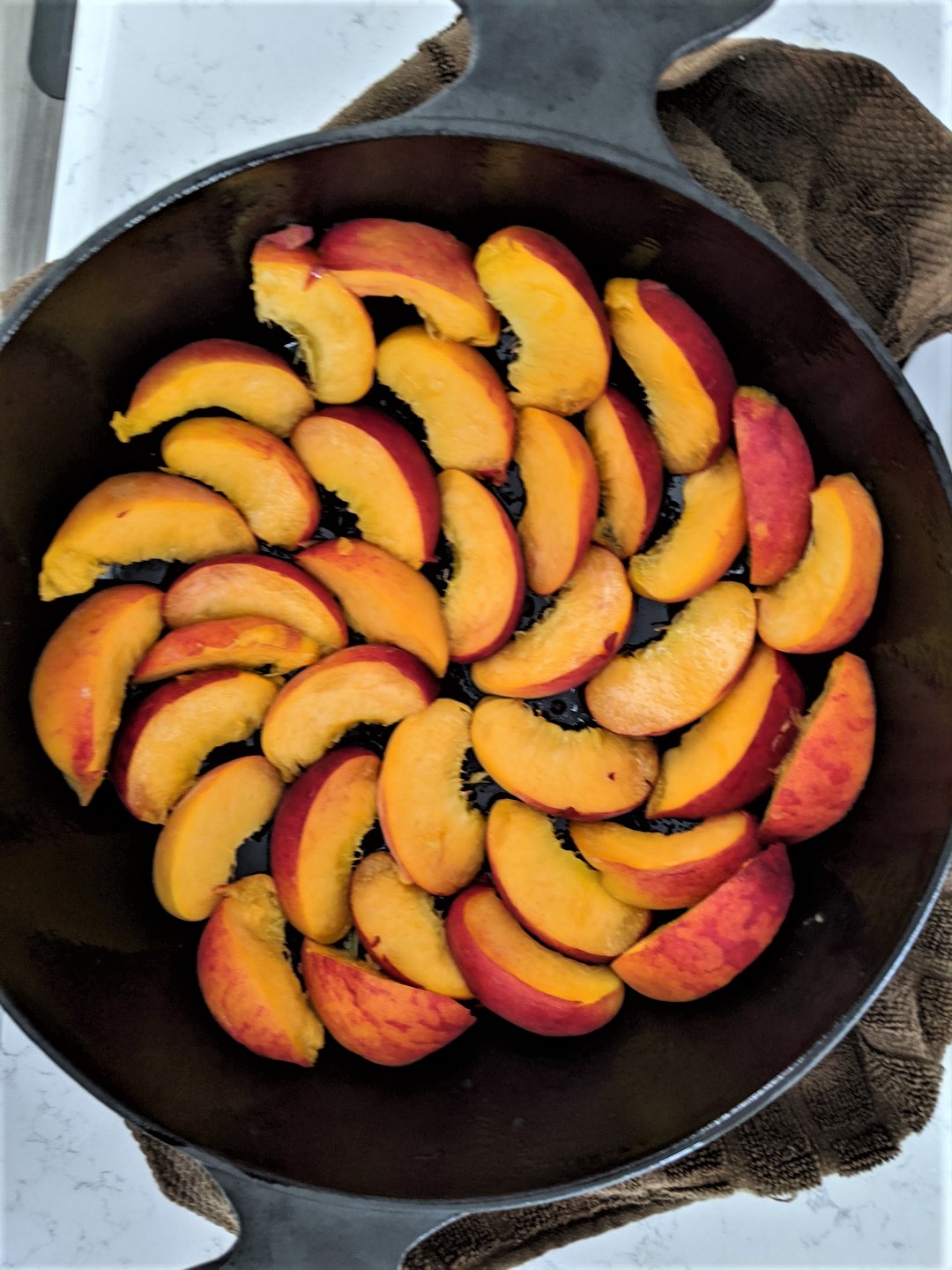 Sprinkle brown sugar evenly at the bottom of the pan and then arrange your peach slices. Note that the peaches will shrink a bit so feel free to pack them in tightly. The above picture shows how we did it but we should have packed them tighter for a "prettier look"
To make the batter, first beat the eggs using a hand mixer (soft scrape beaters worked wonderfully), then fold in sugar, milk, canola oil and vanilla essence until the sugar is completely dissolved
Beat in flour, baking powder and salt into the liquid and ensure everything is mixed well (we used the dough hook on our Hamilton Beach mixer)
Pour batter over peaches and ensure everything is evenly distributed before placing it on the grill. Close the Dutch Oven with a lid
Cover grill and grill cake for 40 minutes before opening the Dutch Oven lid and continue grilling for another 10 minutes or until a toothpick poked into the cake comes out clean
Take off the grill and let it cool down for 20 minutes before attempting to flip the cake withe the help of a plate or sheet. You may want to run a spatula or knife around edges of the pan to loosen the cake. You may notice that some peach slices are stuck to the bottom of the cast iron pan, simply peel it away and place it on the cake!
Since we gifted my dad with a new grill, we gifted my mom with a Hamilton Beach Professional 7 Speed Electric Hand Mixer. What I loved even more than the cute carry case was that it came with a dough hook, in addition to the whisk and soft scrape beaters. Are you noticing a theme? Yup! All gifts lead to me being fed – that's a double win, right?
This cake was moist and I enjoyed eating with drizzled with some balsamic vinegar along with a scoop of Coconut Milk Ice Cream.
You could always substitute other fruits into this and have fun with your drizzles. If you're looking for more grilled dessert inspiration, take a look at this!