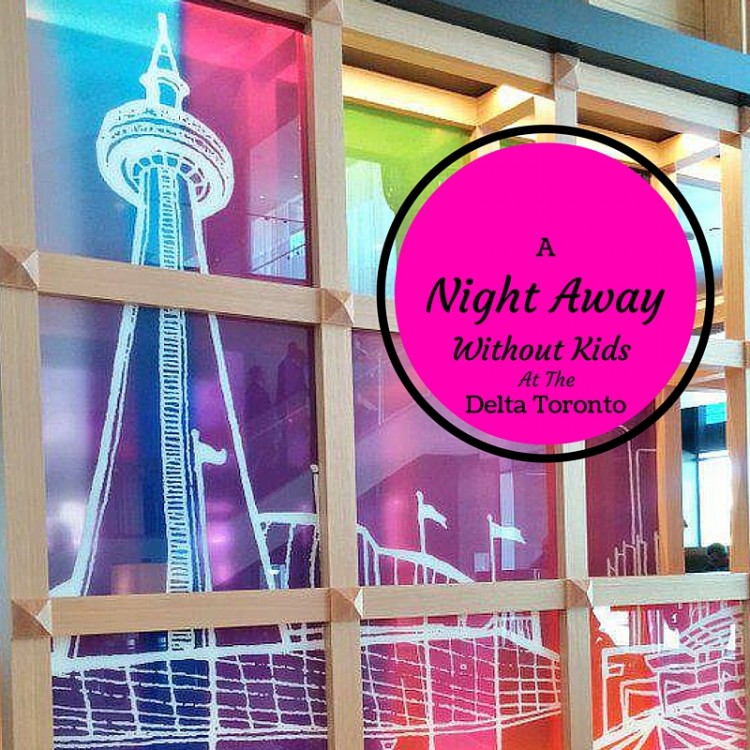 Every once in a while we need to escape the kids and run away… we REALLY TRULY DO! Luckily for us we had this chance when my work Christmas party was being hosted at the Delta Toronto. While taking a staycation isn't always my idea of "travelling", I must admit that it makes for an easy way for parents to sneak out for a night or two. Now that we've had a taste of the luxurious privilege of having no kid related responsibilities, we may be craving it every couple of weeks!
Disclosure : Our stay was hosted by The Delta Toronto, but as always, opinions are totally mine!
My Dad generously agreed to watch the kids that night so that we could sneak away for 24 hours but Little Monkey insisted that she first come and see our hotel. Given that the girl loves "HOTE's", I simply couldn't say no. So around 4 p.m. we check into The Delta and at check in the staff gave Baby Boy and Little Monkey a welcome gift. That was very sweet, despite them not staying at the hotel, they each received a mini book and two rubber duckies. The Delta may seem like a business clientele oriented spot but having dined at their restaurant previously and experiencing these little touches, I KNOW that the Delta Toronto is also very kid friendly!
This Delta hotel is situated smack-dab in the middle of Toronto and is an easy walk to many popular attractions ( like the Aquarium, CN Tower, Hockey Hall of Fame, Air Canada sporting centre) and is close by to the subway and train stations for those visitors looking to explore parts outside of Toronto. This hotel is definitely well located when it comes to touring around however, the one thing the immediate area lacks is good food options. Luckily the hotel's restaurant, The Soco Kitchen + Bar not only serves some delicious J. P Wiser's Canadian Whiskey Caesars, they also have a solid menu. I've lunched here a couple times and when we've taken the kids, not only have they received a gift but also enjoyed the lounge area to kick back at.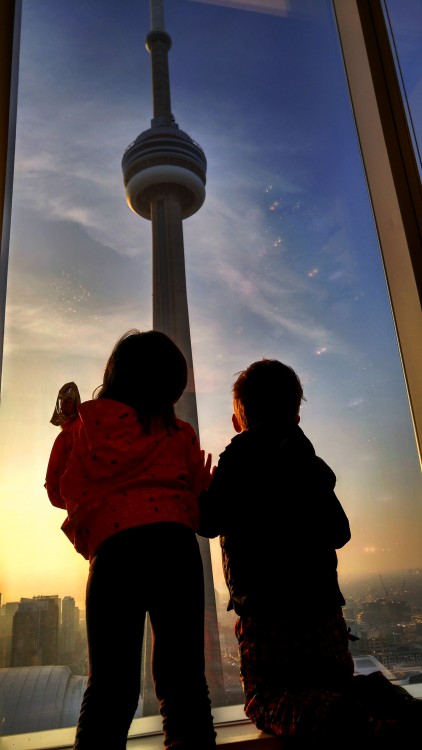 The Delta Toronto opened towards the end of 2014 and as you can expect, the design is modernly sleek with a fabulous nod to the city. I especially love the multi-coloured glass walls portraying the city's attractions. On arrival we decided to check out the lounge on the 46th floor (select Club Rooms and packages have access to this private lounge) where the kids were able to run around but decided to stand by the window instead. Why? The view. That's why.
The highlight of the Delta Toronto could be the amazing staff that try to anticipate your every whim (seriously, I was amazed by their thoughtfulness at check-in with the toys for the kids and at check-out when we were asked if we'd like a bottle of water to go), the luxurious corner suits with their swanky 'baller' tubs or the great restaurant in house but the highlight truly is the amazing view of Toronto that you can get from every angle of the hotel.
I'm yet to stay in a Toronto hotel with views like the Delta Toronto's. Visitors especially will be wow-ed by the ability to capture some epic photos of this fair city of ours. The lounge is also where we had breakfast the following morning ( a luxurious kid free breakfast after a night out drinking is a mighty fine way to kick off a Sunday) and one can pop by for coffee, soft drinks and a granola bar throughout the day. I hear they even have a drinks and appy hour every evening! The hotel does of course have a gym and a pool for those looking to sneak in a bit of a work out…it's also home to Canada's only Whisky Bar so pull yourself up to the Char No. 5 bar and order yourself some great cocktails!
After having the kids over for an hour we quickly said our goodbyes and ignored Little Monkey's whines and cries as she closed the taxi door on us. We were ready for TWENTY FOUR HOURS to ourselves!! Our stay at the Delta enabled the hubs and I to recharge, unwind, enjoy some fancy drinks at my work Christmas party, attend a mini after party at the hotel and best of all, wake up to silence the next day. Silence. Golden silence. Some time between the sheets with no kids around can do wonders for any relationship, but parents with young kids will especially appreciate that time! When I think of the Delta hotel I will forever remember my luxurious soak in the tub while I sipped some Absolut Elyx on the rocks….just me, the warm waters and Toronto in front of me. That may be my happy moment during times of stress in the next couple of months – a bit of a zen image to calm the nerves!
This downtown Toronto hotel is perfect for couples looking to getaway, business travelers looking to be in the heart of downtown and families looking to explore the city's many attractions. There's something for everyone, with views that enables even the most useless photographer to capture some stunning shots. I highly recommend booking yourselves into a corner suite with the large soaker tubs if you're looking to sneak out one date night. The Delta Toronto has great packages for all types of travelers and they even welcome pets! Don't worry, the hubs who is extremely allergic to pets didn't even sniffle during our stay!
Have you and  your partner escaped for a night or two recently? Where should we go to next?