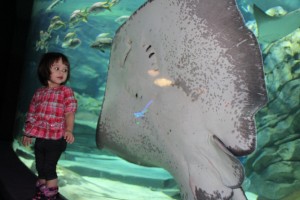 We had been awaiting our visit to the Ripley's Aquarium of Canada ever since we heard about it opening back in 2011 and we finally had our chance over the Christmas holidays! What was supposed to be a quick visit with the toddler and baby attracted a few more family members and we had my parents, a friend and my brother join us for a visit on a Monday evening. Ripley's Aquarium of Canada has been a hot spot here in Toronto and long line ups can be expected even months after its official opening but we lucked out on a cold December evening. Not only can you check your coat in but you can also check your stroller in ($2) however we took ours in and since it wasn't a busy night we were able to push it along with all our jackets and diaper bag goodies pilled in. The space is very stroller friendly (atleast when it isn't busy). Before you visit check the Ripley's Aquarium of Canada Twitter account to see if they are busy – I would not go on a busy day. Line ups out the door and being stuffed inside like sardines in a tin is not a fun experience, which is exactly why we waited for a slow day to visit.
.
We easily spent two and half hours at the aquarium and if it were up to the Little Monkey (2 years old) we would have stayed longer. In fact she was just as happy playing around in the small exhibits at the very front (I should just bring her there next time and not pay to go in! HAH! MEAN!!). Inside there's plenty to do as you walk through the exhibits marveling at amazing sights. We each have our own reason for liking aquariums; for me it is the tranquility of the waters; for the hubs it's the many species on display and the learning that takes place. To each their own and the Ripley's Aquarium of Canada offers something for everyone.
No one loved this spot more than the Little Monkey! She walked through the entire 130,000 sq. ft space oohing and aahing at the 1.5 million gallons of water on display. It was a great learning experience because the hubs and my brother were able to teach her about the more than 13, 5000 inhabitants and she even got a chance to touch a couple of them. My parents were like little kids, my mom ran around taking a bazillion pictures and wanting to touch everything she saw and my dad soaked it all in (no pun intended). It's a great spot for grand parents to bring little ones to because there are various areas to sit around at and take a quick break and you're never too far from a washroom. They do have change tables!Things are quite dark once inside so be prepared for that, especially if you have young kids who are a bit weary of dark rooms.
If you must know I found a new zen place here… tell me this isn't absolute bliss! I could sit there and stare at the calm waters for hours at no end.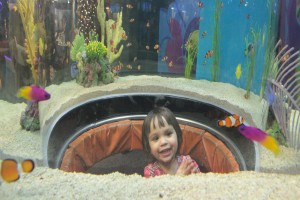 Another favourite of mine was the Pacific Kelp Exhibit which features a wave maker that simulates the surge conditions of the British Columbia shoreline. I'm pretty sure I stood there transfixed for 15 minutes bopping up and down! The Little Monkey and my brother also loved the small tanks where you could crawl into and be part of the main tank. It was quite cool since you could see the fish and display as if you were under water.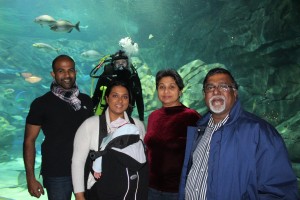 I'm not one to touch icky stuff but obviously the toddler was all into touching the Brownbanded Bamboo Sharks. She kept going back there which was a bit annoying as it made us lose track of our agenda. But hey! We were there for her I suppose. The Discovery Centre with its slides is great with little ones because it offers the space for them to run around. There's also a small cafeteria if you want to purchase a snack. Baby Boy was snug as a bug in the BJORN and only woke up when we forced him out of the carrier. He too was mesmerized by the Jellyfish and serene water displays – who needs a swing when you have calming waters?
As you can tell from the video we loved the Ray exhibit and the show that came along. It was quite entertaining and being there made me feel like I was on holiday! Nothing like being a tourist in your own city! One minute we were all part of the audience and the very next it was like we were in on a big secret! While the presenter chose two random audience members to answer some trivia we notice that the diver has a board on display…I knew this was a popular spot for proposals but was absolutely shocked when it happened! We cheered the happy couple and was glad she said yes! PHEW!
My brother who knows quite a bit about fish and the conditions behind the scenes definitely appreciated the Ripley's Aquarium of Canada but he made a good point – this is fabulous space but if you're looking for hard to find species and unique displays you may not be satisfied. However if you have little kids a yearly pass may be your best bet because you will be back! A yearly pass pays for itself after 4 visits in a year – given the snow and rainy days we see in Toronto, you know this is going to be a new hideout with tots in tow. Have you visited a Ripley's Aquarium before?
Click here if you'd like to read about our sleepover at the Toronto Aquarium!