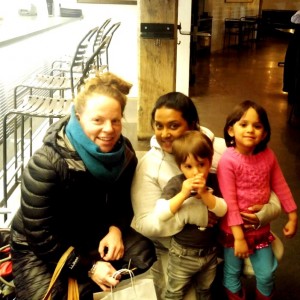 Our very first meal in Boston was going to be at Row 34 and I was super pumped to link up with a friend for dinner at 7 p.m. the night we landed. My friend had tried to get reservations for us and failed so we had originally decided to try our luck at a walking in, yes with kids! Row 34 in Boston came highly recommended so I was eager to dine there and knew there were other restaurants nearby if things didn't work out. Two days before our departure I decided to look on Open Table and what do you know? There was a 7 p.m reservation and I snagged it up quickly. Our Porter flight was to land at 4:30 p.m. and that gave us plenty of time to get to the Langham Boston to drop our suitcases off before we went for dinner. Unfortunately for us, our flight got delayed and the moment I realized that we would be landing at 6:30 p.m. I decided to hop back on Open Table and see what was available. A 9 p.m. reservation and a friend who agreed to the much later dinner meant that we did indeed get to dine at Row 34 with kids along!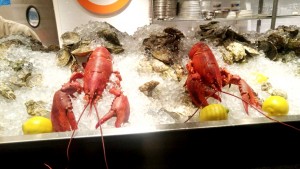 Luckily for us, both kids napped from the Logan Airport to the Silver Line Bus to the Langham Hotel and even on the walk to the restaurant. They both woke up moments before we pulled up to the restaurant after a solid 2 hour nap. No cranky pants tantrums for us! Wohoo! We pulled in with our double stroller and we were greeted with smiles and told that even though we were early ( it was now about 8:30 p.m.) that they'd have a table ready for us shortly. This gave us enough time to wake the kids up and play with them (ooo look at those Lobsters on display!!) on the side. The restaurant is dark and they had some bumping old school tunes playing. Little Monkey and I couldn't help but bop around! Our stroller was parked at the front and once we sat down, the hubs decided to go to the corner store to grab some milk for the hotel room. OFCOURSE he comes back with beer!!!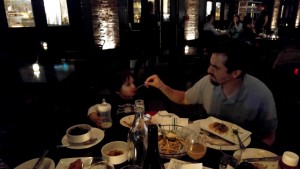 Row 34 prides itself in being a workingman's Oyster house and they recently received the James Beard award for Outstanding Bar Program. Of course I went in  thinking they'd have some insane cocktails…. I was wrong. They instead had an insane wine and beer list. The hubs was very happy with the beer selection here and I was shocked to see so many wine varietals I had never heard of before (yes!! despite working in the industry!). Luckily for me our server was more than happy to talk to me about the various wines and I settled on a bottle… a bottle I drank by myself -mostly! We didn't make use of the booster seats but they were on offer, as were high chairs!
Baby Boy and Little Monkey pulled out their toys and iPads so that the hubs and I could catch up with my friend. It as quite late and I knew they both wanted to unwind and so we took the easy route…until my friend gifted them with a book about Boston and then it was all about the book after that. When we first got there, our server was quite busy and so it took a good while to get our drinks ordered and we were immediately informed that the kitchen would soon close and that we had to rush our food orders in. Below are some of the highlights!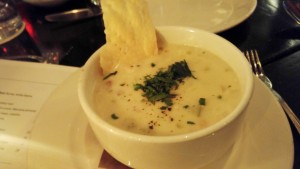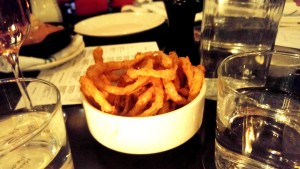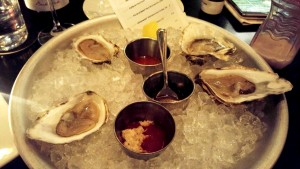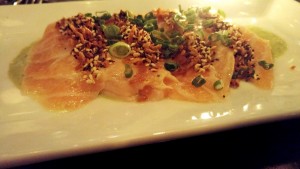 Row 34 did indeed have a great selection of fresh seafood and the Oysters from the Raw Bar were especially amazing. The Chowder was good but it was a premium version with bits and pieces included in the mix. I never did find a basic Clam Chowder on this trip! Not pictured is the Fish and Chips Baby Boy and Little Monkey shared…and by shared, I mean gobbled up. I was surprised that Little Monkey wasn't a fan of the Corn Bread ( I really can't have any after Vermont – that was the most amazing one ever!!) but luckily for us Baby Boy was a fan. It was a huge pan and so that was the only dish that was still left on the table at the end of the night.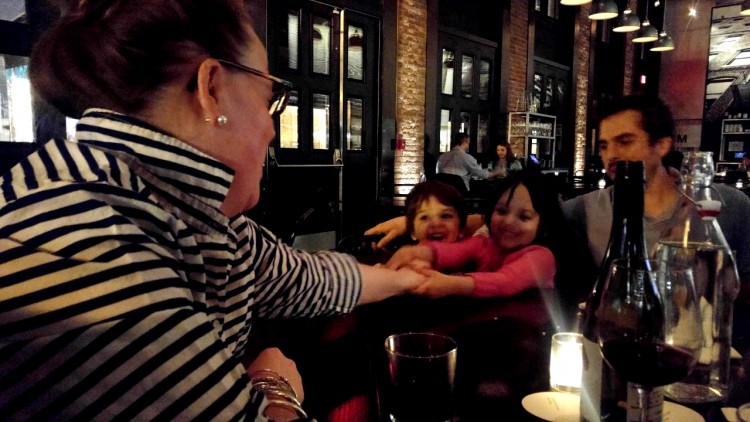 If you're looking for a place to dine at by the Children's Museum  or the Boston Tea Party , Row 34 is sure to be a hit amongst seafood lovers. If you don't enjoy seafood, definitely give this one a miss. Also the only down side of arriving at the end of the night was that some dishes were sold out (here's looking at you Brussel Sprouts!!).