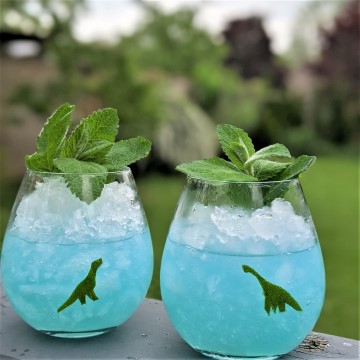 This week we mixed up a fun dinosaur themed cocktail and mocktail to toast our weekend. I was inspired by a couple things when coming up with this dinosaur drink idea. First up was Hollywood Studios hosting a Jurassic World Twitter Party and since that is my happiest place and the Jurassic ride being one of my all time favourites, I knew we had to join the celebration. Since we've been juicing a fair number of limes and lemons, we knew it was time to do something with the peels and cocktail decorations seems liked a great idea when I saw this Tipsy Bartender earth day cocktail.
Dinosaur Mocktail 
Ingredients : 
Crushed Ice to fill two glasses
Peel of 1 lime
Lemonade
Blue Food Colouring
Mint for Garnish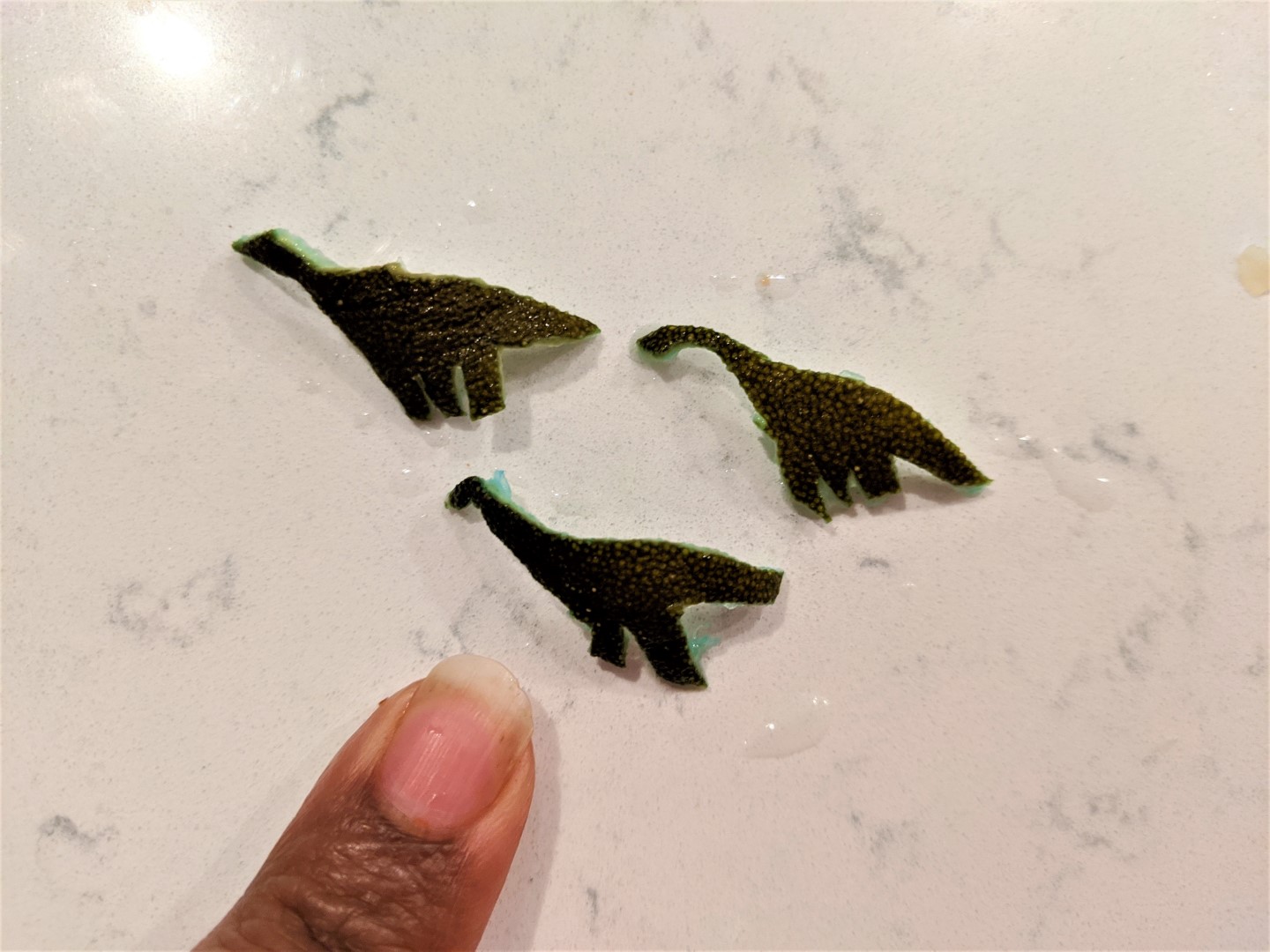 The first thing to do is to carefully peel a lime. We sliced off the two ends and then cut a slit from top to bottom so we could "roll" the skin off. I forgot to take a picture of the fully peeled lime skin but the picture above shows you 3 of the 7 dinosaurs I cut up using the peel of one lime. Next up I traced a mini dinosaur on a piece of paper and used it as my stencil to cut the shapes on the lime peel. As you can see, not all dinosaurs look the same – hah! We made small dinosaurs and got about 7 of them. It all depends on how big you want them to be. Using tiny grooming scissors worked best for me.
I used our blender to crush ice but if you have an snow cone machine you can use that to crush your ice. Think slushy consistency. Add an inch of crushed ice to your glass and then place a lime dinosaur towards the bottom of the glass before slowly adding more ice. You want your glass to be packed with ice and the dinosaurs sticking to the edges of the glass mid way.
You can have fun with the lemonade colours but we opted for blue because it reminded me of the blue waters in the Jurassic Park ride. Two drops of blue food colouring into our lemonade made it a blue lemonade. This was poured into the glasses filled with ice and dinosaurs. Garnish with the mint leaves. It looks pretty cool doesn't it?
Dinosaur Cocktail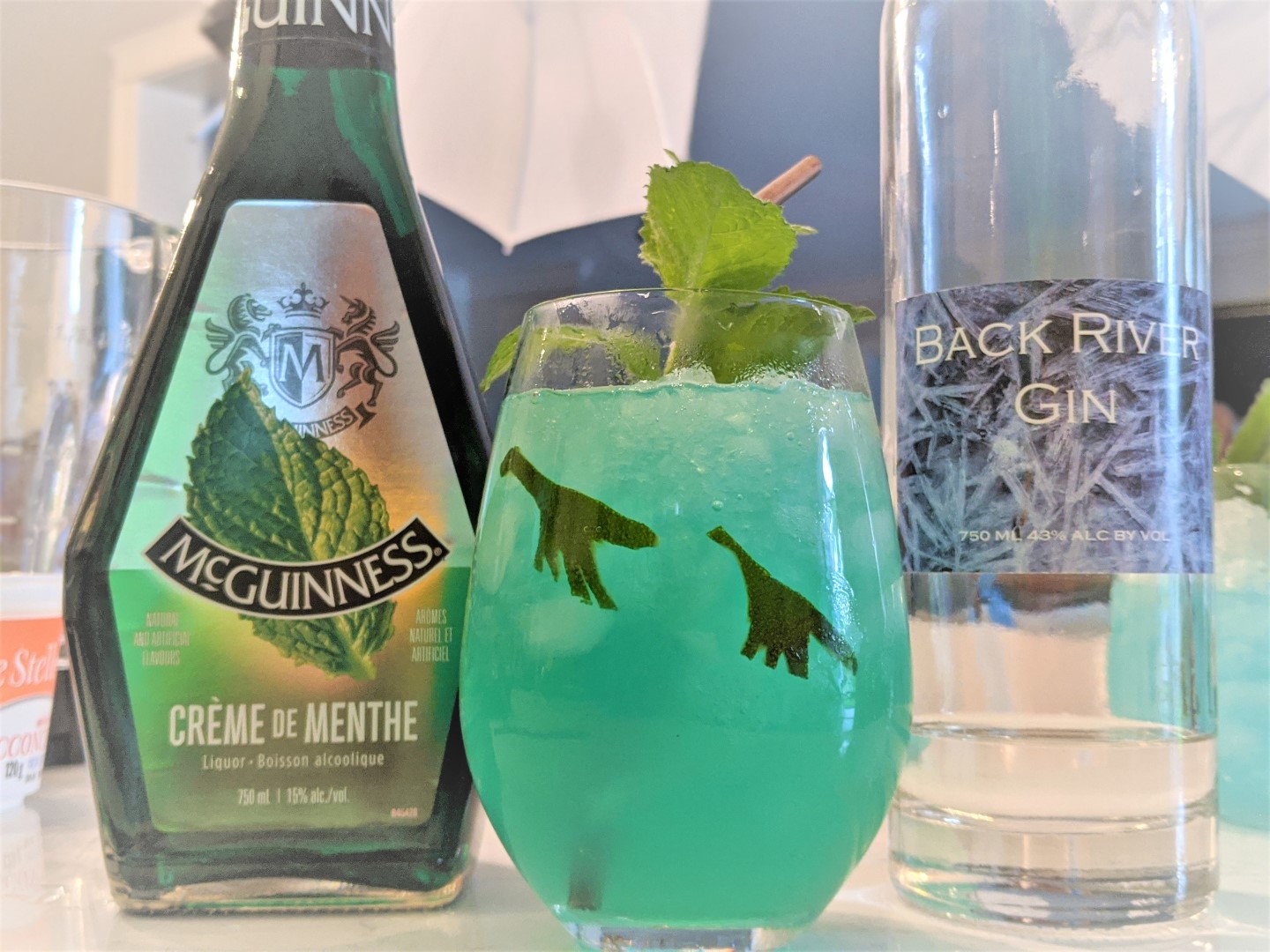 Ingredients : 
Crushed Ice to fill two glasses
Peel of 1 lime
6 oz Lemonade
2 oz Crème de Menthe Liqueure
4 oz Gin
Blue Food Colouring
Mint for Garnish
Follow the same instructions as above for the dinosaur cut outs. Similar to the mocktails, you want to add some ice into the glass and then drop in your dinosaur lime peels. Drizzle 1 oz of creme de menthe into each of the glasses and then load in more crushed ice. Once the glass is filled to the brim with ice, take your lemonade and add the gin and two drops of blue food colouring . Give it a stir and then pour it into the two ice and dinosaur filled glasses which already have the creme de menthe at the bottom. Remember that creme de menthe is quite strong so you can use 1/2 oz instead of a full one if you prefer. Garnish with the mint leaves. This drink has a greenish, blue hue compared to the blue mocktail but it's still quite pretty. This recipe will yield two minty drinks.
We definitely plan on making other shapes with our lime peels and having fun with this new found idea. There are endless possibilities and we'd love for you to share your creations with us so tag @yashyanthi if you share them on social media.