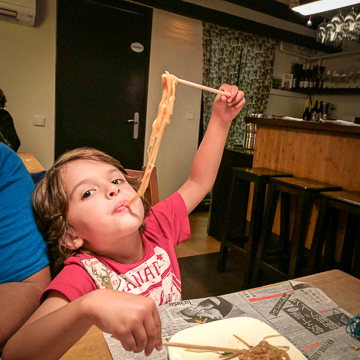 We started eating the moment we landed in Barcelona. Starting with our first meal at a traditional Catalonian diner, we spent five days in Barcelona discovering its vast range of cuisine. It wasn't our explicit intention to eat a different style of meal at each stop. It just happened. When we grew hungry, we thought about what we were craving, and in Barcelona, we were easily able to satisfy our whims.
For the most part, we did little research before we decided on a place to eat. I was searching for great craft beer and so a visit to Bier Cab was on our agenda, but we found most of the places we visited by just walking through the city. Barcelona is an amazing city to explore on foot, and there were lots of food options to keep us energized.
Below is our 5 day food tour through the city.
Day 1 – Exploring Gràcia
Bar Casi (Catalonian)
After settling in to our accomodations near Park Guell in Gràcia, we opened TripAdvisor to find a lunch place in our vicinity and decided upon Bar Casi. We arrived in the mid afternoon to find a small diner with one table left at the back. The place appeared to be filled with locals and so we felt confident that we had discovered the right place to get a Catalonian dining experience in Barcelona. They had no English menu (always a good sign) but our waitress spoke the language well enough to give us an overview. We each chose the meal option, which include a starter, a main, and a drink for €11.
The starters were the stars of the meal. I savored the fava bean soup I ordered, while Yashy's noodle based soup, though unappealing to the eye, was quite tasty. For the mains, she ordered the Chicken and fries while I went with Sausage and fries. Both were pretty uninspired dishes that tasted OK but were ultimately disappointing after the soup. Most of the main options consisted of grilled meats. Easy to like but hard to love.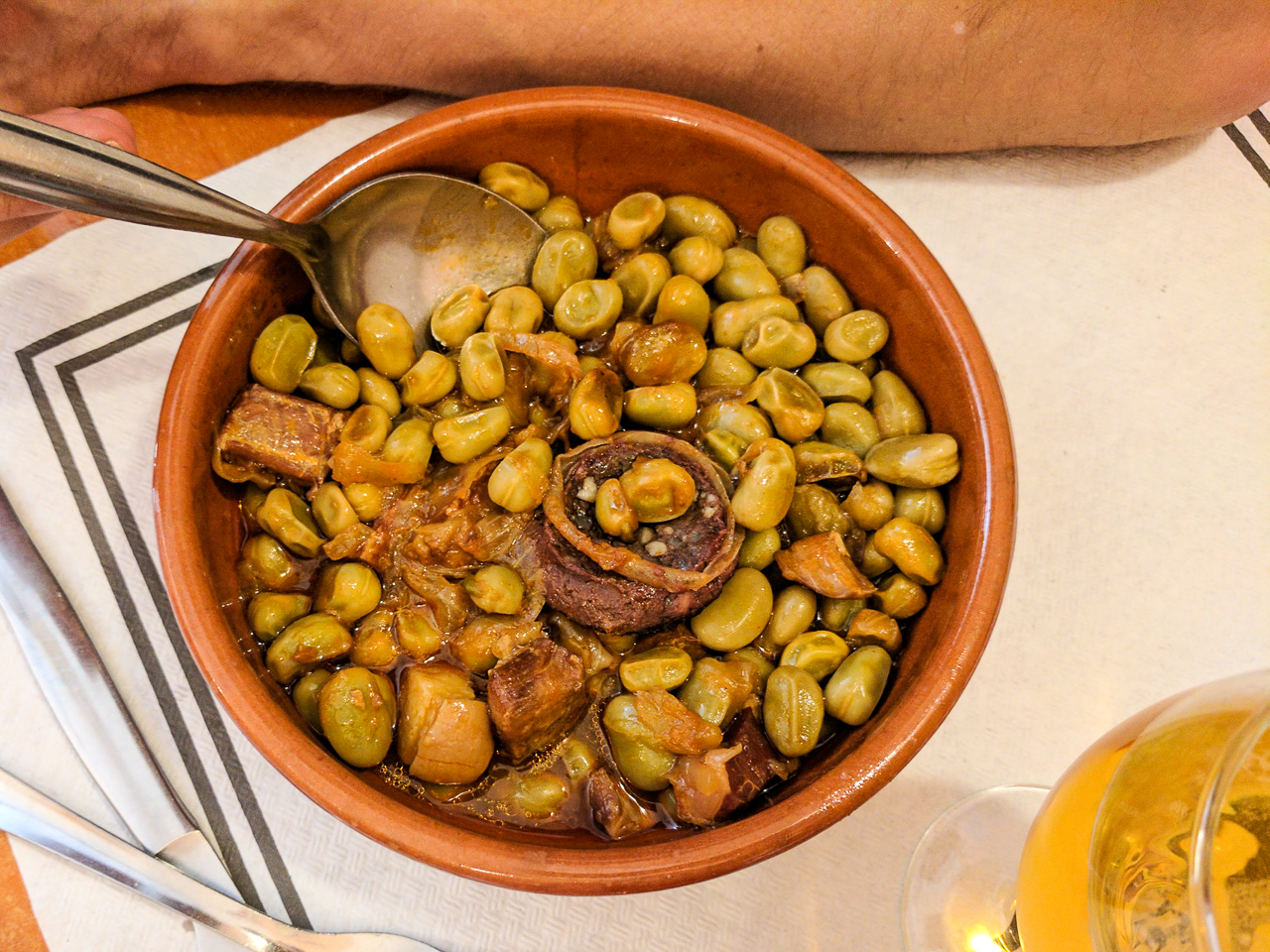 Gata Mala (Spanish Tapas)
Our first dinner in Barcelona is one we'll remember fondly. As we approached Gata Mala, we witnessed a bustling scene. Guests were happily conversing in between bites and one particularly animated lady near the front turned out to be the waitress / owner of the restaurant. She instantly took to the kids and ushered us to a seating area in back with bar stools and a long table along the back wall. The seating arrangements were not ideal but we were quite content to sit and take in the atmosphere of the bar. The owner made sure we had a good grasp of the menu as we settled in. After we ordered a couple drinks, the food started flowing.
Each drink came with a delicious tapas offering but we found a few items on the menu hard to resists, so we kept ordering. Our favorites, were the Combinado Gata Mala, which contained a little bit of everything, and the amazing blood sausage. Even the kids were loving the options, and the owner made sure they were kept happy with a chorizo plate that they devoured in no time. Dining at Gata Mala on our first night in the city set the stage for the memorable 5 days we spent in Barcelona. I really recommend seeking it out and what's even better is that each drink we ordered came with a free tapa!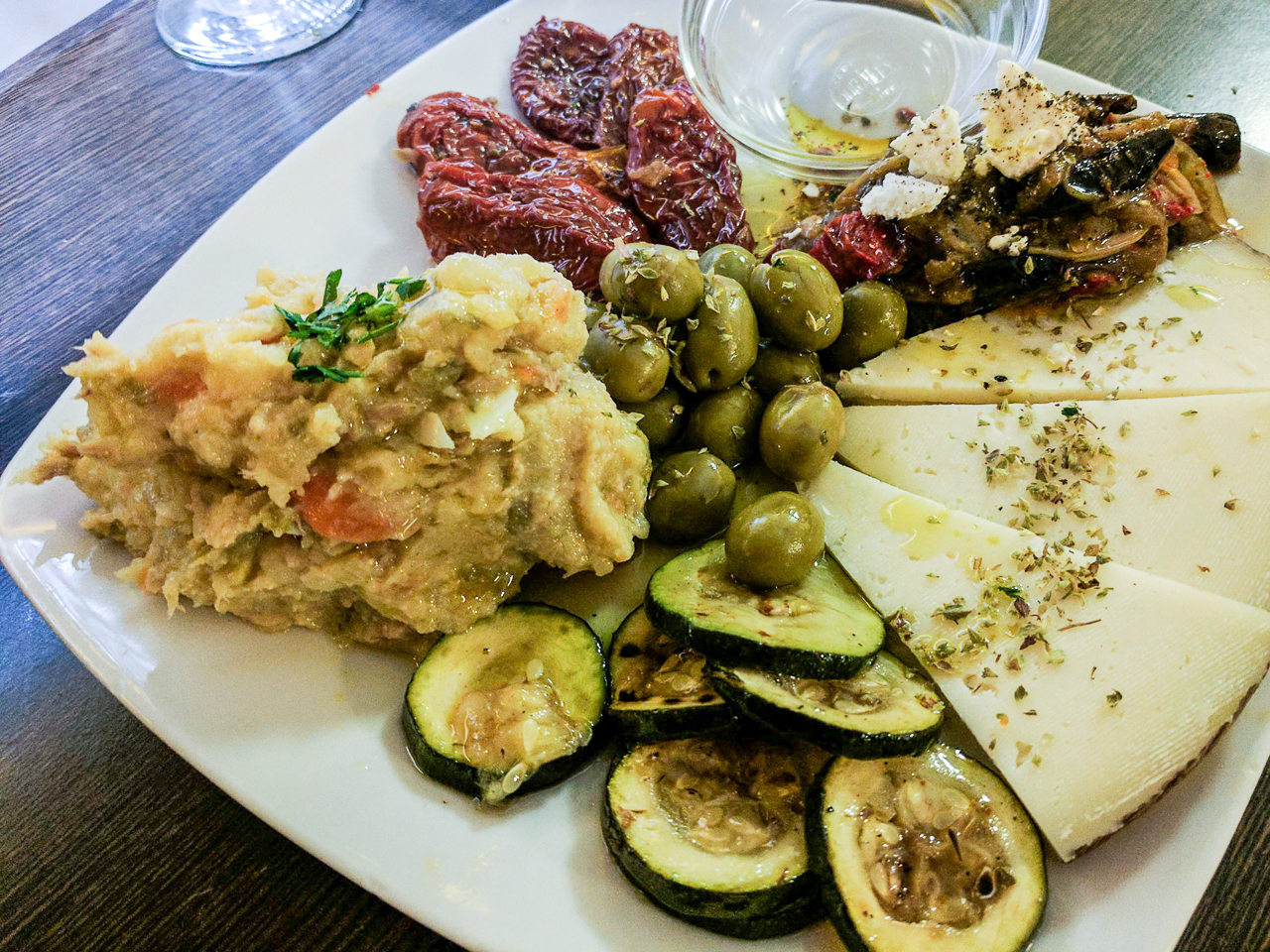 Day 2 – Walking through the City Centre
El Viejo Almecan (Argentinian Empanadas)
On our second day in Barcelona, we walked, covering more than 10 km of the city. On our way towards the city center, we discovered El Viejo Almecan and its mouth-watering display of Empanadas. Yashy and I honeymooned in Argentina, fell in love with the food, and now rarely walked by an empanada place empty handed. Craving spicy food, we ordered the Spicy Beef Empanada and also picked up one each of the Curry Chicken and an Herbal Chicken options, which the kids greatly enjoyed. Content, having eaten one of our favorite foods, we continued our exploration of the city.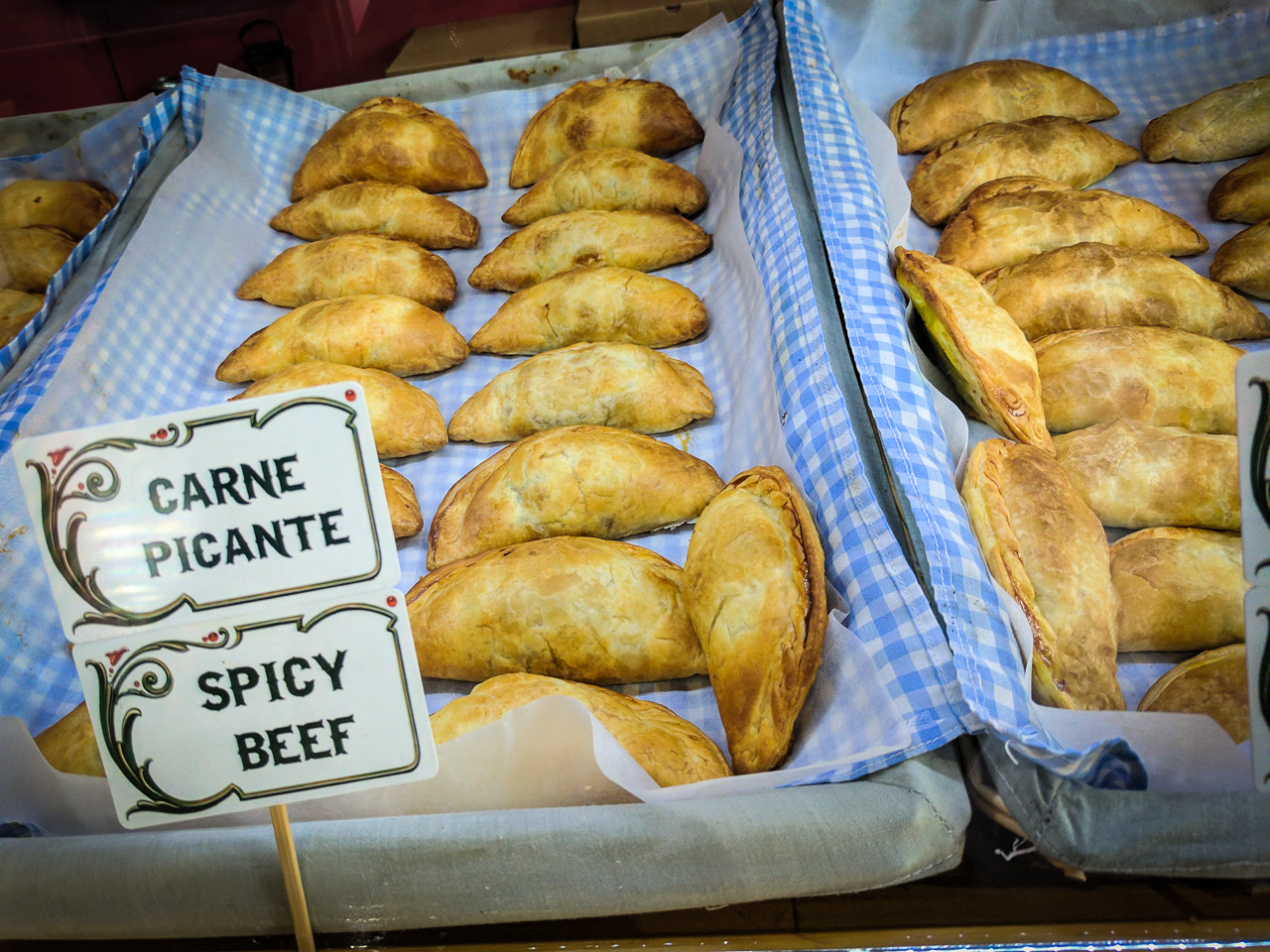 Machete Latino Street Food (Latin American)
After covering most of our 10 km walk, we plopped down at Machete Latino Street Food in need of a good meal. Located near the Gothic Quarters, Machete is a great stop if you are craving latin food. We shared the Arepitas de el Bombon, a Colombia inspired dish that included strips of beef, as well as two of their tacos. They had Lagunitas IPA on tap, which made me happy. The whole family was able to recharge as we kept exploring the city.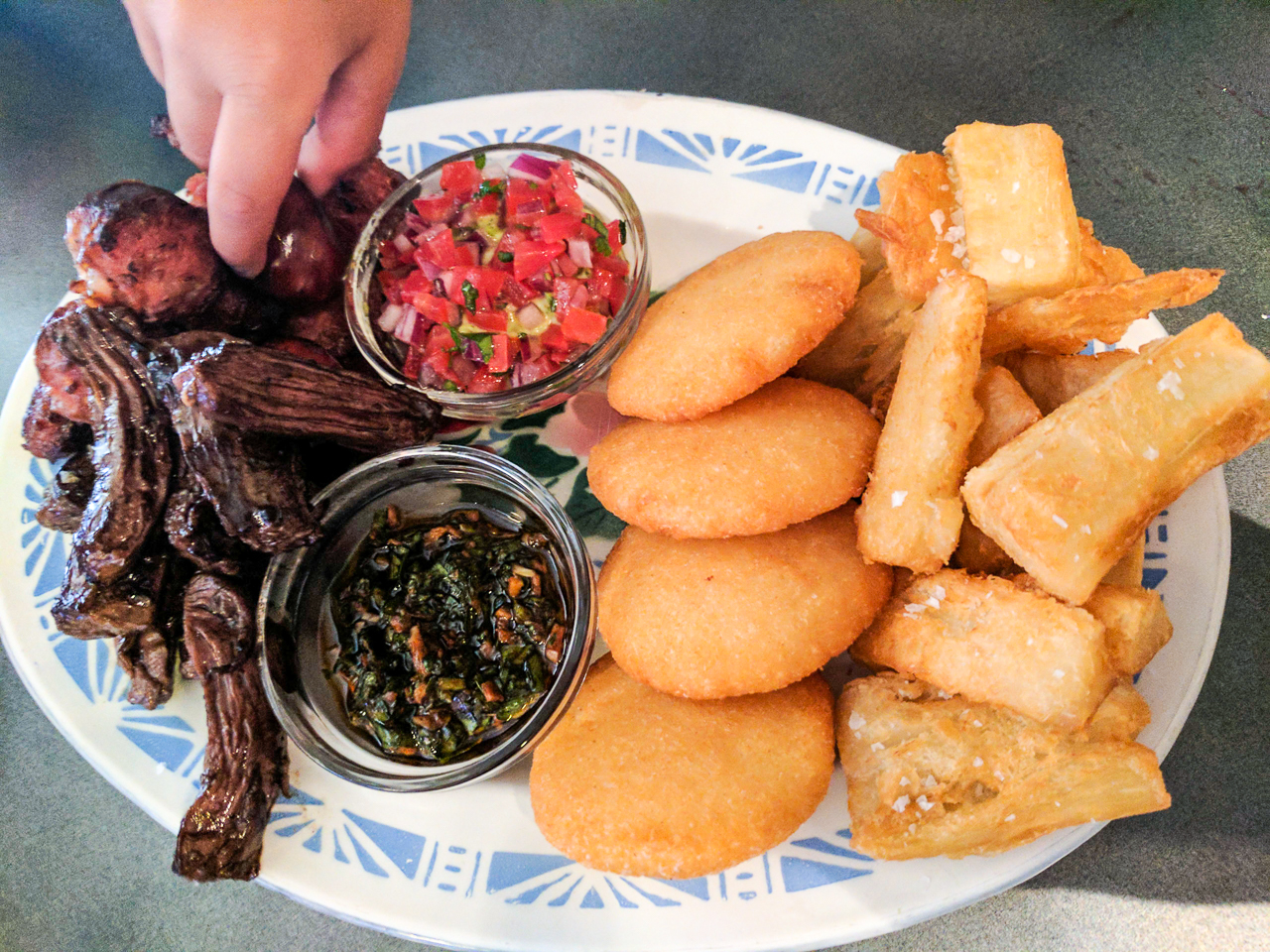 Bier Cab Craft Beer Bar (American)
We ended the evening at Bier Cab, where I had been anxious to get to based on their extensive craft beer list and bottle shop. The food at Bier Cab is influenced by American pub food but there is some local influence. They are known for their burgers and so I ordered one and can vouch for their deliciousness. We also ordered the shishito peppers, the breaded chicken strips, the teriyaki salmon, and the fois gras. The beer was amazing too.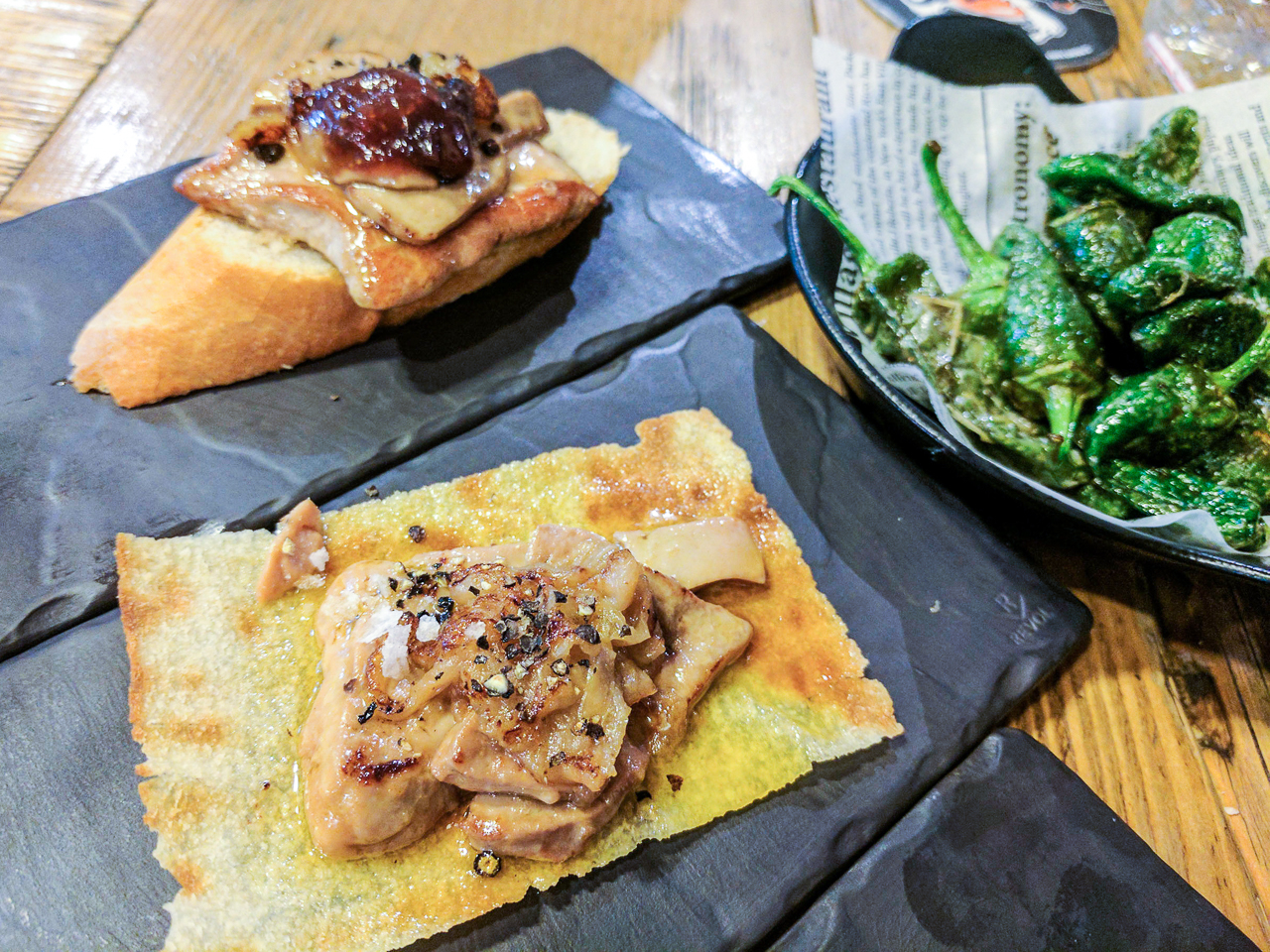 Day 3 – Fuelling up for our Bus Tour of the City
Restaurant Margherita (Italian)
We arrived into Barcelona from Marrakech and it had been a few weeks since my last pizza (and months since my last Italian style pizza). After seeing the range of cuisines available in Barcelona, I figured that the city must have some great pizza places. I wasn't not disappointed. Margherita is a great Italian restaurant, with amazing pizza, a nice wine list and wide range of pasta dishes.
We went here for lunch on day three, and after finishing off two pizzas, we ate very little for the rest of the day. We even ran into a gentlemen there with Canadian roots, who introduced himself after seeing my Blue Jays hat. He was on his way to finish his Barcelona Tours bus tour, which is also where we would spend the remained of our afternoon.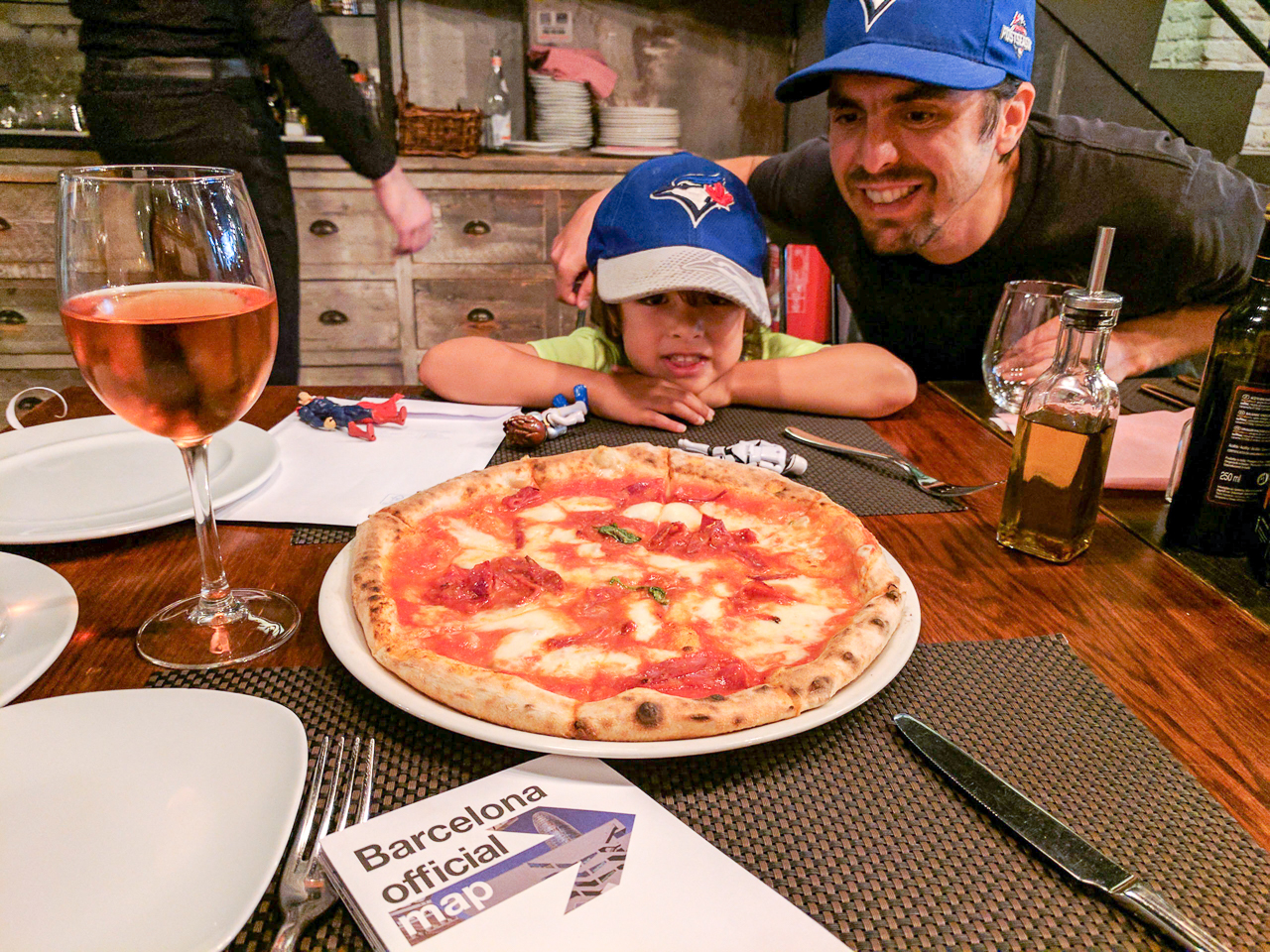 Day 4 – Enjoying Downtown Barcelona
4 Cats (Mediterranean)
Finding ourselves in the heart of the city on Day 4, we ate lunch at 4 Cats (Quatros Gattos), a 120 year-old restaurant with a rich history. Frequented by a number of famous 20th century artists, including Pablo Picasso, Quatros Gattos is a beautifully designed eatery with some really great food. Being a tourist destination, eating here is an expensive proposition, but the quality of the food made us forgot the price. Don't be surprised if you get raw whole tomatoes and bread for a 'make your own Bruschetta' though!
Our order included the Tentacle of fried octopus with burst potato and red mojo sauce. Our daughter, a bit of a picky eater with a known affinity for calamari, proceeded to eat the entire dish. I got in a small bite but there was no stopping her after that.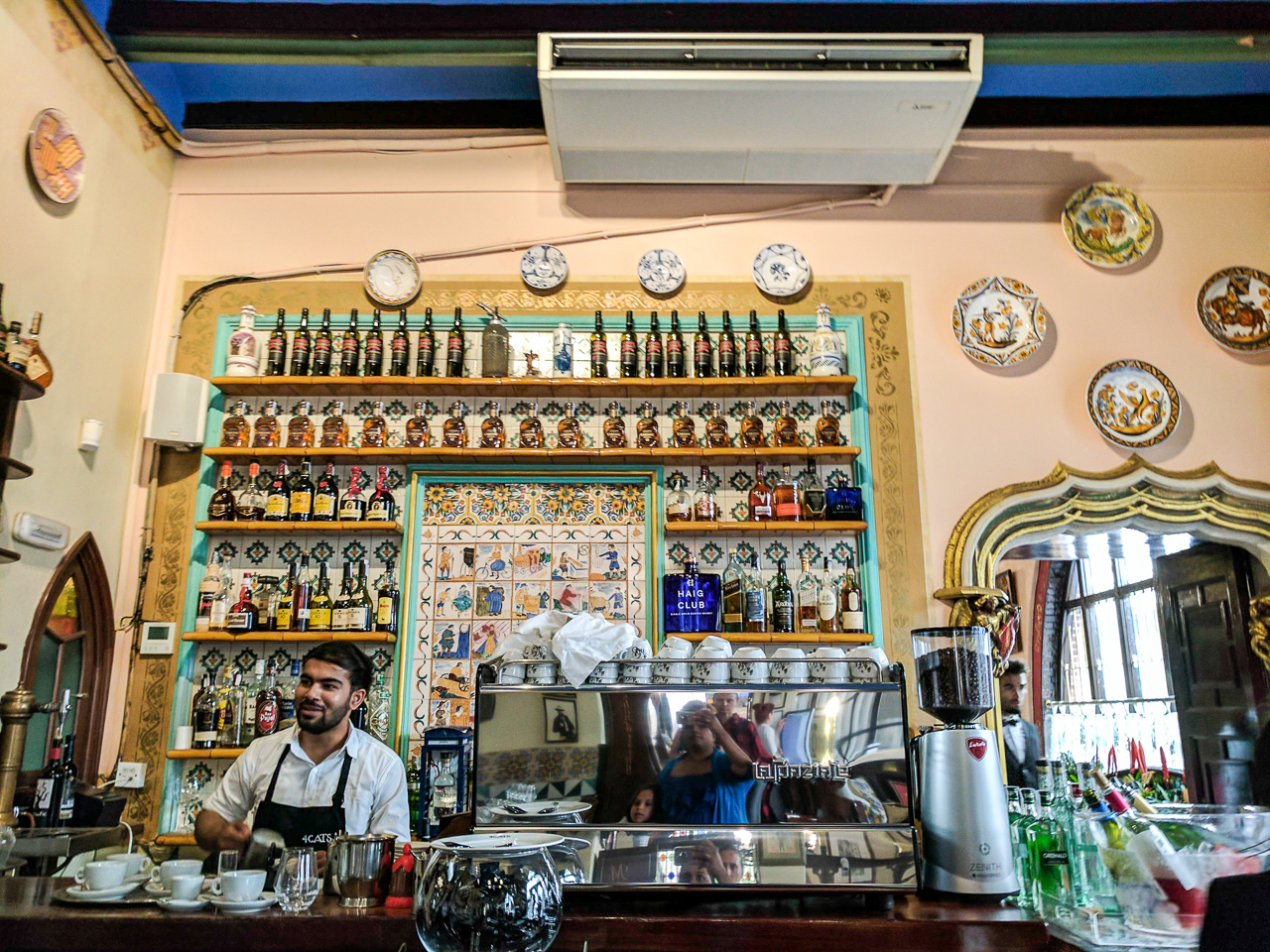 Day 5 – Satisfying One Last Craving
Momos (Asian)
On our last night in the city, we rounded out our international food tour with a trip to Momos, an Asian inspired restaurant that, being in Barcelona, served Asian Tapas. We entered without a reservation and were lucky to find a table. The restaurant offers Thai, Japanese, and Chinese options, plus a few others, and so it was the ideal place for us to satisfy a number of cravings.
The kids were quite excited for the edamame as well as the chow mien, while Yashy and I really enjoyed the Thai Noodle dishes we ordered and the Sesame Chicken. We did find it to be a little pricier than the usual Asian fare but were happy to have found the restaurant.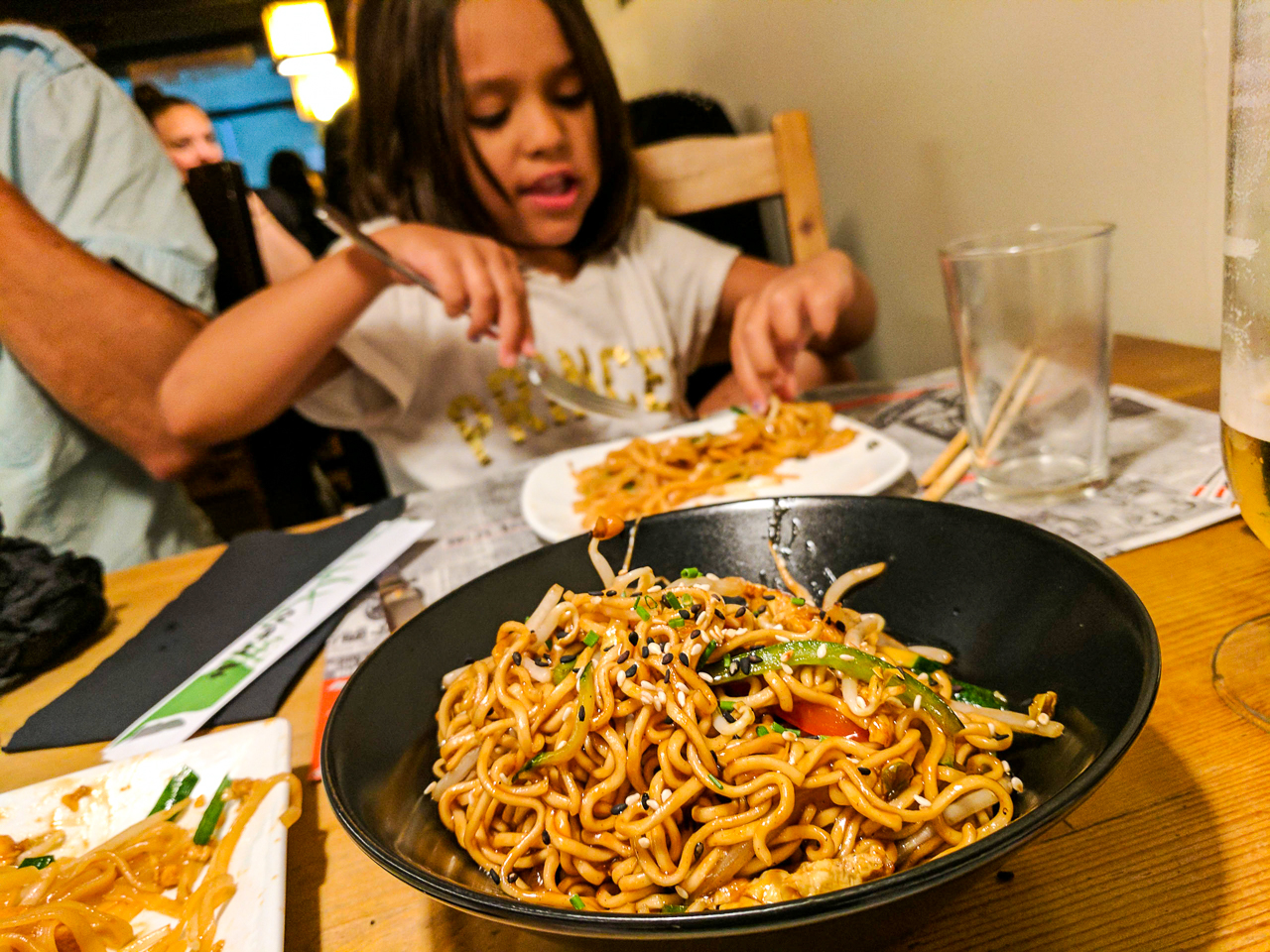 After five days in Barcelona, we were sad to leave. Having walked almost 40 km during our 5 days in Barcelona, we still felt as though we explored just a fraction of the city. The range of cuisine we sampled left us wondering what other culinary delights we left behind. We visited 33 cities this summer, and felt that we discovered a lot, but we have unfinished business in Barcelona. We have so much more food to try there.