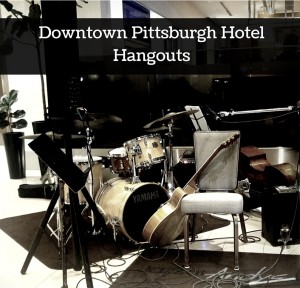 Growing up in Dubai and Sri Lanka, hotel lobbies and restaurants were THE place to be seen at and we'd often spend our Friday dinners, Saturday high teas and Sunday brunches at one hotel or another. Moving to North America saw me hangout at hotels less frequently but I'm noticing the hotel hangout culture slowly returning. During our Pittsburgh travels I made it a point to pop by a couple hotels and what really jumped out at me was how each and every property had a historical touch woven in within the modern facilities and amenities. With  no kids along, the hubs and I were able to spend many a late night popping from one hotel lobby to another and today I wanted to share three of our favourite finds.
Live Jazz at the Pittsburgh Fairmont 
When we were invited to hangout at the Fairmont's lobby bar, I was envisioning a quick cocktail and then heading out to a bar nearby. Having spent three hours post dinner at trendy Andys' Wine Bar, I can tell you that this is where you want to be seen. As we stepped into the narrow lobby off the streets, we were greeted by well-dressed men arm in arm with ladies dressed to the nines. My first guess was to assume that they were hanging out after a function but as I sat by the bar, waiting for the Jazz band to kick things off, I realized that these were just locals hanging out on their Friday night. Andys is home to Jazz at Andys, a live music series featuring local musicians four nights a week. The bar offers a great list of cocktails and wines and our server was kind enough to point us in the right direction when it came to pairing some nibbles. My faves included the Salt and pepper chicken wings which came with a selection of local hot sauces (SO GOOD!) and the cheese board. I was licking the honey clean from that pot!! There's no going wrong with any of the cocktails on the menu either.
Just as we thought we were done, our friendly server mentioned that we may want to check out the back wall of the lobby bar and I'm glad we did. There, housed in glass cases, were many artifacts that had been discovered during the construction. In fact, when you walk into the lobby, there's a grand sculpture by Jonathan Shapiro titled "Given to Nurture". The 15-foot sculpture ( incorporating steel, wood and human labor)  is a repurposed sycamore tree carved to reflect the city's three rivers and convey Pittsburgh's ability to continuously move forward and reinvent itself. We missed Eddi, the Canine ambassador, during our visit as well as the monthly cooking classes offered at Habitat. Saving those for next time!
Speakeasy at the Omni William Penn
Working in the beverage alcohol industry, I am always curious about the prohibition era and the many stories I've heard through the ages re-affirms my belief that it really was the most fascinating era of them all. Mankind will do anything and everything for their vices! Nestled underground, the Speakeasy can be hard to find at the Omni William Penn. Luckily for me, I had done a lot of research prior to my visit and so I knew to ignore the first person who said there was no such thing at the hotel. I instead went straight to the source and asked a friendly hotel attendant who pointed us towards the right set of elevators.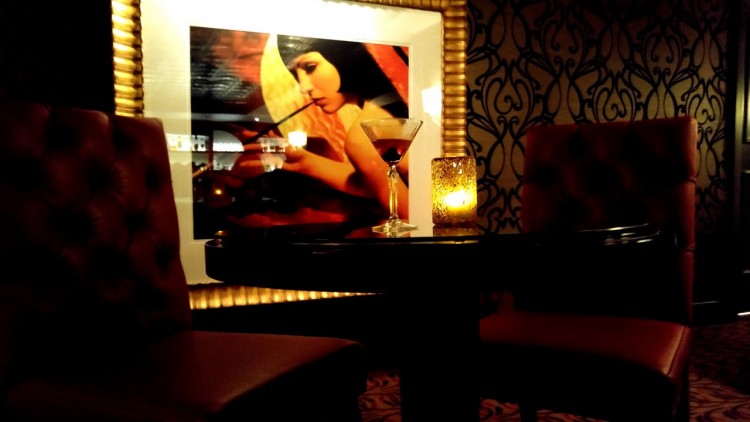 Those elevators threw us out into a long hallway flagged by ballrooms and yet another attendant pointed us towards the Speakeasy. It's hard to find but it's there and once you're in you'll forget the rest of the world. Take a seat by the bar and chat with those around you and reminisce the bygone era. We met interesting locals and bartenders with insider tips as we threw back one potent cocktail after another. With the Canadian dollar where it was, those were some pricey drinks but also one of our most memorable evenings in Pittsburgh.
Whimsical art at the Kimpton Monaco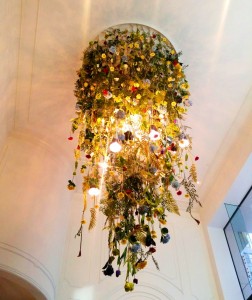 We fell in love with the Kimpton properties during our visit to Alexandria and when I realized that there was a newly opened Kimpton in Pittsburgh, my first reaction was to check ourselves into the hotel but I also knew that I really couldn't do that to Little Monkey. She has deemed the Kimpton's her favourite hotel EVER and it was bad enough that she wasn't allowed on this trip. So instead I snuck into the hotel one sunny Sunday afternoon and marveled through the many art displays, bird cages and the porcelain Great Dane that greeted me at the entrance. This is one property worth exploring during the day time. Art lovers, architects, designers and historians, alike will enjoy sipping a cocktail or cup of joe as they take in the designs, artwork and whimsical highlights of the local history which has been incorporated into the décor- it's something the boutique Kimpton hotel does well and this property is no exception.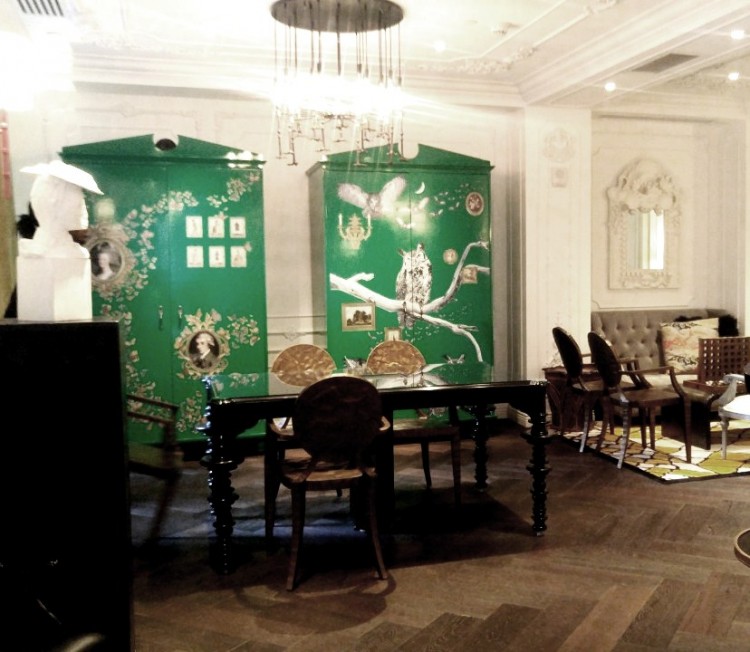 These three hotels were within walking distance of each and other and close by to many attractions and fabulous culinary hot spots, I guess it should be no surprise that they're all Porter Escapes hotel partners! If you're looking to make a trip to Pittsburgh ( a city well worth a weekend at for foodies and sport fans), checkout the awesome deals and sales available through Porter Escapes.