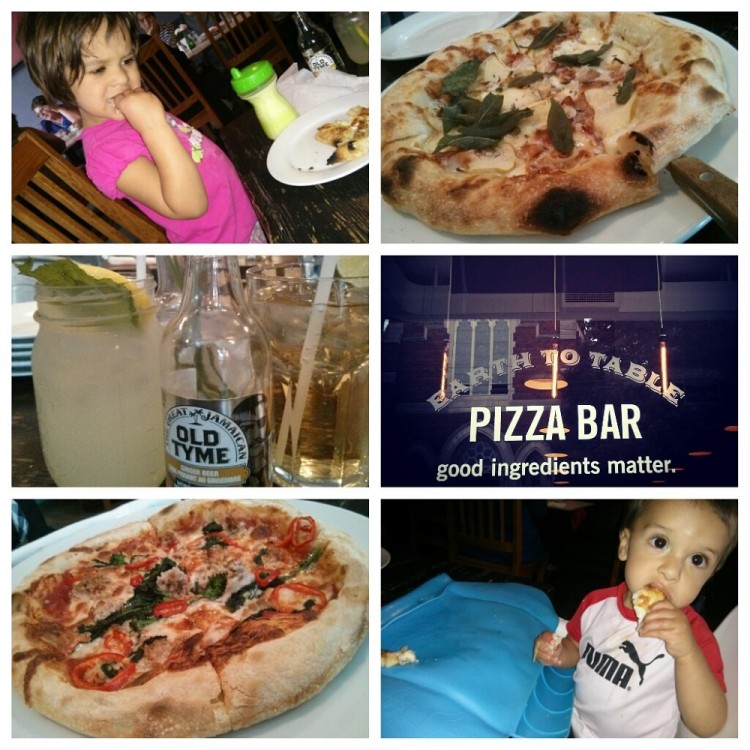 A couple weeks ago we dined out with our baby and toddler at Hamilton's Earth to Table: Bread Bar. This was one of the spots we managed to squeeze in during our #MurphysDoON travels with Heart of Ontario. We swung by for lunch and wasn't sure if the wait would be crazy given that they don't accept reservations for groups of less than 6 people. Wasn't too bad actually! By the time we explored the farmers market nearby we got the call that our table was ready. I love that we don't have to stand and wait around!
It should come as no surprise that Earth to Table is a believer in shortening the transit time between producers and consumers, and as such they pride themselves in using fresh local sourced ingredients. Good ingredients matter is their philosophy.  The place offers rustic comfort food – think burgers, pizza and salads.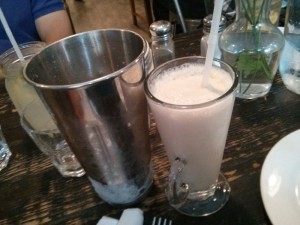 To start us off we enjoyed some ginger beer (non alcoholic) and their organic Salted Caramel Milkshake. Who can say no to milkshake right? Was a bit sweet (duh) but it was good. The quality in the ice cream was definitely easy to spot. I would have liked a bit more salt given my salty preference. High chairs are available and we had a diaper emergency that required both parents to be hands on. Luckily there's a baby change table in the women's washroom. Our server was extremely friendly and helped us narrow down our choices, so that was greatly appreciated.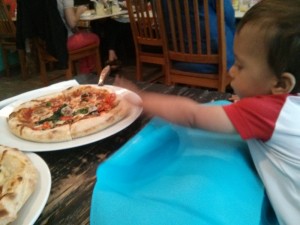 We popped by for lunch and the place was buzzing. I loved the bight coloured walls and the casual ambiance. There's no way one could miss the aromas of the stone baked pizza and that's what we got. The kids dug into our meal and there was plenty to go around. The hubs ordered the tomato based Gusto which had rapini, sausage and chilies. I on the other hand opted for an apple and bacon combination that had béchamel sauce, smoked cheddar, caramelized onions and fried sage. Yes.. I am a huge fan of fried sage. My favourite was the bacon one and Baby Boy was all over that one too and we had to steer him away from the Gusto numerous times.
The casual vibe with fresh piping hot pizzas makes this a fun spot to catch a quick bite at in the area. If I'm in the area again I plan to swing by for a boozy Key Lime Shake and the Ginger Lime float. Crazy Good eh? I  hear their sandwiches and loaded fries are also fabulous! So much to eat!!! So little belly.