So you know how there's a few recipes that you always get requests for? Well I've been lazy at actually writing down the recipes so here they are, finally!  These are super  easy to whip up using random things you usually have on hand (well we tend to have most of these ingredients on hand) which makes them a frequent feature, especially when we have visitors.
Disclaimer : Anyone who knows me is well aware that I do not ever follow recipes. I merely peruse them for inspiration and then eyeball my way through, often adding the randomest of ingredients.  I love adding salad dressing to pretty much everything! So I expect you to read through these recipes mainly for inspiration, test them out and work your way through by adding new elements. Please do share your twists! 
Guacamole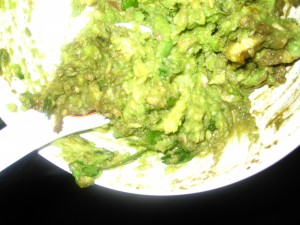 This has been a crowd pleaser on all occasions (except for that one Baby Shower in  Atlanta when we couldn't find the small avocados!). Slice up 4 small avocados, add in 3 cloves of  garlic finely chopped, 1/2 teaspoon of icing sugar (or finely granulated sugar), 1 teaspoon of chilli powder, a sprinkling of salt and pepper and about half a handful of fresh coriander (this  is KEY!). Now comes the fun part, using your washed hands, mushify everything mixing it all up. Keep in the fridge for half an hour and then serve with chips … or use as part of your Taco, Fajitas or Tostada dinners! Sprinkling some lemon/lime juice will help slow down the blackening that often plagues aired avocado dishes.
Bruschetta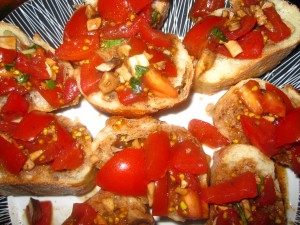 Before I event start with this, I'm going to let you in on the secret… you need decent bread, good tomatoes and a stellar balsamic vinegar. Chop a small box of Campari tomatoes (if you don't have about 8 on hand, you can use regular tomatoes or a mix of different kinds), add in 4 cloves of garlic finely chopped, a handful of fresh coriander, 1 teaspoon of chilli powder, three tablespoons of balsamic vinegar (we loved the 25 year barrel aged one available at Williams and Sonoma), 1 teaspoon of olive oil (or some salad dressing) and a sprinkling of salt and pepper. Mix well and chill in the fridge for atleast an hour (you can make this overnight). Feel free to twist things up by adding some chopped mangos, mushrooms, pears..e.t.c.  Grill sliced baguettes in the oven for about 10 mins  (drizzle some olive oil if you like). To the grilled slices pile on the tomato goodness. Don't forget to  drizzle all the yummy "water" that's at the  bottom of the bowl. That's where all the flavour is at!
Fish cakes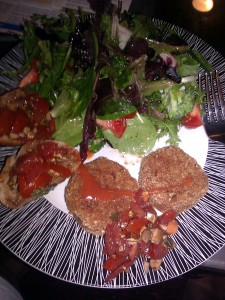 Okay before some of you go turning your nose on these, just know that it's maad easy to make and surprisingly delicious. Not fishy at all.  We all love crab cakes… okay most of us do. However I hardly have crab at home, but what we do have is tuna fish. Lots of it when it goes  on  sale. Depending on how big you want your cakes to be you would have to play with this recipe. For 4 medium sized cakes ( that's two each with some salad for dinner) toss in two cans of tuna fish into a bowl, add in salt, chilli powder and pepper to taste, a finely chopped onion, 3 gloves of garlic finely chopped, 2 teaspoons of any spices you have around (oregano, basil, marjoram, parsley or even a mix), couple dashes of  hot sauce, salad dressing and/or olive oil. Finally add in a tablespoon of yoghurt (no I don't care what kind, it can even be flavoured).  Mix them all up. Some  like to mix in some mashed potatoes, I don't. It's really up to you. Once the ingredients have been mixed start forming four large balls. Flatten these to form 'cakes'. Take some breadcrumbs or even shake and bake onto a plate and toss a cake at a time to coat with crumbs. You can fry these in oil on a pan but I prefer to bake  (cut the oil where I can). Bake them for about 30 mins in medium heat and voila! Mix up some aioli and you're good to go!
Shepherd's Pie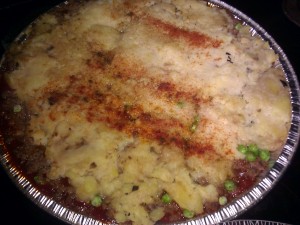 This is a go to of ours because it's easy to whip up.Toss into a pan two pounds of ground beef (or pork or turkey or chicken..whatever you like), 4 gloves of garlic chopped, a  sliced onion,  2 tablespoons of chilli powder, some spices like thyme or rosemary and a couple dashes of Worcestershire sauce, salad dressing and bbq sauce.  Cook these on medium heat until the meat is well cooked. In a separate pot boil 5 large potatoes, peel and mash them up. I like to add a couple tablespoons of milk and a tablespoon of butter and whip the potatoes using a hand mixer. Take a dish that can go into the oven, layer the base with some ketchup, a couple teaspoons of brown sugar and a few dashes of bbq sauce. Mix the sauces up so that it forms a 1/2 inch layer on the dish. Pile in the cooked meat and throw in some frozen  peas and corn. Layer on the mashed potato on top of everything and sprinkle some chilli powder or paprika. Shove this in the oven for about 20 mins and dinner's ready!
Okay that should keep you busy I reckon. Let me know if  you tries these out and do share some of your twists on these dishes.. I'm all for crazy mixings!