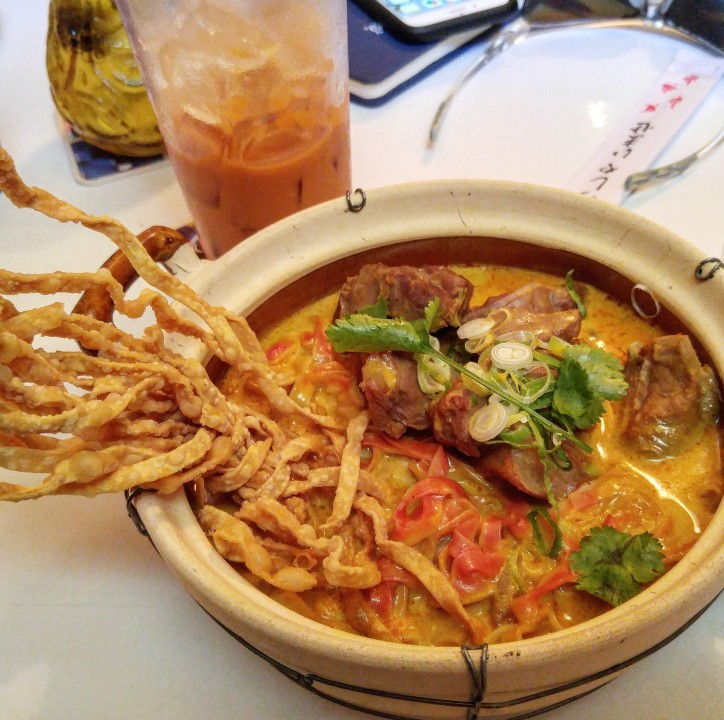 Over the last year I've frequented Pai on numerous occasions but the hubs and the kids had never been to this spot. It wasn't like I was keeping them away on purpose, it just so happens that Pai is up the street from my office and so I tend to pop by for lunch any chance I get. I've mentioned Chef Nuit a couple times on our site and so it should come as no surprise that I'm in love with yet another restaurant of hers! Last week with the in laws in town I decided we simply HAD to dine here before a few of them headed to the Blue Jays game and so Baby Boy and Little Monkey also joined us.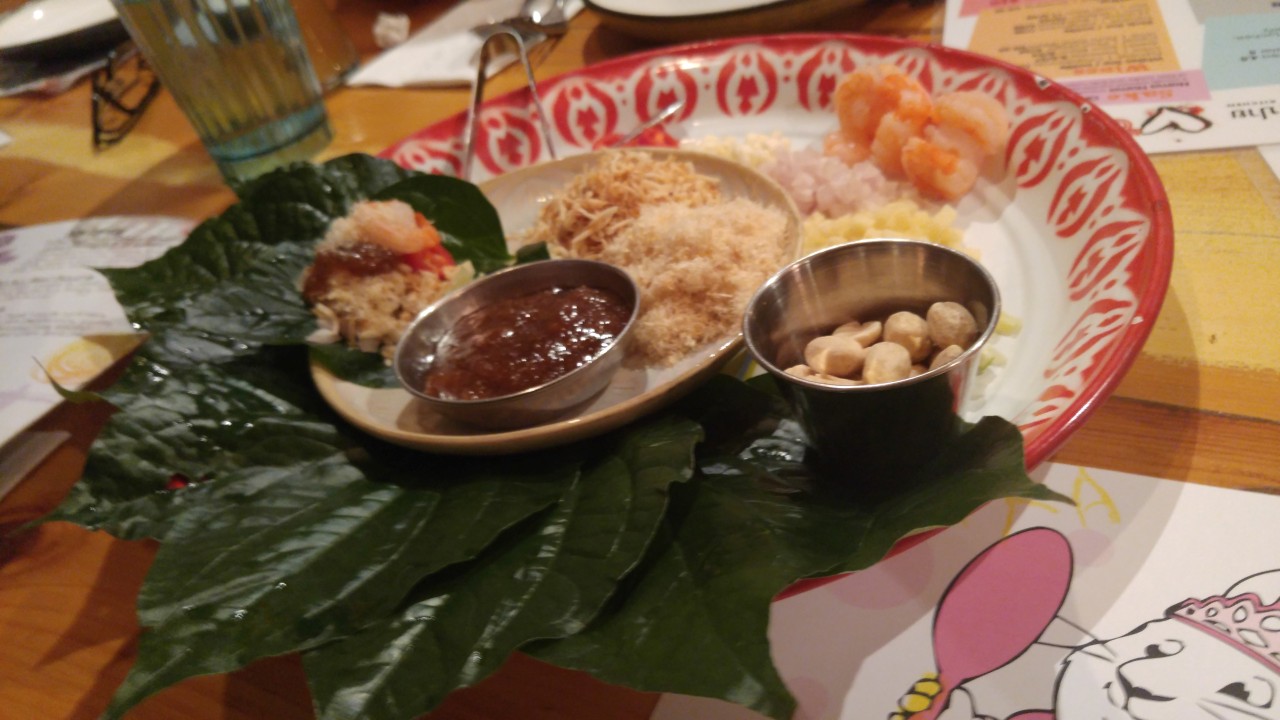 I love the decor at Pai. As you enter you're hugged by the aromas of banana leaves mixed with lemongrass and wood. Having dined in each of the main rooms I was thrilled when I heard that our group would be in the back room usually reserved for private parties! As you know  Baby Boy has been a handful at restaurants lately so I was glad I would be able to manage his outburts without disturbing the other patrons. One section of the restaurant has high tops and a bar like setup with the other end has cosy tables with benches and re-purposed school chairs. The walls are adorned with wooden relics, license plates and strings of light, very similar to what you can expect when you visit a delicious hole in the wall in Thailand.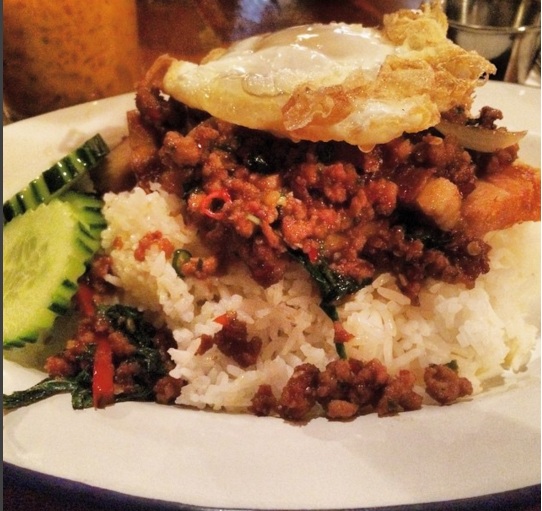 This restaurant is a labour love and the menu features Northern Thai dishes whose heat levels can be customized. I always go for the Thai Spicy. ALWAYS. On this day our group of seven adults and two kids gathered around a table and caught up on the latest happenings in our lives. Most of us hadn't seen each other in a couple months and with a drink in hand we perused the menu and exchanged stories. I started the night with a Dark & Stormy Blue Jays cocktail and we shared a Miang Kung. I loved the presentation and it has be SUCH a long time since I had betel leaves that it brought a flood of memories.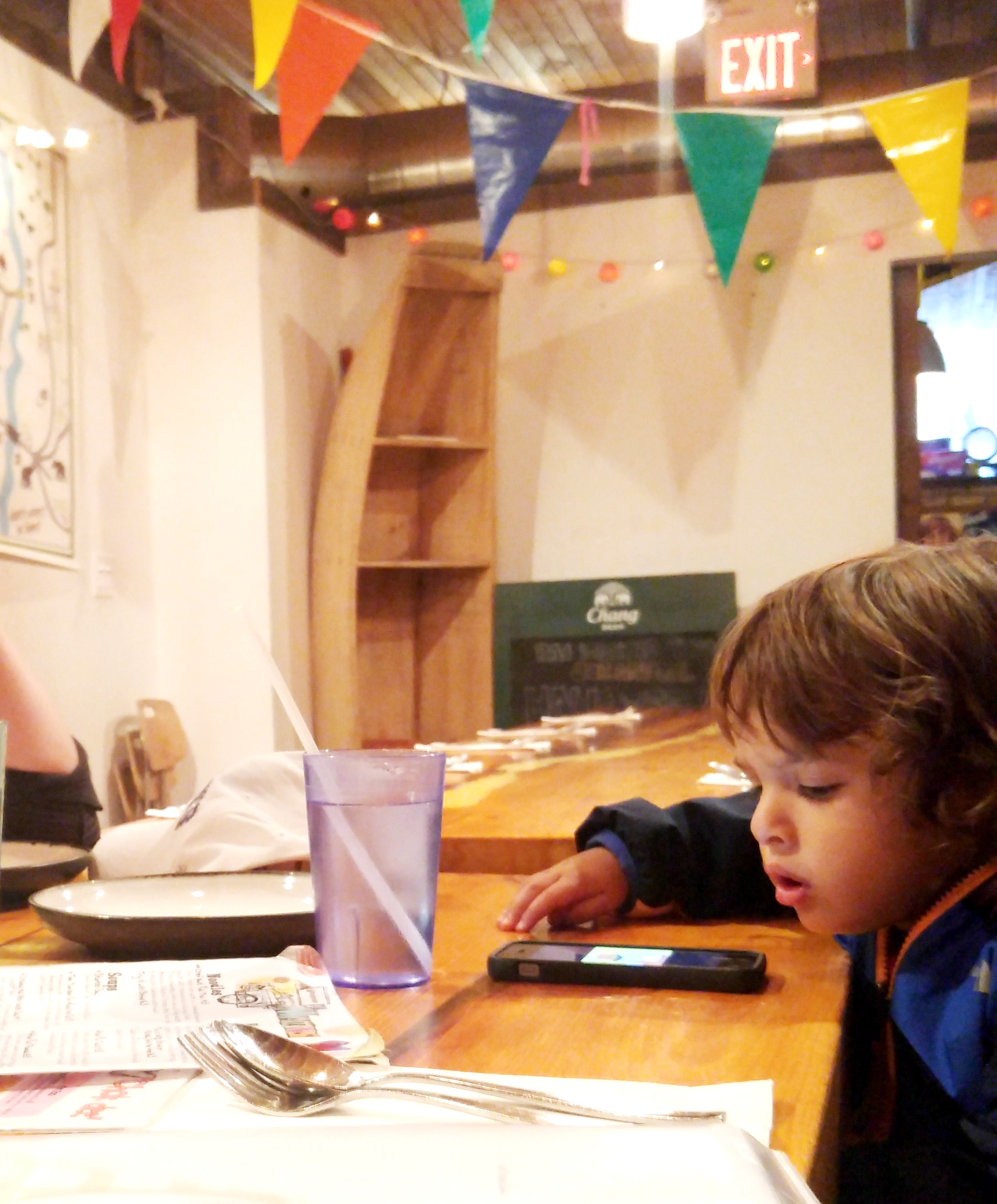 As Baby Boy sat in his high chair I was surprised to see him so well behaved! Apparently he went out for lunch that day with the grandparents and was the model restaurant goer!! Who is this kid? Has our luck returned…do we have two kids who love going out to dine? I sure hope so!!! He did get a bit antsy towards the end so we pulled Max & Ruby out for him to watch.
My go to dishes at Pai include the Massaman Curry, the Khao Soi with braised beef and the Pad Gra Prow. At Pai your dishes may come out in coconuts (Green Curry) and clay pots. If I have to choose an all time comfort dish it would have to be the Pad Gra Prow with white rice, minced basil meat, deep fried pork belly and a fried egg. Bloody fantastic. I also get the iced tea even though it's a tad too sweet for me.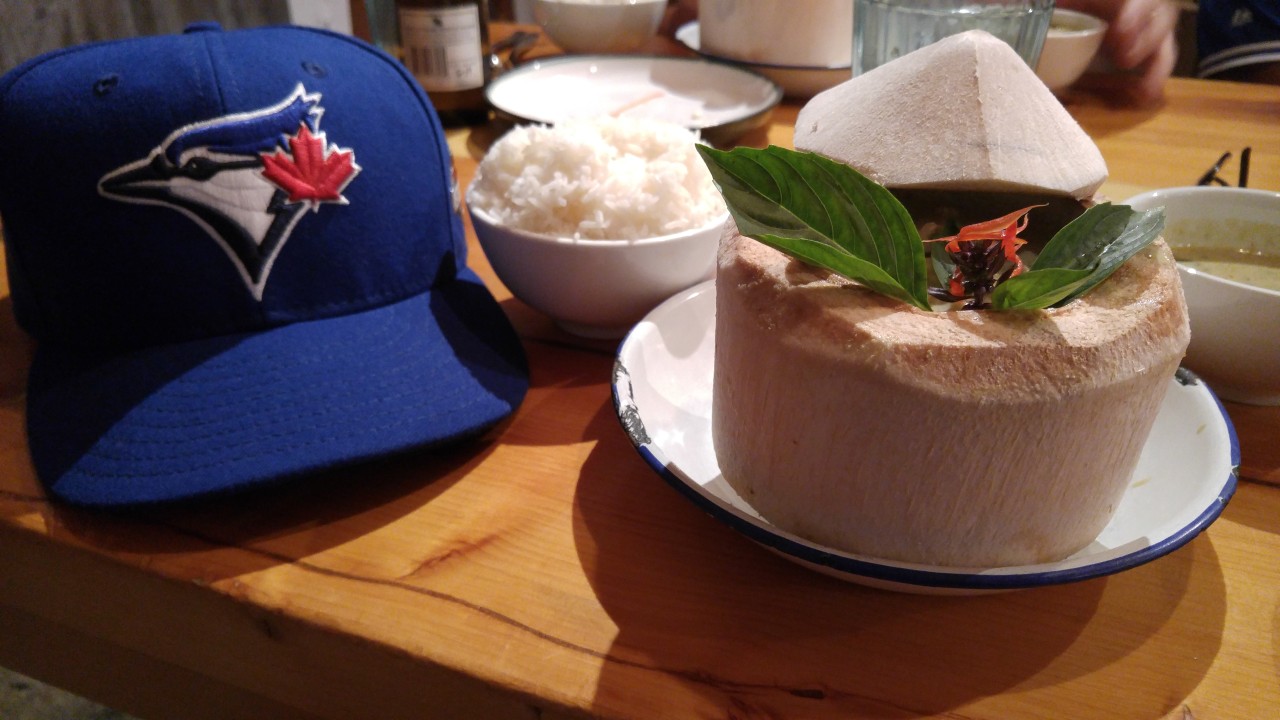 Little Monkey and Baby Boy enjoyed the veggie spring rolls and the Pad Thai. Yes the Pad Thai here is aunthentic and nothing like the ketchup laden stuff you get elsewhere. Between Sabai Sabai and Pai, I'm a happy girl. I don't have plans to visit Thailand anytime soon (though we really must as we have family living there!!) but having two fabulous street style Thai spots near work and home, means my cravings are always satisfied! When we have out of town visitors, I always make it a point to take them to one of these two spots. Up next is trying out their tasting menu where Chef Nuit surprises guests course after course. Who wants to join me?