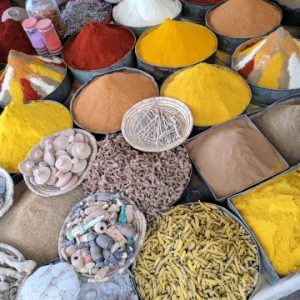 The two main reasons to visit Morocco are to see the Sahara Desert and to eat its cuisine. While traveling through the North African country, I expected to be hot, to eat well, to see some amazing sights, and to witness chaotic driving. My expectations were met on all fronts, for better or worse. Despite being nearly traumatized by the harrowing experience of Morocco's streets, I left the country feeling that I had experienced something special.
Wherever I go, finding good food and drink is always at the top of my list. Booze is hard to find in Morocco. We rarely found a restaurant that served alcoholic beverages. At some of the larger supermarket chains like Carrefour, alcohol is available, and the selections are suitable for those in search of regional wines or international spirits. However, for a craft beer lover, Morocco is a barren landscape, which was an especially unfortunate situation when our family travelled into the desert on camels. After the journey, I was the proverbial desert wanderer in dying need of water, except I badly needed a Heady Topper.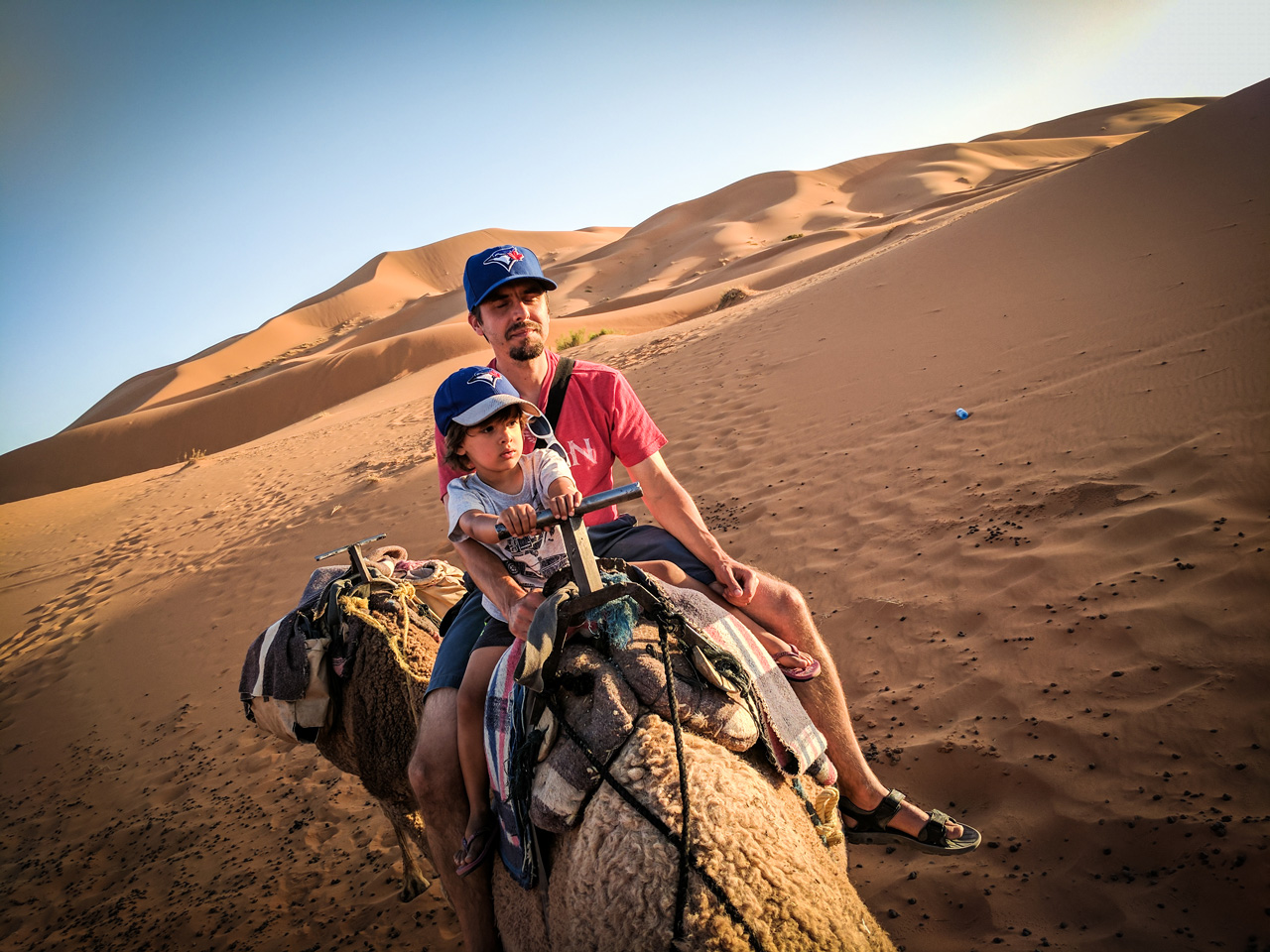 Heineken and Corona are available at some supermarkets, as are a few German and Belgian brands, the best of which I found was Leffe Brune. The beers on the shelves were all big name brands that I had tried many times, and for the most part, don't particularly enjoy. Morocco has but a single brewery, in Casablanca, called Brasseries de Maroc. It produces 5 beers, all Euro Pale Lagers, and all relatively tasteless.
So for three weeks in Morocco, I did not taste a single great beer, which felt like an eternity. I have gone longer while living in Canada, but at least I had options. Yashy gave in to the Moroccan culture of having mint tea numerous times a day and one day she counted 7 small cups. That's a lot for someone who doesn't regularly drink tea or coffee! Given the lack of fine drink, we focused on Morocco's food scene, though I must admit you'll find some amazing fresh juices throughout the country. The naturally sweet orange and watermelon juices were favourites of ours.
We tasted a lot of great dishes during our visit. During our stay in Fes, we found two great places to eat inside the Fes Medina, and in both Oarzazette and Marrakesh, we were fortunate to have the services of a local cook to prepare some of our meals. Here are some of the distinct dishes we tried during our travels.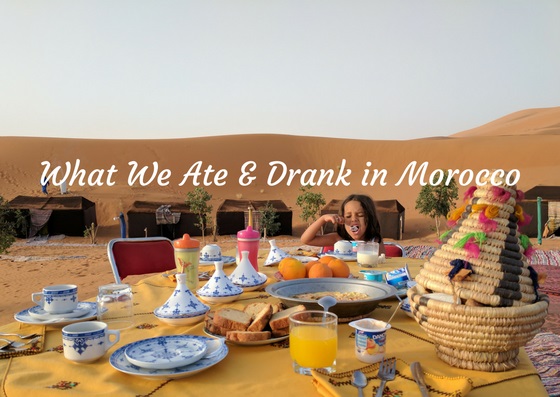 Berber Pizza
During our journey from Marrakech to Oarzazette with Morocco Immersion, our guide brought us into several regions along the route, the most memorable of which was Rissani. There, we explored the local souk, a large market where merchants sold everything from vegetables to second hand cell phones, in addition to street food. We did try grilled meats we spotted at the market and one of Yashy's favourite dishes was grilled liver and beef skewered at the Risanni market. At the encouragement of our guide, we ordered Berber pizza, which is a little like a giant empanada filled with beef, almonds, onions, and olives. The "chef" (who was really a butcher in the market) chops the beef and the onions into small pieces, then spreads them over a bread that is similar to pizza dough. He then sends it to the communal pizza oven and has it ready for us to pick it up an hour later. The almonds and olives added to the mix and then another layer of dough is added on top before the pizza is placed in the oven. It's part pie, part pizza, part empanada, and it's quite tasty.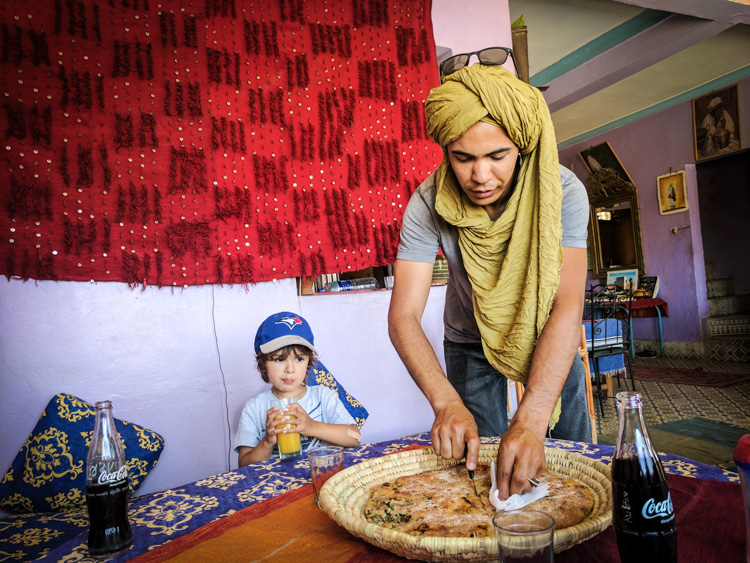 Tagines
This style of food preparation is the primary form of cooking in Morroco. We tasted tagines in several restaurants as well as in the riads where we stayed. We stayed in two GuestToGuest homes that employed a cook and so we took full advantage of the service, enjoying both chicken and beef based tagines during our stays. When meats are prepared in a tagine, they soften and fall right off the bone. Chicken is especially good from a tagine. The meat is tender and absorbs the flavours of the accompanying spices. Lemon and olive are often used in tagines and both add a lot of flavour.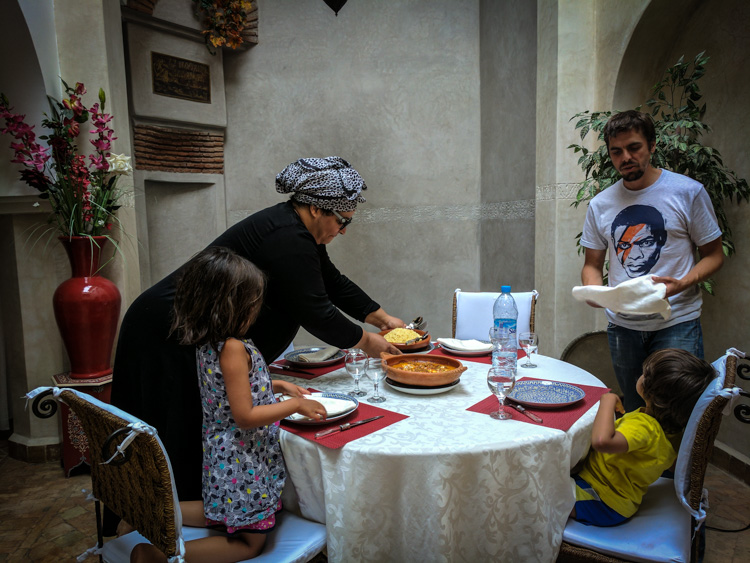 A few of the restaurants where we ate offered only tagines. We did not eat out frequently, but the most memorable meal we had was at Café Merstan, inside the Marrakech Medina. We walked in during a very hot afternoon in the medina and enjoyed some great food on the restaurant's rooftop, made particular enjoyable by a soft mist that would periodically spray from sprinklers installed on poles throughout the dining area.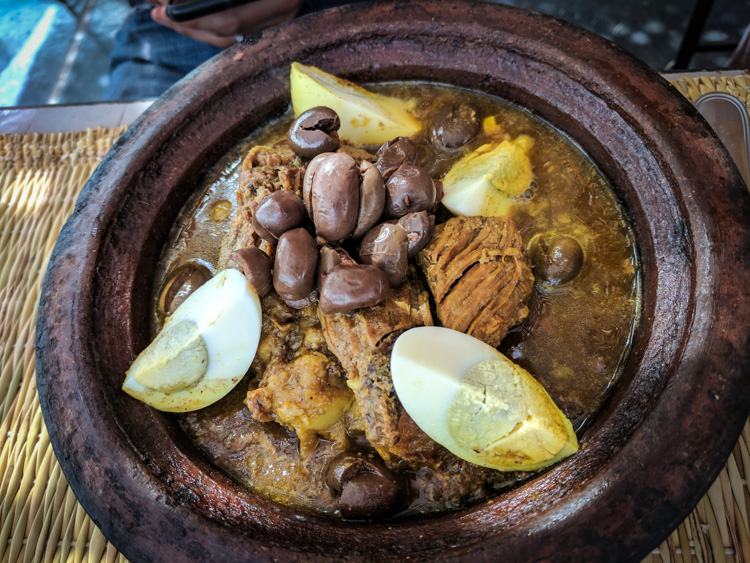 Bessara
After having a bowl of this delicious soup during our first day in Fes, we were hooked. Consisting mainly of fava beans (or broad beans) and a generous helping of olive oil, the soup was the perfect pairing for the round, amply crusted bread that we received at almost every restaurant in Morocco. The soup seems easy to make and so we are eager to see if we can recreate the flavors when we get back to Canada.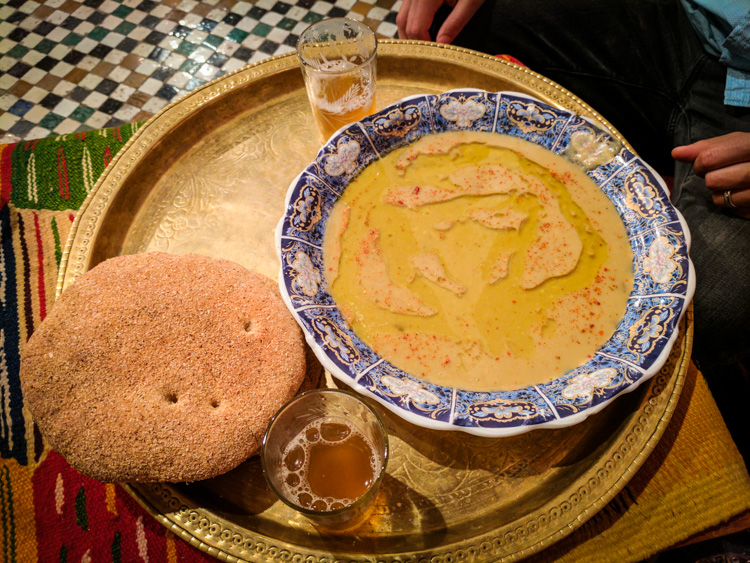 Dessert
Yashy and the kids all have a sweet tooth, but not me. My desert usually consists of a coffee or an after dinner beer, and so the dessert we received in Morocco had me saving room for its arrival. What is it you wonder? It's fruit, usually some mix of watermelon, green melon, cherries, oranges, bananas. All locally grown and always perfectly ripe, the fresh foods we received after meals in Morocco was a nice surprise for me. And despite complaining the first time dessert showed up and it turned out to be fruit, the kids grew to love it too. Not to worry though, Moroccans enjoy many sugary sweets made with honey when it comes to tea time. So if you've got a sweet tooth you'll probably find yourself looking forward to the afternoon tea sessions.
Moroccan cuisine didn't disappoint. Berber pizza is the type of dish that deserves to be served in restaurants throughout the world, while finding the right tagine is a true treat. The range of ingredients that chefs in Morocco will use in tagines allows diners to experience the dish in an endless number of iterations. I personally love the dish when garlic and olives are involved, but would be willing to try almost anything prepared in a tagine. During our future travels, we'll be eager to find Moroccan restaurants. After experiencing the real thing, I wonder what we'll find.