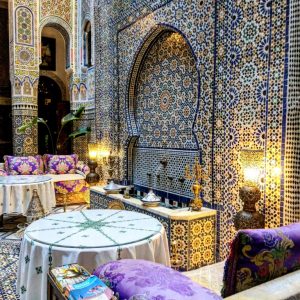 The Fes Medina is a small corner of the world where one can find peace amidst chaos. Home to approximately 150,000 people, this car free section within the city of Fes produces a live glimpse into the history and cultural traditions of its people. To explore the medina is a experience that, in my view, should be on every Moroccan visitor's itinerary.
Within the walls of Fes Medina, one could probably find anything. Upon entering through the famous Bab Bou Jeloud, known as the Blue Gate, visitors are presented with a bounty of local foods, goods and services, including fresh meats and vegetables, household goods, and medicines. That is just on the surface. In diving deeper into the side streets and back alleys of the medina, we eventually discovered what we truly sought, the tastes of Morocco. As an added bonus, both spots had a great Wi-Fi connection and accepted credit card payment.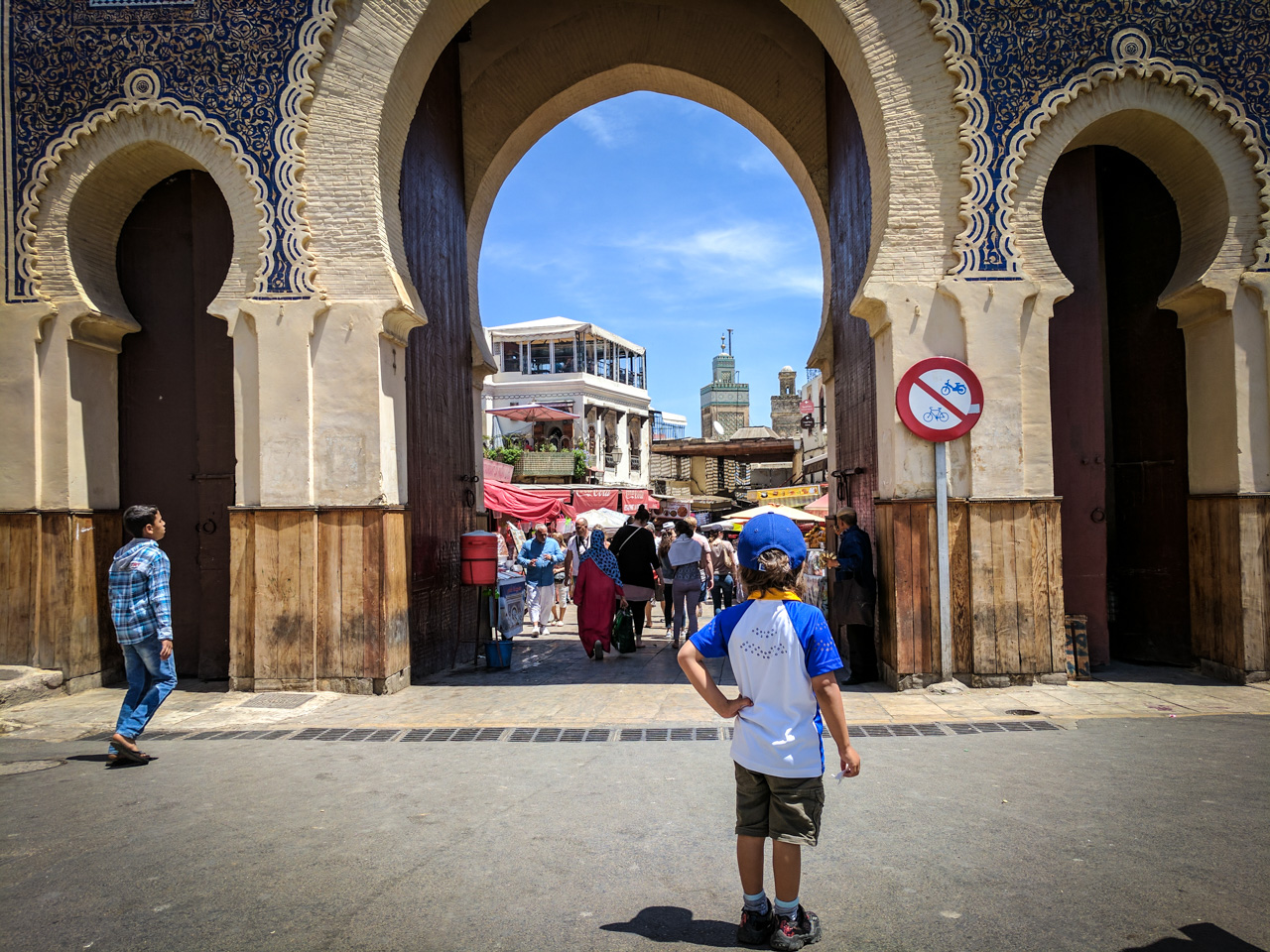 Nestled throughout the medina are countless eateries, from street stalls to high-end restaurants. We could have spend two weeks sampling the offerings but, sadly, we had to narrow it down to two restaurants, Café Clock and Riad Rcif. Both were memorable. Here is what we discovered at these two great restaurants.
Lunch at Café Clock
We visited the café at lunch time and found a number of fellow travellers populating its three floors, which includes a rooftop patio. Like many restaurants in Morocco, Café Clock offers free WIFI. Many of its patrons had laptop computers out as they enjoyed an afternoon drink. The café is located in alley not far from the Blue Gate and is fairly easy to find in comparison with most restaurants in the medina. Those travelling without GPS should be able to ask a local stall owner to point them in the right direction.
I had done a little research before deciding on Café Clock. The reviews are great and I was intrigued by one particular menu item, the Camel Burger. After passing a stall in the medina that sold camel meat, which looks like steak crossed with ahi tuna, I grew intrigued. After we mulled the menu, however, Yashy spoke up first and said she was going to get the camel burger. So I decided on the Lamb Beldi Burger, which is garnished with a mint & cucumber salsa, whereas the camel burger is topped with tazo ketchup. The kids wouldn't admit to eating camel but they enjoyed both burgers and the beet smoothies.
Admittedly, these choices were a little boring, but Café Clock doesn't offer a wide range of dishes and we knew that we would be seeking out a Moroccan dish that evening. I think we were both in a burger mood and neither of us regretted the choice. Café Clock offers a range of dips, salads, and sandwiches, which makes it an ideal lunch spot for tourists looking for something similar to what they eat at home, as long as they don't mind substituting beef with camel!
Dinner at Riad Rcif
Before we left our apartment for dinner at Riad Rcif, which was located within the media, I took a look at its location on the Google Maps. My suspicion was that it would be hard to find. Armed with my iphone's GPS, and helped by a number of signs throughout the medina that pointed us in the direction of the riad, we had no problem finding our way, but the route was filled with a number of turns. That said, the signage was very helpful and I think that anyone looking for an adventure within the medina would be well served trying to find Riad Rcif without the help of their GPS. We were pressed for time and succumbed to using Google Maps on the way but did manage to find our way home without using our phones, a feat for which I felt quite proud. I had heard that it was fun to explore the medina and get lost. It's true.
When we entered Riad Rcif, we encountered a beautiful interior. Its center stretches all the way to the roof. Presented with the offer to eat on the rooftop, we eagerly accepted and made our way up three floors to reach the dining area, which offered a nice view of the medina in its open air setting.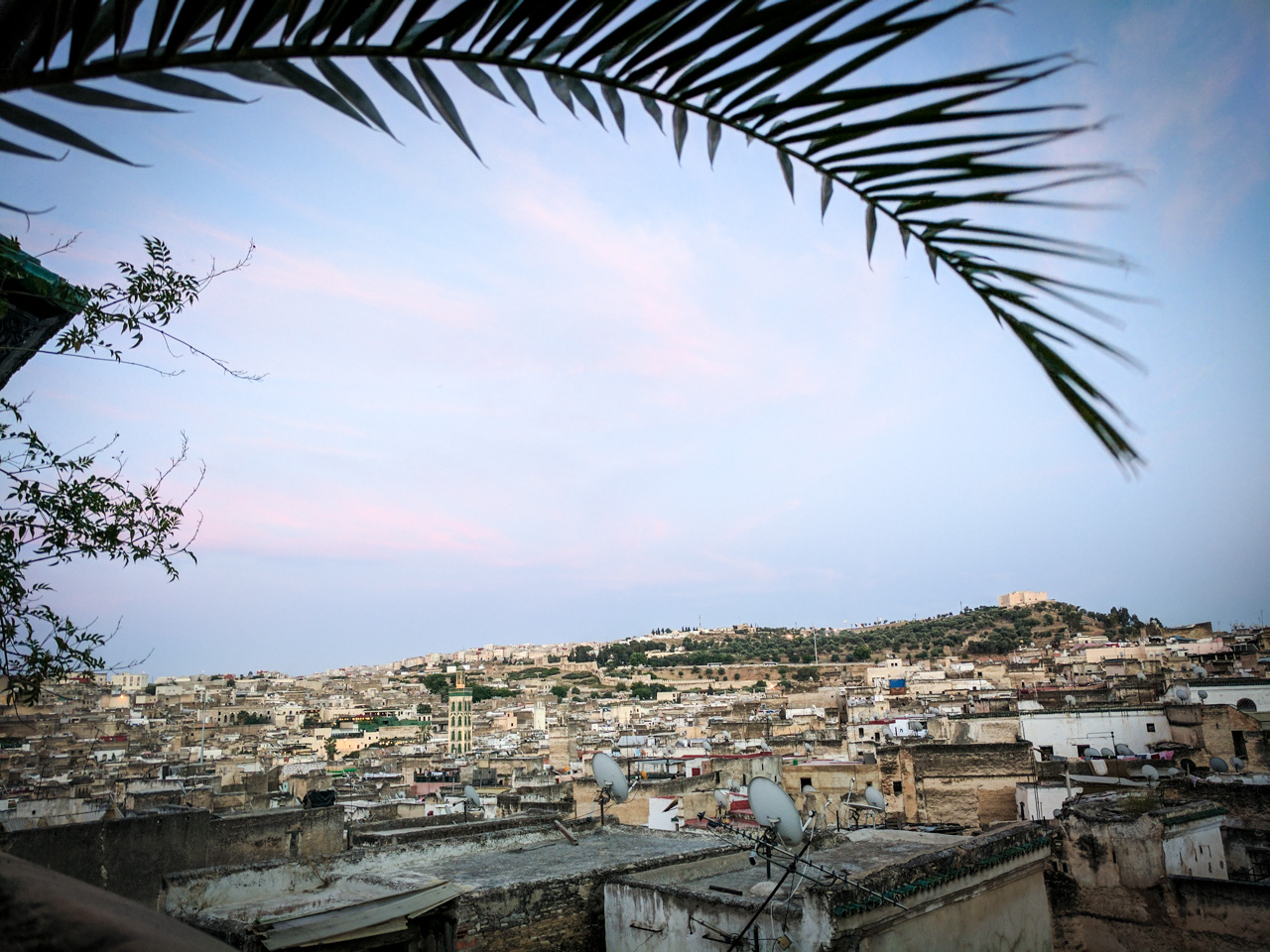 The menu consisted of various tagines, including two vegetarian options as well as beef, chicken, and lamb dishes. Whenever I open a menu and find less than a dozen entrees, my assumption is always that the restaurant specializes in the few dishes it offers and prepares them well. That was definitely the case at Riad Rcif. Yashy opted for the chicken while I chose the beef, but before receiving the main dish, the starter, Moroccan salad, was place on our table.
This salad alone made the meal memorable. Consisting of 8 tapas style dishes that included a delicious battered potato and egg patty as well as a range of exquisitely prepared vegetables, this opening course made me feel as though I had finally found the great Moroccan cuisine for which the country is famous. I eventually had to use a bit of will power to save room for the main dish and was glad I was able to do so.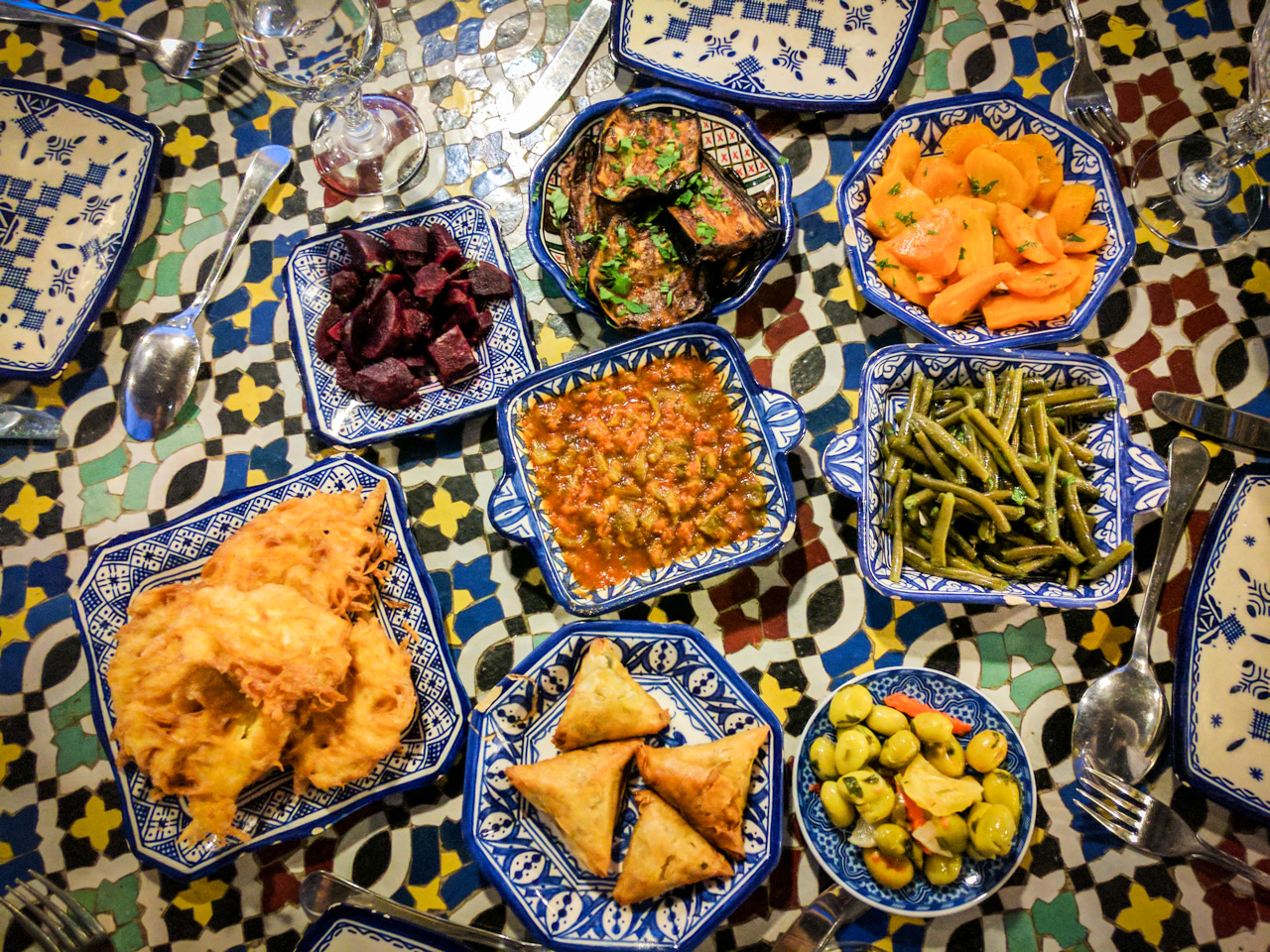 Tagines are fast becoming a new love of mine. The meats are tender and filled with the flavor of the broth used to prepare the dish. I find chicken to be especially well served when prepared in a tagine and can be described as being similar to a 'fall-of-the-bone' rack of ribs. When I first arrived in Morocco, I would usually order kabob if it was on the menu. Now, it's always tagine.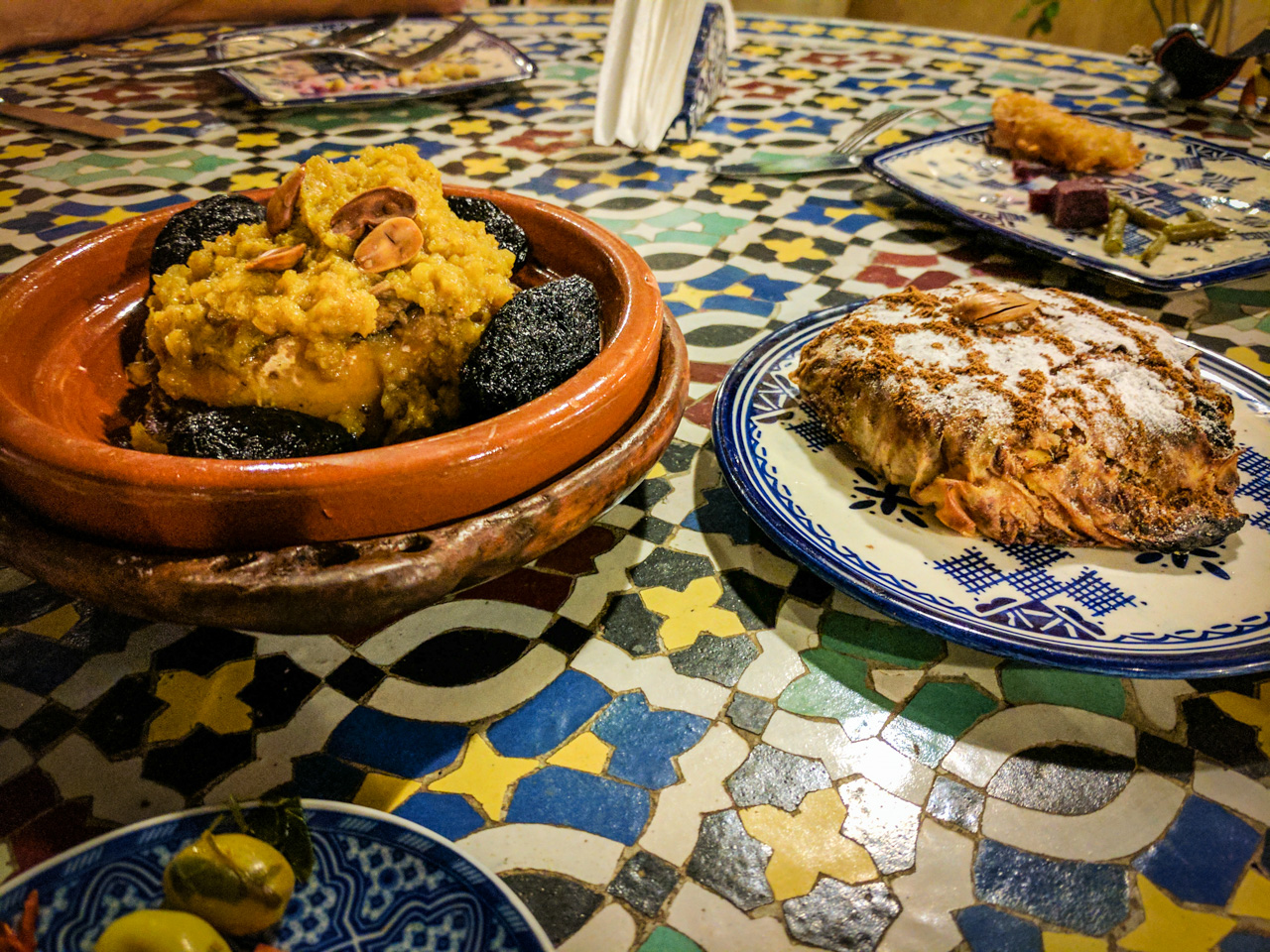 Desert was included, though only I was excited by the offerings. In Morocco, desert usually consists of mixed fruits. Yashy and the kids are used to sampling a rich dessert when we dine out, while I usual enjoy a beer. Here, they had to be content with oranges, bananas, melons, and cherries. The kids relented and helped me to devour most of the dish. It wasn't quite the same as a good ale, but I rather enjoyed it.
It was after sunset by the time we left. On the way to the restaurant, we had passed through a few alleys that had little exposure to sunlight and so we were a little worried about walking home in the dark, but it turned out that the streets of the medina were well lit, with a number of residents enjoying the evening outside. This was to be our last night in the Fes Medina. When we arrived after dark on our first night, I was unwilling to explore more than a few turns from our apartment. By the time we left, I was willing to follow every turn and relished the chance to navigate the labyrinth.