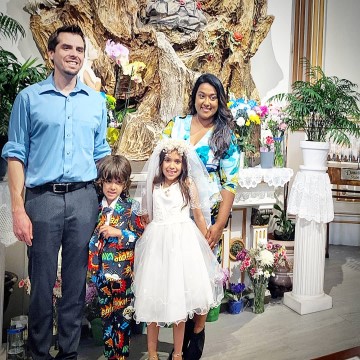 We recently celebrated Little Monkey's First Holy Communion and while I may have once had grand plans for the celebration (similar to Baby Boy's Baptism Brunch), that totally didn't happen! Our Church decided that it was going to be a 3 p.m. Mass which foiled all plans because by the time 5 p.m rolled on a Sunday evening, the kids were cranky and everyone was already thinking about prepping for school the next day. When it came to the prep work and the actually day, it was a whole bunch of go-with-the-flow-ness on our end and I thought I'd share a bit about that today.
First Holy Communion Preparation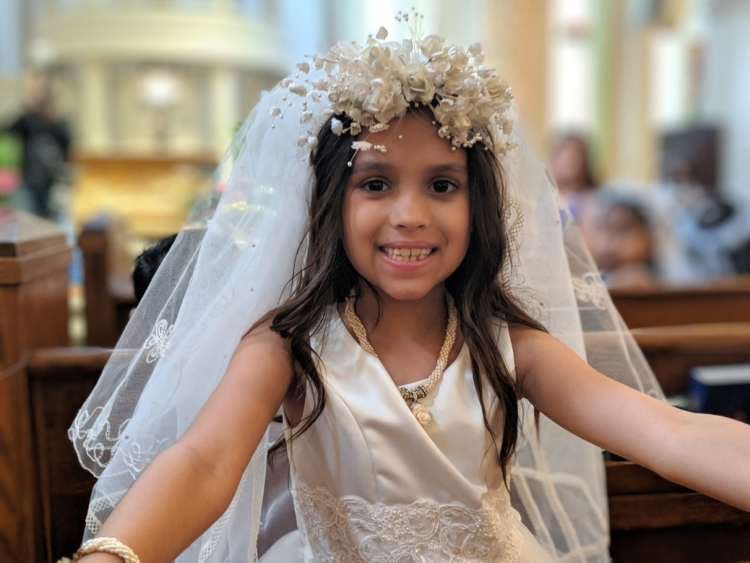 Since the kids go to a Catholic School in downtown Toronto, I thought all the prep work would happen during the school day but that was not the case. For two months we had to take the 7 year old for Sunday School and she was not pleased about the 1.5 hours there. The annoying part for me was that she seems to have ignored every lesson taught there as she would come home and tell me that she learned NOTHING. Very typical of her! We missed a few classes due to our travel schedule and she didn't really read through any of the pages that were sent home. However, in the end she figured things out.
First Confession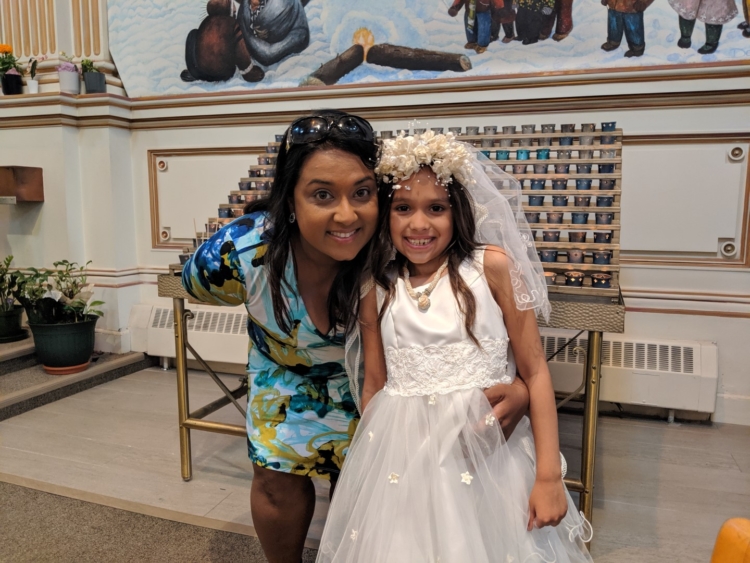 This was a tough one as she is not a fan of strangers and while it has been many years since I've gone to confession, I remembered enough to share some wisdom. I told her to think of 5 sins and to be prepared to be in a tiny room with a priest. Luckily for her, when the day came, she was able to confess her sins with a jovial priest who was seated in an open room. This meant that after she had shed a few tears (because we left her alone), she was able to see us while she spoke with the priest. She told me a few of her 'sins' but mentioned that she couldn't tell me the majority of them because they all involved me. HAH!
What to Wear for Your First Holy Communion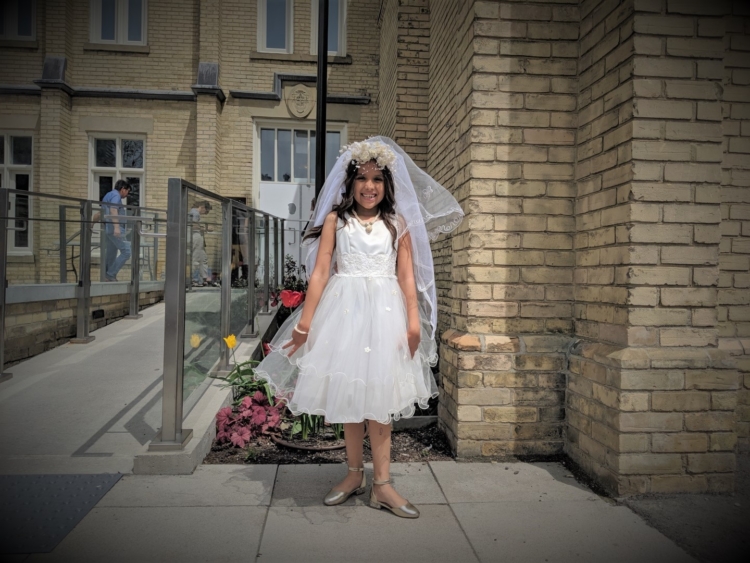 Little Monkey was most excited about the dress up part and she went shopping with Chris' mom who bought her a lovely dress (after she tried on about 7). We're lucky to live across from the Kiddy store in the Atrium on Bay which carries quite the selection of communion dresses. However, I will also mention that we found a lovely dress for half the price on Ali Express which we gifted to one of her best friends. No shortage of options when it comes to communion dresses. With her dress in hand, my parents then bought her a pair of gold heels and my mom had been hoarding my head piece all these years so she brought that as well. Yes folks, she was able to wear the same headband and veil that I did 30 years ago!! Insane, right? Way too many pictures were taken by the time they took the one below, I reckon!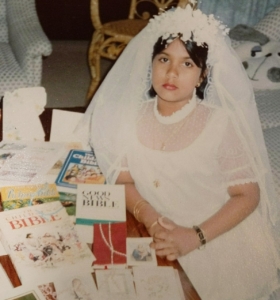 Communion Day Celebrations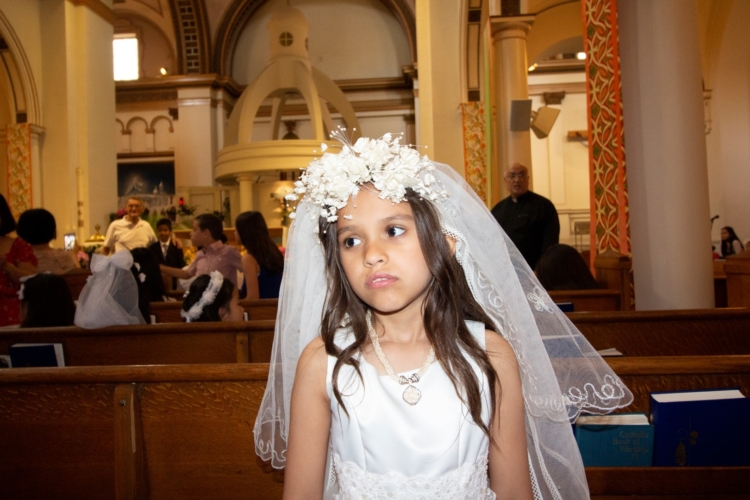 The actual Mass was fairly standard but one word of advice I have is to get to the Church early and take your pictures BEFORE Mass. I was glad we did that because it was chaos after. The Church had a small celebration with cake, hot dogs and lemonade which put a smile on the kids faces. Little Monkey's school teacher also attended the Mass and I think that put a smile on her face as well!
Of course, us adults had to eat and I knew the kids would love visiting the Storm Crow Manor in downtown Toronto so we all swung by there for burgers and drinks. I hope Chris will create a YouTube video to show you the awesomeness that is the Storm Crow Manor but for now, I'll leave you with a few pictures of this geeky-sci-fi bar that's filled with amazing movie memorabilia. It's truly a spot you have to experience because it's hard to tell you about all the many details. Vegans and those with a gluten-free diet will also feel very comfortable at this bar! It was definitely an odd choice for a Communion celebration but you don't come to our site for predictability, do you?
We then came home and cut into this cake my mom made!