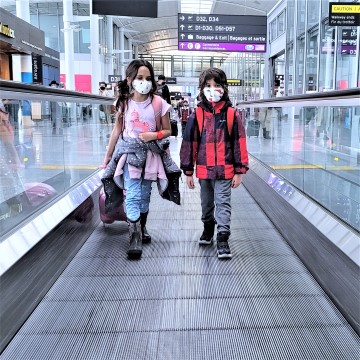 After much debate we made the decision to fly during Covid in Canada and to spend the month of December in Nova Scotia with family. Couple weeks ago I shared our tips for quarantining in Nova Scotia and today I want to share our experience of flying with kids during the COVID-19 pandemic. Please note that the government of Canada has requested that everyone stay at home and avoid non-essential travel. We're not encouraging you to fly during these times but if you do need to fly, we hope our experience and tips will help you have a safe journey to your destination.
As always, please check for rules at your destination as each province has their own rules. Also remember that coronavirus travel restrictions can change quickly. For example, there was no quarantine requirements for domestic travel when entering Ontario but upon our return this rule was in place. Luckily for us, we have the privilege of being able to quarantine easily and the security of being able to work from home and participate in on-line learning.
There are many factors to keep in mind when making the decision to travel during COVID in Canada and none of them should be taken lightly. Flying during COVID-19 requires extra time for quarantining and extra expenses for a longer trip. We visited Nova Scotia for family reasons. The past few months taught us how precious time is with the ones we love and we're glad we managed to reunite the kids with their grandparents and 94 year old great grandmother. However, I will be the first to say that travel days are no longer leisurely and fun, instead they're filled with worry and anxiety. One day I hope to travel freely, filled with excitement as we once used to. For now, it means wearing a mask for 7 hours straight (for a 2 hour flight) because we wanted to be as safe as possible and did not remove it between leaving the current accommodations and arriving at the next one. If you'd like more details about travelling during COVID in Canada and elsewhere this CDC write up is informative. 
Flying During COVID in Canada | 
Experience at the Airport During COVID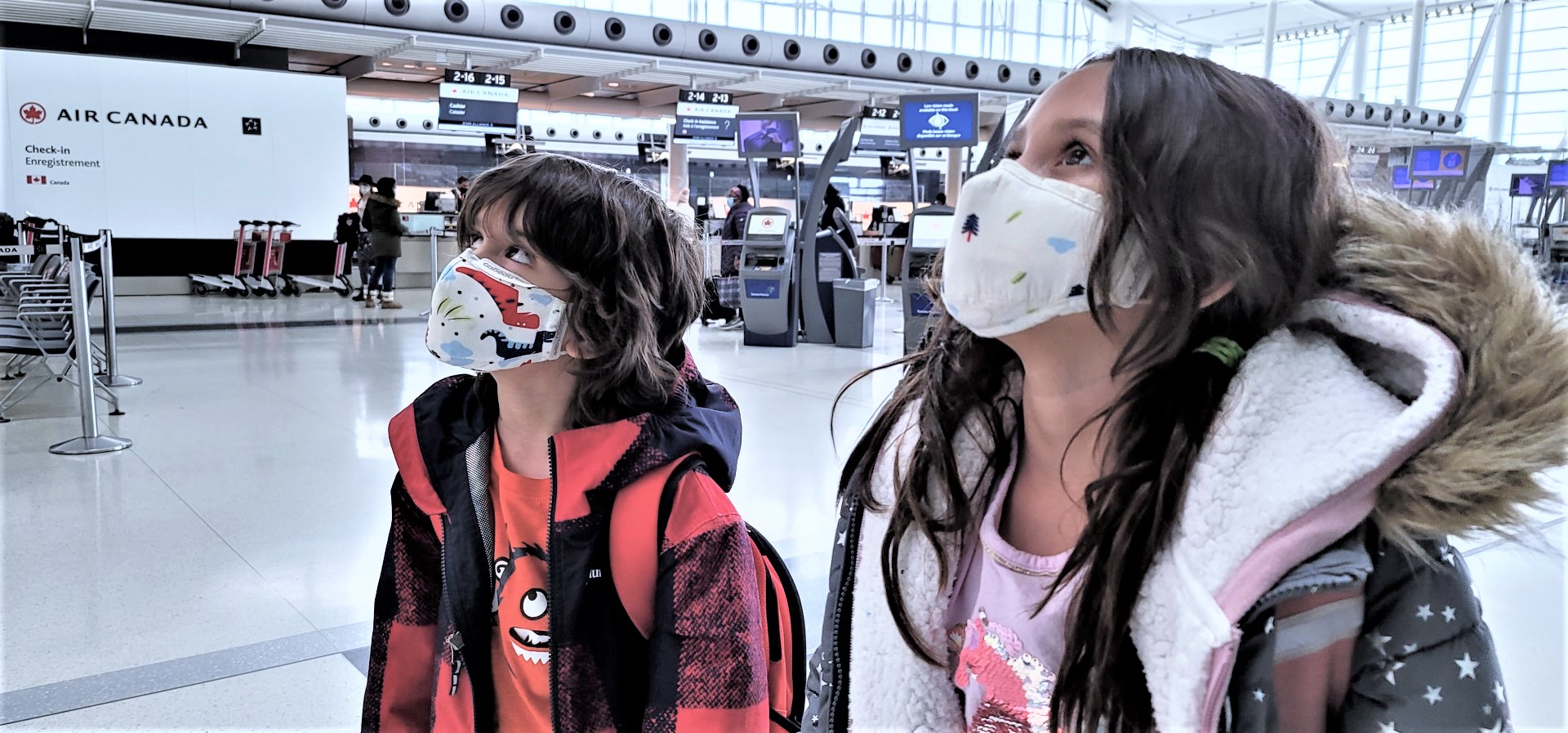 There are so many factors that come into play when talking about the experience at an airport during COVID 19. Each hour can bring a different experience, that's for sure! At both airports we were asked to do a temperature check after checking in but before entering the security area.  None of the temperature checks involve touching your body as they were done from a distance. Security measures were similar to pre-COVID other wise (you're still not allowed to bring large amounts of liquid).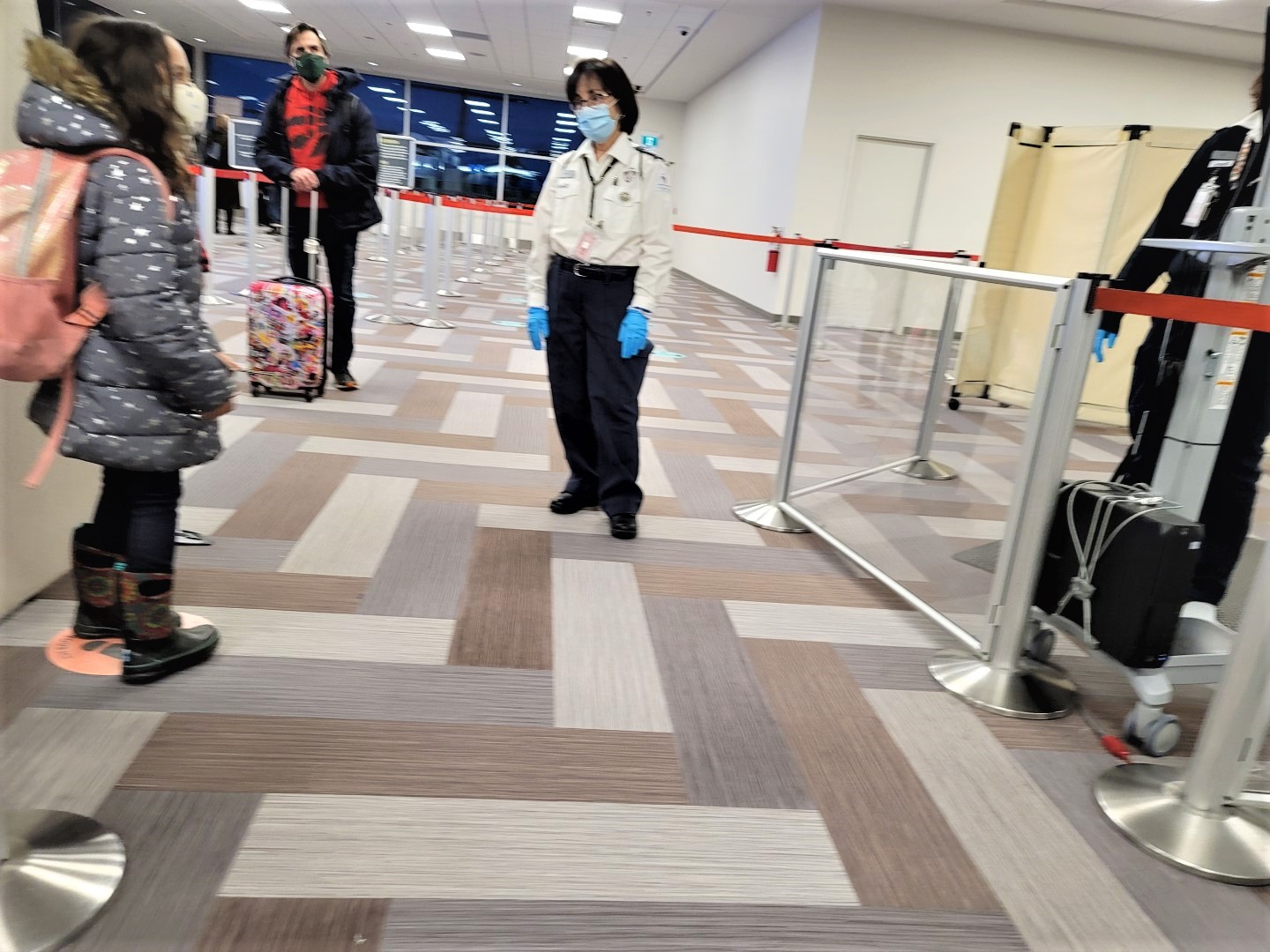 Flying out of Pearson airport in Toronto during the late afternoon, we noticed that it was much quieter than usual but at the same time, it was fairly busy. Restaurants were open and people were sitting around eating and drinking. So if you were hungry, you can purchase food and drink. All water stations were closed off so we decided to buy a bottle of water as a back up. Many areas of the airport were sealed off in the domestic terminal, providing fewer seating options but we were able to find an area near our gate that was empty. Remember, you're wearing your mask at all times (unless you were at a restaurant), social distancing and washing your hands frequently. We carried hand sanitizer with us and although most bathrooms were available to use, we also spotted many sanitizing stations throughout the airport. In addition I also spotted airport staff sanitizing various touchpoints and doing their best to keep us healthy and safe.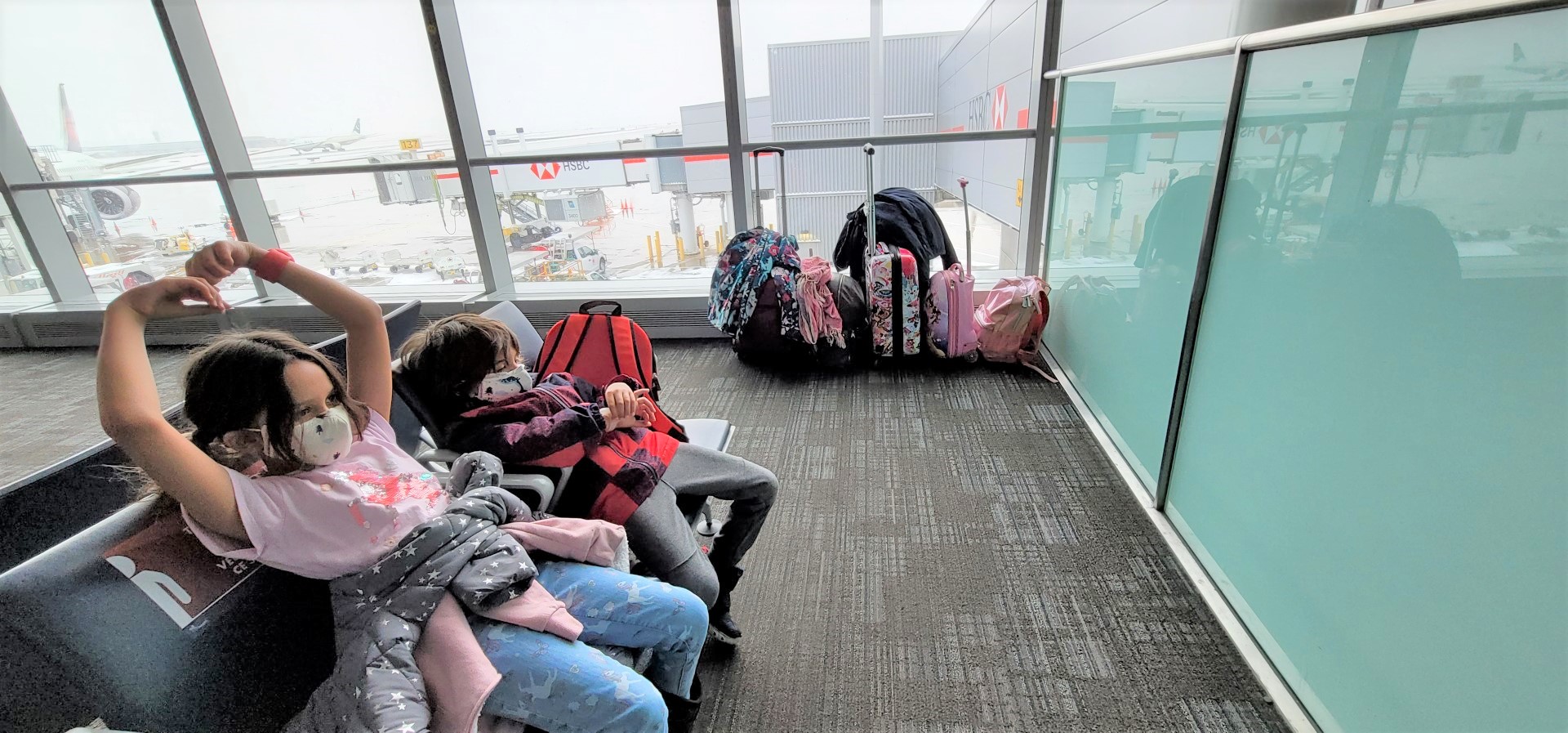 At the Halifax Standfield airport, things were even quieter. It's a smaller airport and people were definitely more cautious. Pre-pandemic there were kiosks and a few stores open…however not much is operating during these times. The beverage alcohol store, Liquid Assets, was open and  a couple quick service spots. Water stations were closed here as well and there were hand sanitizing stations throughout.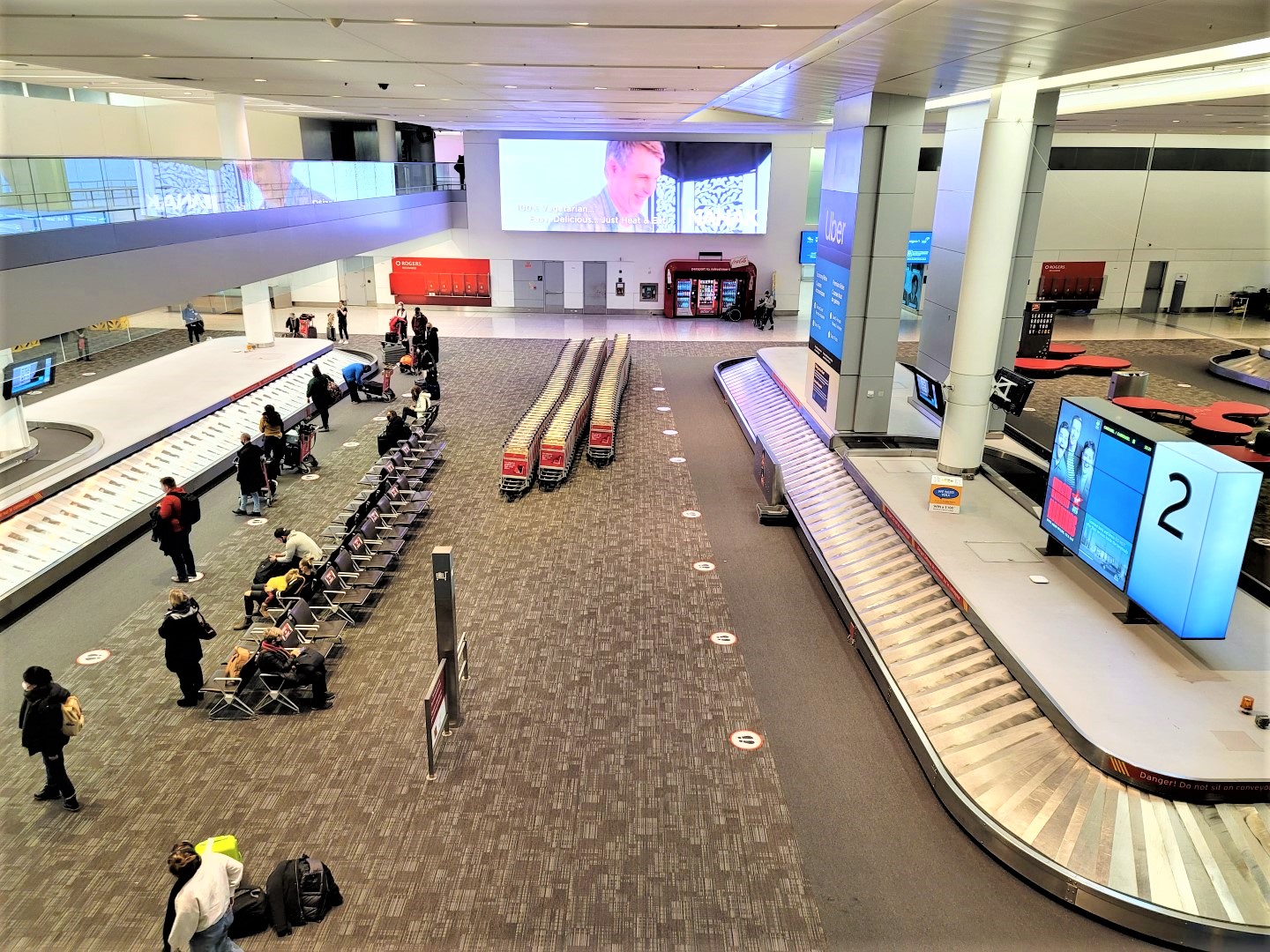 We've been very careful since the start of the pandemic and for a family who still sanitizes groceries, mail and anything that comes into our home, thinking about the various touch points was overwhelming. Security personnel dug through our bags (they were wearing gloves but those gloves have touched many things), bags and coats were being dragged everywhere… the list goes on. I am aware this coronavirus is airborne and transmitted mostly by human to human contact. So I took solace in that knowledge tossing everything into the laundry and wiping down our suitcases once we arrived at the apartment. Everyone is doing their best to distance as much as possible and were wearing masks (though some are still not wearing their masks correctly after all these months). It took us the same amount of time for our domestic travels but I have heard that security lines can be long at times, luckily that was not our experience.
Flying During COVID in Canada | In-Flight Experience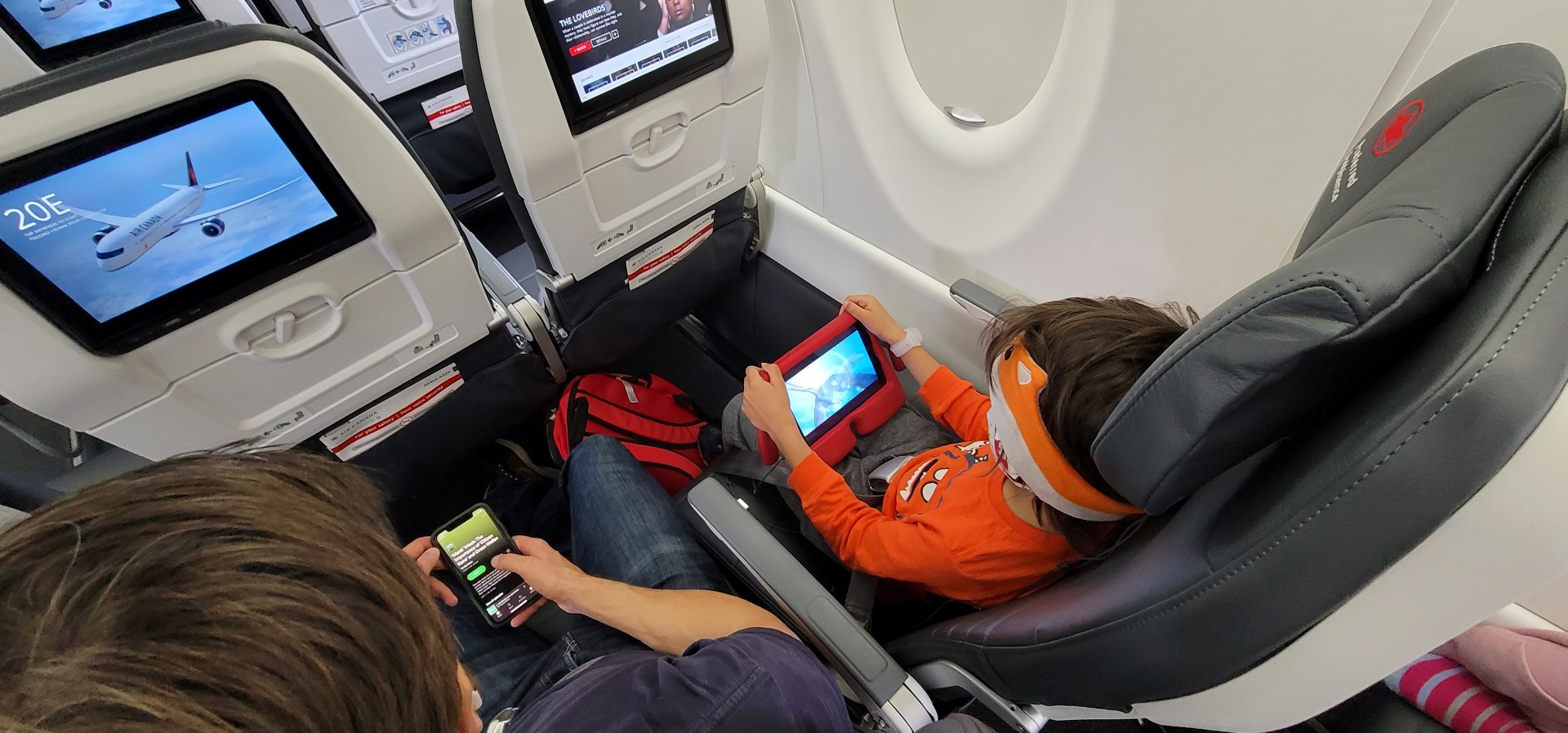 Flying during COVID is nerve wracking. Flying with kids during COVID-19 even more so. Luckily we taught our kids to be comfortable wearing a mask since the start of the pandemic and they're aware of the benefits of mask wearing. Each airline has their own rules with most insisting that kids above 2 years of age wear a mask. However, I personally would not be going anywhere if my kids were not wearing masks. No matter how old they were. We've shared our tips for mask wearing numerous times and on this trip we used some Cabeau tape as an extra precaution. Truth be told, our masks are quite snug so we didn't need them but it was an additional level of protection for my peace of mind. IF your mask is loose, I highly recommend that you check them out.
We used our Miles to book our Air Canada flight and I was nervous about flying during the pandemic despite knowing the many safety protocols in place. Our flight from Toronto to Halifax wasn't as busy as our return one and so flying to Halifax we were able to sit by ourselves (Akira and I on one row and Chris and Apollo behind us). Once on board we received a safety kit that had a bottle of water, a biscuit, sanitizing wipes, mask and hand sanitizer.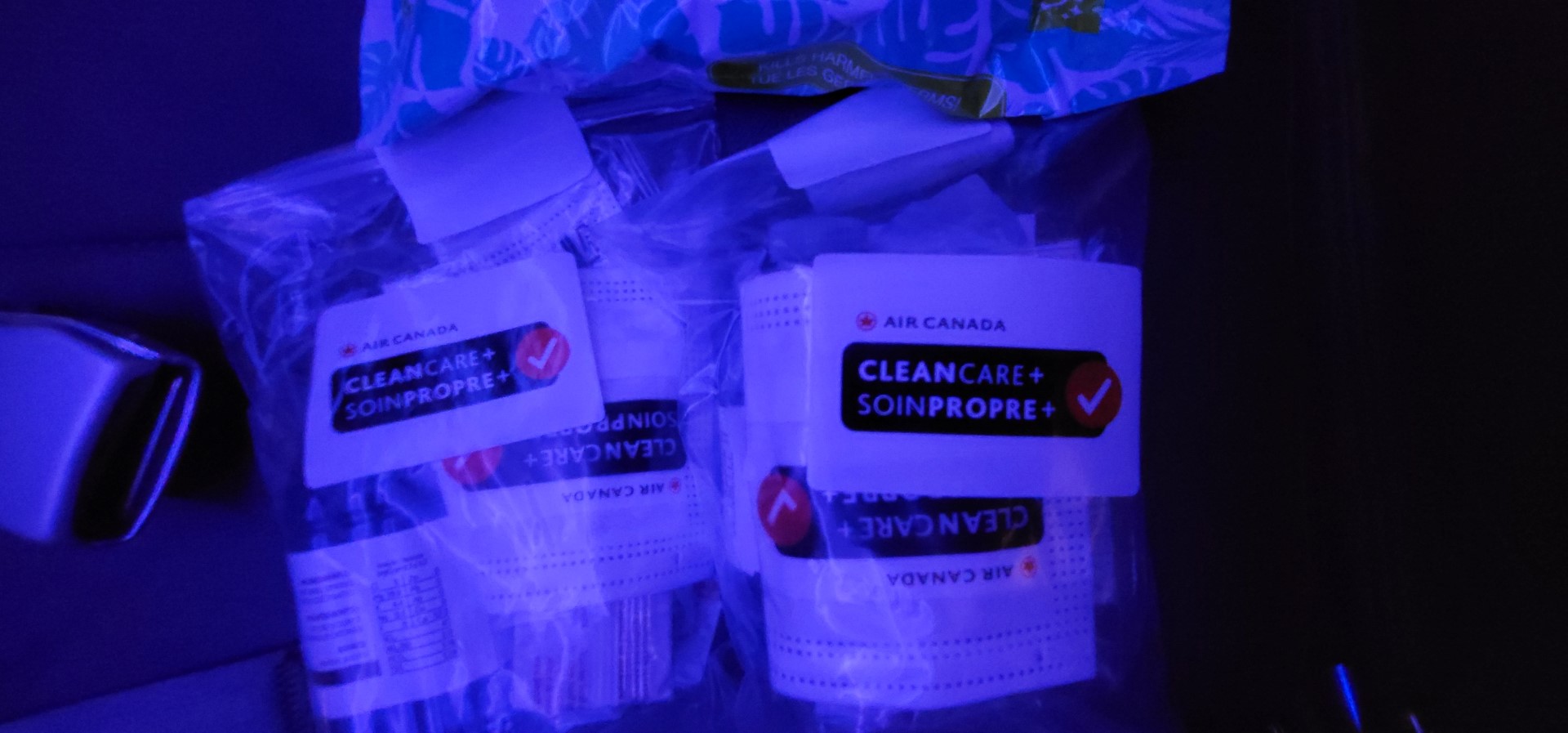 Since we had brought disinfectant wipes we wiped down our seats, the TV screens, windows, head rest and hand rest. I was impressed by how spotless the wipes were (no dirt, oil or dust)! Our inflight journey was similar to our usual travels beyond being masked. I once even spotted a Stewardess asking a passenger to pull up their mask – which was lovely! Everyone working on board was doing a fabulous job. There was drink service on board and pretzels handed out. Although many removed their masks to eat, we had agreed prior to arriving at the airport that we would keep our masks on the entire time for our own protection. All in all, our flight from Toronto to Halifax was rather comfortable.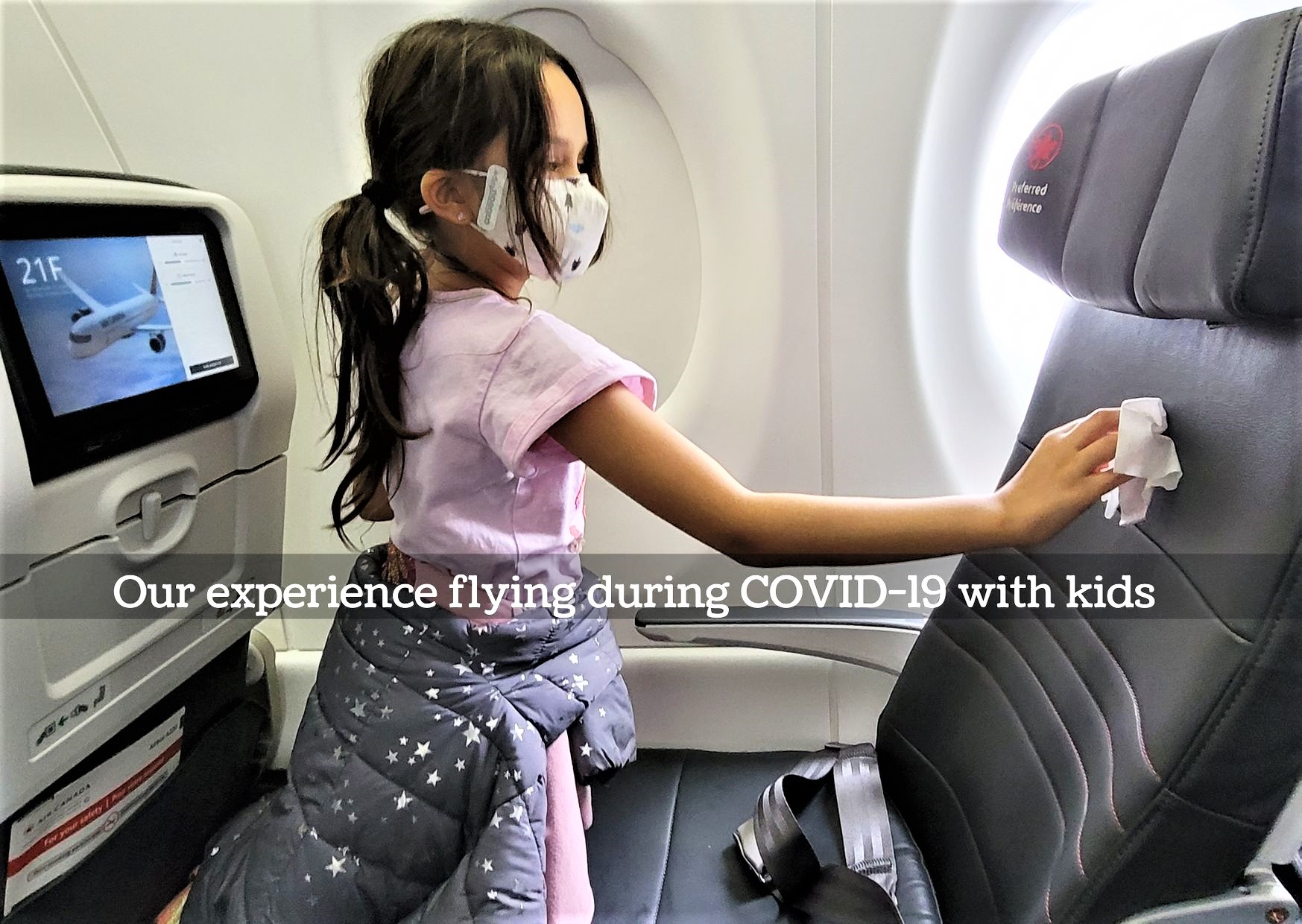 Our return journey was anything but! With a full flight (I recall only 5 seats being vacant as per the announcement) things were definitely crammed on board. What this meant was that both Chris and I had strangers sitting right next to us (we always do a 2 – 2 split with the kids when we sit in a 3 seat configuration). The person next to me spent a fair portion of the 2 hour flight eating and drinking which really irked me because it may have been a way to avoid mask wearing (sigh). However, I kept reminding myself that we were departing from a province that had very low COVID-19 numbers (42 in total) and so chances were in our favour that no one on board was infected at the time. Luckily for us, this was true. We did not receive any exposure notifications on any of our flights.
Another thing that was different with this flight was that the seats were cloth and not the wipeable leather ones we had on our inbound flight. Now, I know that this virus does not linger on clothes but we're also advised to refresh our cloth masks daily and to remove our clothes as soon as we return from our grocery runs and other excursions. By this logic, I was glad that we had seat protectors with us. The seat protectors created by Assuage have been designed to fit most seats and take just seconds to drape over the seat. The elastic around the edges helps hold the seat protector in place and it did not interfere with the passengers behind us in anyway. The Recyclable model, which came in a set of two, is meant for single-use and can then be dropped into a recycling bin.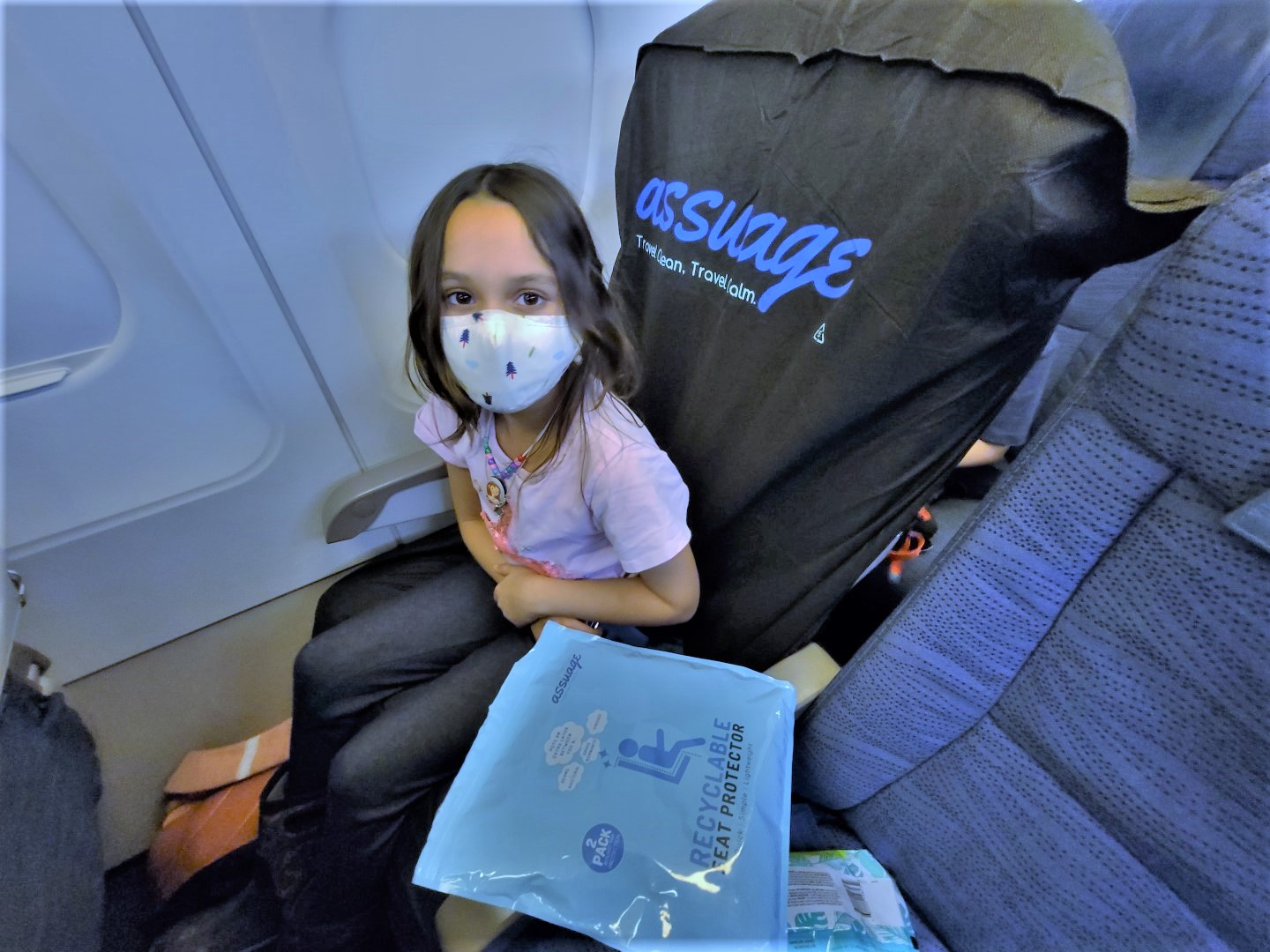 Once you arrive at your destination you need to ensure that you're aware of the rules in place. In Ontario and Nova Scotia, as long as we were masked, we were able to take taxis upon arriving. For Halifax I had pre-arranged a transfer through Deluxe limos and so there was someone waiting for us once we were ready to exit. And in Toronto we took the UP Express and TTC as we usually do.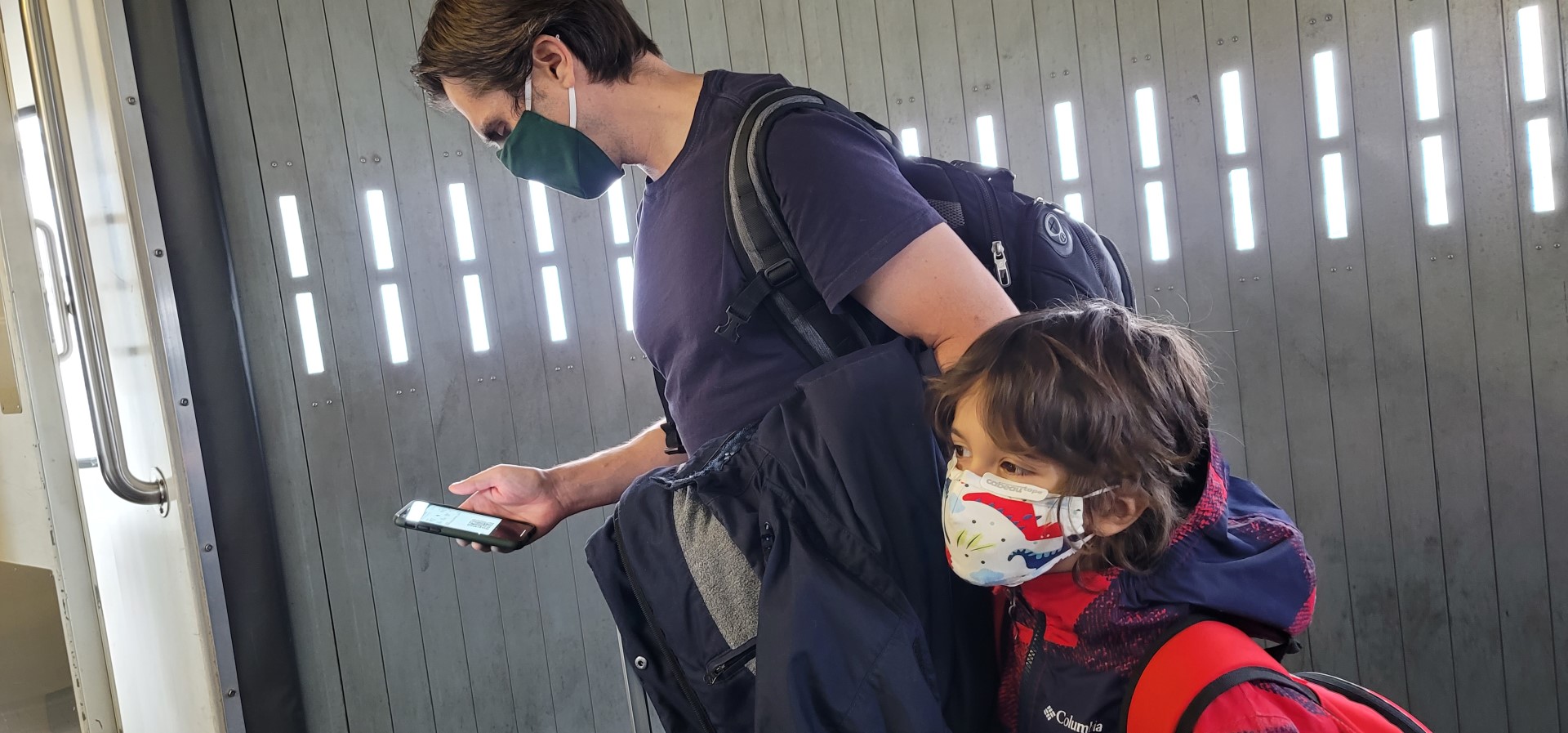 Speaking of rules, I cannot stress enough times how important it is to follow them. In Nova Scotia we had to register and fill out the Safe-Check in form. You can do this upon arriving too but I did it prior to departure. This made it faster for us to speak with an agent after we picked up our bags. In Nova Scotia you are required to isolate (here's my tips for isolating) and cannot go anywhere upon landing into the province (there was an Atlantic bubble in place when we arrived but that had burst by the time we departed-so you need to check those rules frequently). In Ontario when we departed there were no rules in place for provincial travel however by the time we landed, it was recommended that we isolate upon arriving from other provinces (mandatory for those arriving from other countries). While this was merely a suggestion, given how packed our flight was and the importance of keeping our community safe, we chose to self-isolate ordering groceries to our condo and not leaving our apartment for the 2 weeks.
Tips for Travelling During COVID
At this time it is recommended that everyone stay at home in Ontario and not travel. However, every province is different and that is why I wanted to share our flying experience during COVID. I am not encouraging anyone to travel during these times if it is not recommended but if you have a need to get on board a flight during COVID, I hope our experience and tips are helpful for you.
Please monitor your health and avoid exposing others if you think you are exhibiting any symptoms for the COVID-19 virus
Chat with your kids about expectations on what the travel day may look like (for us it entailed informing them that we won't be removing our masks for the entire journey)
Follow all the rules in place at your destinations
Download the COVID alert app 
Be as contactless as possible : boarding passes on your phone and self-check in areas are helpful
Leave the air vents on-board open (bring a sweater if you get cold) because it ensures better air circulation
Carry disinfectant wipes and liquid sanitizer with you so you can easily wipe down surfaces and hands
Be patient and kind towards those who you meet, everyone is doing their best during these times
Jump in the shower the moment you arrive at your destination