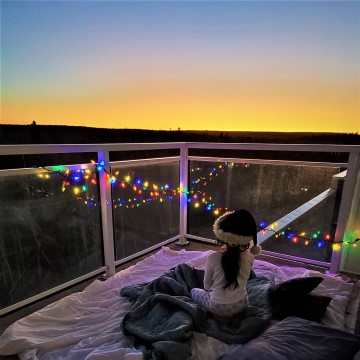 As you may know by now, since mid March the Canadian government has temporarily closed the border for non-essential travel. For those travelling to Canada from other countries there is a mandatory two week quarantine requirement during the pandemic. However, did you know that some Canadian provinces also require complete isolation when travelling from other provinces? We recently left Ontario and travelled to Nova Scotia on December 1st 2020. For the first two weeks we followed the Nova Scotia quarantine rules and I wanted to share some tips if you're looking for a Nova Scotia isolation plan. We are fully aware that we are living in the midst of a pandemic and that we are being advised not to travel. However, we decided that it was important to be with family during these times and so Chris and I made the decision to spend the month in Nova Scotia with the kids. This is why we took every precaution during our travels and why we chose to spend our time and money isolating safely before reuniting with our East Coast family. The two weeks in isolation have sped by (for me at least) and if you're visiting Nova Scotia for non-essential reasons and arriving from outside of the Atlantic bubble I hope you find these tips helpful. I will mentioned openly that this trip was possible because we have the privilege of time, remote work and the means to pay for the isolation apartment. Not everyone is able to to do this and travelling during these times is not possible for all. We are by no means encouraging non-essential travel, but I know that others may have reasons for visiting Nova Scotia and we truly believe that there are safe ways to travel and explore responsibly during these times. Even during the 14 days in isolation, I saw the positive difference a change in air and view out our window has made in our lives.
Rules for a Nova Scotia Quarantine for Visitors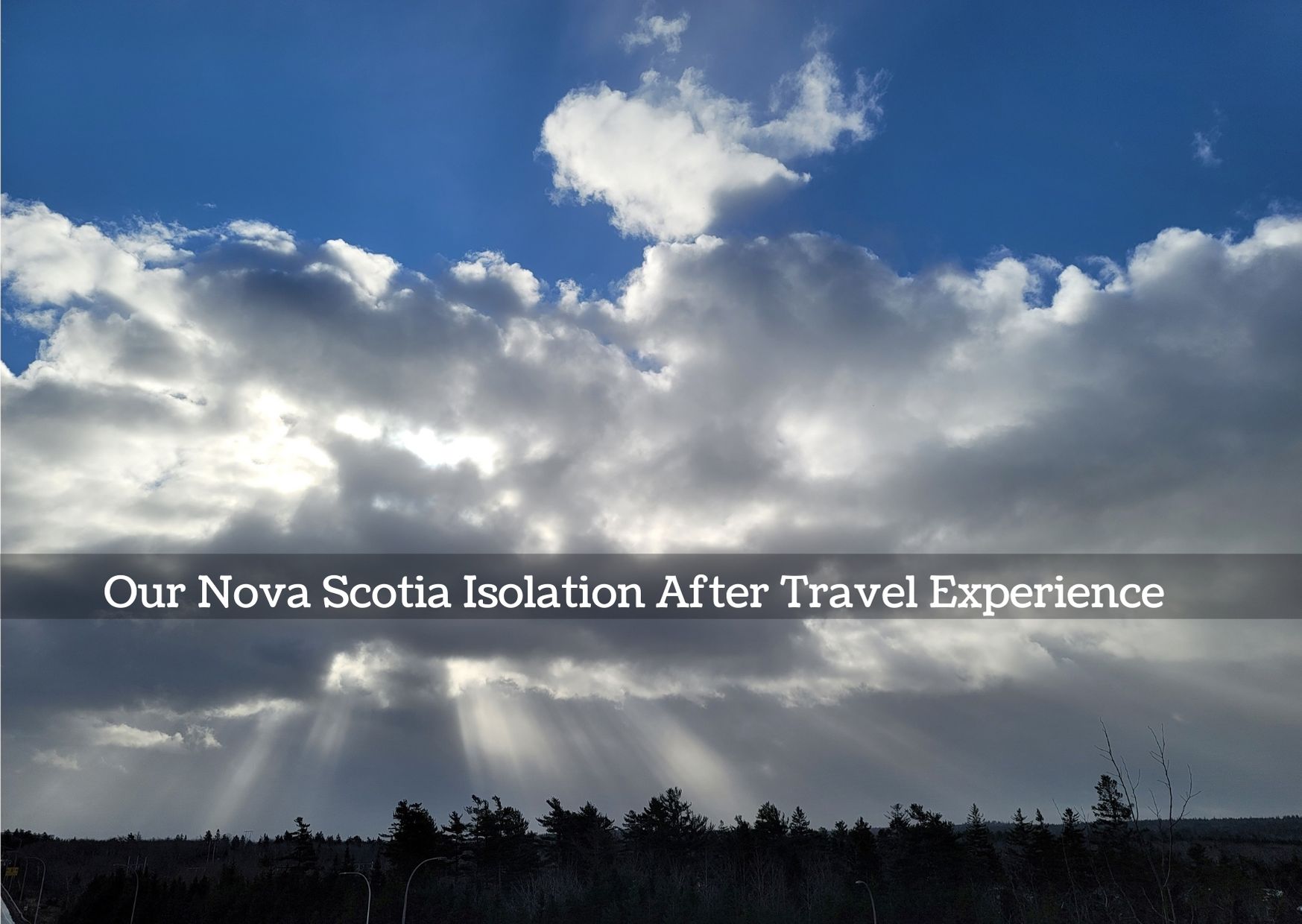 The Province of Nova Scotia has declared a state of emergency and there are detailed restrictions in place. People travelling from outside Atlantic Canada for non-essential reasons must self-isolate for 14 days when they arrive in Nova Scotia. What's important to remember is that everyone in the home where they are self-isolating will also have to self-isolate. This is why we decided to book ourselves a private apartment to self-isolate at.
Nobody in that home can leave the property for 14 days and they cannot have visitors. If they have already self-isolated in another Atlantic Canadian province, they may enter Nova Scotia without self-isolating again. Upon arrival in Nova Scotia you have to complete a Safe Check-in Form. Since we were flying in I filled this form prior to our arrival so it was easy to show the officers our case file number upon arrival. I was able to fill one form and have Chris and the kids on the same form. When you arrive in Nova Scotia you need show that you submitted the form by providing the confirmation email you receive after submitting the form online. You also need to provide government-issued identification (like a Drivers License or Passport) or a utility bill or bank statement that shows your permanent home address. You can also print and complete the Safe Check-in Form if you're unable to submit it online and there are paper copies of the Safe Check-in Form available at entry points to Nova Scotia for people who don't have access to the form online.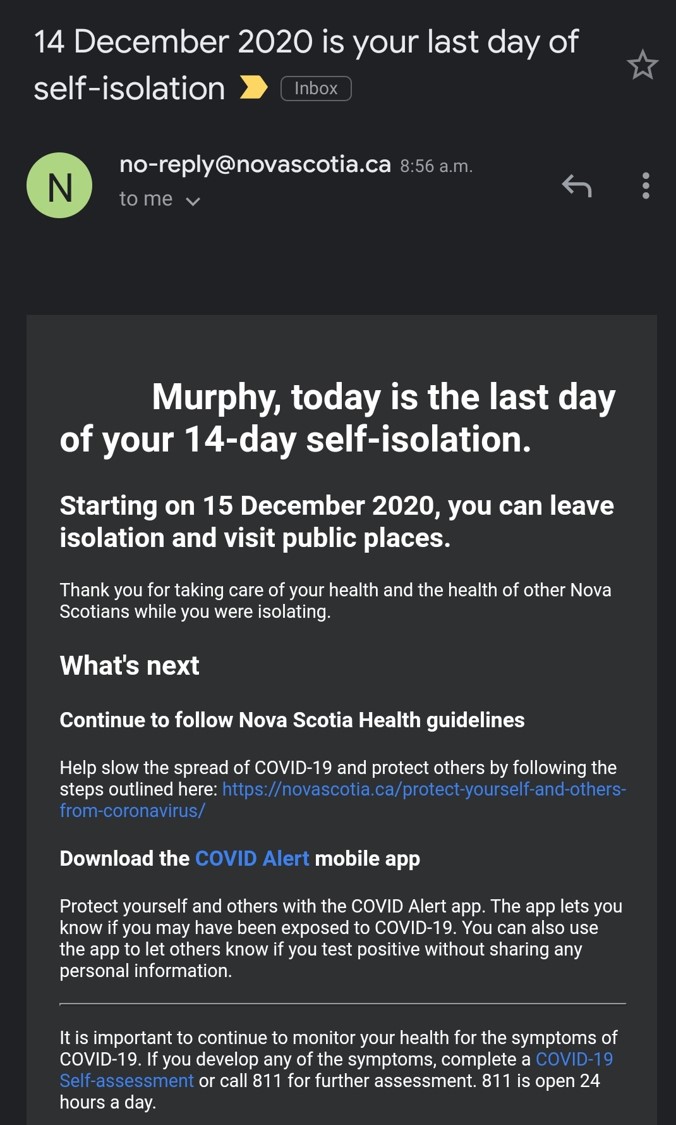 Each day I woke up to an email that had a link for our daily check in. Needless to say, there was much joy when I filled the form on the 14th day. We landed on December 1st and our isolation ended as soon as the clock stuck 12 a.m. on the 15th morning. One thing to remember is that no matter what time of day you arrive, it is still considered day 1. You do not end your isolation the 14th but on the 15th. Please remember that there is a fine for breaking quarantine in Nova Scotia. Can I go outside during COVID-19 isolation in Canada? NO you cannot. You must stay on your property and have things brought to you. No visitors and no going out. If your home has a balcony or self-contained backyard (that is not shared with the public) that is considered part of your property
And obviously people from outside Atlantic Canada also needs to follow public health directives while they're in Nova Scotia. We will continue to wear masks, physically distance with others outside of our household, wash our hands frequently and follow the guidelines in place to support the community we have entered.
For the latest information regarding the COVID-19 situation and public health restrictions in Nova Scotia, please visit: https://novascotia.ca/coronavirus/.
Places to Quarantine : What to Look For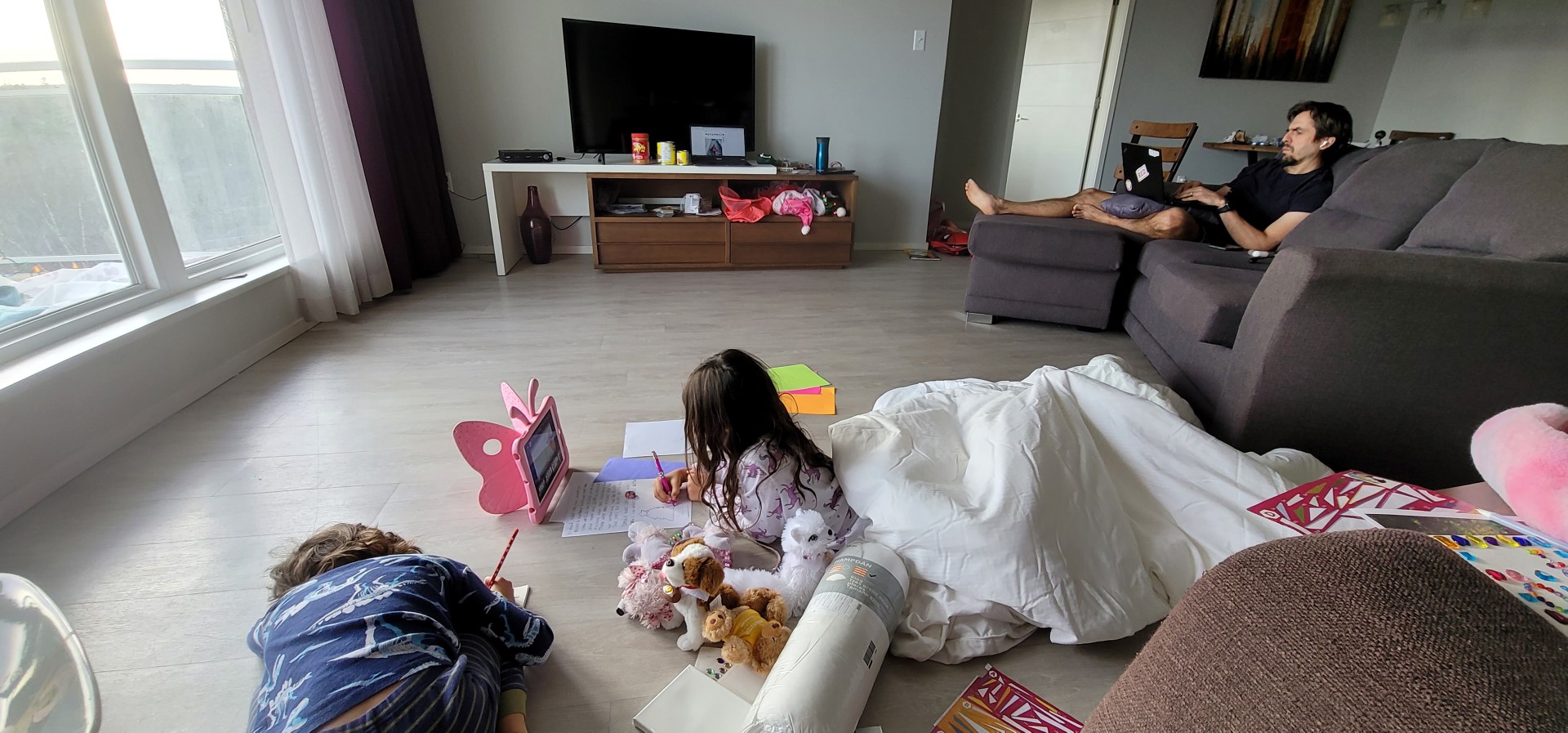 As I mentioned above, you need to isolate for 14 days upon arrival in Nova Scotia from Ontario. This rule is still in place as I write this article. We did not want to move in with family because they are medical professionals who are needed in their community and we did not want them isolating with us.
When deciding on the best places to quarantine in Nova Scotia I had a few things I was looking for.
A quarantine location where we can have groceries and alcoholic beverages easily delivered
A place to isolate in Nova Scotia where we can have space to spread out as a family
Access to a full kitchen and laundry machine
Strong Wi-Fi for our work from home and schooling needs
There are many places you can quarantine at in Nova Scotia and your options include hotels, air b&b and rental suites. With hotels the challenge is that we'd have a limited area as we should not roam the public spaces and most hotel rooms do not have kitchen access. This is why I focused on apartments and houses during my search. I explored beyond the Halifax Regional Municipality and met many amazing hosts who were more than happy to bring groceries and things we needed but I did not want to nag them and this is why I ended up staying close to Halifax. There are many services in the city that made it easier and more fun to quarantine closer to Halifax. I found two spots I loved and I am going to share them both with you.
Places to quarantine in Halifax : Rental Apartment in Halifax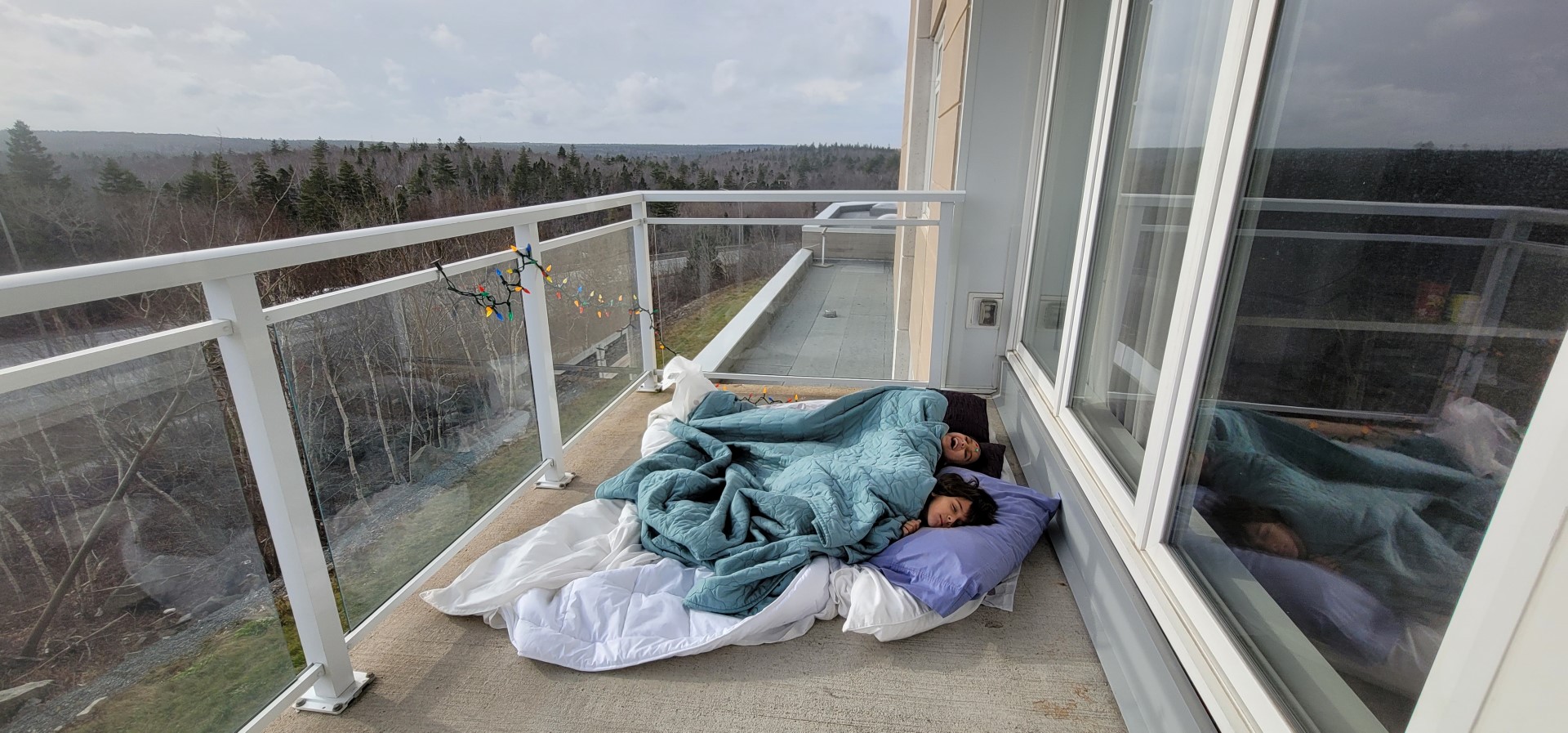 Nova Suites is where we ended up spending our 14 days of isolation. It was centrally located so our Instacart deliveries came within 2 hours of placing an order and many breweries and liquor stores were also able to drop our purchases off. The two bedroom apartment had a full kitchen, a balcony and a washer and dryer so that gave us plenty of space. The internet was a bit choppy but we managed to not only work but also enjoyed many zoom calls with friends and family in addition to watching copious amounts of Netflix.
The apartment wasn't cozy and we needed to purchase many things like salt, spices, hand soap, milk jug and bottles to store cold water in but it did have an amazing building Super/Manager. She not only took our trash out for us and brought our mail but she was there for anything I needed, including buzzing all the delivery folks in to the building. As per guidelines we did not leave our apartment for anything and you know I wasn't sacrificing our health, the health of others or the cost of paying a fine for breaking quarantine in Nova Scotia!
Would we have enjoyed the luxury of the house below? Absolutely!! However, when I crunched the numbers and looked at the long term discount offered through Nova Suites, I opted for them. Nove Suites ticked off everything we needed for our basic needs but I'd be lying if I didn't say I was constantly yearning for the comfort that the below house in Halifax would have given us.
Places to quarantine in Halifax :
Isolating in a house in Halifax
View this post on Instagram

Boxwood Retreats is where I want to stay during a future visit. This cozy McIntosh home won we over with their well stocked pantry, the gorgeous decor and comfy looking bed. I mean, I would have been able to have some fun in the kitchen too!! Snooping their Instagram feed also showed me that they had fully decorated the house for the holidays and Chris had to talk me out of booking the place because I am a HUGE fan of Christmas (as most of you are well aware). In hindsight, I think Chris would have benefited greatly from the private gym and the outdoor fire pit. Not to mention the backyard we would have been able to toss the kids out to during our work calls. Chris' biggest struggle during isolation was that he wasn't allowed to go for a daily run and now that we know how much that affects him, we will be looking for places like Boxwood Retreat that has a gym in the house. A stay here will make it easy for you to follow the Halifax quarantine rules as the owners will do their best to support your needs. If you're looking for a place that gives you everything you need, you should definitely check them out. The owners, Scott and Joel, were so kind that they sent us a candy tray even though we were not staying with them! These are the tiny touches that will see me booking a stay with them in the future. If you plan to book your first Air B&B stay, use this referral link to get a discount.
Nova Scotia Isolation Plan : Ways to Stay Entertained and Support Local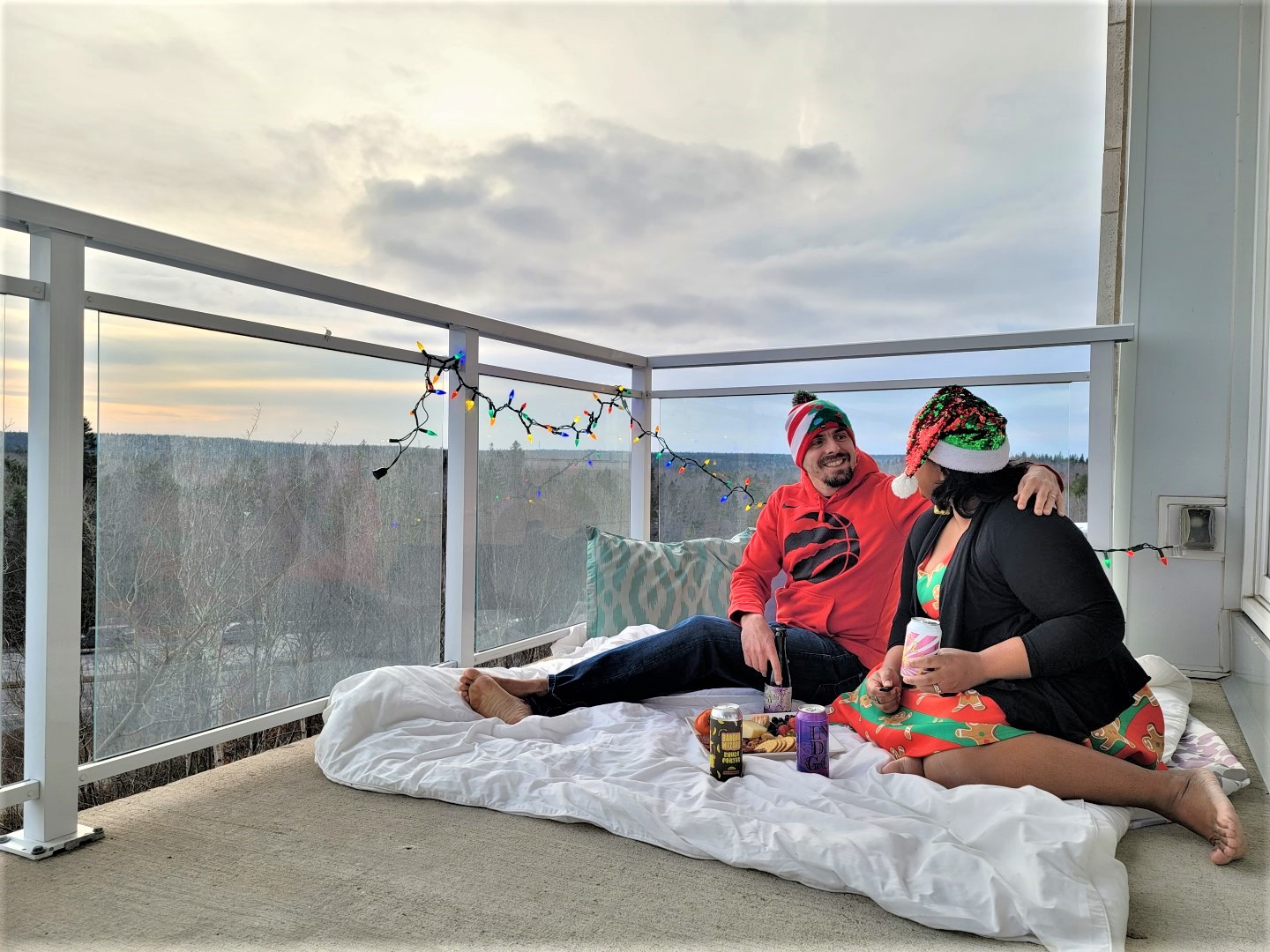 For me the 14 days sped by and I was able to stay entertained and semi-sane during our isolation. As I mentioned above, Chris struggled a bit because he needs his runs. Beyond missing those runs I think he did pretty well. As for the kids, I kept them busy and on a schedule and this helped keep them in line and from fighting with each other too often.  I figured out some fun ways to pass our time during our Nova Scotia self isolation after travel and below are some ideas if you plan to isolate when you travel (no matter where you quarantine at).
Build a schedule : As you may recall, we built a quarantine schedule back in March and it worked well for us. So we built one for these two weeks as well. It helped the kids have something to do each hour and it also gave each of us a chance to focus on some tasks that needed to be done. Having a week day schedule and schedule free weekend also helped us know what day of the week it was!
10 a.m. – School work

11 a.m. – Free time

Noon – Workout

1 p.m. – Lunch/free time

2 p.m. – School work

3 p.m. – Activity time

4 p.m. – Game time

5 p.m. – Cook dinner

6 p.m. – Stretch exercises/free time

                        7 p.m. – Dinner and movie
Watch a movie : Each night after dinner we watched a Christmas movie and took turns picking what the Christmas movie would be. We brought our Roku with us and so it was easy to access the Netflix and Prime shows when we wanted. Now if the kids chose a bad movie, Chris and I would pretend to watch it whilst doing some work on the side. Hey… we were still around and we had popcorn and hot chocolate (all important items for the grocery order!).
Remember how Boxwood Retreats sent us a movie themed tray of candy? That was from a local business called CheyCuterie who sources all of her products from local Nova Scotian producers. The movie tray was pretty awesome and put a smile on our faces!
Do some crafts : I slotted in a crafting hour to bring some creativity to our lives. The apartment was very "cold" and so we brought in some cheer by doing various activities each day.
We snuck in some Christmas lights with our grocery order and decked out the balcony one day….doesn't it look cozy? I loved seeing the twinkly lights and the kids thought it was fun to cuddle up outdoors even though it was cold!
We also added a pack of papers to our grocery order (and flour) so we made snowflakes (mixing flour and water to make glue).
Another day we baked banana bread!
Get cooking : Each night one of the kids would join me in the kitchen  and we'd cook dinner together while the other child had some free time. It was good to get some one on one time but it was also good for the other kid to have some alone time.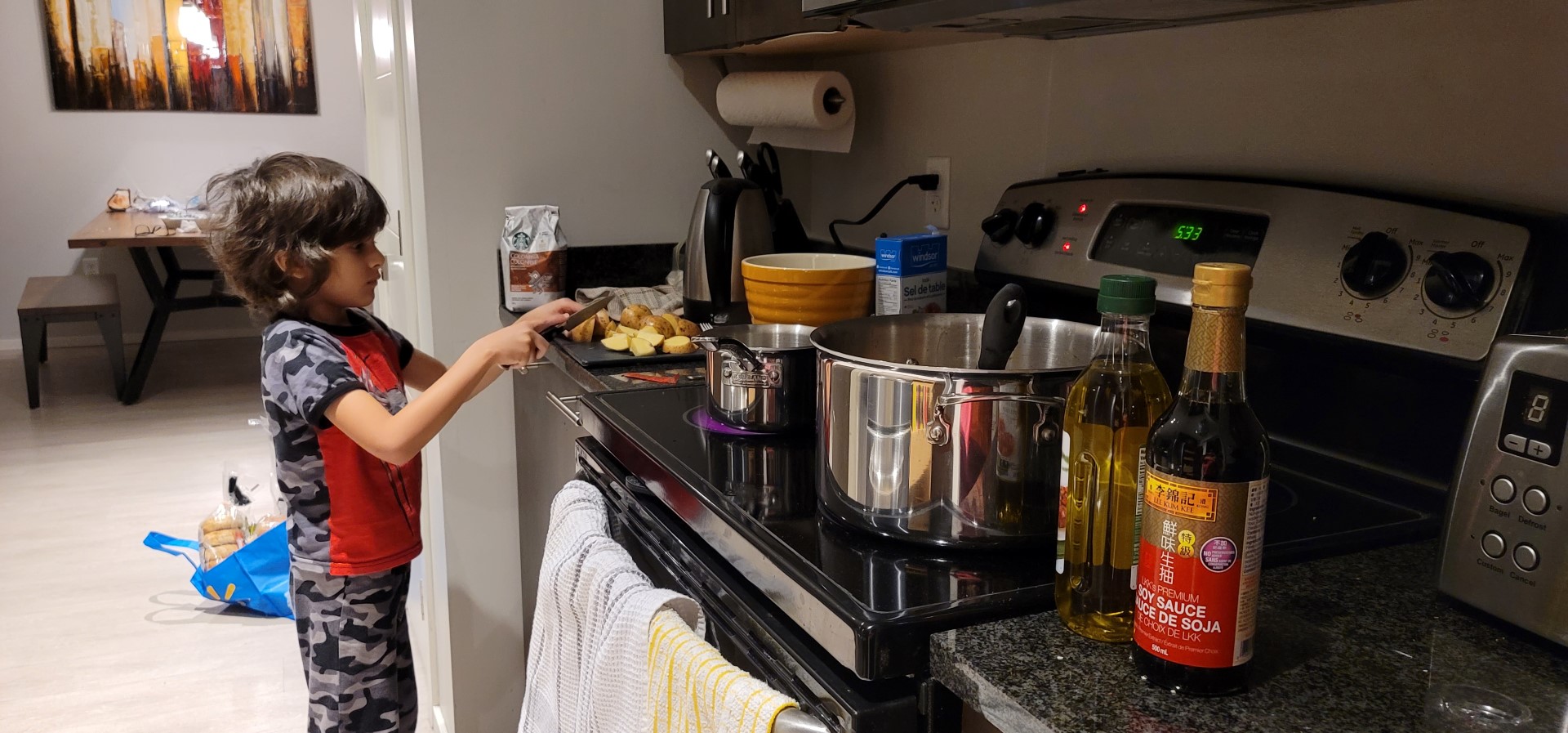 We got most of our groceries from Instacart (use this link to get $10 off your first order) because they would shop at Walmart and Superstore which had a wide selection of household items and groceries.  We ended up with 4 grocery orders during our two weeks of quarantine!! However, if you want to support a local business, also look at Couryah. They offer groceries, flowers and restaurant deliveries.
Workout : Akira and I have been working out  together on and off throughout the pandemic and so we brought this back into our routine. Virtual workouts were the only exercise we got during our quarantine and it was good to get a sweat on. We used peanut butter jars and cans of tomatoes as weights and it worked well!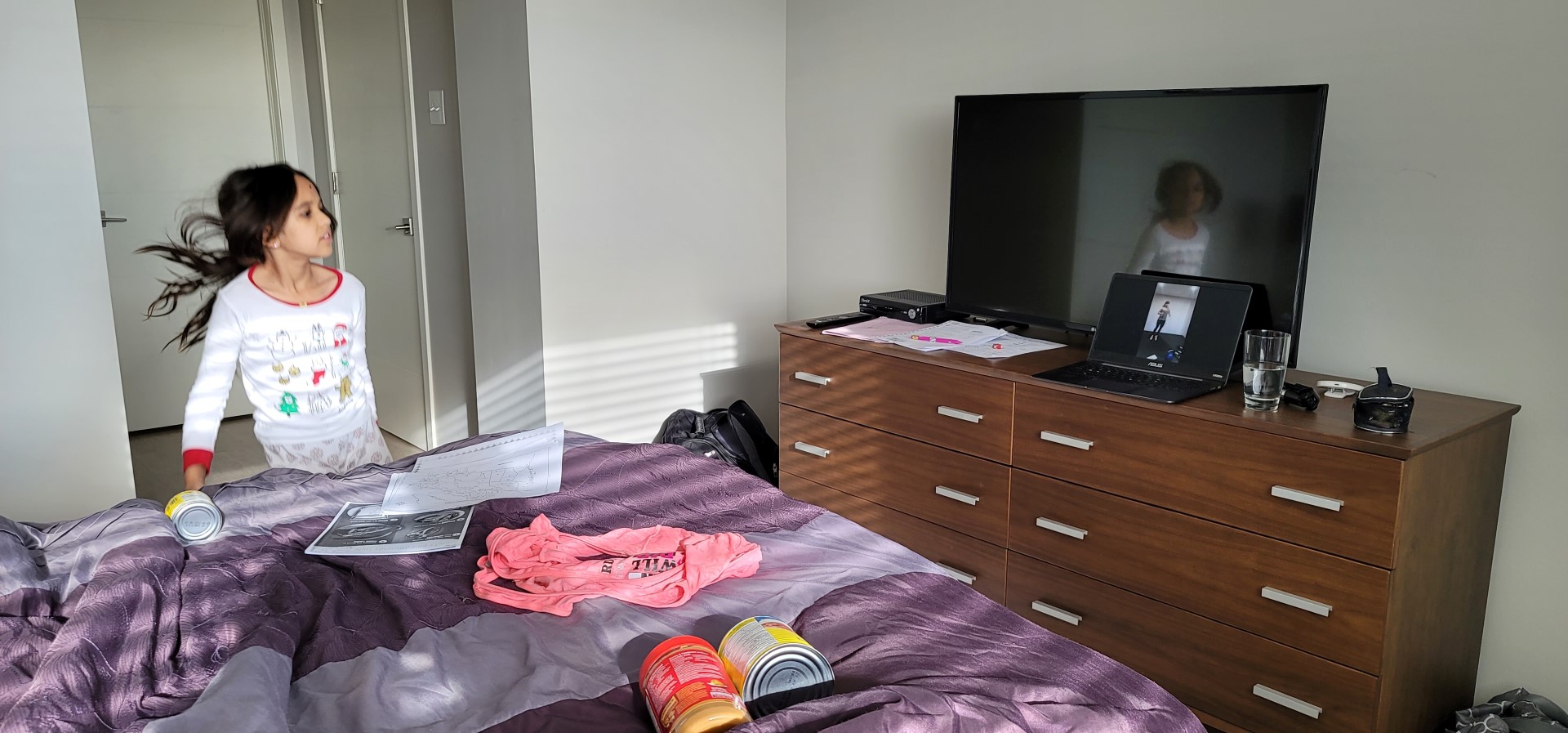 In an effort of supporting local we did a pay what you can class with Erin who is a local Halifax actress and fitness instructor. Apollo wasn't into this but he was also running around like crazy, jumping on piles of blankets and getting his own exercise in. As for Chris, he had his own workout apps which he would do each evening.
Study time : Our kids are in-person school so there were no virtual programs to keep them busy during the daytime. What we did have was homework time to work on the sheets their teachers had provided them.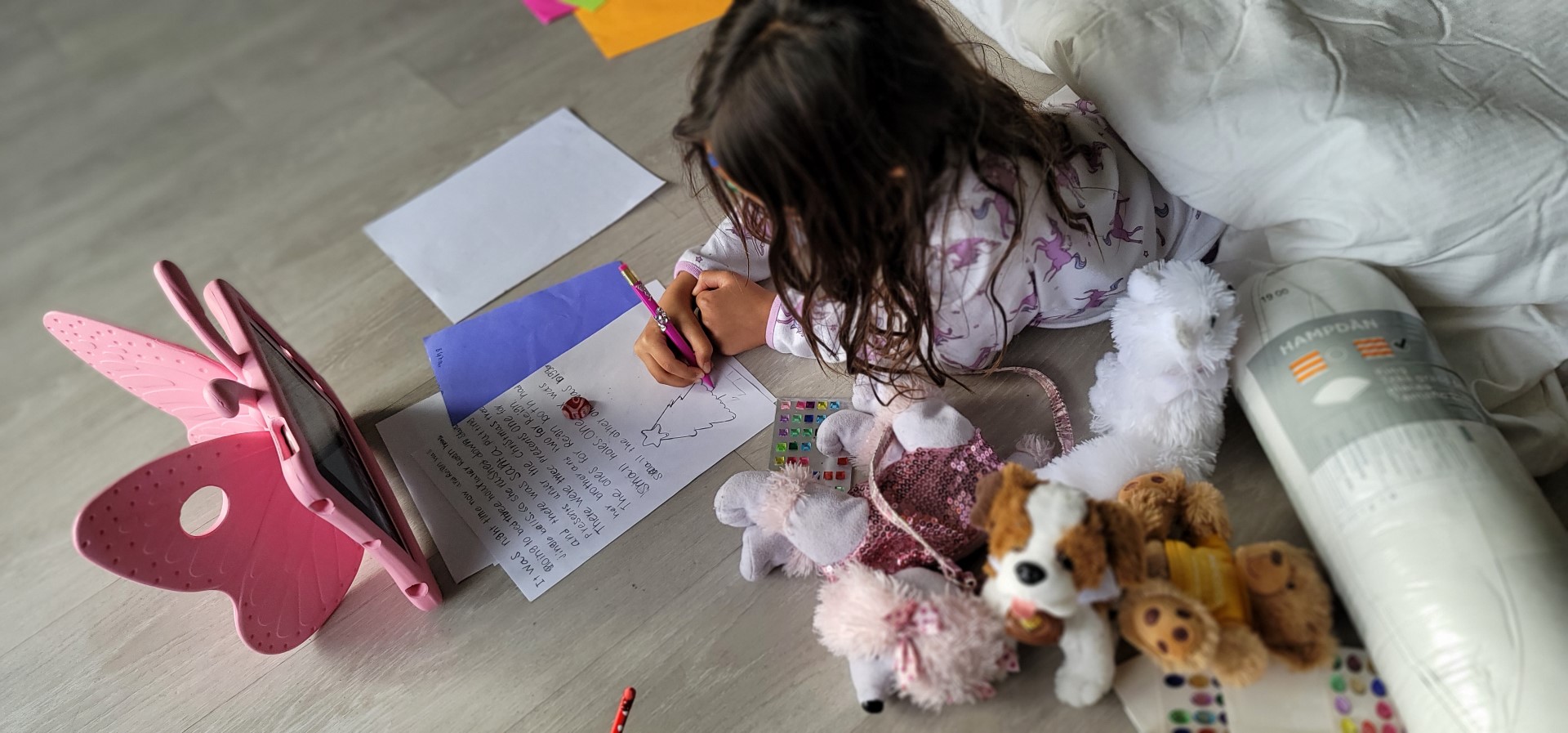 We also started a journal to keep the kids on track. Carving out that time also enabled me to focus on my own work. Chris was working during our isolation period so the three of us had to be relatively quiet and study time was my favourite time of day to get my own work done!
Quiet time : Staying together 24-7 means we need some alone time. We had to ensure that we gave each other the time to unwind.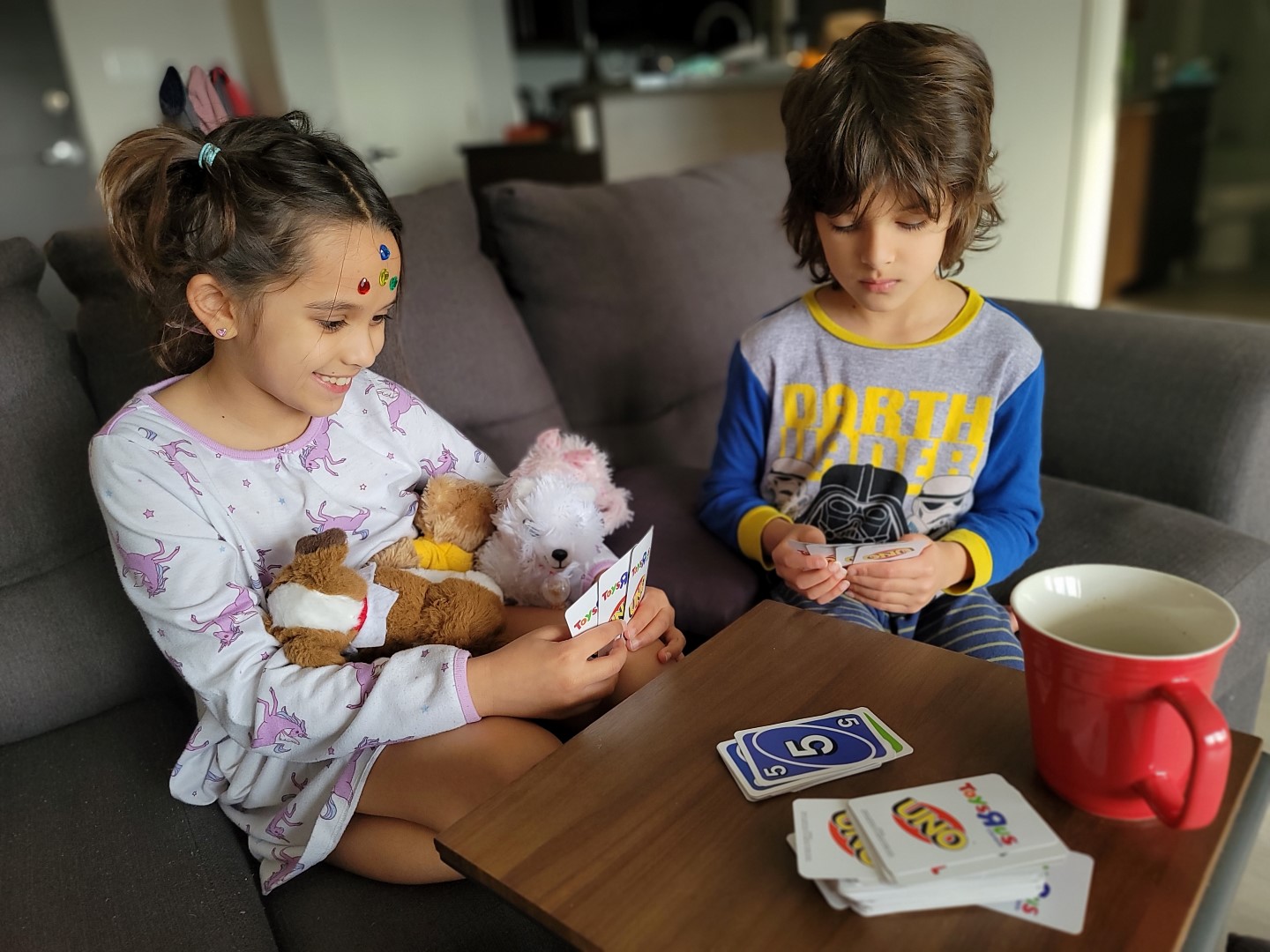 Play games : We packed some of our favourite card games (UNO, Taco Cat Goat Cheese Pizza, Flip Flops) and Splendor.) This helped us kill quite a few hours!
Support local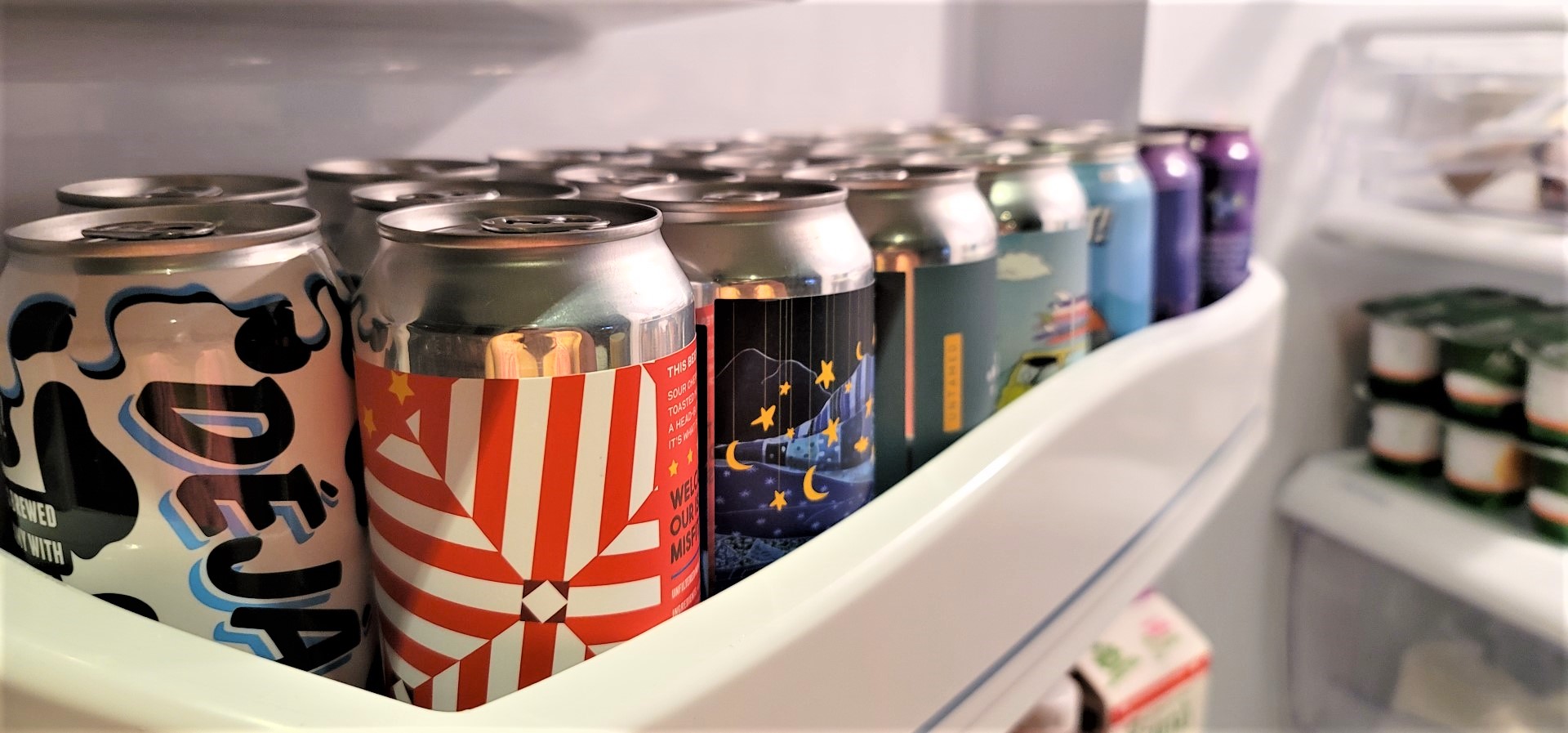 Whenever we travel one of our favourite things to do is explore the local culture and cuisine. Nova Scotia is home in many ways as Chris grew up here and we were married here too. On this visit we didn't explore Halifax but we bought some delicious treats and supported local makers from the comfort of our isolation home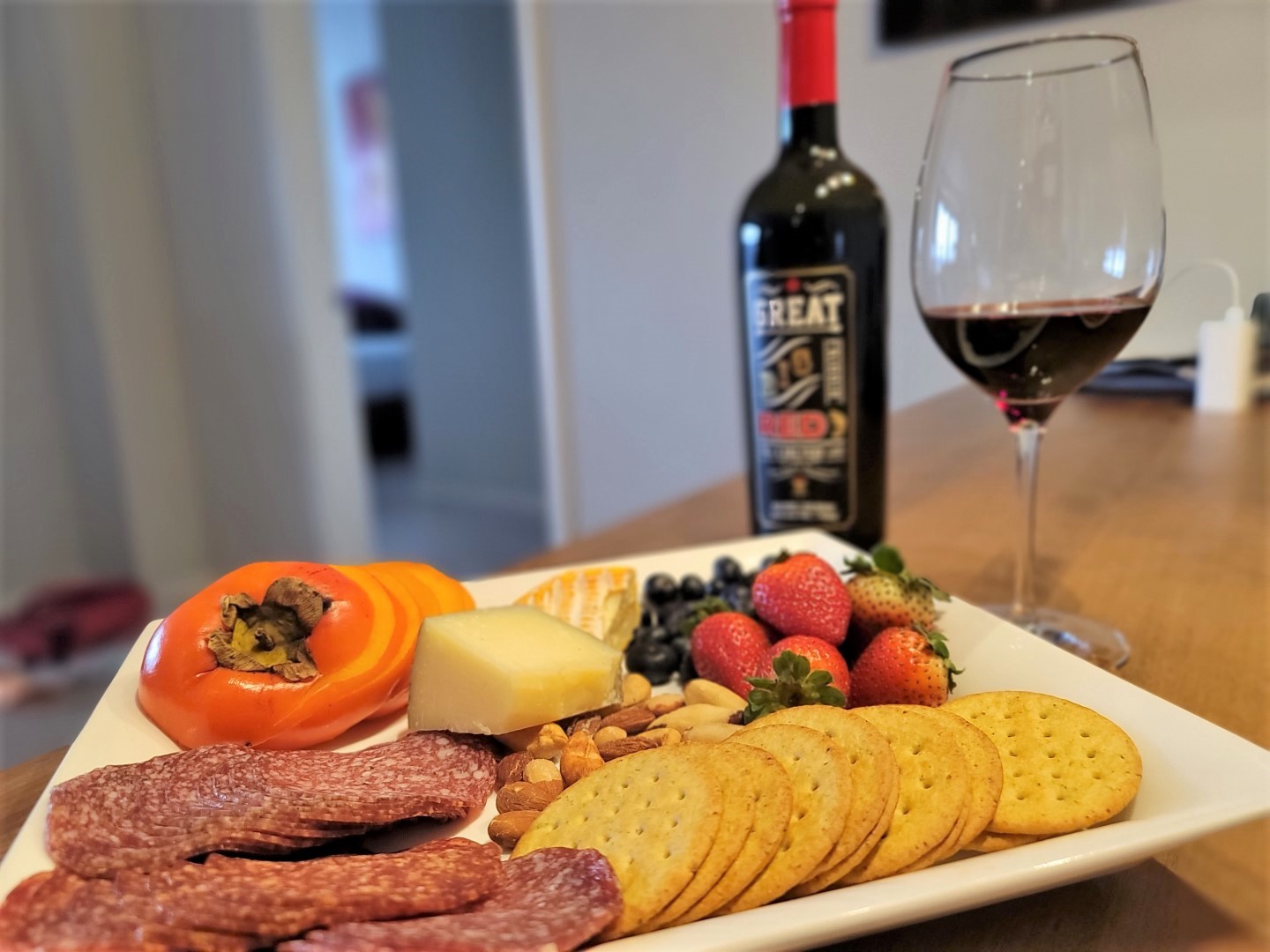 Order In : There are many apps you can use to bring home some of the best Halifax restaurants. As much as possible we try to order directly from the restaurants but some suggested we try DoorDash (using my link will give first time customers up to $45 in credit), Couryah and Uber eats ( Use eats-uberbabyandlife for $10 off your first order). Restaurants need our support during these times and not having to cook daily is a lovely break! 
We enjoyed a Doner feast directly from Aexandra's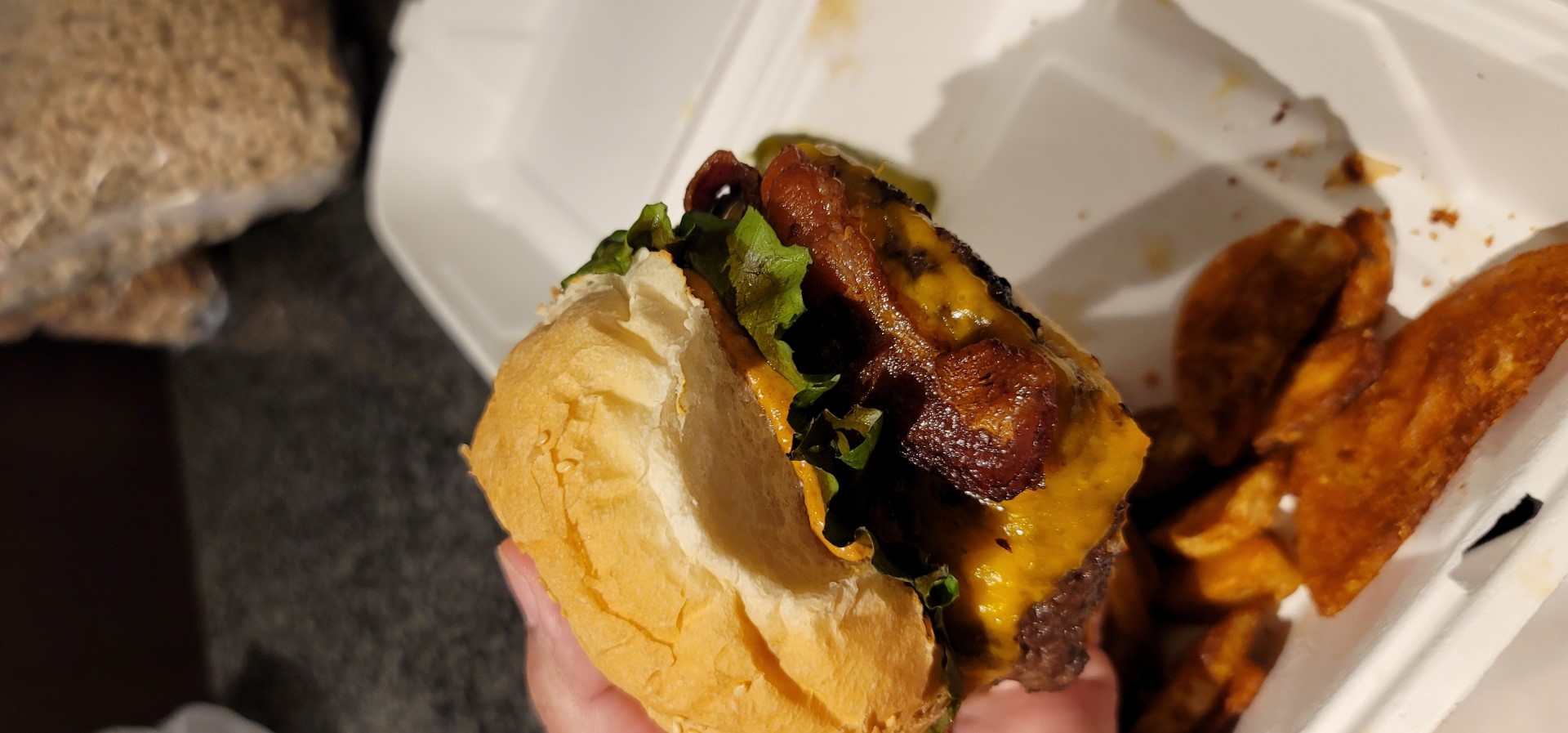 Burgers from Darrell's on our first night! Their peanut butter burger with bacon was pretty good, especially after  a long masked travel day.
Egyptian snacks from Chef Abod via Couryah for our road trip after isolating.
Cooking Class : The kids were gifted a "Kids Cook Supper" cooking class in Halifax and it was awesome! Kitchen Door has a variety of options available for their virtual cooking classes for kids and adults. You can shop for the items yourself or you can have them do the shopping and deliver the goods to you. The latter option is perfect when you're isolating in Nova Scotia!! Not only was this an activity but it also enabled us to enjoy a delicious dinner and the kids learned a new recipe.
We've done a few cooking classes this year and the pace was just right for my 7 and 9 year old. The raw food that was delivered featured fresh local ingredients and things were chopped up so they didn't have to spend time chopping the items either.
Brews and Wine : I am not going to lie… we drank way more than usual during our isolation period! We were supporting local and connecting with friends via zoom calls and let's just say… beer and wine were enjoyed! Daily. Many of the local breweries will deliver to your home in Halifax but if you want a variety, check out Liquid Assets (great selection of local beers) and Harvest Wines (for a variety of wine options).
Shopping : There are many amazing makers in Halifax and we can support them by not only buying a few things from them but you can do so by learning about them and sharing them with friends and family as well. From hot chocolate bombs to gorgeous earrings and face mask (which you will need after your Nova Scotia quarantine) you can buy anything your heart desires! I found the Ask Nova Scotia Facebook group to be very helpful when I was looking for local sources.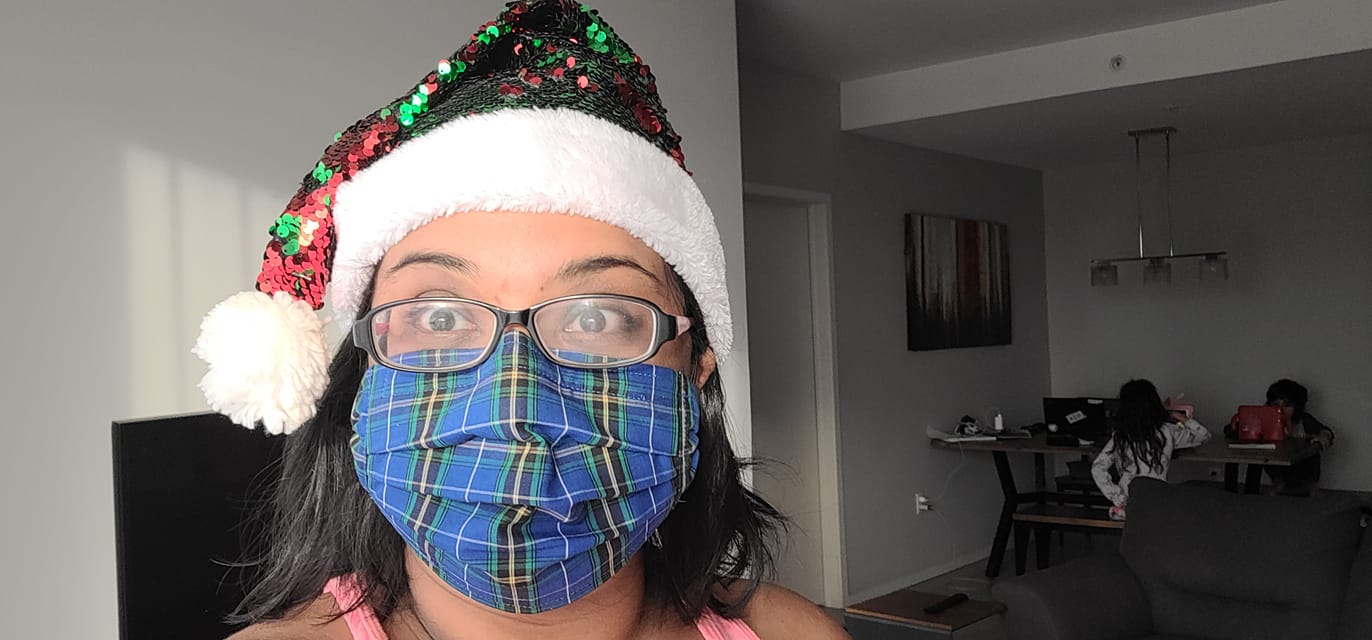 I hope you have found this post helpful. I am great at keeping busy and weaving in fun to our daily lives. so isolating in Nova Scotia wasn't torture for me. We were able to follow the guidelines and abide by every single rule in place. We're very aware that we're privileged and fortunate to be able to travel during these times and firmly believe that the sacrifices involved were worth every cent and second because were were able to hug the grandparents and the great grandparents on this visit.