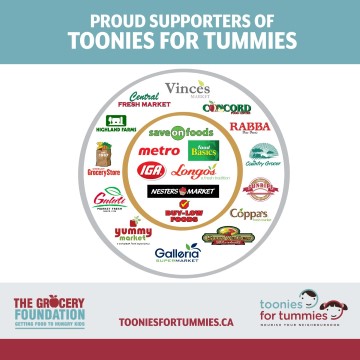 How many times have you heard your elders say, "Breakfast is the most important meal of the day"? Growing up in Dubai and rushing to school every morning, I would often try to skip out on breakfast but my diligent parents always made sure that I was fed before heading out the door. I now do the same. No matter how late our kids wake up, I do my best to get something into their tiny bellies before they catch the school bus. Why? Because when children are hungry, they can't focus, and if they can't focus, they can't learn. After all, we are sending them to school to learn, right?
Disclosure : This post is in partnership with The Grocery Foundation but, as always, opinions are TOTALLY ours!
I was recently shocked to hear that one in every three children in Toronto lives in poverty and that 40% of all children go to school hungry each day.  This is why we have been supporting the Student Nutrition Program at Little Monkey and Baby Boy's school. It's a program that provides a healthy snack to all students, regardless of whether their parents are able to contribute financially. So in addition to the snacks I send to school, I am comforted to know that the school provides a little something extra. Parents with the financial means contribute so that all students can benefit, allowing them to focus on the education they are receiving and not the hunger they are feeling. This year I was thrilled to hear that the Toonies for Tummies program is supporting the Student Nutrition program in Ontario!
The program is run by The Grocery Foundation. This year, through the support of its partners and consumers like you and I, the group aims to raise 1 million dollars. This will add to the nearly 18 million dollars raised through Toonies for Tummies since 2000. While a Toonie might not seem like much, it can make a big difference to a hungry child.
Whe

n you shop at Longo's, Metro and Food Basic stores in Ontario this month, consider donating a Toonie to feed a child in need.
I recently had a chat with Tracy Moore, Cityline host  and the Honorable Michael Coteau, Minister of Children and Youth Services about why we as parents should be interested in supporting this program.
What I love about this initiative is that every single dollar we donate goes back into our community because The Grocery Foundation and its partners are covering the cost of the program. 100% of donations remain in the community where they are donated. Isn't that a good excuse to make a contribution? I was also pleased to see that some of our go-to snack brands are partnering with The Grocery Foundation this year. Summer Fresh , Goldfish, Quaker Oats and Burnbrae Farms are just a few of the amazing brands supporting this initiative. I love eating (as you well know) and being able to support this cause means a lot to me.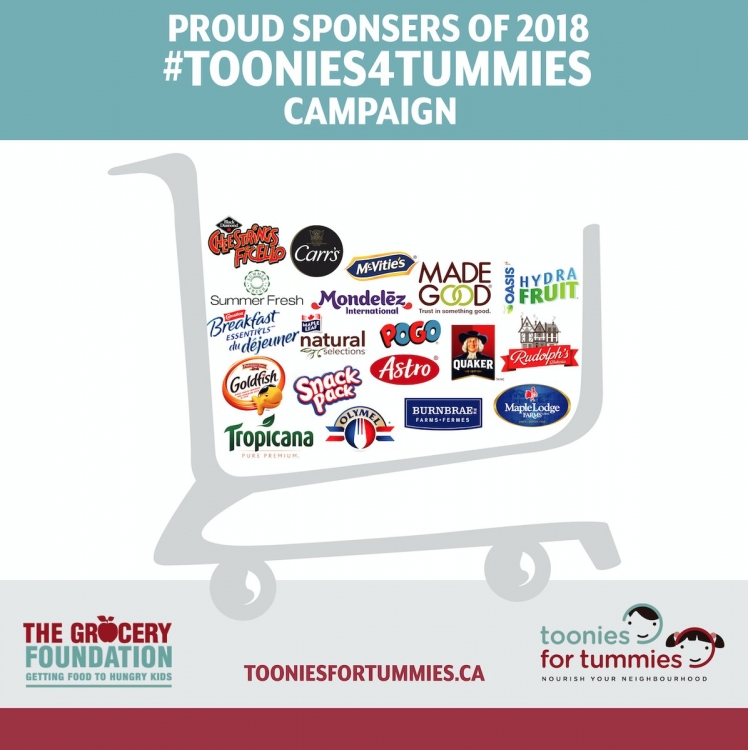 In Ontario, Toonies for Tummies kicks off this February at Metro, Food Basics, Longo's, Save-On-Foods, Buy-Low, Nesters Food Market, IGA and participating independents.  And if you can't get to a store, you can also donate online!
If you're in Ontario get out and donate between February 2nd and 22nd! On February 17th, Metro will be matching donations so there's another incentive to get to your local Metro market!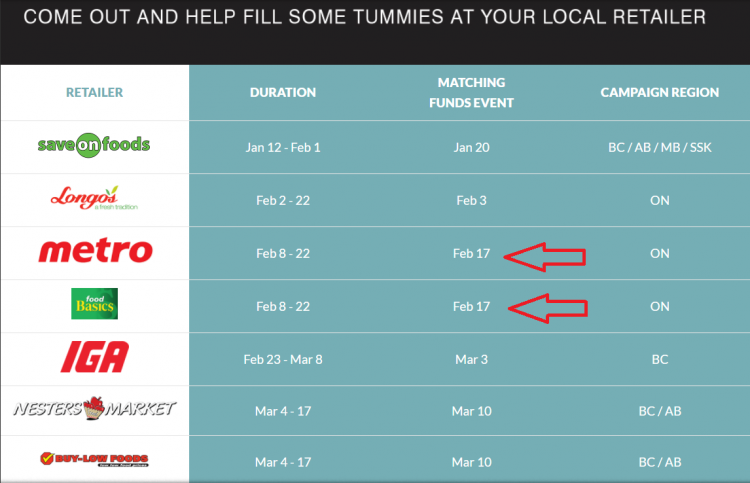 Little Monkey and Baby Boy are aware of the Student Nutrition Ontario program since they see the benefits in their school. The program teaches healthy eating habits, offers nutritious foods and builds supportive communities. I plan to assign a few extra tasks at home this month to help the kids save a few Toonies that they can donate the next time we go grocery shopping. Instead of buying candy (or likely in addition to it), they can donate their Toonies while learning about supporting the community where we live. Toonies for Tummies is an initiative to feed students across the province, and it has our full support.
This February give generously and give frequently as you support the Toonies for Tummies program at your local grocery store!