If you've ever dreamt of chasing fall colors in Canada, set your sights on the Laurentians area. I recently embarked on a momcation with my friend Arienne, from SeeYouSoon.ca, and we were utterly captivated by the breathtaking display of colors during our fall road trip through the Laurentians region in Quebec. For a girls' trip in Canada brimming with resort vibes, autumn foliage, soft adventures and relaxing activities- all with a touch of European charm, the Mont Tremblant area provides the perfect backdrop. Keep reading and you'll discover delightful activities in Mont Tremblant, especially during the autumn season. While most of what we experienced can be enjoyed throughout the year, visiting this area in the fall is a must – trust me, you won't be disappointed with this girls' getaway in Mont Tremblant.
Disclosure: This post is in partnership with Tourism Laurentians but, as always, opinions are TOTALLY ours!
Where are the Laurentians and Mont Tremblant?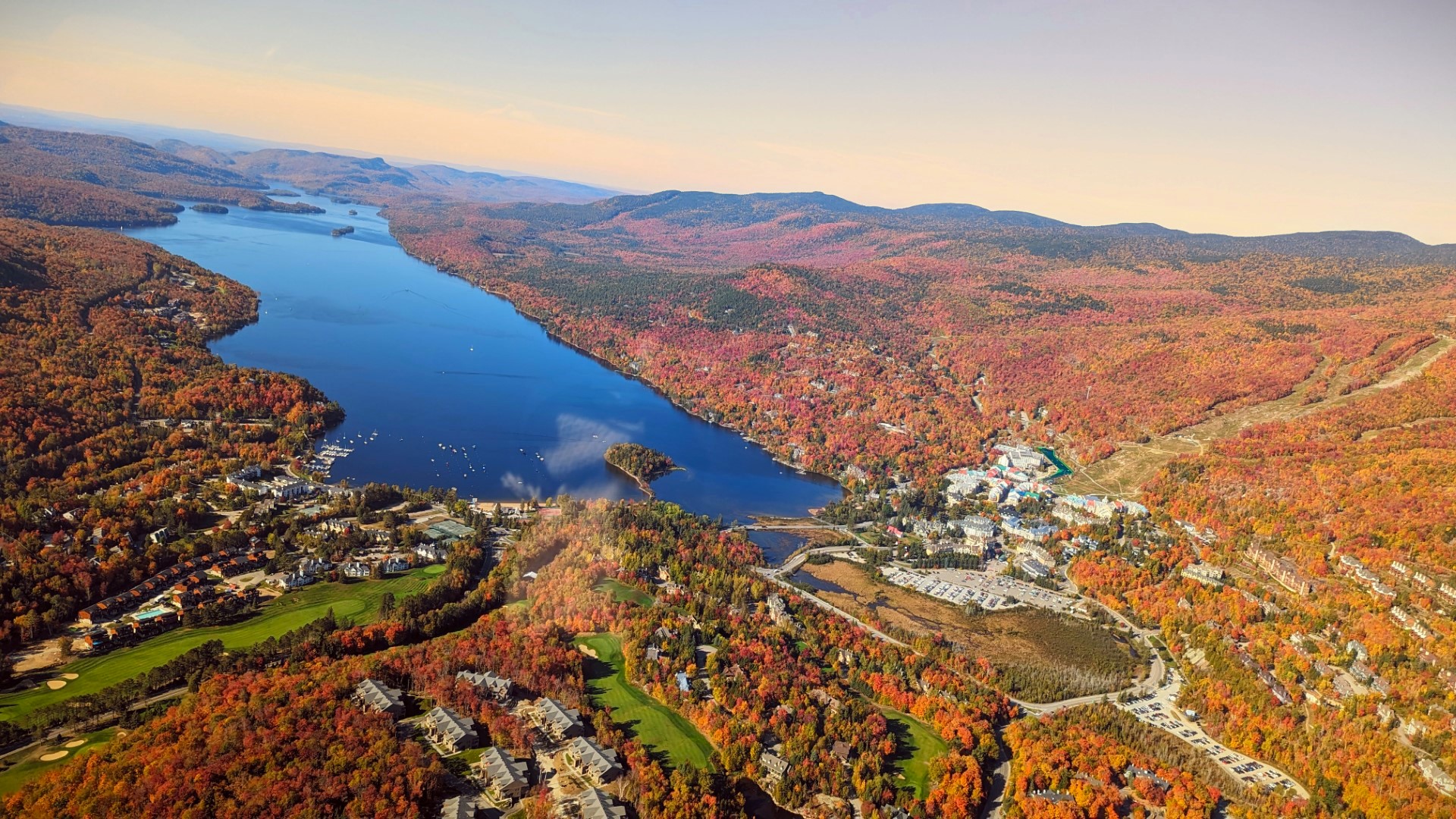 The Laurentians, or Les Laurentides in French, is a picturesque region located in the province of Quebec, Canada. The area is the traditional territory of the Algonquin First Nation and this 22,000 square kilometer of natural beauty just north of Montreal is part of the Canadian Shield, a large geological formation of ancient rocks covering much of North America. The Laurentians offers lakes, forests of maple and pine and mountains, making this a 4 season destination in Eastern Canada.
Mont Tremblant is a resort town located in the Laurentian Mountains of Quebec and is approximately 130 kilometers northwest of Montreal. Over the years I mostly knew of Mont Tremblant as a popular ski destination with the Tremblant Resort being popular amongst my friends who ski and in more recent years I saw families visiting the area in the summer time but having experienced fall in Mont Tremblant, I realize how truly fantastic this destination is all year long!
Travelling on a Girls' Getaway to Mont Tremblant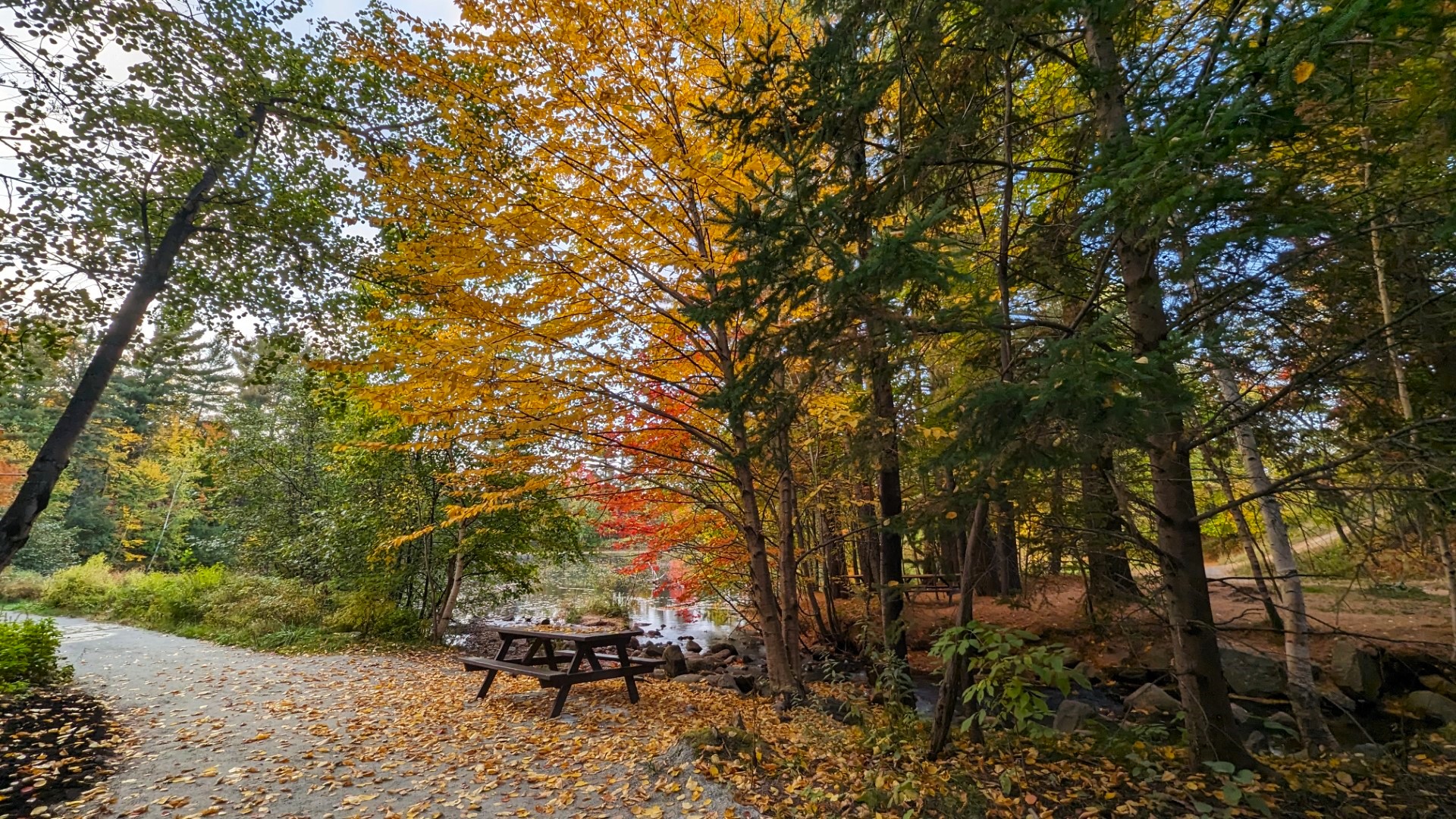 Getting to Mont Tremblant is fairly easy as it's under a two hour drive from Montreal (in moderate traffic) and so, visitors to the area either fly into the Montreal Airport or drive 7 hours from destinations like Toronto. As usual, I decided to mix things up. You know how much I enjoy my VIA Rail travels. Given that I don't drive and thought it unfair for Arienne to drive 7 hours straight, I suggested that we take the train from Toronto to Montreal and then rent a car for our girls' trip in Mont Tremblant.
Taking an early morning train meant that our 6:45 a.m. train from Toronto pulled into Montreal's Central Station for noon. During our train journey to Quebec we not only enjoyed scenic fall colours but we also caught up on work (WiFi worked well for all the emails I had to send!), enjoyed a full meal and caught up on gossip. It was a relaxing start to our trip and the staff on board were so lovely and attentive. Same goes for our return trip from Montreal to Toronto.
Upon arriving into Montreal we grabbed our rental car from the station and made our drive to Mont Tremblant only stopping for a few groceries and a quick lunch in Saint Sauveur. This cute town is home to bakeries and bistros, making it an ideal lunch time stop. We lucked out with some fabulous patio weather during our drive in and were able to enjoy lunch from Page Boulangerie and dessert from Cotard Chocolatier.
Things to do in Mont Tremblant on a Fall Getaway with Friends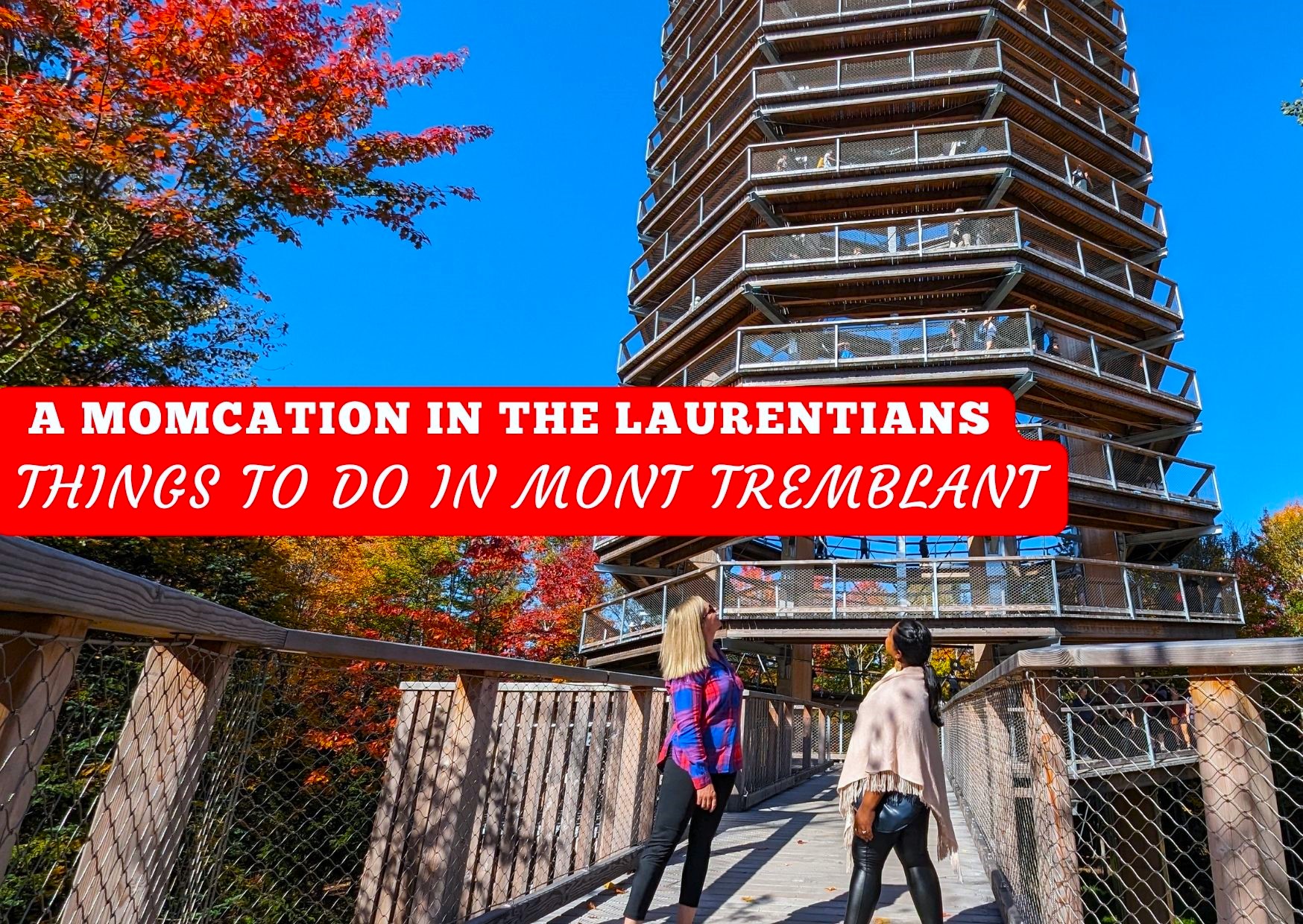 Mont Tremblant is a versatile destination and will satisfy most travellers needs. As I mentioned earlier, this popular winter destination turned out to be an epic fall getaway in Quebec for two moms looking for a quick and relaxing girls trip. We spent four full days in Mont Tremblant and while we could have easily rushed all our Mont Tremblant activities into a weekend getaway, we didn't. Why? Because we were looking for a relaxing time without the need to rush. If you're looking for ideas on things to do in the Laurentians, below is a list of ways we embraced the fall foliage and took in the charm that is Mont Tremblant. One thing I want to remind you is to check opening and closing dates and hours prior to your visit – many Mont Tremblant attractions shut down for the season towards mid October so plan your visit accordingly. We were in the Laurentians during the first week of October and managed to experience most things on our list of things to do in Mont Tremblant but we did miss a few on our list due to last minute closures and weather related delays. Pre-book but be flexible and you'll find plenty on offer to amuse you and your friends!
Soar Above the Laurentians Mountain in a Helicopter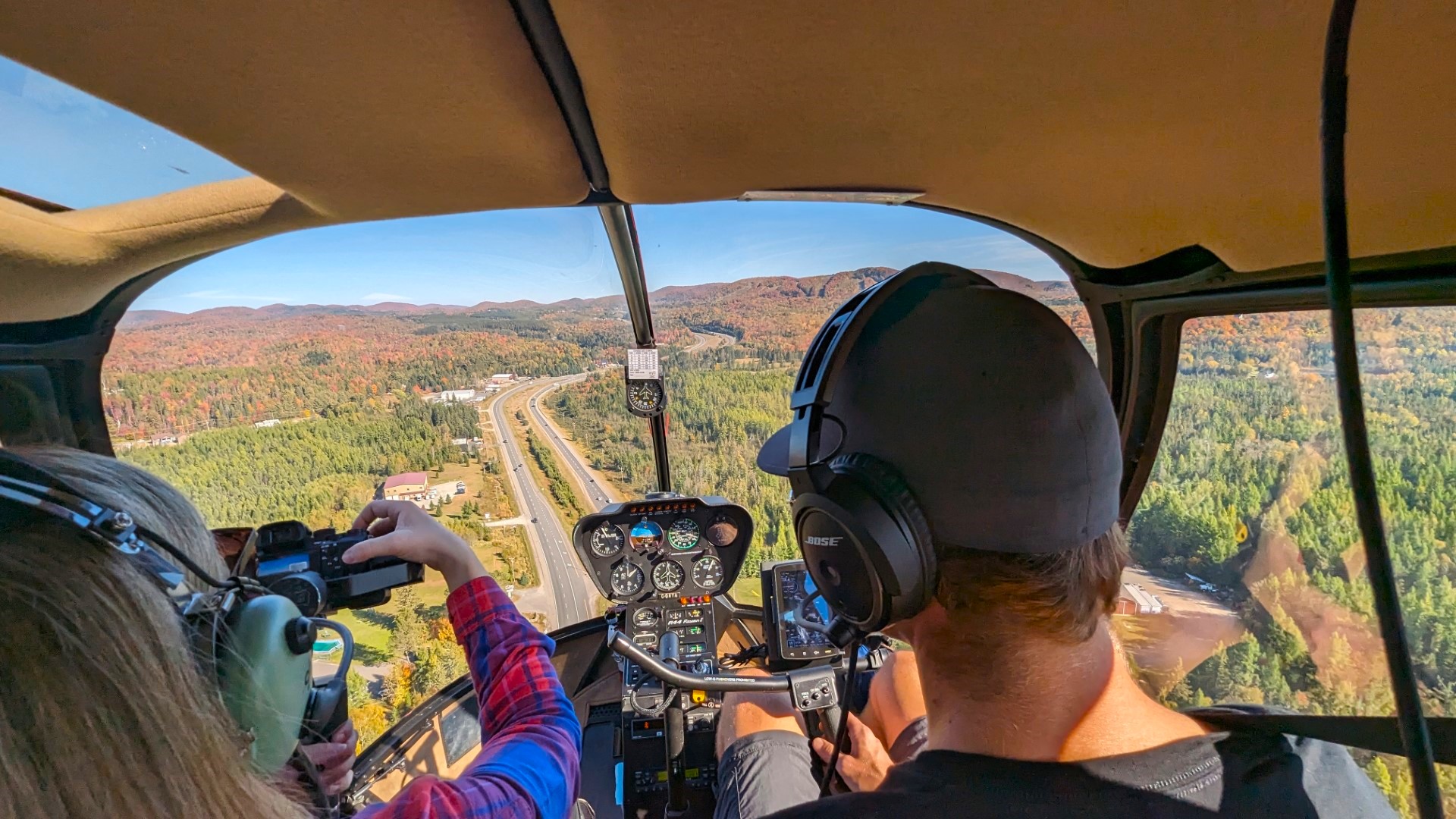 When it comes to epic experiences, a helicopter ride is a surefire way to captivate everyone's senses. Heli -Tremblant offers a range of options allowing you to soak in a bird's-eye view of the majestic Laurentian Mountains. During our visit, we opted for the ten-minute initiation flight. To make the most of your experience, be sure to arrive at least 20 minutes prior to your flight, as you'll need to complete some paperwork and undergo a quick weigh-in before boarding the helicopter. We had a friend (a local tourism contact) join us at the very last minute because we had an extra seat open in our helicopter – the three of us were in awe as we soared above the colourful trees.
Our pilot ensured that we were all safely buckled in and that our headsets were functioning prior to take-off so that we could easily hear him as he pointed out various places along the the Diable river and the Tremblant ski village. Honestly, this was such an amazing way to see the lovely oranges, greens, yellows and reds that make up the Boreal Forest in the fall. The ten minute flight is certainly a quick ride but it's worth it if budget permits. Definitely pre-book this Mont Tremblant activity because it's a popular one!
Climb Sentier des Cimes Laurentides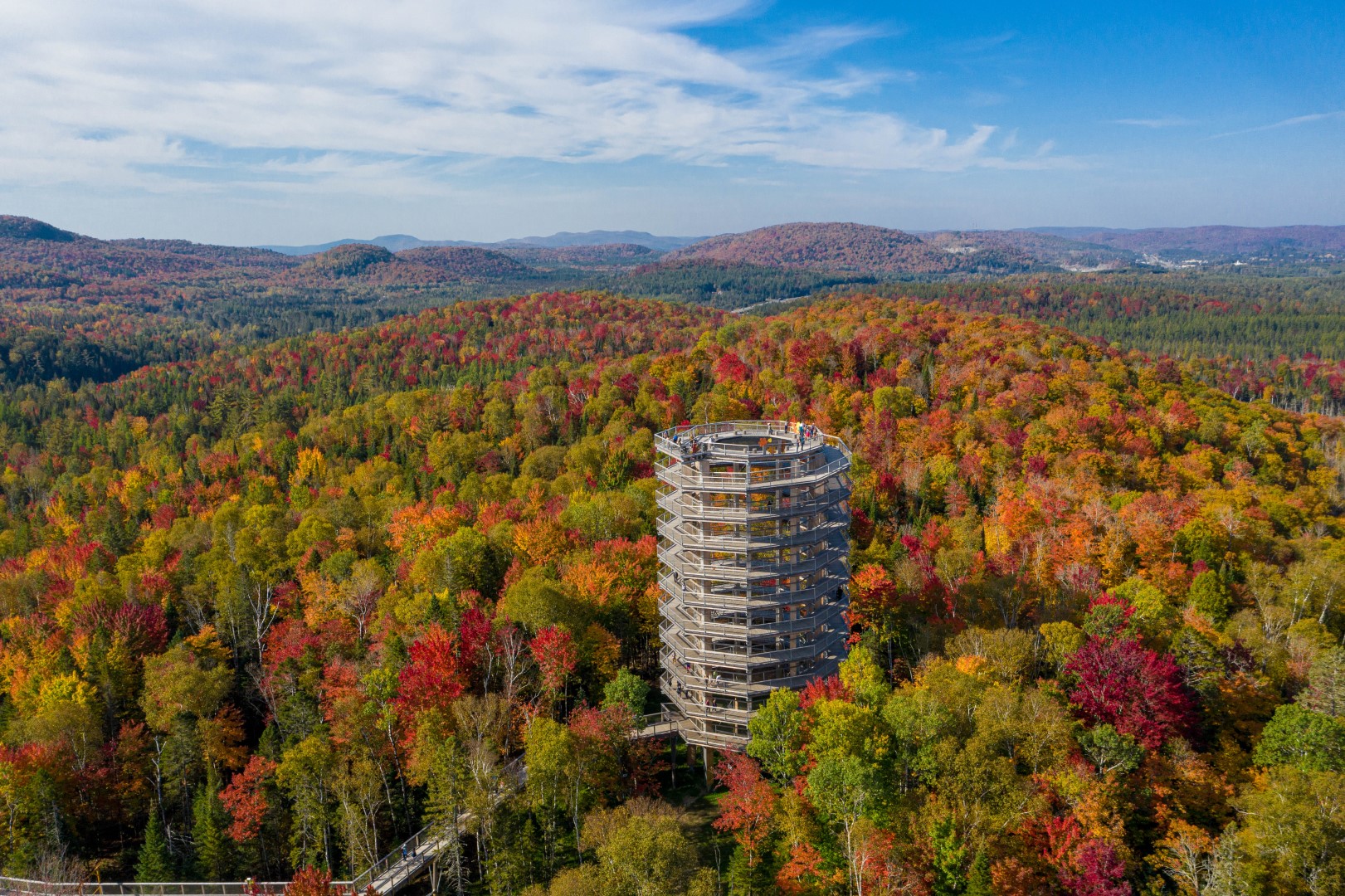 Initially, when I heard about a treetop walk, I dismissed it, thinking it would be an activity geared towards kids. Hey, I was on a Momcation, okay? Fortunately, I quickly came to my senses and decided to explore this magnificent outdoor space. Opened in July 2022, Sentier des Cimes aims to make nature accessible to all. This means the attraction welcomes visitors of all ages, from newborns in strollers to those in wheelchairs and walkers. I even saw visually impaired individuals enjoying their day in nature.
Sentier des Cimes remains open throughout the year. During our fall visit, we parked our vehicle and headed to the main building. The staff checked us in and we grabbed a complimentary apple placed at the entrance before making our way to the main attraction. While we could have taken three flights of stairs to reach the main entrance, there was an elevator, so we opted for that instead!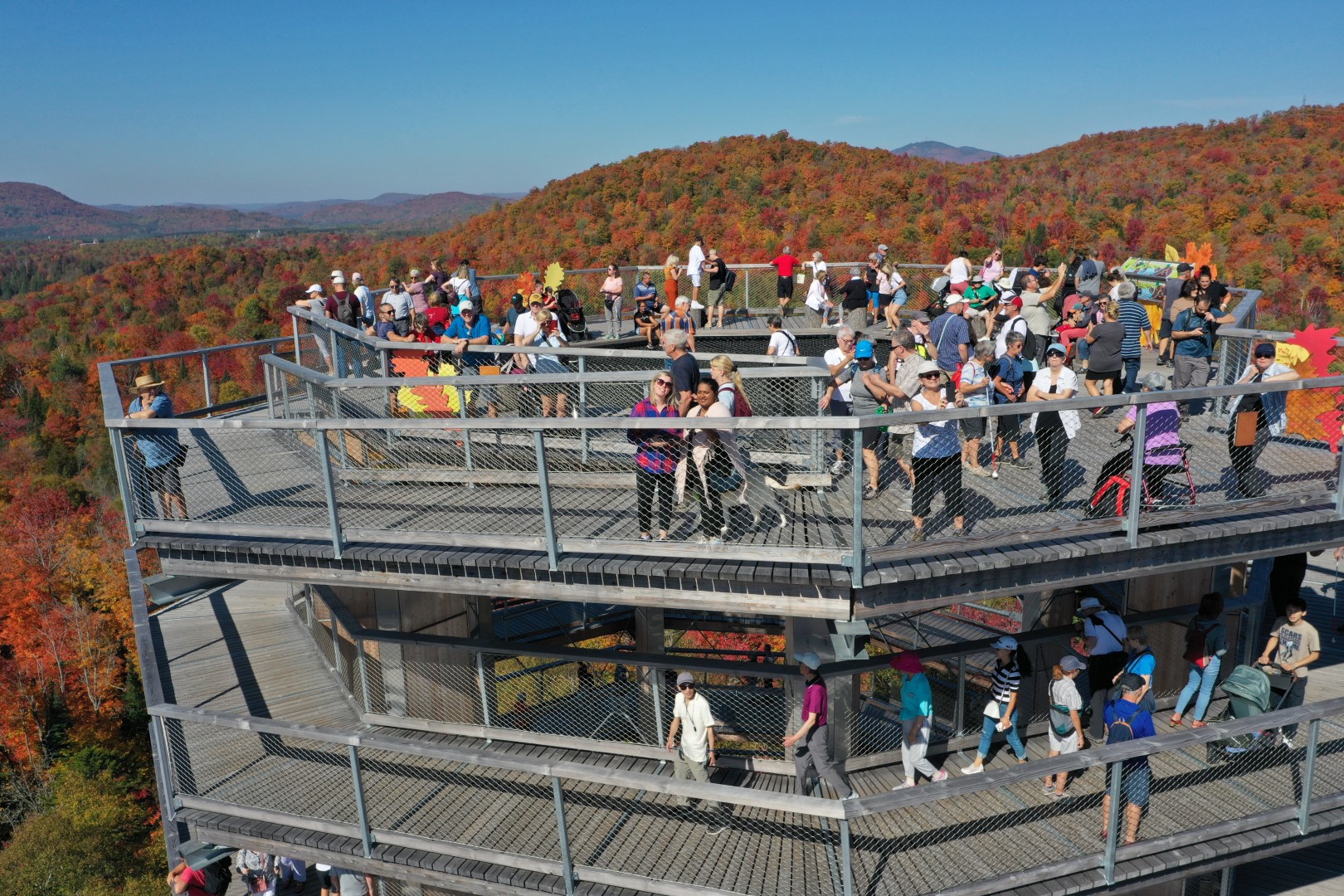 Initially we walked through a flat 1 km pathway that brought us to the 40m structure that we walked up. I don't want to use the word "climb" because it was a relaxing walk through the escalating path with the scenic fall foliage flanking all sides of the structure. You can spend as much time are you want at this attraction and it takes people an hour and half on average to go up and come down. Of course, you might want to take a break when you reach the rooftop portion, which not only provides a 360-degree view but also features a net in the middle for bouncing. Just be cautious about looking down, as it can be a bit dizzying!
This entire attraction is designed with sustainability in mind. None of the wood is treated, even though the attraction remains open all year round. Additionally, there's a significant focus on explaining the flora and fauna that surround the forest around Sentier des Cimes. During our visit, the fall colors were in full bloom, creating a picturesque walk to the top.
I highly recommend giving yourself some extra time here, especially on a nice day. My friend and I enjoyed a leisurely lunch in the gardens with comfort foods served at the self-service cafeteria onsite (you can absolutely bring your own picnic too). Their seasonal menu features local produce and they have something for every appetite.
Make sure to visit Gourmet Sauvage when you're at this Mont Tremblant area attraction. This shop, located at Sentier des Cimes, sells products featuring elements from all over Quebec that have been made in their Laurentians kitchen. They also offer fun and educational-sounding workshops, but sadly, we missed those during our visit to the Laurentians. However, I did purchase unique jams, pickled fiddleheads and beer as gifts for my Chris and the kids.
Explore Tremblant Village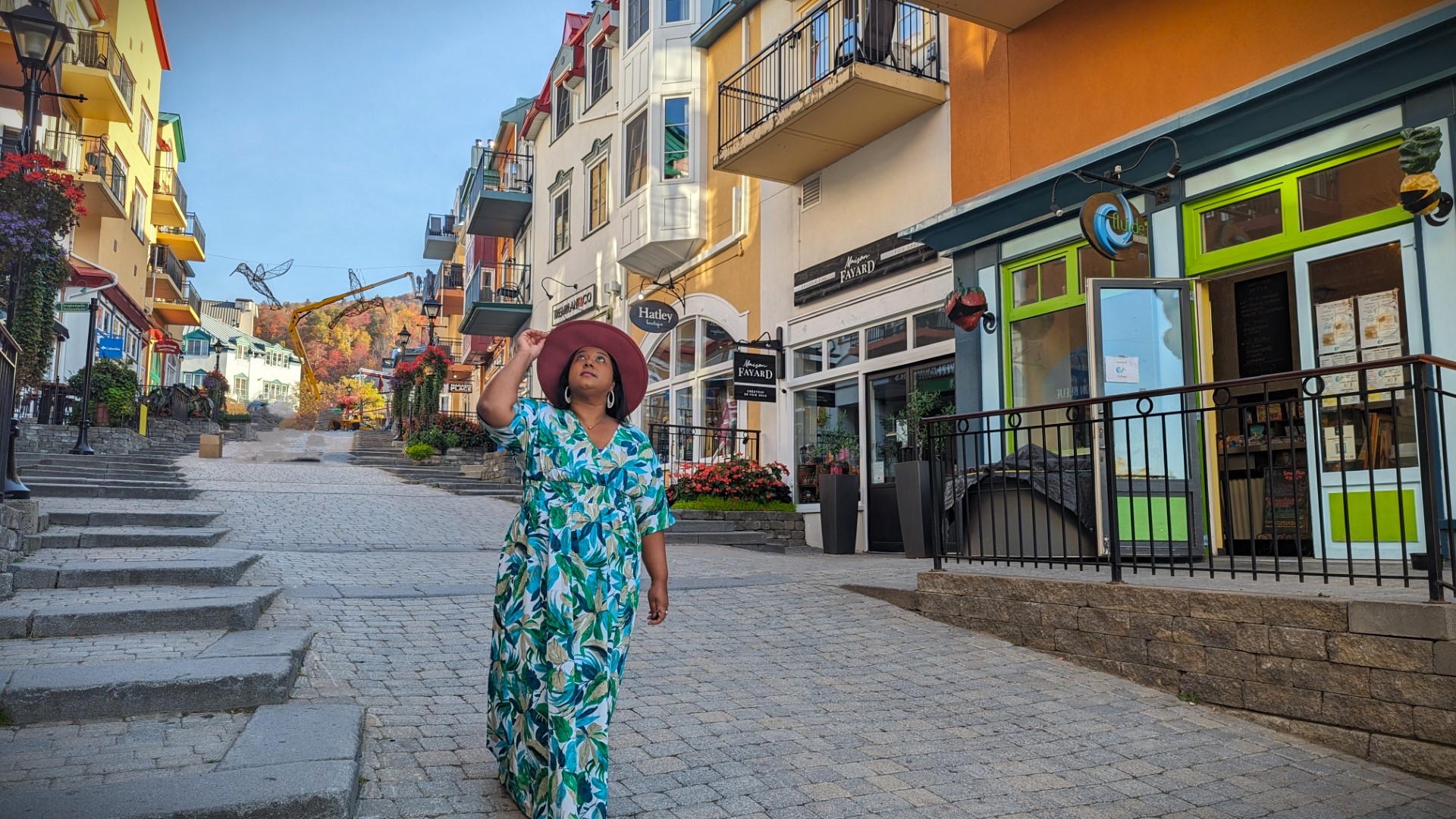 The beauty of visiting Tremblant is that technically, you don't need to leave this Canadian resort if you don't want to. Everything from lodging and a supermarket to thrilling attractions and nightclubs can be found here. I absolutely loved the mostly pedestrian-only pathways and cute shops within the Tremblant Village. While many may flock here for the ski season, fall in Tremblant is quite magical because you can see the trees from various areas of the resort.
Be sure to take the free Cabriolet, which will transport you from the lower end of the resort to the midway point, allowing you to easily leave your Tremblant hotel and arrive close to the Cabane à Sucre or Ceramic shop! Although it was built to transport people from the parking lots to the ski hills, it's just as fun a ride during the fall because you get to see the village from up above. Of course, you can walk it too, but then you wouldn't enjoy that view, would you?
As we strolled around during the day time we obviously had to enjoy some "maple taffy in snow" at Cabane à Sucre – can't come to Quebec and not have some, right? I also enjoyed a delicious COLD chocolate (it was a hot day and the staff were kind enough to make a chilled version for me) at Au Grain de Café and was hoping to return and try their mulled wines and bubble tea but I had to save it for my next visit.
Tremblant offers a variety of activities beyond skiing, making a fall road trip to Mont Tremblant just as enjoyable as it is picturesque. My friend and I had a leisurely afternoon at Studio Créatif, where we painted ceramic items. Upon arrival, we were warmly greeted and told to choose any of the items on display that we'd like to paint. Items ranged from cute toys and trinket boxes to full plates and large pots, with prices varying from $15 to $100+. I opted for a $35 mini serving platter, and my friend chose an $18 planter before sitting down and selecting the colors we wanted. Honestly, this is such a fun activity. Even though I KNOW kids would love it here, it's also enjoyable for adults to sit down, paint and catch up. So zen and perfect for a girls' getaway in Tremblant. In addition to the item fee, you also pay an hourly studio fee, so you can spend as long as you want here. Once you're done, you leave your item at the studio so it can be fired up overnight and picked up the following day.
If you're looking to get your heart racing and a hike around the beautiful trails isn't cutting it, you can zip through the trees with a Ziptrek adventure, just like my friend did. While she opted for the Ziptrek activity, which took her through 5 ziplines and a couple of hikes over the course of 3 hours, I chose to watch her from ground level as she departed and then wandered around the resort on my own.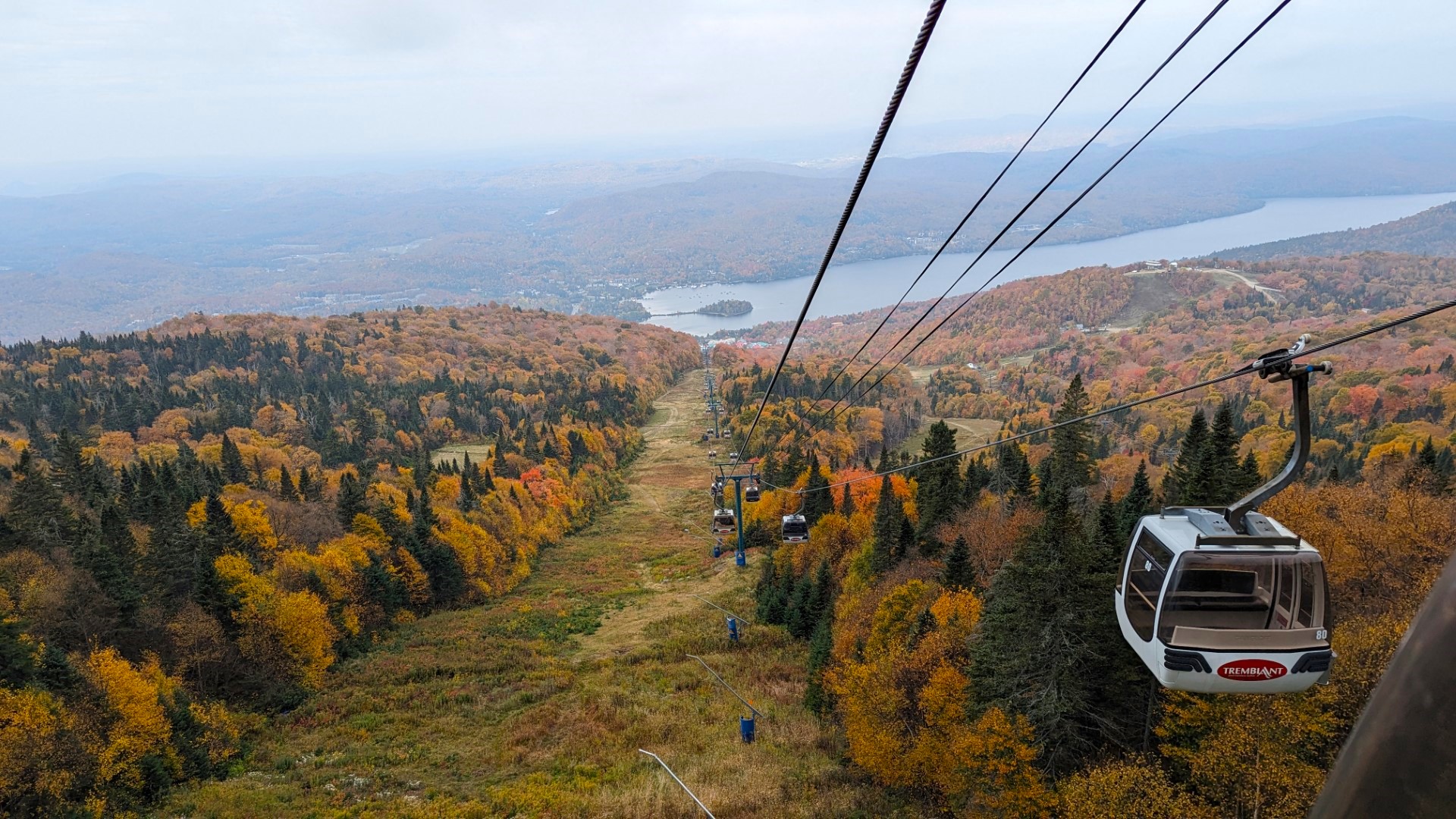 Depending on your moods and preferences, there's plenty to do in Tremblant during the fall season. This website will help you narrow down your options depending on the season. We dined at numerous Tremblant restaurants during our visit and some were fabulous, I'll share more about them below but do not fear – there's plenty of eats here from fine dining to quick service and a full list can be found here.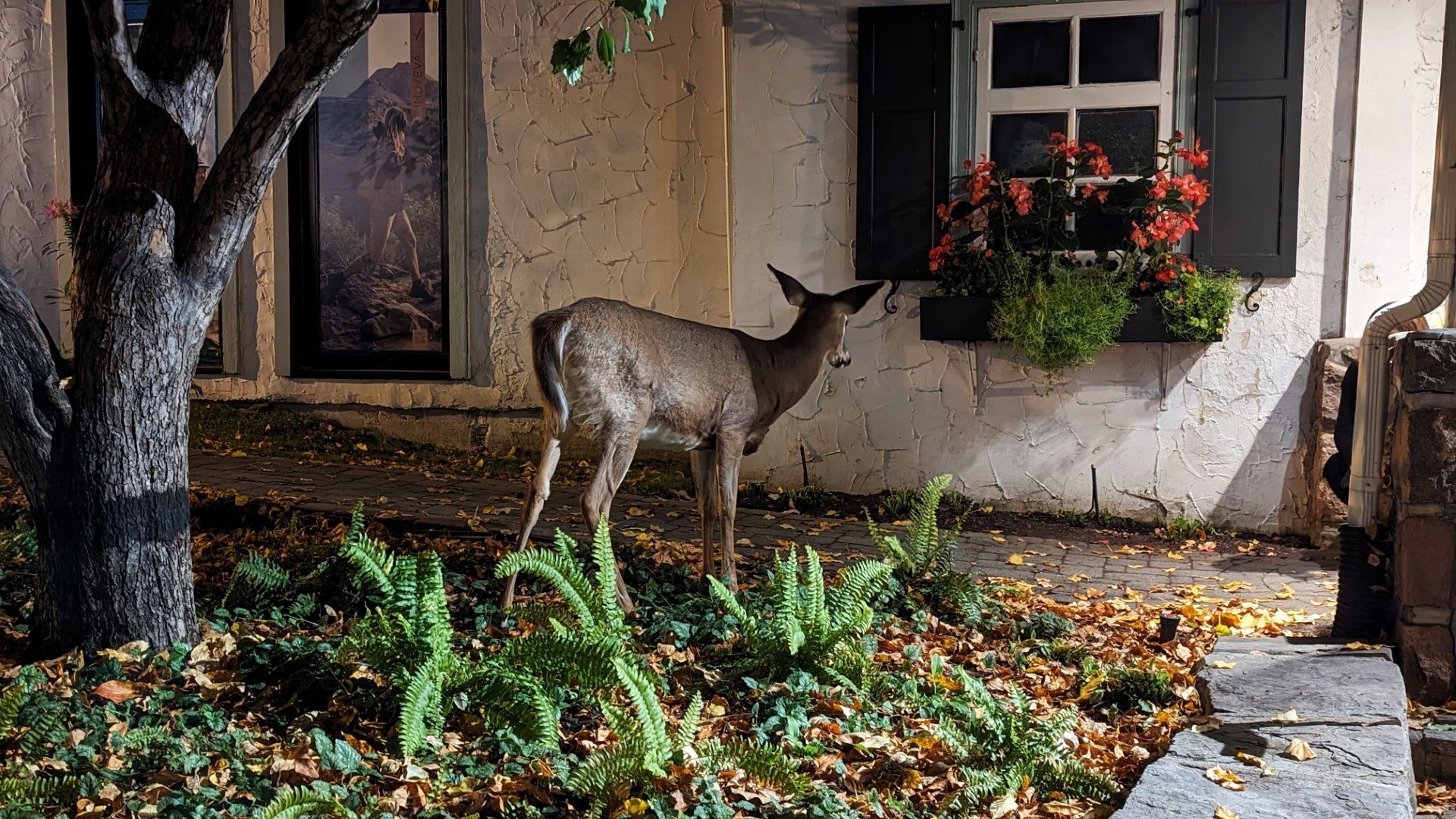 Oh and don't be alarmed if you see wildlife as you roam around the village – one night we spotted this deer and the locals told us that this is a normal sighting as they come in from the woods. And be sure to wake up and go for a morning walk because the resort covered in fog is magical and there are so many pretty spots to take pictures at once the sun comes up.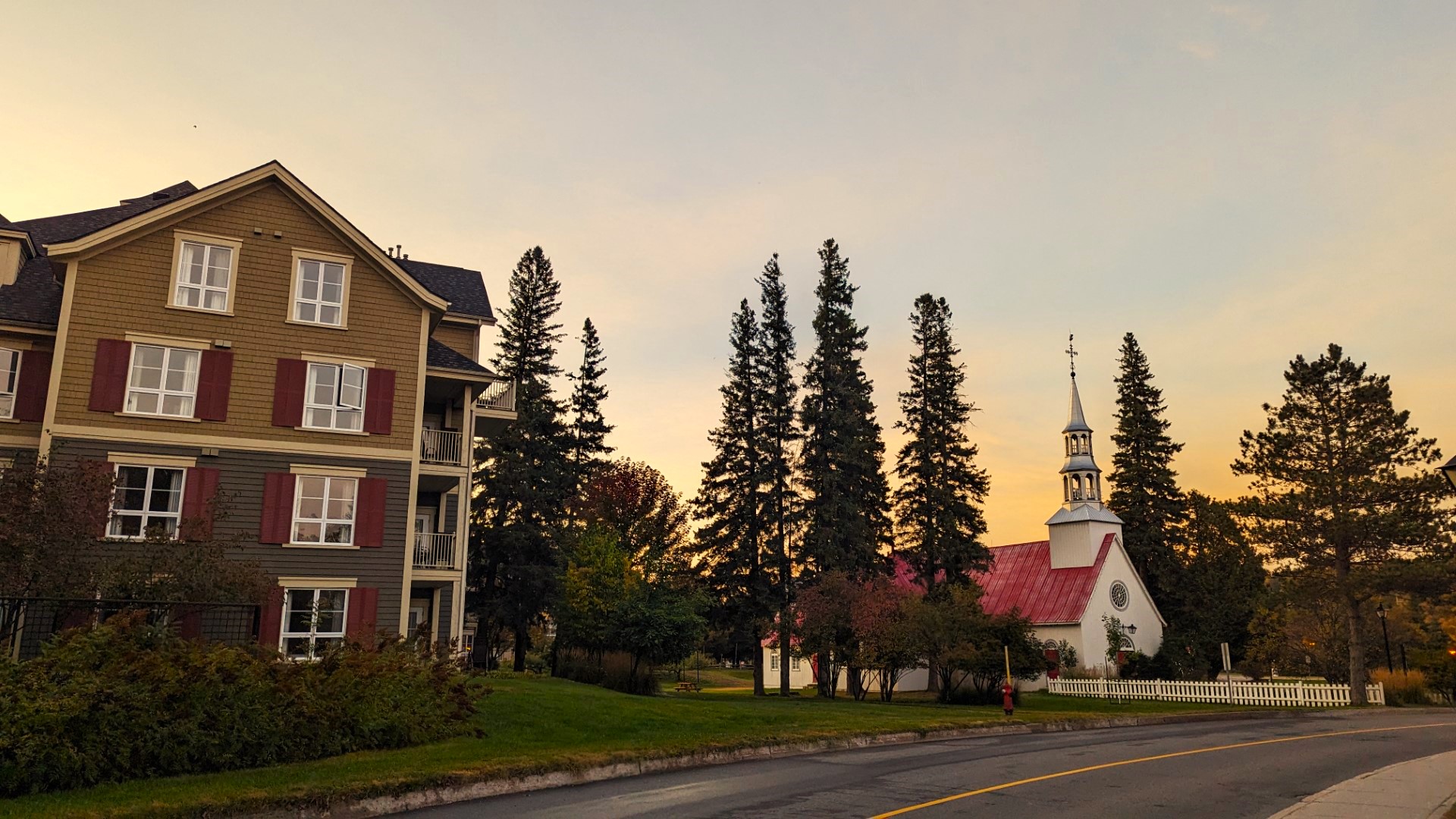 Spa Day at Scandinave Mont Tremblant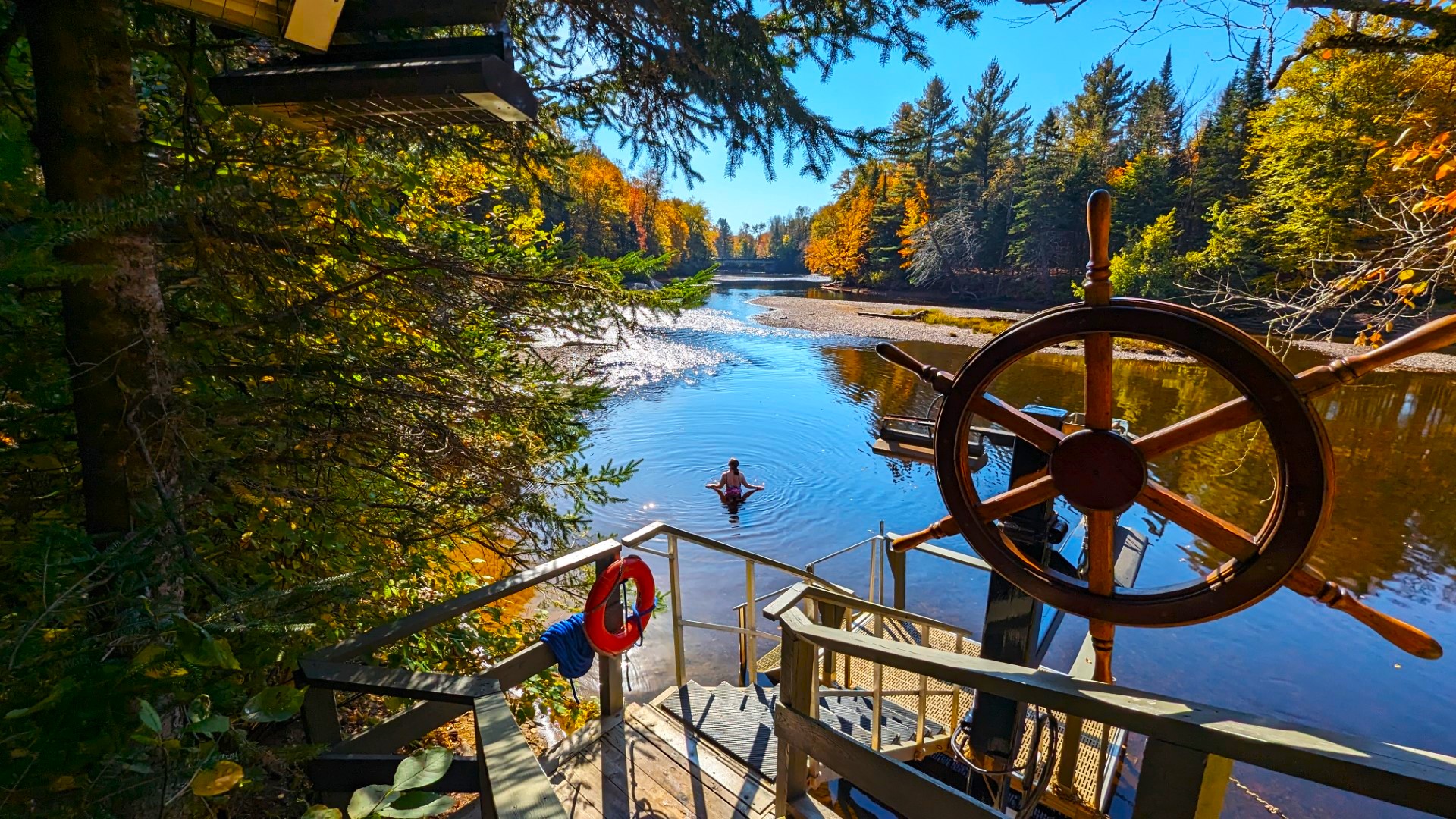 What girls' trip to Mont Tremblant would be complete without a spa day? NONE, I tell you! Even if you find it hard to sit still, like Arienne and me, a relaxing day at Scandinave Mont Tremblant is a must. This Quebec spa in the Laurentians invites guests to immerse themselves in complete silence with a digital detox while journeying through cycles of hot, cold, and relaxation areas encompassing over 72,000 square feet of spa space within the Laurentian forest.
Of course, leaving our phones in the lockers was a challenge for us! Upon arriving at the spa, we were given locker keys, two towels each and a hooded bathrobe. It was then up to us to figure out which cold plunges, hot tubs, steam rooms and saunas we wanted to visit. Unlike other thermal spas I've visited, these ones were actually cold/hot, which I appreciated.
There are also relaxation areas and hammocks for unwinding. The entire day is yours to spend here if you like.
If you have a chance, wade in the Diable River. That was certainly a cool experience and I regret not going a bit further in! There are quite a few stones at the entry to the river, so water shoes would have been helpful.
You can also enjoy lunch in your bathrobes at their on-site bakery and cafe. Arienne had to remind me to whisper at lunch because I was clearly the loudmouthed one! It's so peaceful here and the atmosphere is totally zen.
Take a Scenic Boat Ride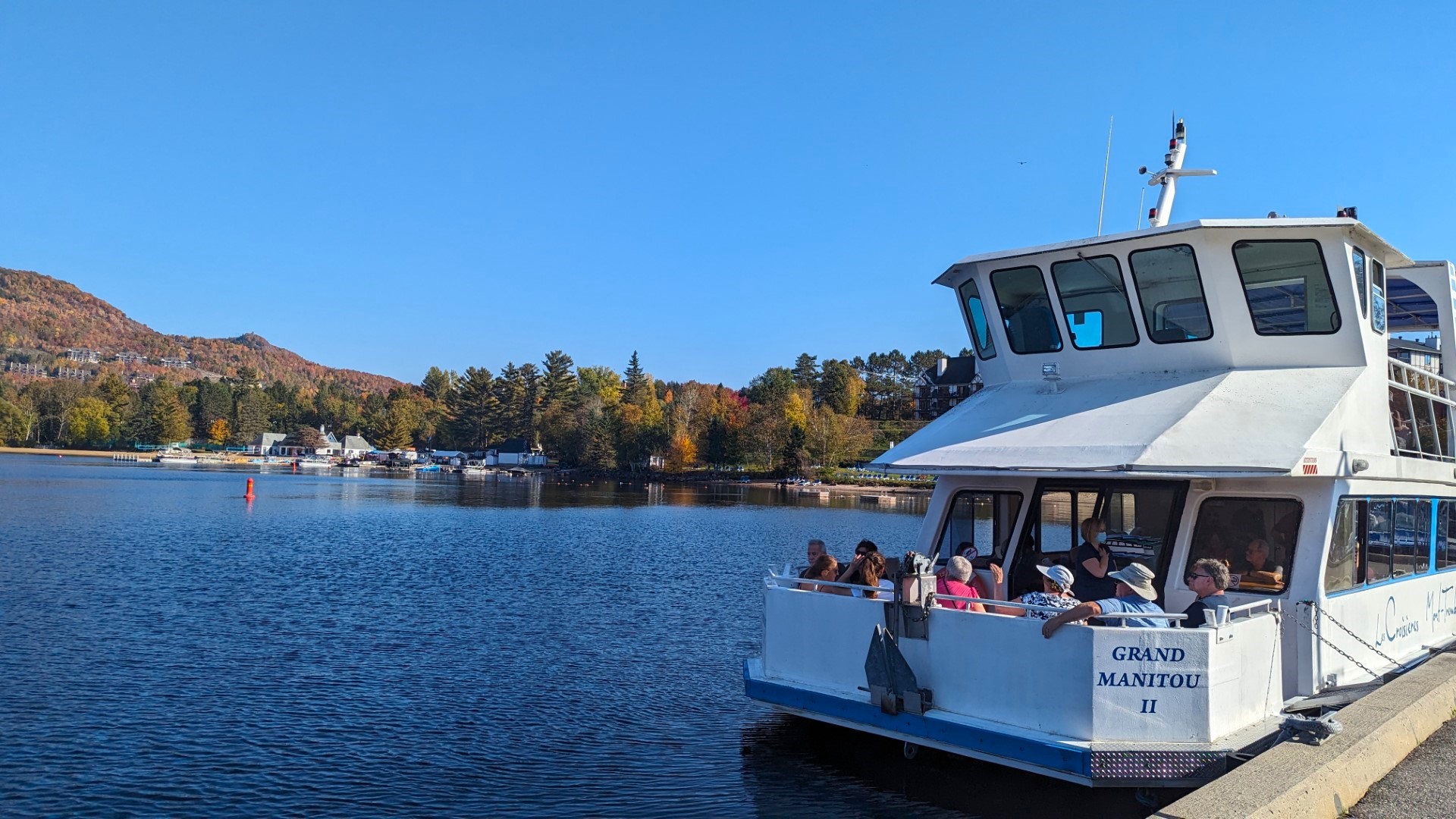 If you've immersed yourself in the fall colors from both the air and land, it's time to savor the experience from the water. While paddleboarding and kayaking remain enticing options in Mont Tremblant, we chose to embark on a picturesque boat ride. Aboard the Le Grand Manitou II, we reveled in the breathtaking scenery of the Laurentians, accompanied by captivating stories and legends about the surrounding mountains.
Seating operates on a first-come, first-served basis, but you have the freedom to explore the deck. I highly recommend a visit to the Captain. His warm hospitality extended to allowing visitors to take the wheel and sport a sea captain hat. Typically, I find the narration on such cruises lacking, but not this time. The historical and cultural stories were not only easily audible and comprehensible but also entertaining, narrated in both French and English.
This one hour scenic cruise on Lac Tremblant awaits you just a short 5-minute drive from the Tremblant Resort, although you could easily opt for a 20-minute walk instead of driving. Parking was tight and we secured the last spot upon arrival, so keep that in mind. Arriving for check-in atleast 15 minutes before departure is advisable if you want a seat, as this popular activity often fills up. Pre-booking your ride is also highly recommended; my friend and I (with pre-booked tickets) were the last to arrive, witnessing the disappointed faces of a couple attempting last-minute walk-ins.
Best Restaurants in Tremblant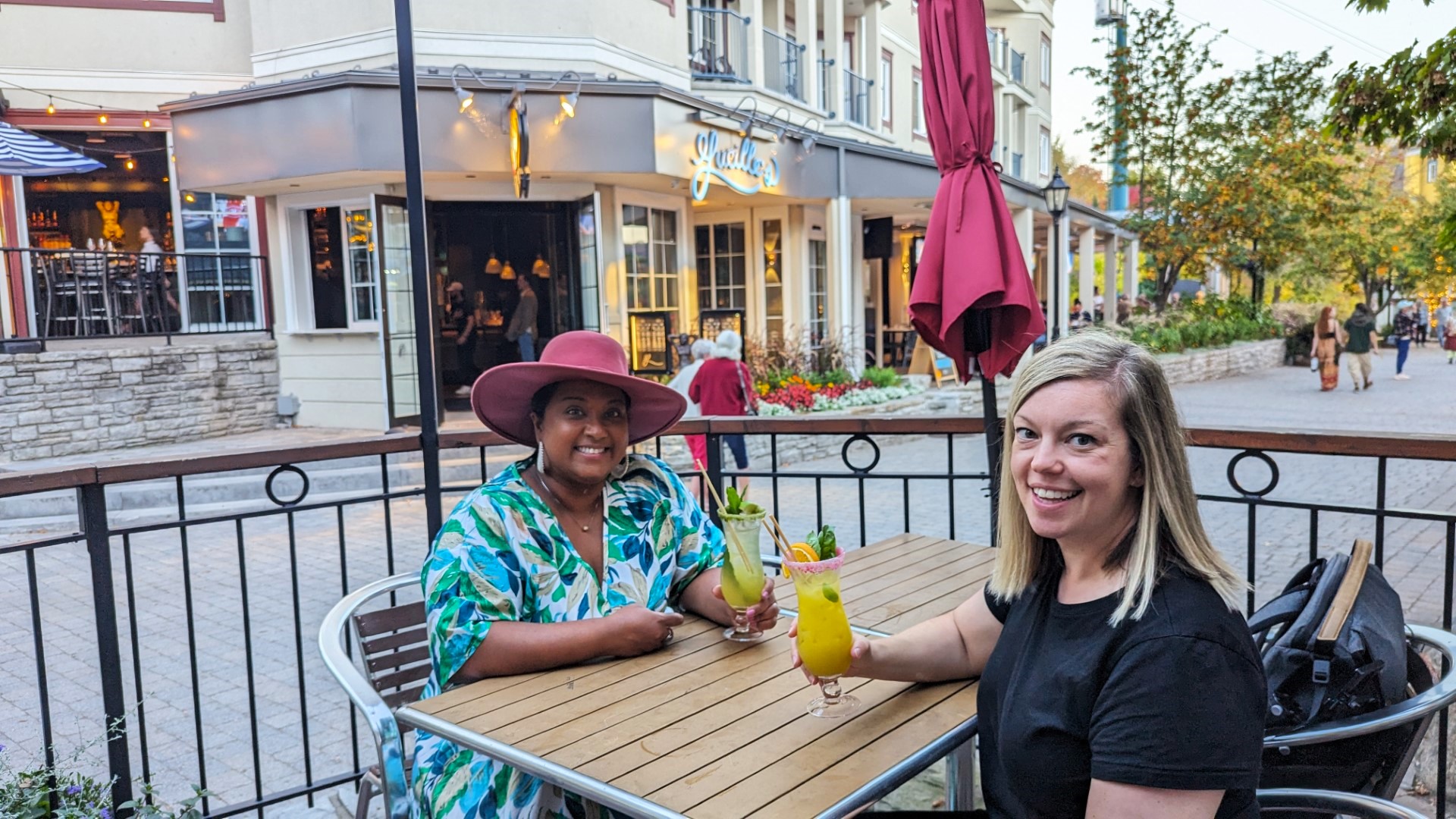 Tremblant has a variety of restaurants, cafes and bakeries so you can find something for every mood and moment. Sadly we didn't get to the ice cream shops as planned on this visit but we did get to indulge at quite a few restaurants so I have a few suggestions when it comes to the best places to eat at Tremblant. What I found fascinating is that most of the restaurants are housed in original homes dating back to the 1930s. These houses have been moved around the resort but the facades are still the original buildings. Another thing I noticed when dining out was how amazing the customer service is here. I know Quebec in general offers great service but each and every server continued to amaze us with their knowledge, friendly demeanor and attentiveness.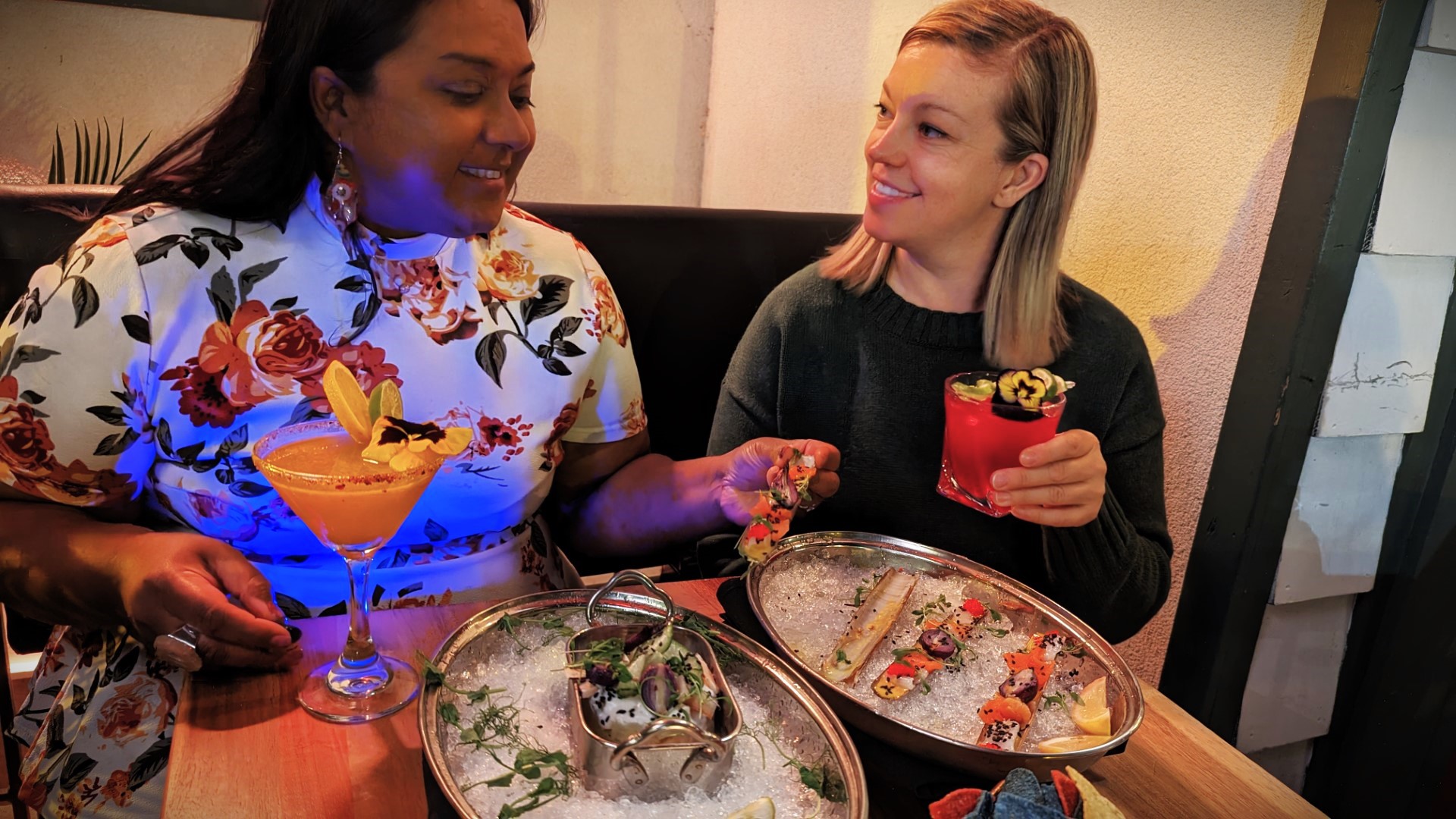 Let's start with this fantastic tapas bar – whatever you do, ensure you dine here because the meal was truly fantastic. This restaurant not only has unique serving vessels but the food was spectacular and with good reason. The Chef here used to work at a Michelin star restaurant in Spain and has lived in many countries, bringing his learning and magic touch into play here. From the owners to the servers, everyone's hands-on here and there's a fun vibe.
You can dine indoors, saddle up to their fantastic saloon-style bar (I'm totally coming back with Chris one day-just to hang at this bar) or enjoy a meal on their patio. The resident DJ sets the tone and has the ability to read the vibe of the crowd which means that the various lights get switched along with the tunes.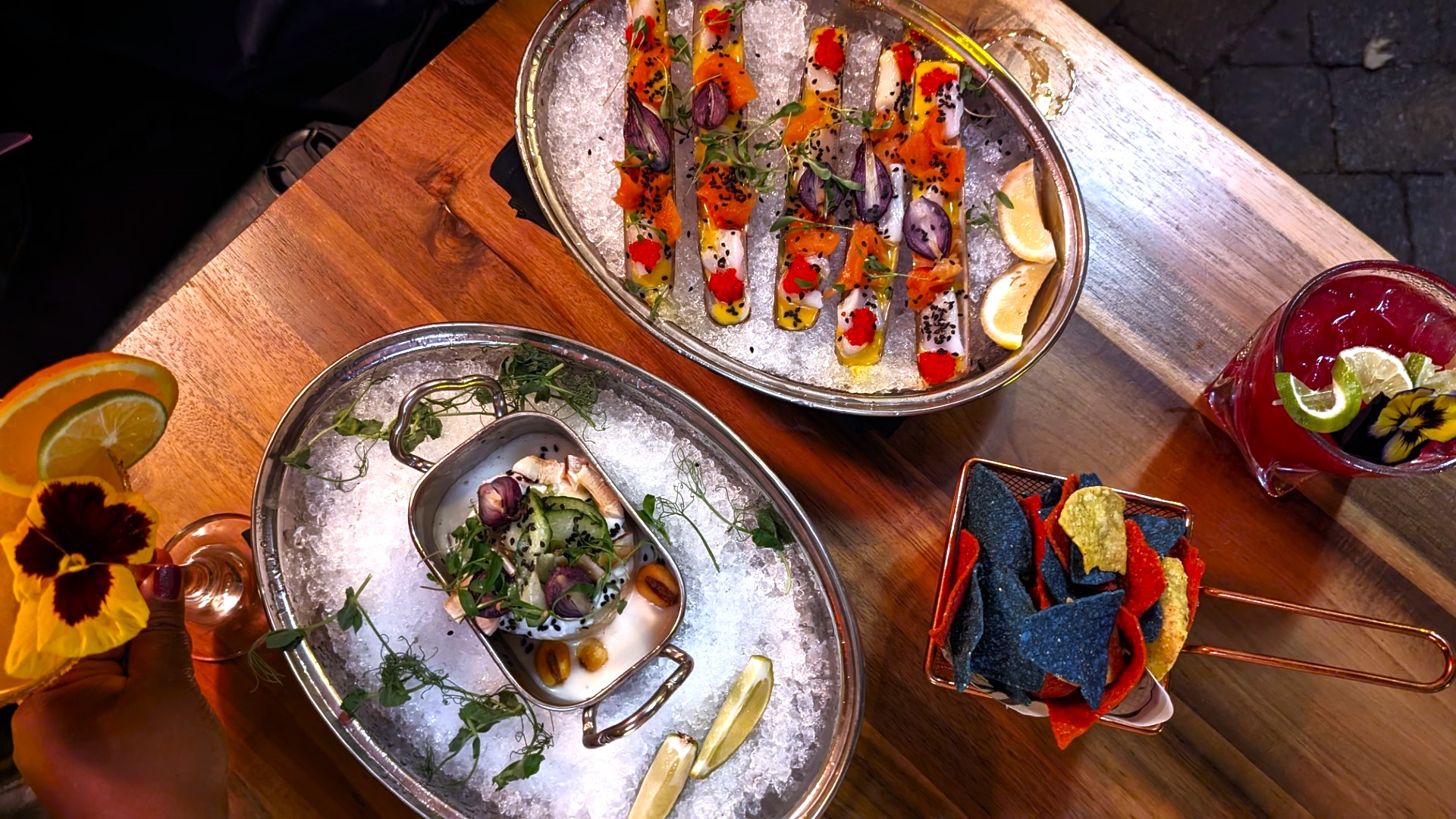 The Ceviche de Coco was a nod to Peruvian cuisine – the white fish was marinated in Leche de Tigre and served with coconut, cucumber and sesame seeds. After trying the Tiradito de Trucha Y Navajas, I want all my sashimi served in razor clam shells!!! This dish was possibly my favourite because the fish was marinated in local cider, apples, sesame seeds and aji sauce. We also enjoyed a variety of cocktails (Passionate Mezcalini was so sessionable!) and I ended the night with a deliciously creamy and boozy Affogato. Next time I'm swinging by in the daytime to try their Espresso Martinis.
After 10 p.m, especially on weekends, this place turns into a nightclub and you can enjoy everything from fabulous cocktails to bottle service. No idea is too small or too crazy for the team here, so if you want to customize your experience, just reach out to them! This is definitely a Tremblant restaurant I would return to in a heart beat!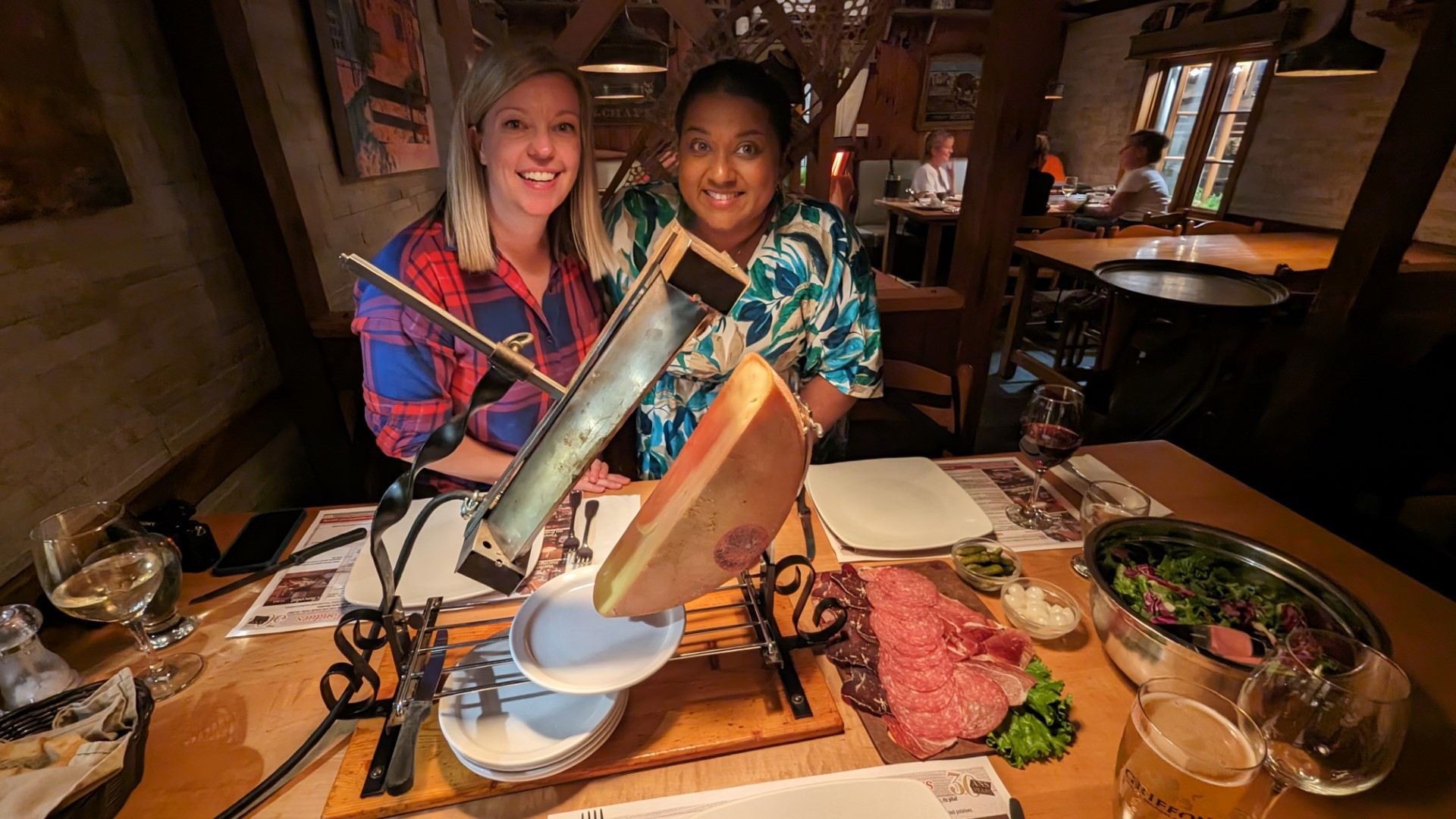 This is another must visit Tremblant restaurant on your girls' getaway in the Laurentians, if you love fondue and raclette! Located on the main strip of the pedestrian village, this restaurant oozes cozy cabin vibes. You will enjoy your dining experience in close quarters with your neighbours but it gives you that French Alpine experience and delivers an authentic Savoyard culinary experience.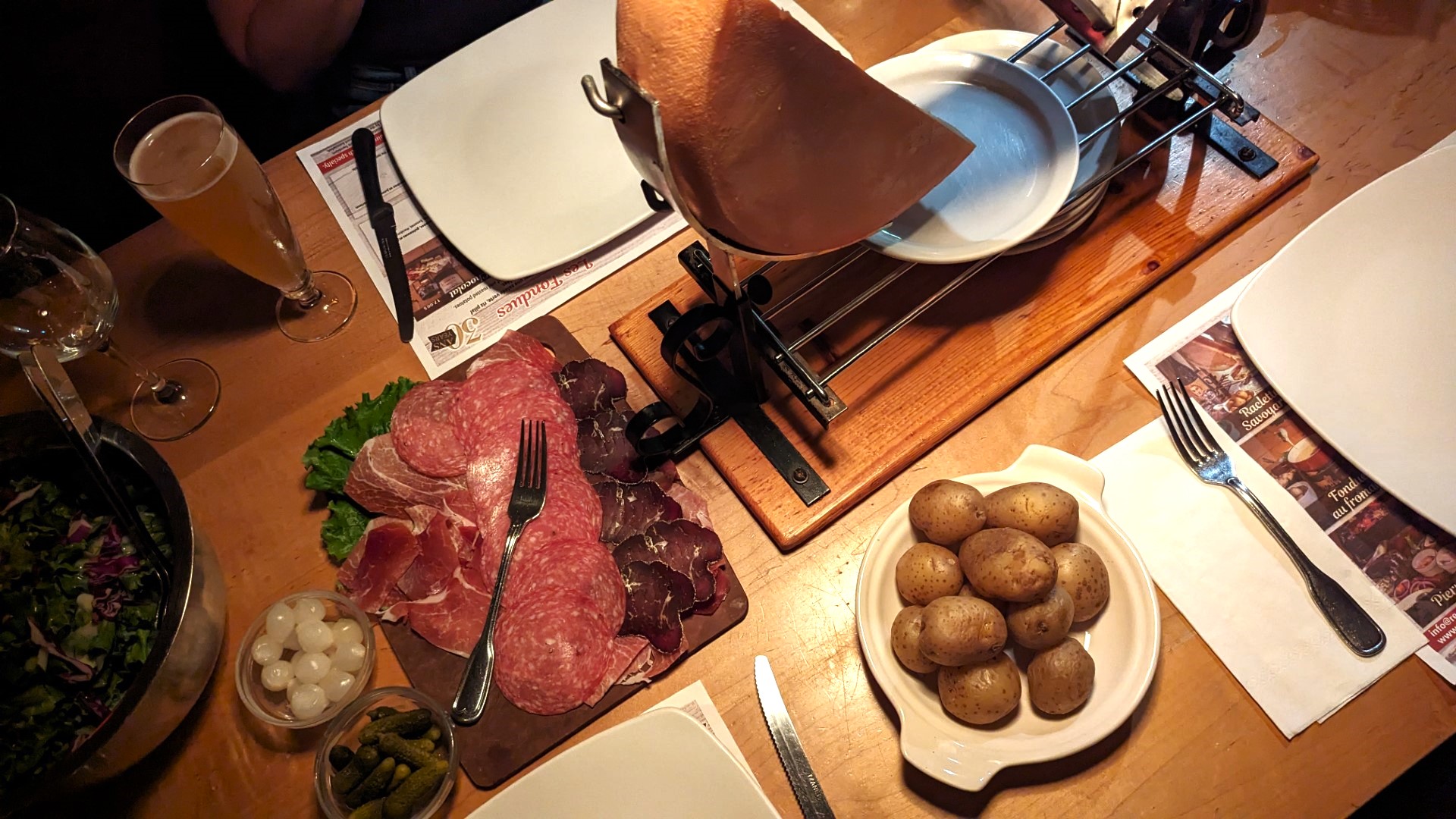 This was my first full raclette experience and I woke up the next day craving more cheese. Which is shocking because it was an all you can eat situation! The fondues (they have all sorts from oil to cheese and chocolate) were popular but so is the raclette Savoyard which came with a green salad, raw milk raclette cheese imported from Savoy, parma ham, grison meat, rosette de Lyon and boiled potatoes. You pay per person and can enjoy as much cheese as you want – HEAVEN!! Definitely pre-book this experience because it's an extremely popular spot – and with good reason too.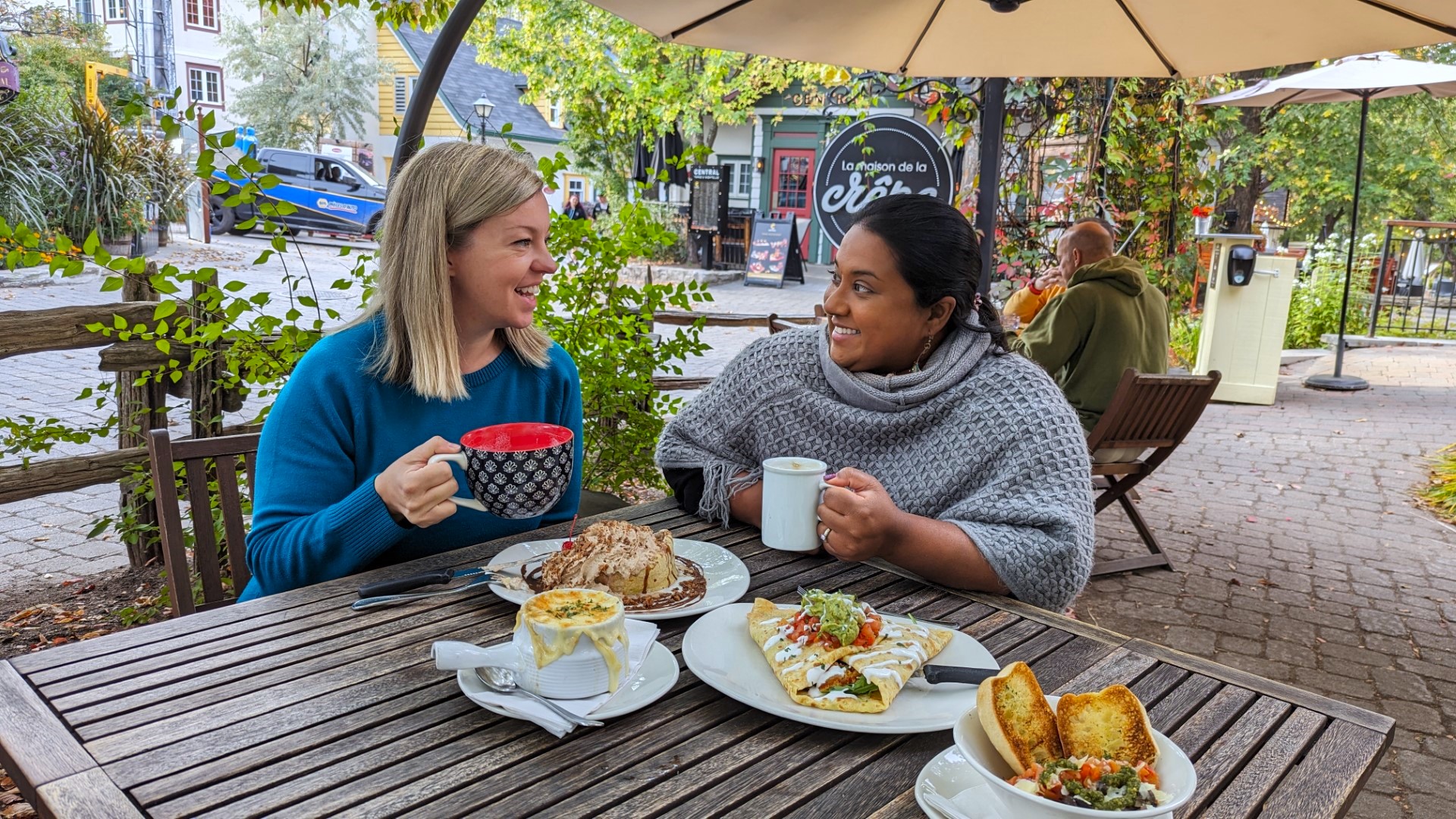 Whether you're looking for breakfast or lunch, this crêperie is sure to satisfy your cravings. They have a variety of sweet and savoury meals which meant that I was able to order French Onion Soup and Escargot along with my crepes. They too have an indoor dining room in addition to the outdoor patio that's open spring into late fall.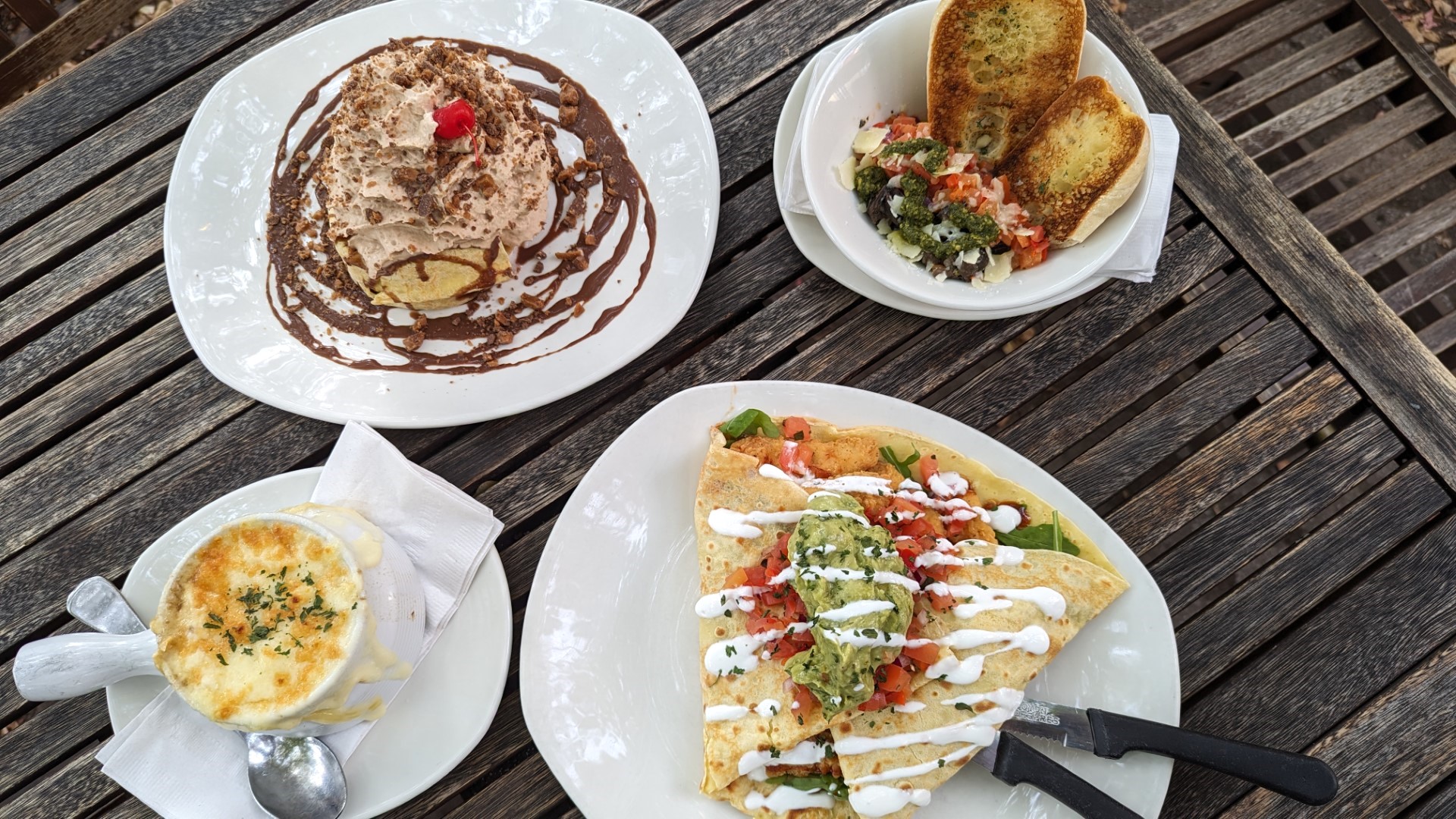 The menu here features dishes inspired by cooking traditions in Brittany, France. We enjoyed a leisurely start to our final morning here and it was pure bliss.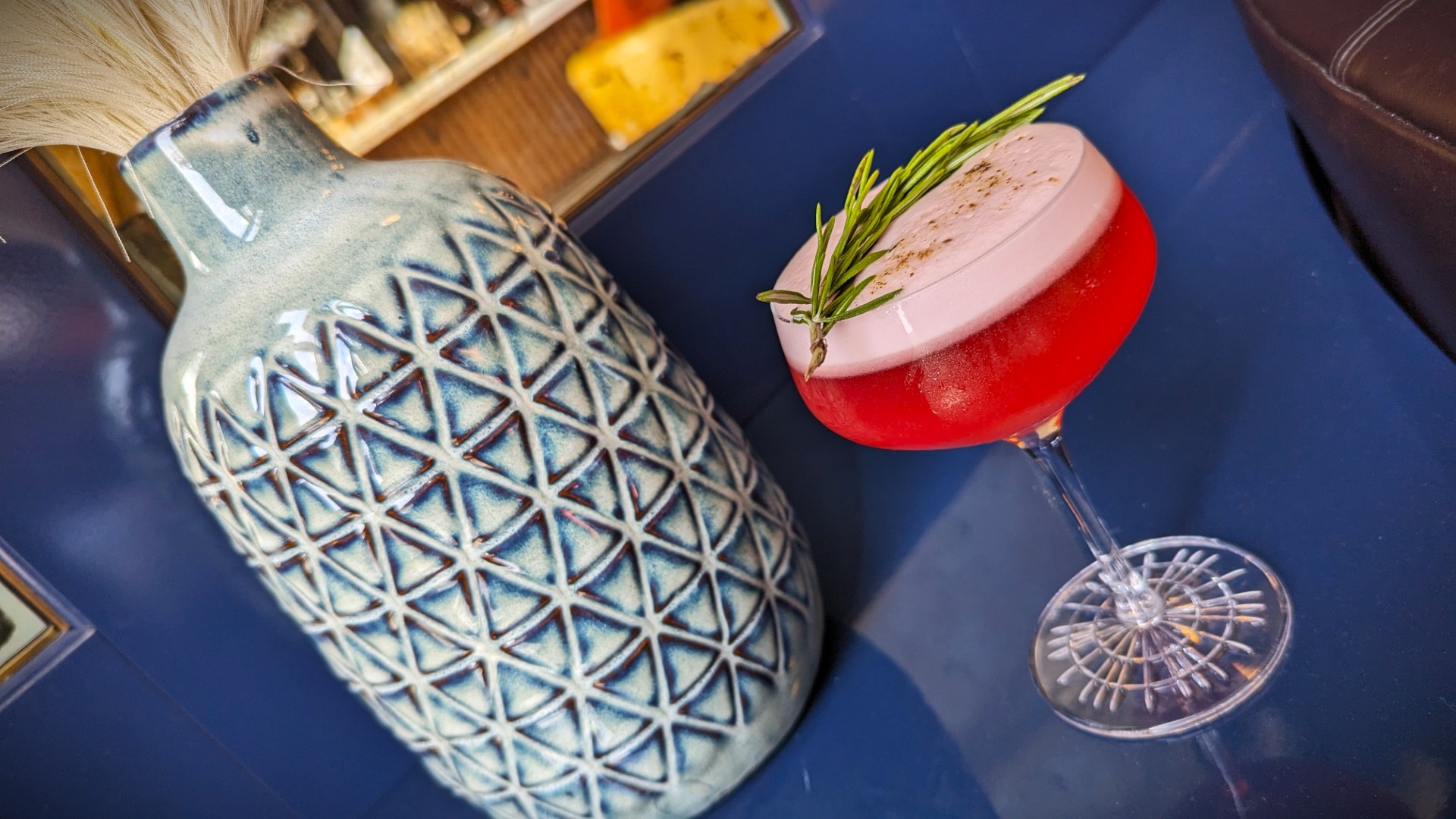 Located at the Fairmont Hotel, this bar sits at the top of a hill in Tremblant and has a chic vibe in contrast to the rest of the hotel. In true Fairmont fashion, the cocktails and dishes served here were fantastic. I loved our cocktail (a nod to the iconic Clover Club) and the baos the most!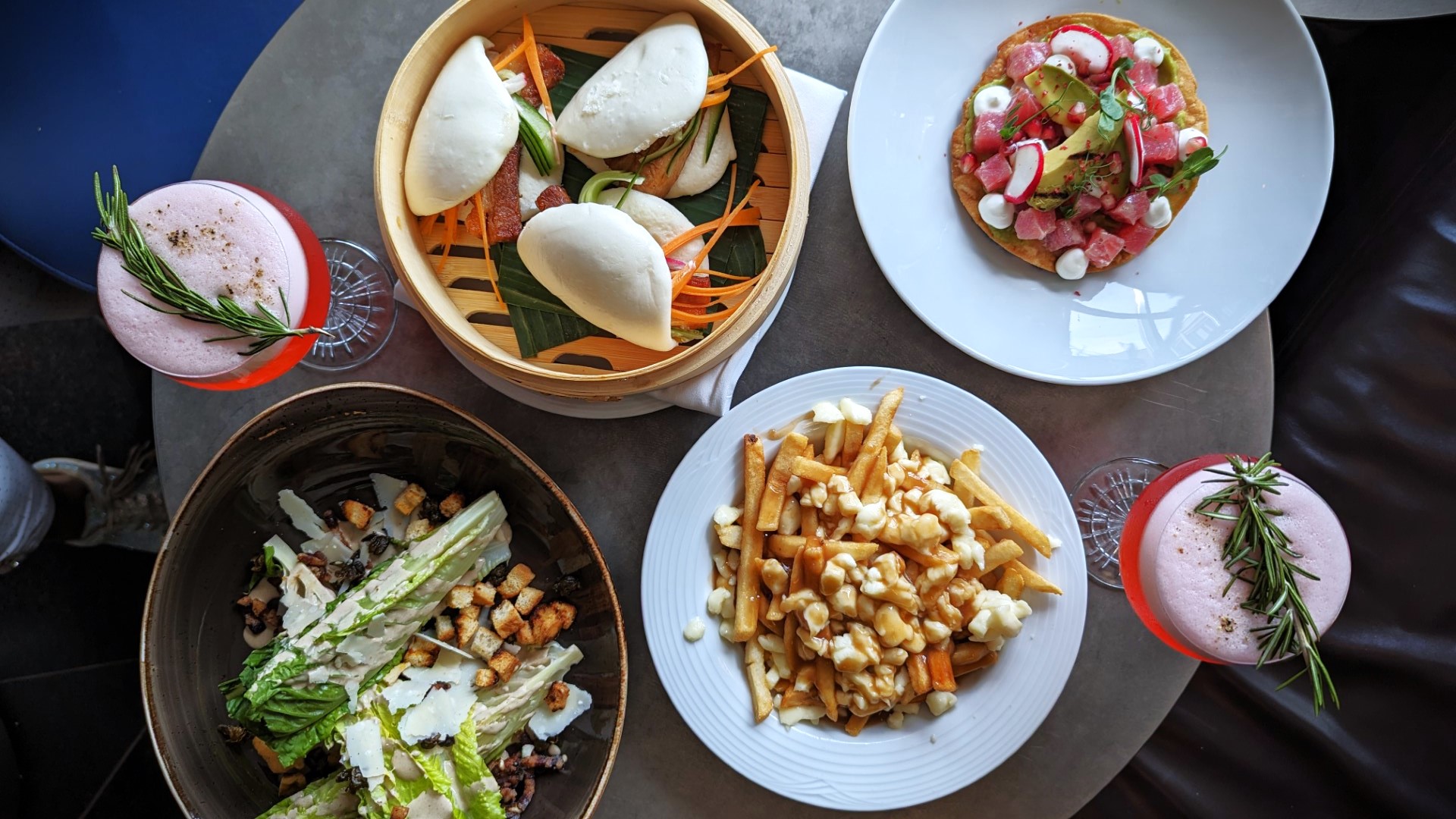 My friend and I enjoyed a leisurely lunch here one sunny afternoon. We obviously had to get the poutine as we were in Quebec after all! The Tuna Tostada and the Pork Bao had Sambal Oelek which was a great touch. I had grand plans for returning for the live music on Thursday evenings but it completely slipped my mind!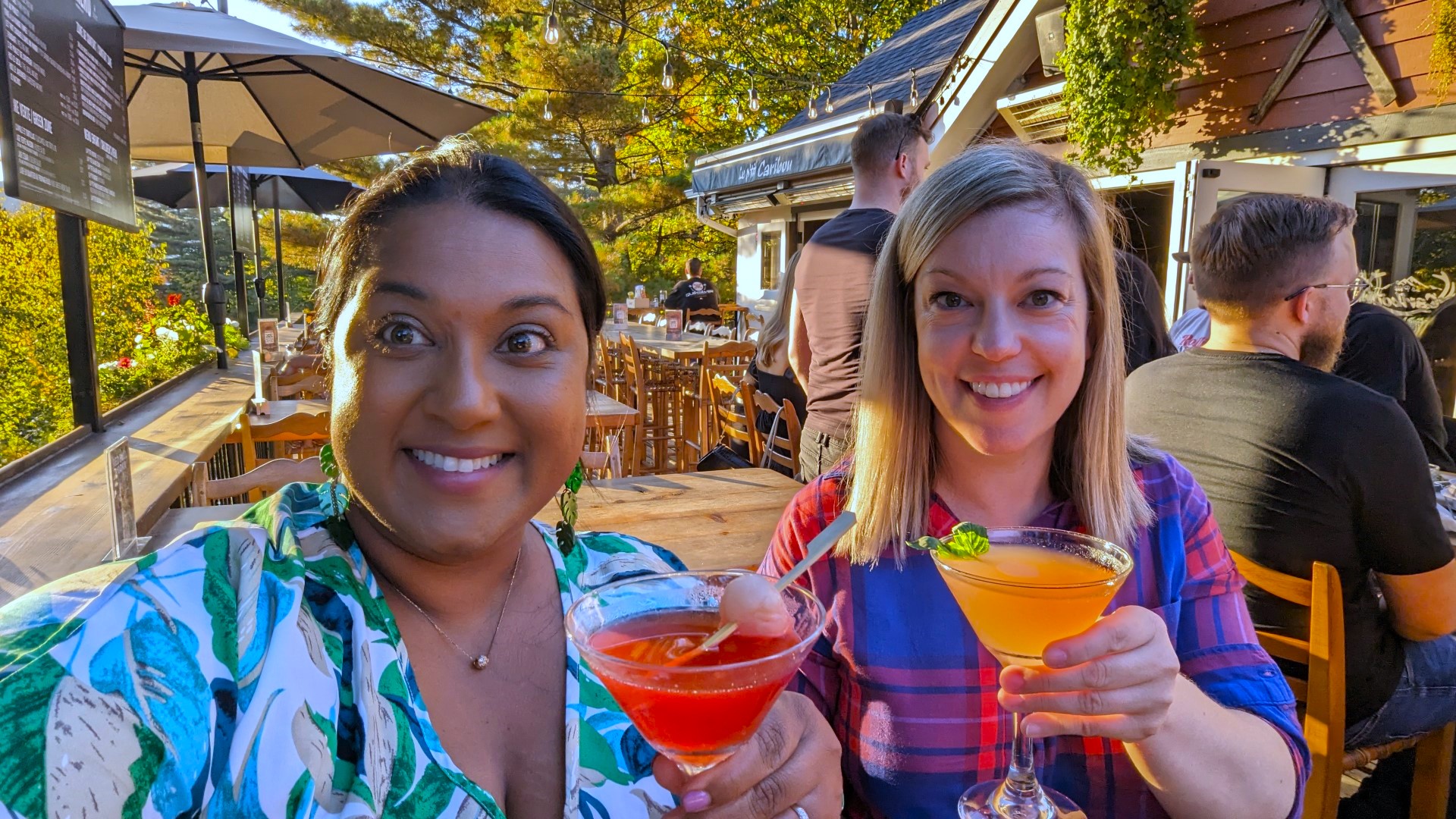 This bar is a popular spot with the après ski crowd and has seen many occasions celebrated since it first opened in 1993. It has switched ownership and expanded in more recent years to become a restaurant and dance lounge exuding rustic cabin charm. From the outside I didn't expect them to have a fabulous Tremblant patio or a full bar set up indoors – but they sure did!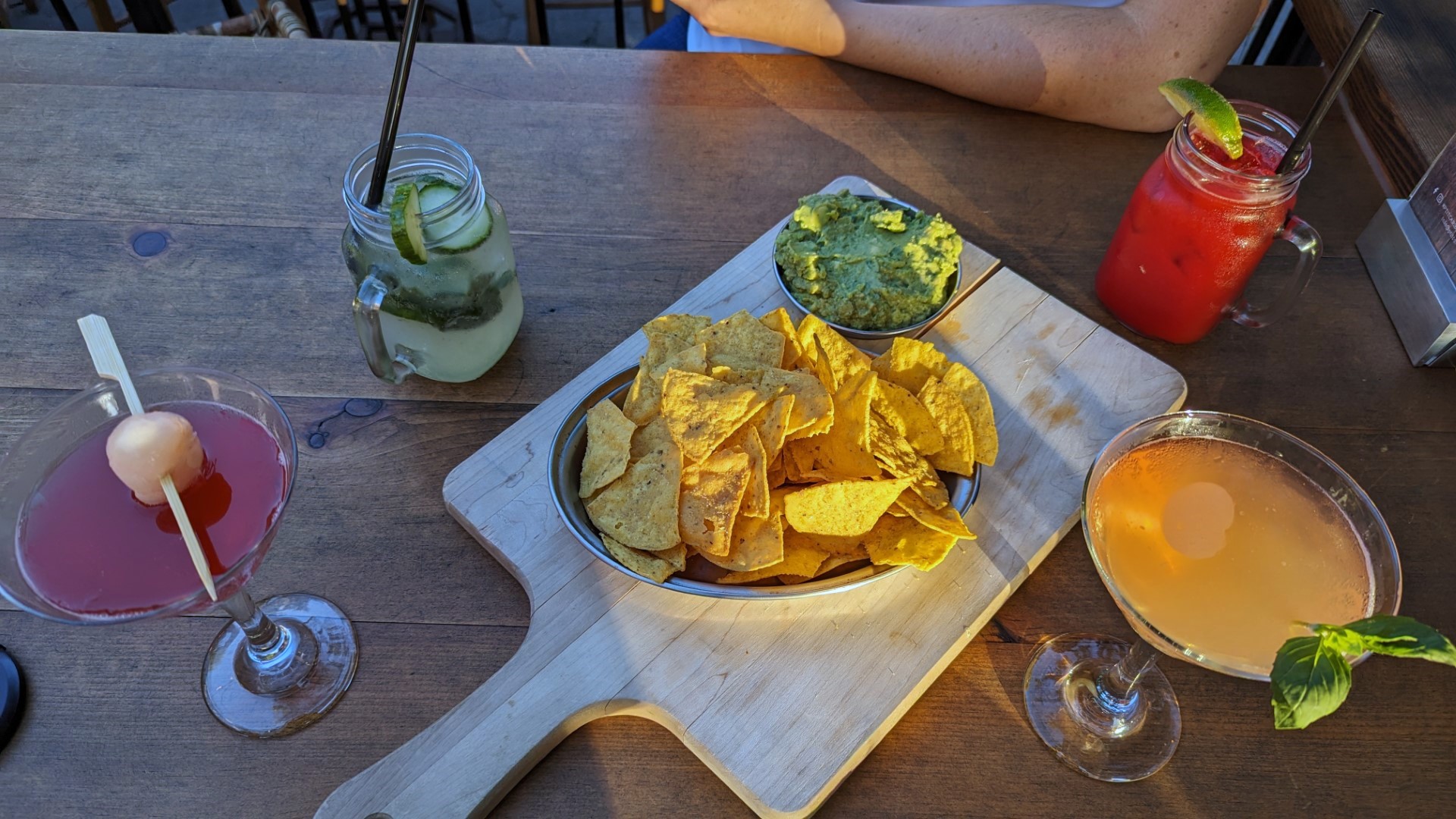 We only popped in here for a speedy early evening drink and a snack but I can see it being an energetic spot on the weekends.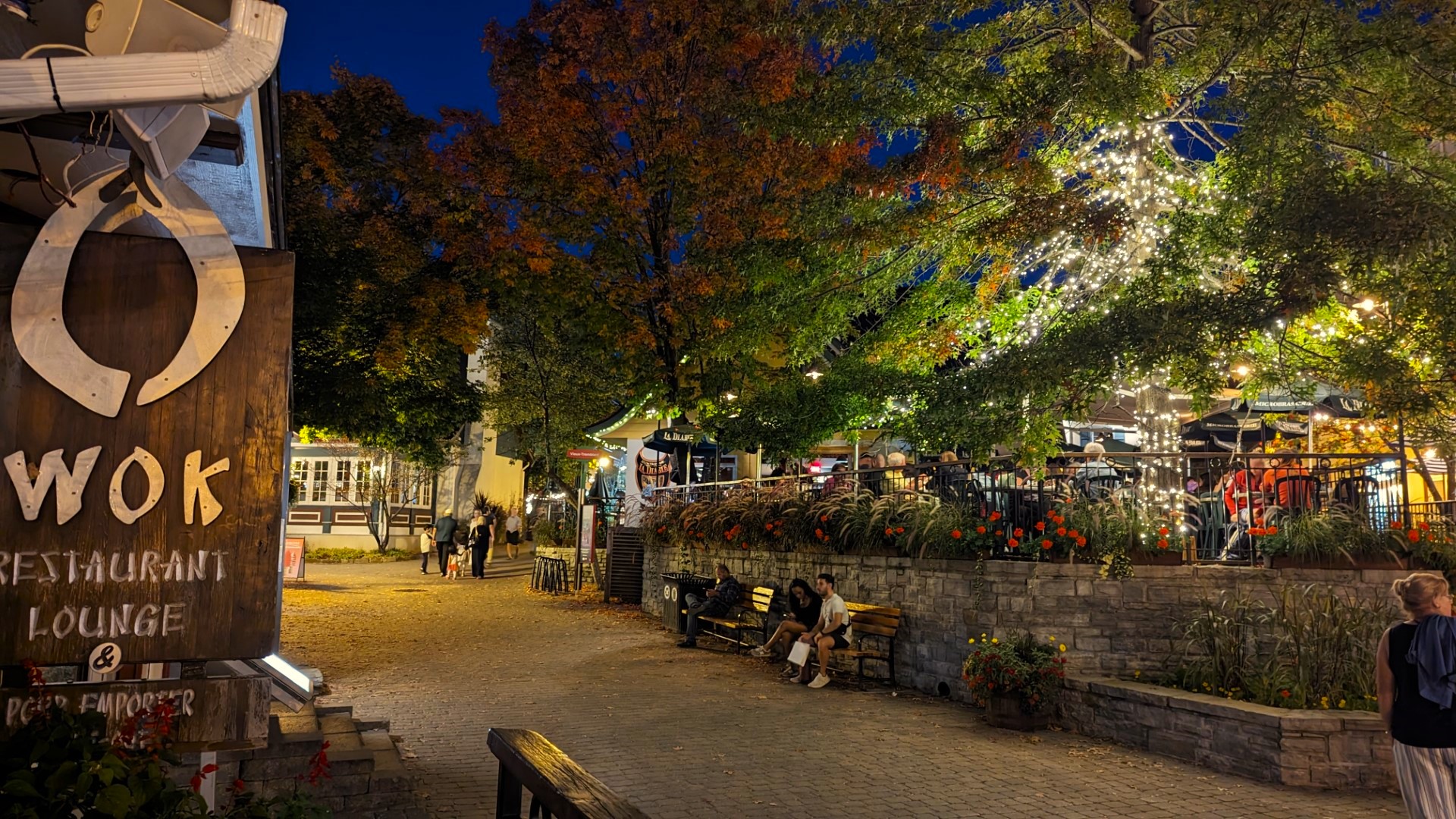 If your diet consists of Asian food on a regular basis and you crave it during your travels too, then O'Wok can definitely help you out. They have a patio and a cutely decorated indoor seating space – I loved the ratan like chandeliers.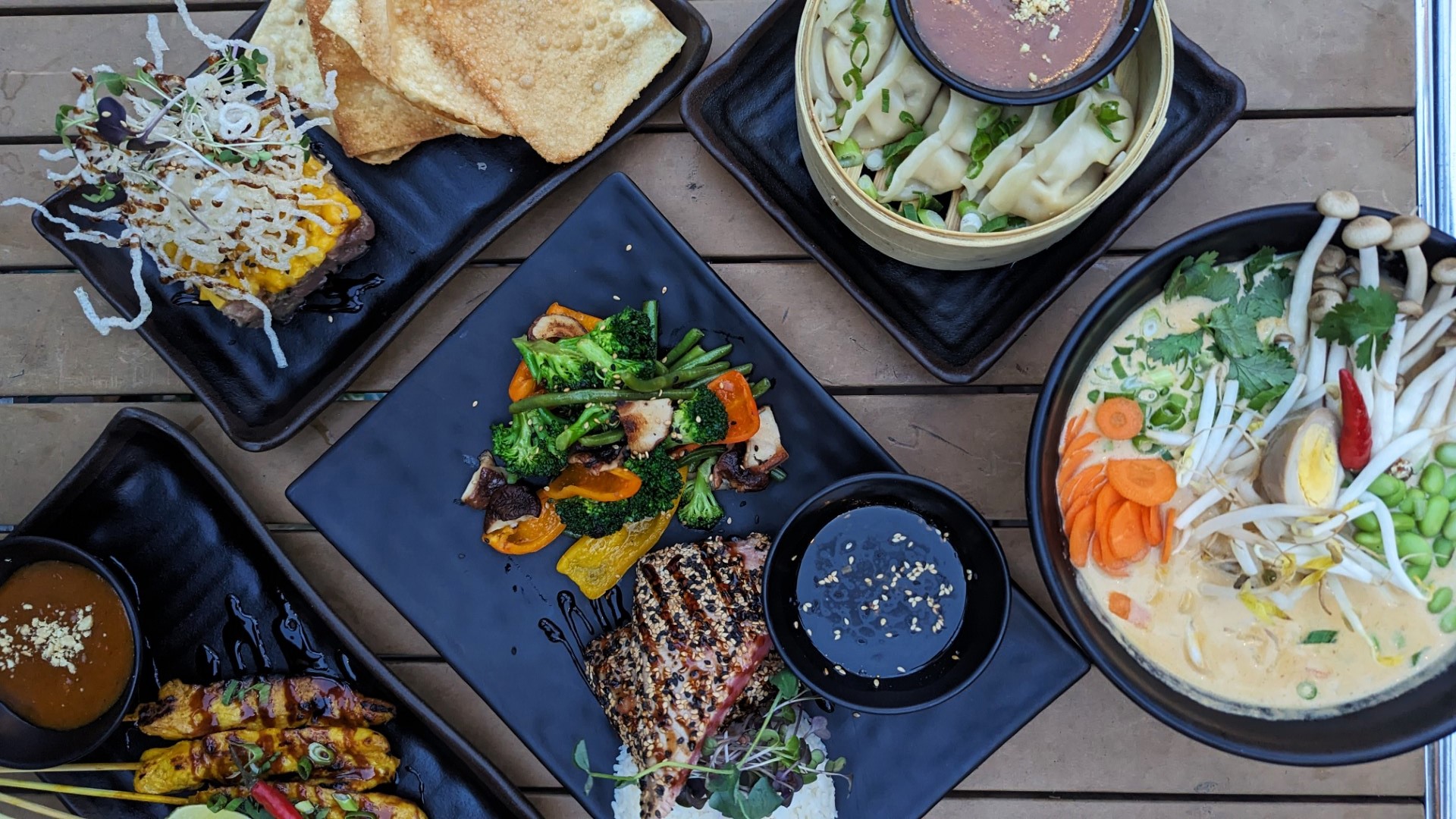 I will admit that I am very picky when it comes to East Asian cuisine and there were a few dishes that missed the full mark but I did appreciate having this as an option. The Tuna Steak was perfectly cooked – always a great sign.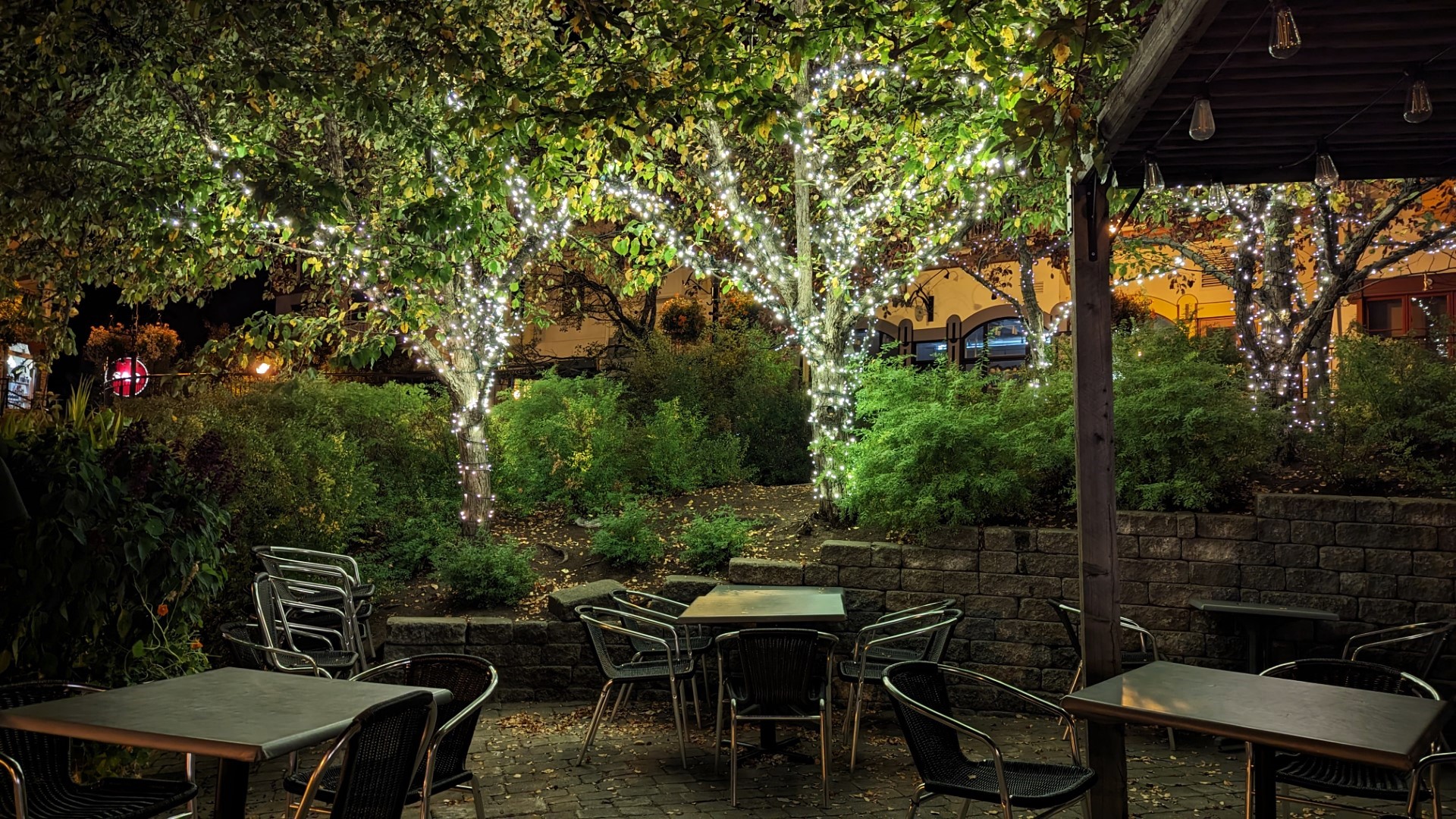 This Italian restaurant in Tremblant has a cute patio but also a variety of indoor spaces so that you can experience whatever you're in the mood for. From lounge-style seating to bar area catch ups and more formal dining areas, they offer it all here.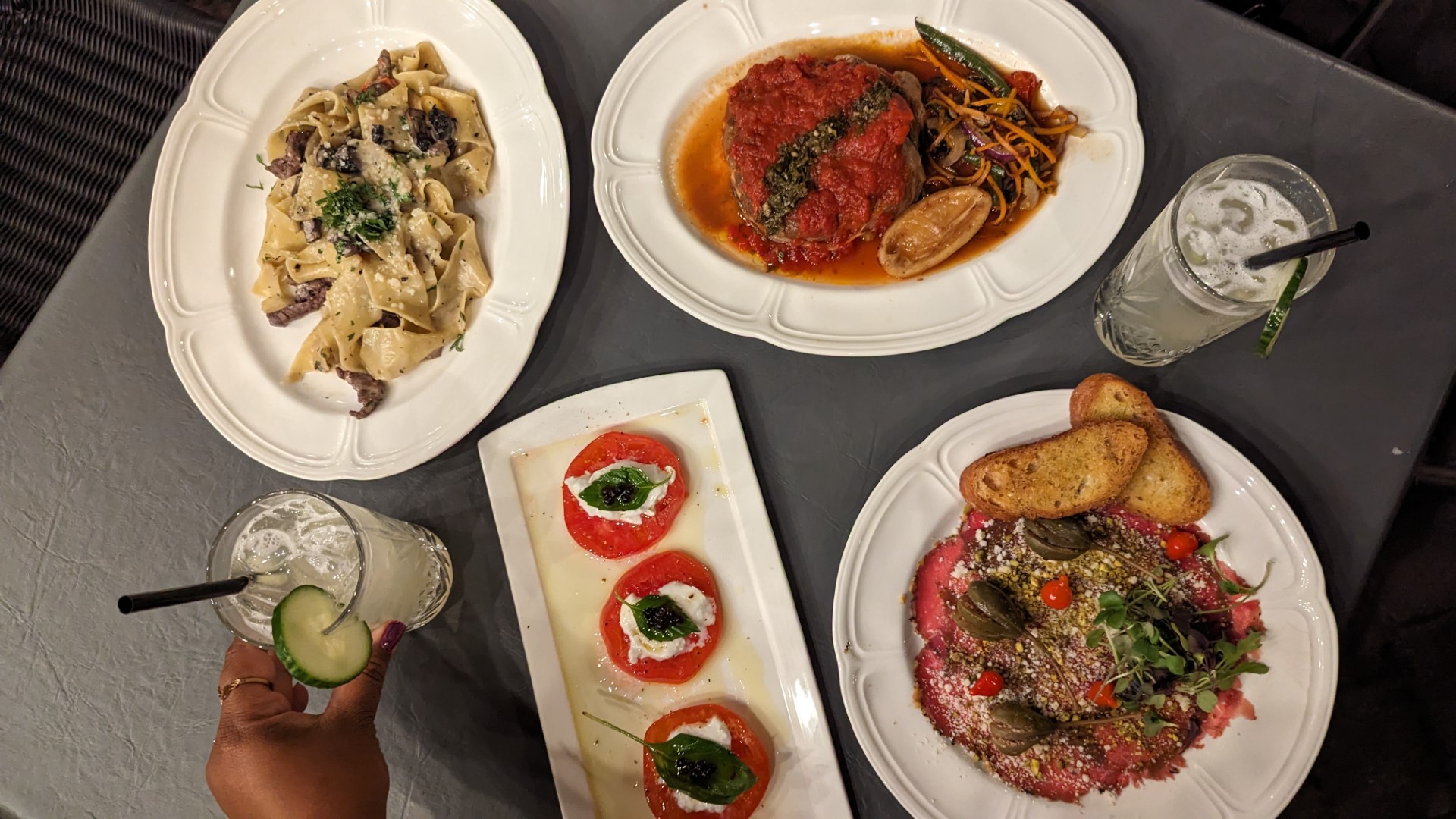 The pasta is made in-house and they take pride in each and every dish and sauce they serve up here. The open concept kitchen also means that you can chat with the chefs as you make your way upstairs to the colourful art-deco bathroom! The beef carpaccio was fantastic.
Where to Stay on a Girl's Getaway to Mont Tremblant – Tremblant Resort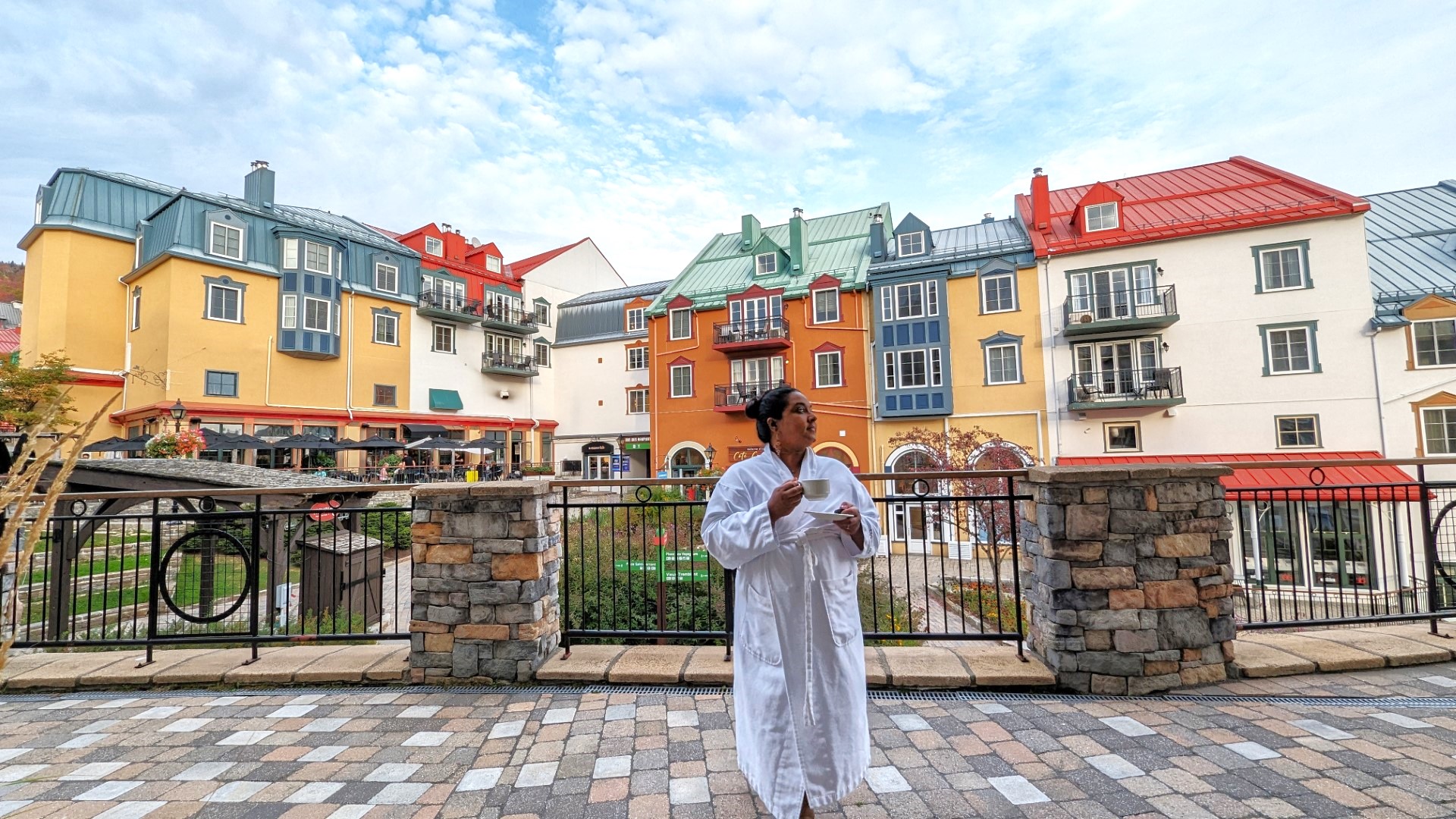 Tremblant caters to all ages, tastes and budgets so you will have a hard time narrowing down the best place to stay in Tremblant. The good thing is that they have some top notch hotels like the Fairmont and Westin as well as more budget friendly options like the Holiday Inn and various condos (some of which are also Air B&B style). You can decide whether you want to stay in a place with mountain views, within the pedestrian village or by the golf course.
On this girls getaway in Mont Tremblant, my friend and I stayed at the Westin. We each had our own suites which gave us kitchenette access along with separate bedrooms and living rooms. I didn't need this during our vacation in the Laurentians but there was a dishwasher and stove in addition to pots and pans, a microwave and a fridge.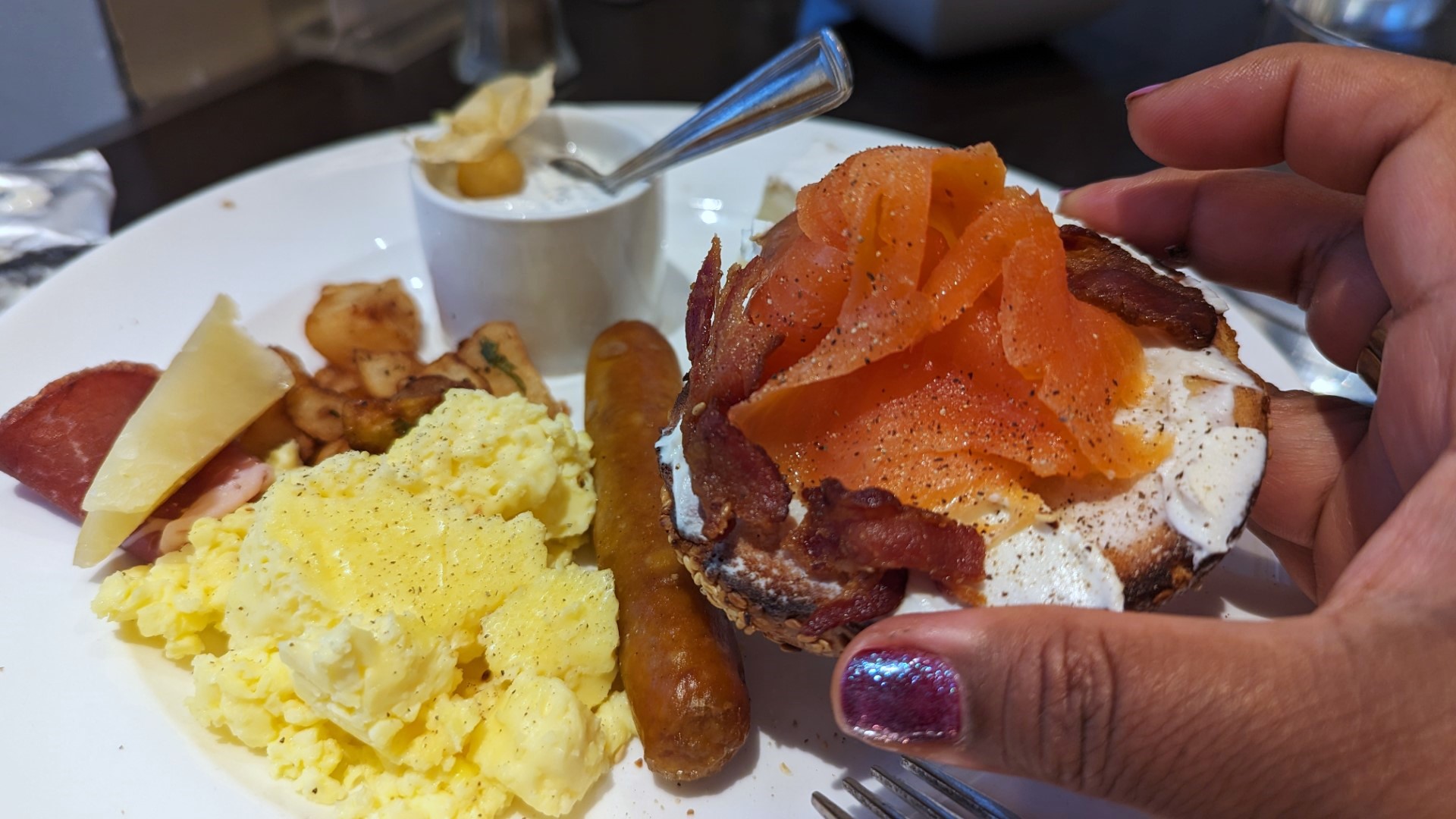 The Westin Tremblant has a pool and a hot tub which I made good use of during our fall girls' getaway in Mont Tremblant. They also have a 24 hour gym but that one I did not use! Next time I hope to visit the spa for a few services and if you want a leisurely start to your day, you can add on a buffet breakfast in the hotel too.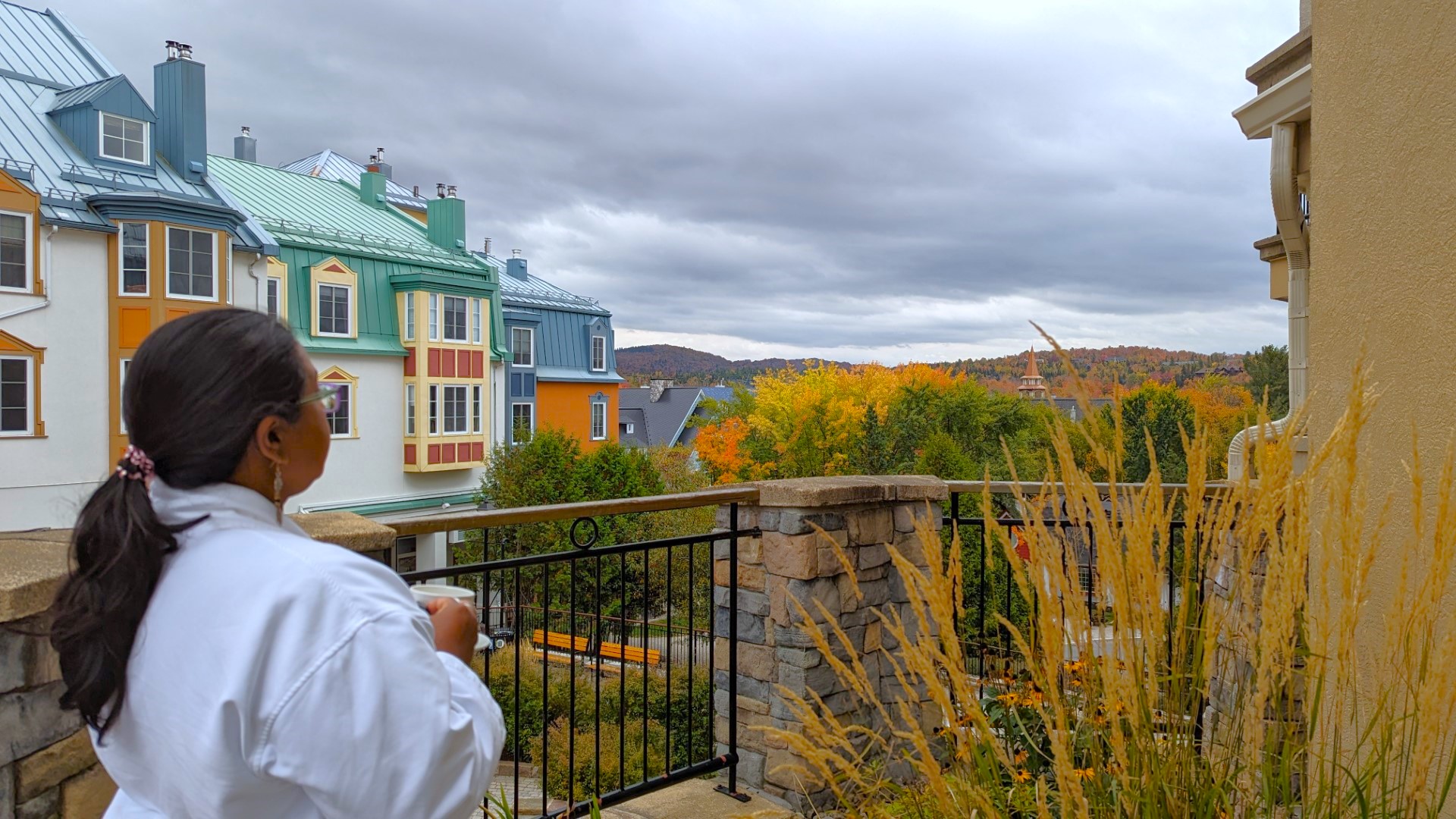 We also had a private balcony area (which was an open concept patio so we could chat with our neighbours over an aperitif). Nothing like fresh mountain air to enjoy your morning coffee in! I really enjoyed the balcony views from mine because I saw some of the hustle and bustle from the pedestrian village and scenic mountain views. Now, things are fairly quiet in the fall season in Tremblant so I had no noise issues (and I live in downtown Toronto where siren blare at all hours) but I can see noise being an issue for some, especially during the busier summer and winter seasons.
Tips for Visiting Mont Tremblant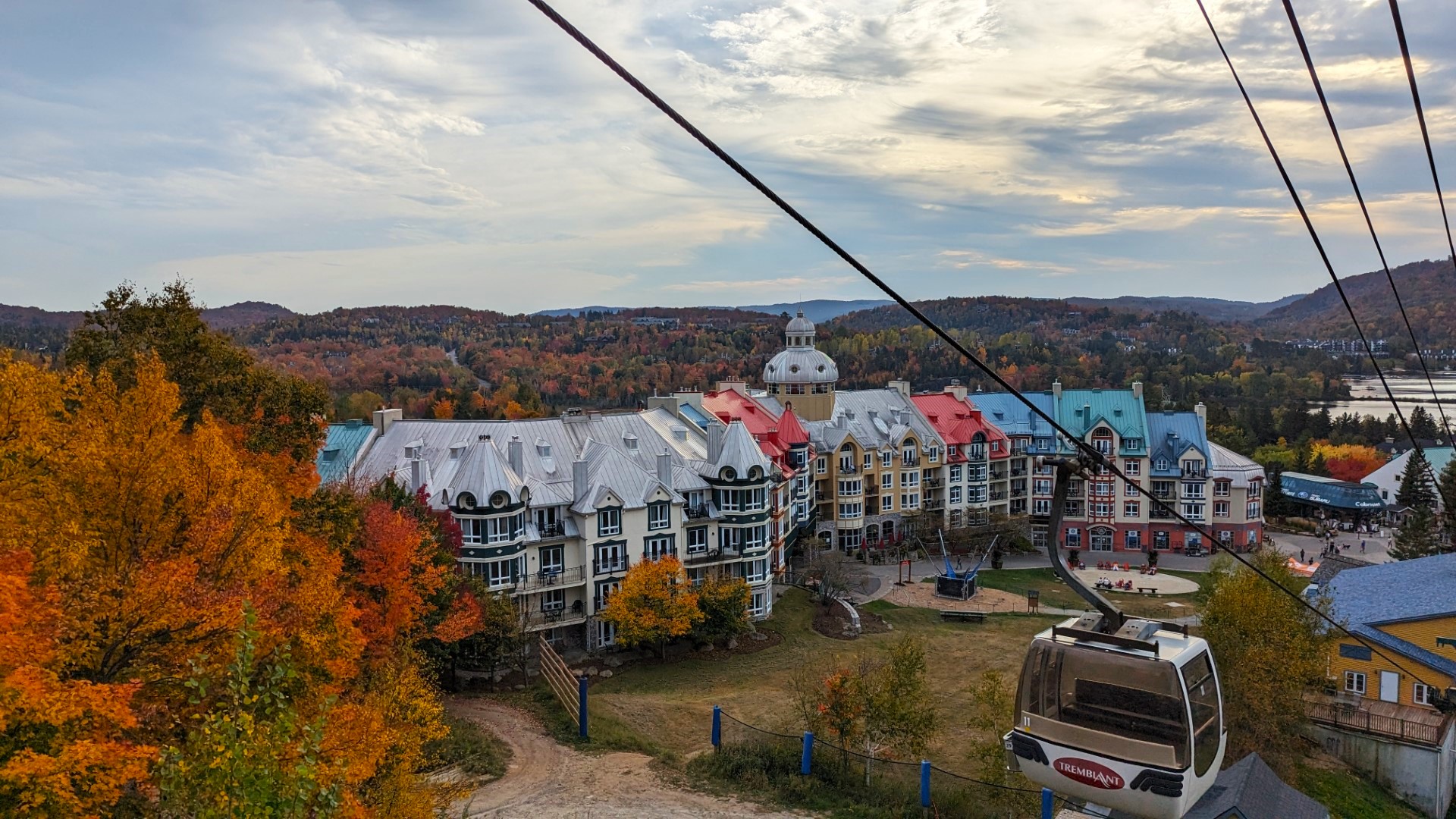 Obviously I picked up a few tips during our girls' getaway in Mont Tremblant. First up, yes, speaking a bit of French goes a long way. Everyone I encountered spoke at least a bit of English but I always try to start my conversation with the phrase " do you speak English?" in the local language no matter where I go. I did the same here and then went on to say that their English was WAY better than my French-it was in all honesty. We had no issues communicating with anyone during our visit.
Definitely wear comfy shoes because in true European fashion, there's a lot of cute cobblestoned streets in Tremblant. Save the heels for another trip!
If you forget anything, there is a convenient store in the Tremblant pedestrian village but remember that there's a whole big town nearby that you can explore too.
If you're travelling in an electric vehicle, know that the Westin and Fairmont both have charging stations but you do have to pay for parking and a day rate to access it. You can also head towards a Super C (grocery store) as they have some fast chargers there (yes Tesla ones too). Overall we did spot charging stations at various spots ( like Sentier des Cimes) but they may not always work with your vehicle. Keep that in mind.
Definitely come prepared for quick temperature changes. One day we went from 18C in the pedestrian village to 8C up in the mountain and all it took was a 10 minute gondola ride between these temperatures!
Also keep in mind that most activities and attractions are open between the hours of 10 a.m. and 5 p.m. so plan accordingly!
The beauty of Mont Tremblant is that you can visit all year-round. Whether it's the vibrant colors of fall, the winter wonderland or the lush greenery of summer, the Laurentians have something to offer throughout the year.
Weekend Tremblant Itinerary – 3 Day Itinerary for a Girls' Getaway in Mont Tremblant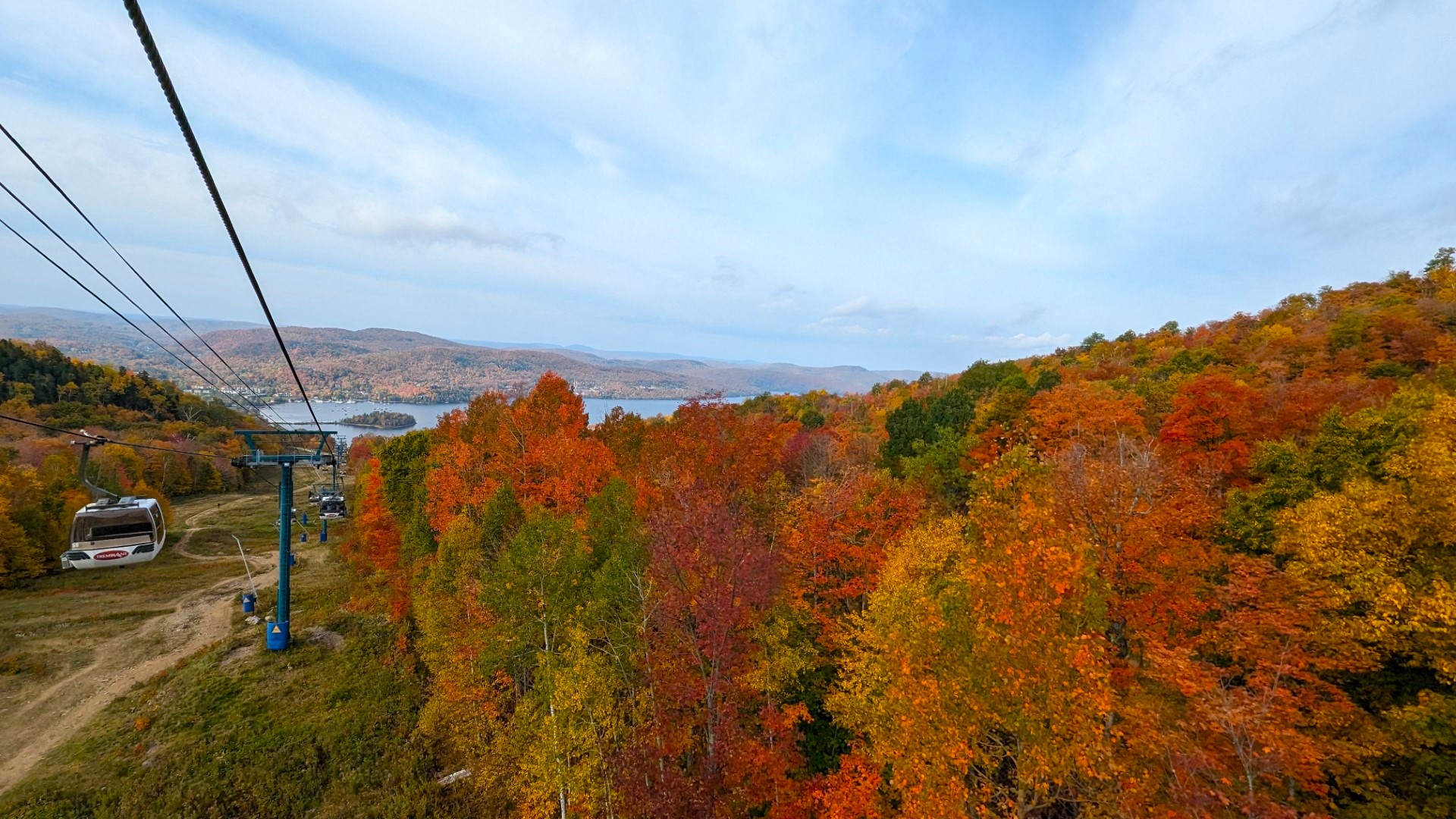 Day 1 : Arrive in Mont Tremblant and explore the Tremblant Village – take the Cabriolet in the afternoon and maybe a ceramic class later in the afternoon. Enjoy dinner in the Village.
Day 2 : Enjoy breakfast at one of the village restaurants, visit the Scandinave spa from morning into early afternoon (grab lunch there), take a boat cruise or a helicopter ride in the afternoon. Return to the Tremblant Village for dinner and a night out.
Day 3 : Enjoy breakfast and then visit Sentier des Cimes for a couple hours before returning to the Village to zipline or take the gondola to the top of the mountain for sunset.