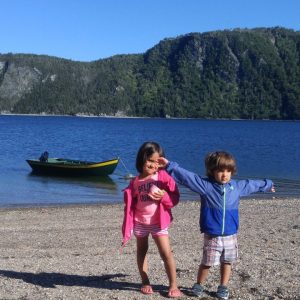 When we heard that a family wedding was taking place on the western side of Newfoundland the hub's dad insisted that we all head to Gros Morne as he had been waiting for an excuse to venture that way. As you know I'm always one to say yes to new adventures and so, despite thinking that there was not much to do except climb the big mountain, I agreed gleefully. I'm here to report back that I was oh so wrong and there was plenty to keep us entertained with young kids along. Our group consisted of eight adults and four kids under the age of 6 as we joined the hub's siblings and parents to explore Gros Morne as a family. The scenic backdrop once you enter Gros Morne is truly unique and I can see photographers experiencing Disney-like delight as they enter the space.
We drove in around sunset and so it was a beautiful drive into our hotel. Here's how we explored Gros Morne and what we got up to during our three days in town!
Where to Stay
Book well in advance no matter where you choose to stay in Gros Morne is the best advice I can give you! There's a couple options on site and you can find everything from fancy inns to cabins and campgrounds. Sugar Hill Inn was the only spot that had four rooms when we were booking back in March for an August visit and one of the few who actually replied to emails.
Sugar Hill Inn :  I'm thrilled we ended up here because the place offered a hearty breakfast and we enjoyed one of the best meals we had in the area at their restaurant (more on that below). We stayed in suite 8 and had two queen beds and a porch area from which to catch a sunset at. Each of the 11 rooms have a slightly different configuration but most were very spacious and I loved having a fridge that came stocked with a couple sodas! We weren't around for too long or else we would have enjoyed the laundry and hot tub facilities on site as well. Spring water from their own well was also a very nice touch! Everything we wanted to do was less than a 20 minute drive from the inn so this too was very convenient.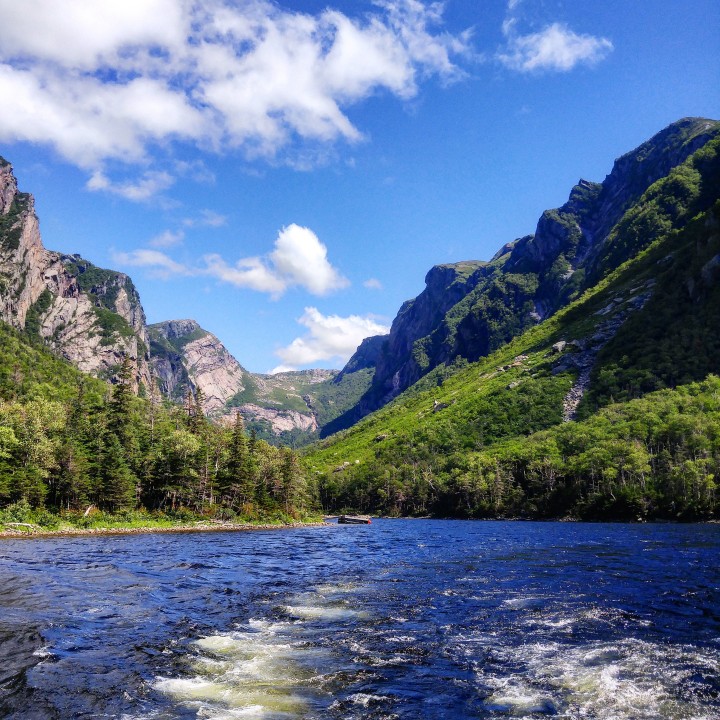 Where to Play 
There's plenty to do but ensure you pack for all types of weather if you're visiting during the summer months. We went from scorching hot and hanging out in our bathing suits to needing a sweater once the sun set. We also had no mosquitoes attack us here so I think we totally lucked out!
Gros Morne Mountain : Let's get this one out of the way. The hubs gave a detailed narration on what to expect and while I'm sure many active families would attempt this with a baby carrier, I was thrilled to sit it out and head to the beach instead. Though I do regret missing out on the stellar views from the top of the second highest mountain in Newfoundland!
Western Brook Pond Tours : Nearly everyone we know had told us we had to take this tour and they were right! What they didn't mention was that there was a 3 km trek from parking your car to the loading dock. We brought our cheapo stroller and while there were paved planks and paths we also hit a bunch of cobble stone patches which made for a bumpy ride. Book your tickets online as they do sell out quickly and get there early so you can enjoy a leisurely walk. We gave ourselves an hour and a half so the kids would pick flowers, throw pebbles and I could take in the scenery. At the top there is a snack shop (the chowder was a disappointment sadly) with indoor and outdoor seating if you do get there early. The boat tour itself was 2 hours long and while the kids did get antsy half way through, they were fairly well behaved. While not mandatory we did bring our own life jackets for the kids- you know, for safe keeping and all. Bring thick hoodies for the little ones because it's windy even on the warmest day. Only took us 45 mins to walk back as everyone was getting tired.
Rocky Harbour Pond : There's quite a few beaches in the area but I was told by the tourist centre that this spot may suit us best as we had our own picnic and just wanted the kids to play at. We were three adults and four kids so given that we were outnumbered I was thrilled to see that the shallow entry was VERY shallow. With the mountains as our backdrop I couldn't stop clicking here! No bathrooms in site so parents may have to let kids "go wild" here! Luckily Little Monkey loves acting like a dog so that worked out in our favour. If you want a family friendly beach area with all the amenities check out Shallow Bay Beach in Cow Head.
Norris Point Sunset : This spot was within a five minute walk to Sugar Hill Inn so we ventured over to catch an epic sunset and poke around some lobster traps. Lobster Cove Head Lighthouse was another spot that was recommended for sunsets but we didn't get there unfortunately.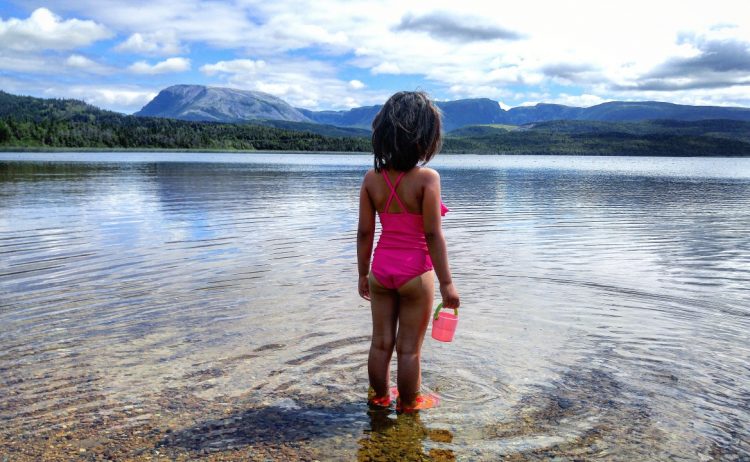 Where to Dine
The dining spots tend to be far and few in-between and yet when you find one, you'll find a bunch clustered right next to each other. So keep that in mind as you plan your meals. We went with the flow and relied on Trip Advisor to guide us towards our dining spots and between the Newfoundland fries and burgers, we found a couple hidden gems. Be sure to eat all the seafood you can find here!
Java Jacks  : This cute little yellow house has cozy quarters and a welcoming attitude. The coffee and gift shop downstairs offer grab and go items while a full sit down affair can be found upstairs. Our group had dinner here one night and totally lucked out with a next day reservation. Book early here as it has been featured on many "must eat at " lists including Lonely Planet and Fodor's! Also no getting bored here as the entire space is an art gallery.
Chanterelles : Located on the top floor of the Sugar Hill Inn, this was by far our group's favourite meal. Everything is made with fresh local ingredients and you can find a stellar wine list here. It's hard to get a reservation here and I did hear many guests complaining that they had to wait for a table despite making a reservation. My advice is book well in advance and try and get the first spot for the evening if you're going with kids! The chef made the kids special meals and while mine enjoyed the fresh pasta they also dug into my fish! Perks of staying at the inn is that we were able to get an early seating for our large group.
Fishermans Landing : We dined here one night and then returned the next day for fries (which was when Little Monkey got locked in the car!). The lobster dinners and cod tongues came highly recommended thought Little Monkey and Baby Boy was eyeing the pizza and ice cream on offer. It's a very casual spot that's perfect for whiny evening when you need to dine and dash.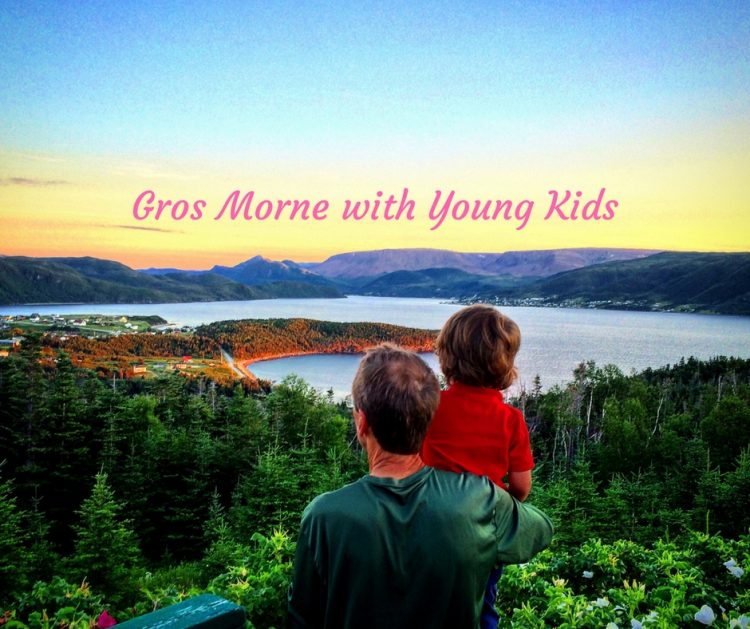 There's plenty to do in Gros Morne and while we could spend a week driving around, we only had three days and so we may have to return to do more. Most of all one must remember to embrace the maritime way of life, go slow, smile at everyone and chat up the locals. There's many tales to be discovered and scenic drives to be taken when visiting the western part of the island, that's for sure. Nearly everyone we met during our road trip loved seeing little ones running around and I know that Little Monkey and Baby Boy had a great time with their grandparents, aunts, uncles and cousins learning and exploring through Gros Morne. Parks Canada has more ideas on what to do in the area and next time I really need to explore the Tablelands when I visit the island!