I hope you have been enjoying this series of "How I met your…". Tomorrow is the final day of this celebratory week. I've shared stories about how my parents met and how my husband's parents met and today you get to hear my husband's narration  about  how we met and the tales that unfold. Tomorrow you will get to hear my version. If you enjoyed the Mehndi video yesterday, you're in for a treat tomorrow!
Chris' version of how we met. 
At first, Yashy was the exotic girl who sat near the back of our Management 5150 class during my semester at Schulich, where she and I arrived from different parts of the world to obtain our MBAs. I had left Halifax, Nova Scotia, during a strange and difficult time in my life. For the three years prior, I was making pittance working at Shakespeare by the Sea but loving every minute of it. Unfortunately, I had to mature and move past a minimum wage job no matter how much I loved producing the Bard' s words, which to me are the finest ever written. I was thinking ahead to Schulich when tragedy struck just one month before I was due to leave. Our Artistic Director, Patrick Christopher Carter, a man with as much depth of character as any in Shakespeare' s oeuvre passed away at the young age of 60. He was my favourite boss, and most painfully, he had become a great friend. My last days in Halifax were melancholy but my new life in Toronto awaited, and so did my future wife, and so I jumped in a smoking UHaul, miraculously made it to Toronto without breaking down and started school.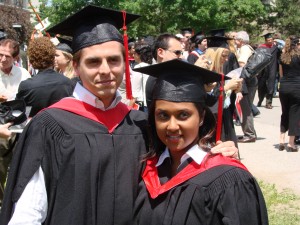 Despite noticing Yashy in that first term, I have never been one to eagerly approach women that I don' t know. I gradually met several new friends in Passy Gardens, an unremarkable living area on campus where I spent my days and nights fraternizing with all of the out-of-town students who were unfamiliar with Toronto and jumped at the chance to live on campus. I had two sisters living downtown and so I did spend the odd evening on the town with the two wild and crazy girls, but for the most part, I socialized on campus, which serendipitously helped me to meet a few students who knew Yashy. One happy night in February, a few of us hopped the subway downtown to attend a surprise dinner for our friend, Sree. We arrived at the Korean Grill House, a wonderfully dangerous eatery that provides raw meat to be then cooked on open grills in the middle of every table, and I soon noticed that Yashy was part of the celebration. We had a big group for the dinner, about 25 of us cooking up pounds and pounds of beef, chicken, pork, salmon, even squid, and so I still couldn' t manage an opportunity to introduce myself until a smaller group of us later made our way down to Grace O' Malley' s, a Nova Scotia bar located in the heart of the city' s entertainment district. Fortunately, I overheard her introduce herself in class as a Sri Lankan, and so, being a big fan of Sri Lankan/UK musician M.I.A., I had my icebreaker. I introduced myself, hoping that as a Sri Lankan she would be a fan of M.I.A., she was, and we talked about her for a bit before heading in our separate directions at the end of the evening. I was thrilled, but later learned that she was under whelmed! We later talked in class that week, even taking part in a four member negotiation exercise where I was first introduced to Yashy' s hard-nosed negotiation techniques, meaning she does not back down. That weekend, we met once again at an on campus party hosted by a mutual friend. Yash claims to have been disinterested at this point but she talked to me for most of the night, so deep down, I know she couldn' t resist my East Coast charm. We organized a group for an all-u-can-eat sushi luncheon the next day, and Yash taught me to text-message so that she could wake me up to ensure I made my way downtown, and we ate all we could eat.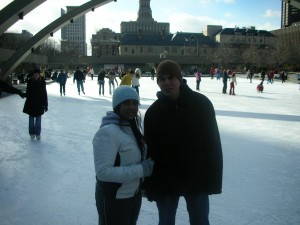 At this point I was enchanted but felt I had work to do. She seemed to like me but I wasn' t sure. We started chatting quite a bit on MSN messenger and when I found out that she liked ice skating, I asked her if she wanted to go skating on the weekend, which was also my birthday weekend. This was around Valentine' s Day and we ended up going skating on the 18th. She could barely stand up on skates and my efforts to teach her how to skate backwards were ineffective amidst the dozens of people frantically shifting in all directions on a small patch of ice in front of city hall, but we had fun and then headed back to Yashy' s place to warm up before going out to the Red Lobster for my birthday dinner with some friends. I met Yashy' s roommate Nisreen for the first time, a propitious meeting, as I am to this day convinced that Nisreen liked me enough to convince Yashy that I was a good guy, and so thank you Nisreen.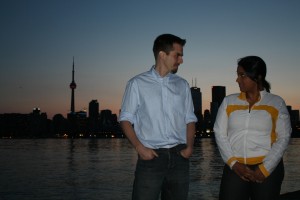 Eventually, Yashy began skipping out on the second half of her Monday night class and came over to my place on campus to watch The Apprentice. It remains one of the few shows we both enjoying watching, Mad Men and Entourage being the others, and I don' t even really like Entourage. I just tune in to see what Ari Gold is going to do next. These Monday TV watching sessions seemed to bring us closer together, and eventually we found ourselves dating, which was my goal all along. I was sure about Yashy almost from the moment I met her and my persistence must have impressed her, as eventually she became just as sure about me.