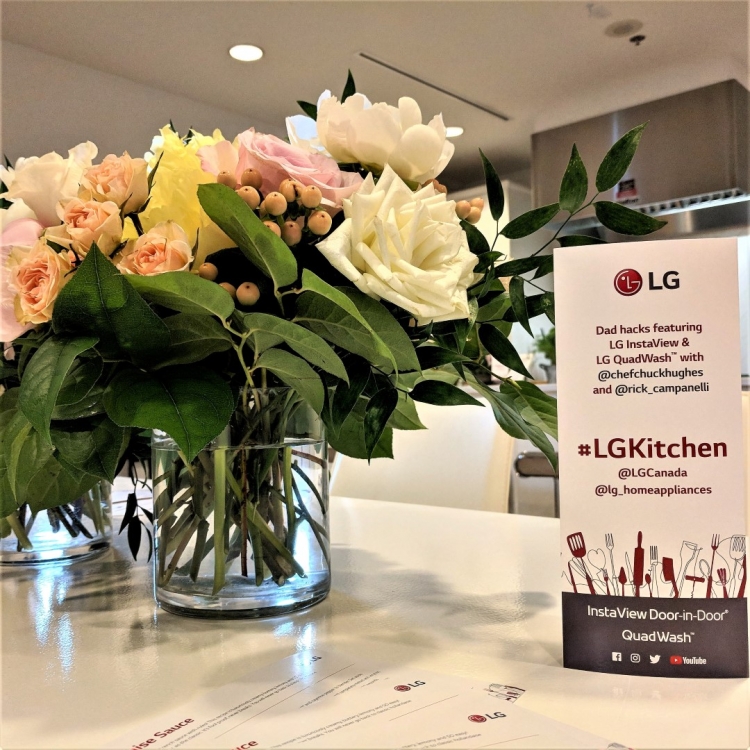 Chris and I recently attended an LG Kitchen event hosted by Rick Campanelli and Chef Chuck Hughes (Yup! Those guys on TV!) where we picked up a few tips and tricks for whipping up a quick kid friendly but delicious dinner. If you watch my Instastories you know that I'm all about the quick dinners, especially during the week nights when I'm most likely rushing to an event or trying to help Little Monkey with her homework. With the help of his LG kitchen, Chef Hughes was able to cook up a three-course meal within 45 minutes and in celebration of the last day of school last week, I got the kids in the kitchen to help me in replicating that meal. Baby Boy has been very difficult lately when it comes to eating REAL food and I've noticed that when he helps prepare the meal, he's more apt to eat it with minimal complaints so this was sure to be a win-win!
This post is in partnership with LG Electronics Canada Inc. but, as always, opinions are TOTALLY ours! 
The main reason I brought Chris along with me to the event was because I wanted him to play with my dream fridge. I first saw the LG InstaView Door-in-Door Refrigerator about two years ago and it was love at first sight. Chris has the hate-on for our current fridge and has been trying to convince me to buy a new one for the last year. The challenge has been that he couldn't understand why I needed him to wait a while and save up so we can buy the LG InstaView Door-in-Door. It's that or NOTHING for me. And you know how I am when I make up my mind! After playing with it at the event, Chris now sees why I'm so in love with it and why it's the best fridge for our condo. By far the most popular feature is how two knocks on the front panel lights up the transparent window without opening the door – talk about a party trick! I'm sure the kids will totally abuse this feature, but I love it. If you have the chance, you must play with this and see how you can easily access the frequent items (think juice, snacks) through the front opening without even opening the main doors. SO COOL! Literally because its ColdSaver Technology reduces cold air loss by up to 47% and not opening the main compartment so frequently means that your food keeps fresh for longer.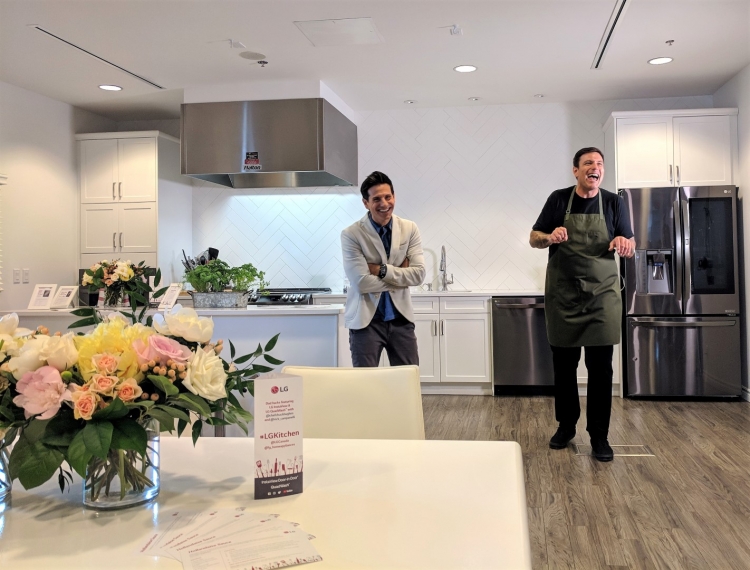 Okay enough about me drooling over the LG InstaView fridge, let me tell you about the easy to make dinner with kids!
Appetizer | Pan con Tomate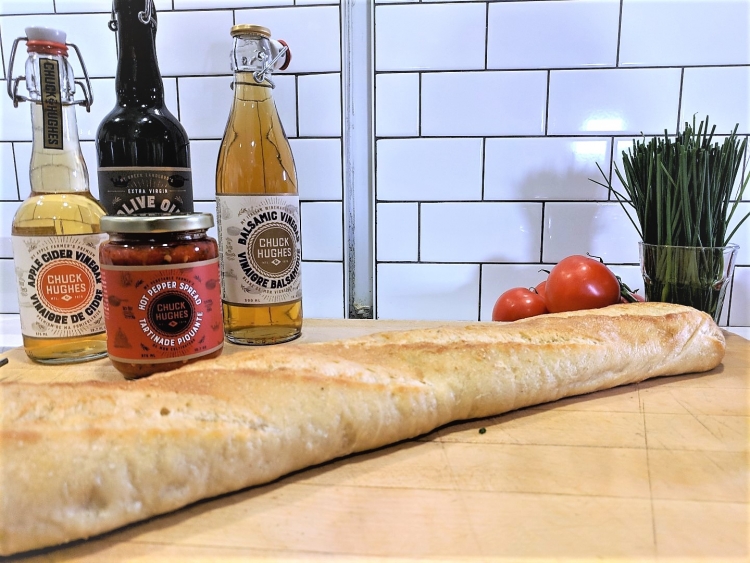 4 medium sized firm tomatoes
1 baguette
Extra virgin olive oil
1 glove of garlic
Salt
We enjoyed this Spanish Bruschetta during our travels through Spain last year and it brought back such sweet memories that even the kids enjoyed this one. Little Monkey helped grate the tomatoes and luckily for us, there were no mishaps either. All one has to do is slice the baguette in half and drizzle it with olive oil before toasting it in the oven. Then rub a clove of garlic on the toasted bread before layering on the grated tomato pulp and sprinkling some salt and drizzling more olive oil. Simple but oh so delicious!
Entree | Lake Erie Pickerel en Papillote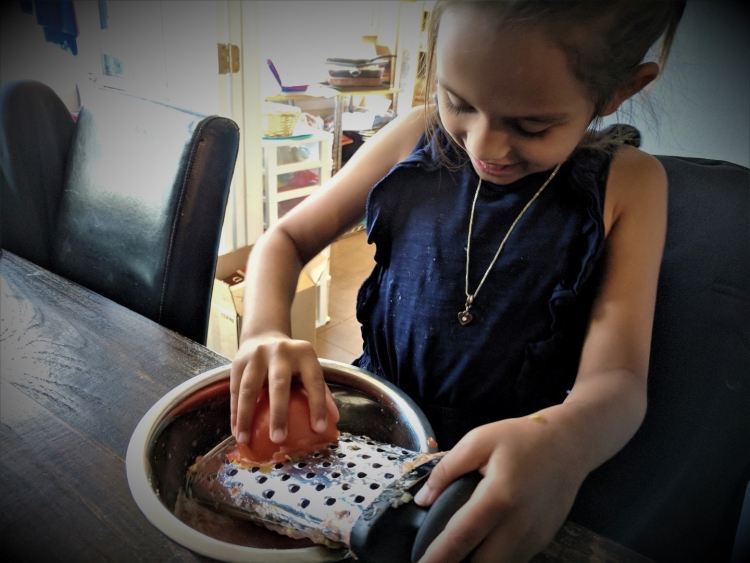 2 pounds (675g) Lake Erie Pickerel fillet
1 finely sliced onion
1 finely sliced zucchini
2 tablespoons of olive oil
Red pepper spread (Chef Hughes has a spicy one I REALLY like)
Fresh dill
Fresh lemon
2 tablespoons of butter
Sea salt and pepper
Pre-heat the oven to 400 F. Cover a baking tray with a piece of parchment paper and ensure there's extra room to fold over the fish (you're basically swaddling your fish!). Line up the vegetable slices on the paper, season with salt, pepper and dill before placing the fish fillets on top of the veggies. Drizzle some olive oil and layer on the red pepper spread, salt, pepper and squeeze of lemon. Fold up the parchment paper so that the fish is wrapped up securely and twist to seal the package. You want it to steam up as it cooks for 20 minutes in the oven. I made a separate one for the kids without the veggies or the pepper spread because mine prefer to eat raw veggies. I also didn't get the kids to help me with this one as one was busy grating the tomatoes and the other was making dessert!
Dessert | Strawberry Fluff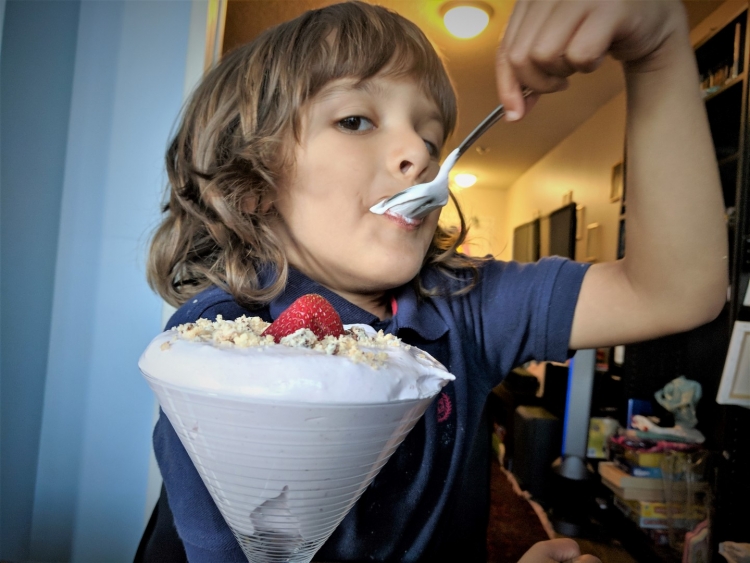 2 egg whites
1 cup of sugar
2 cups of hulled and crushed strawberries
Crumbled sugar cookies
5 strawberries for garnish
I was impressed how quickly this turned into deliciousness! Place the egg whites, sugar and hulled (and mashed/crushed) strawberries in a bowl and blend (or toss it into your stand mixer). Baby Boy was happy to use our hand held mixer for 5 minutes and was amazed at how quickly things turned pink and fluffy. Layer on the  fluff into a glass, crumble the sugar cookies and fresh berries. Add another layer of fluff and repeat as often as you'd like!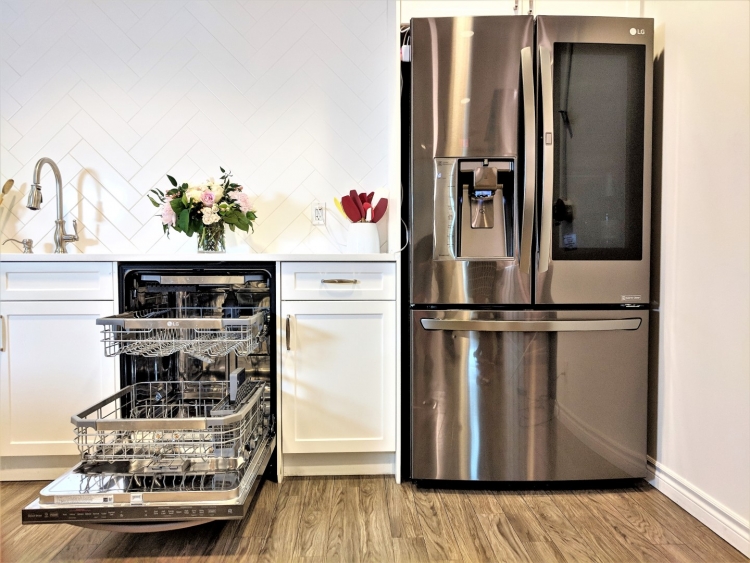 Unlike Chef Hughes we did not have the luxury of throwing our dishes into the LG QuadWash and TrueSteam Dishwasher. It releases steam at a very high temperature to effectively sanitize dishes (great for disinfecting those milk bottles and sippy cups) but my favourite feature was how QUIET the dishwasher is. Chris is the one who loads our dishwasher, so he was a fan of the folding tines which lets you fit dishes wherever you want. The height of the racks are also easy to adjust on-the-fly for more space and if you, like I, don't clean your dishes properly, the high-temperature steam removes baked-on food from your dishes, sanitizes and reduces excess water spots.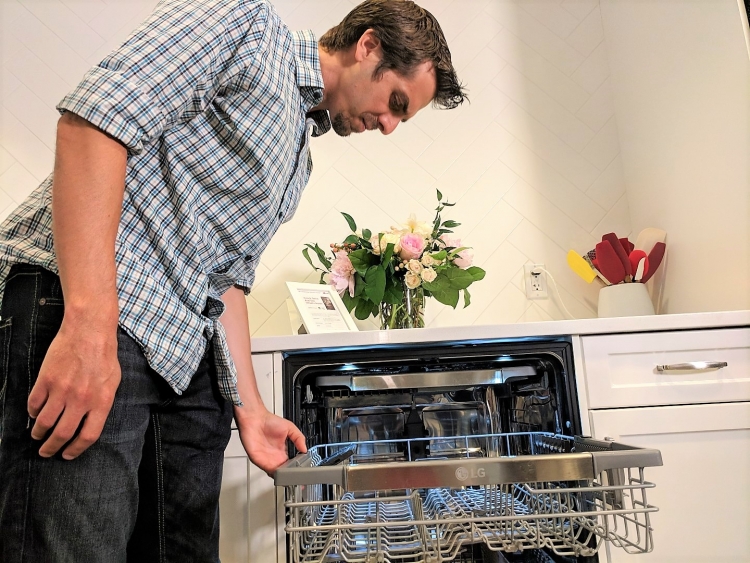 Our dishes went into our loud dishwasher instead! Dinner was a success and the kids are definitely excited for the summer holidays. We have camp and vacations lined up in the hopes that they don't bug Chris and I. Wishful thinking on our end for sure! Check out the video below to learn more about the event we attended and the appliances!