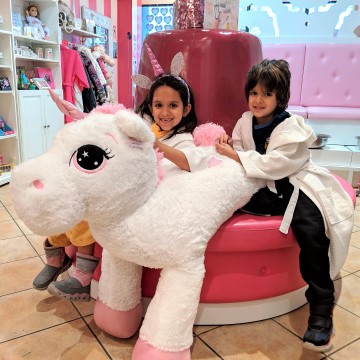 I've known about Glama Gal Kids Spa for quite a few years and even used some of their non-toxic nail polish at Baby Boy's 2nd and Little Monkey's 4th birthday party. However, I had never taken my kids into one of their spas because there weren't any in the downtown Toronto core and when we do have access to a car, we already have a million and one things on our to-do list. Glama Gal Franchise Owners, The GG Sisters, are friends of mine and year after year they extended invites our way however, it was only this past weekend that we were able to experience a visit ourselves. We had access to my parents' car and knew that there was a Glama Gal location in Vaughan, which was nearby our friend's home where we were having dinner. Our visit to the spa with an impressionable boy and girl was quite the experience and gave Chris and I quite a few parenting opportunities and moments! Read on to hear our thoughts on this kids spa in Toronto and to see if it should be on your list of things to do when you visit Toronto with kids!
Disclosure : We received a gift card from our friends but, as always, opinions are TOTALLY ours!
What Can You Expect at Glama Gal Kids Spa?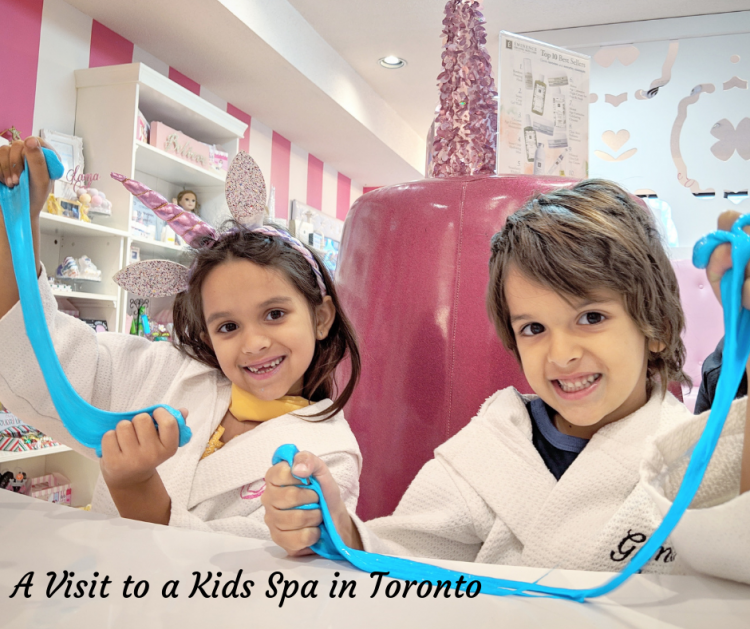 There are quite a few Glama Gal locations in the GTA and the Vaughan location we visited was very fun and cutely designed. Yes there's a lot of pink decors (one of my favourite colours) but there were white and black accents as well. From the moment Little Monkey stepped in, she had a smile on her face. Her smile was so wide that even before she experienced anything, I knew she was going to put a Glama Gal Spa visit on her birthday and Christmas wish list (and I was right!).
Spa visits are by appointment only and when we made our booking, I was warned that there was a birthday party taking place during my preferred time slot however I didn't mind and didn't change our timing as I knew we were heading to visit a friend and that timing worked best for us. Glama Gal Kids Spa has quite a few offerings that range from fun seasonal ones (we did the Candy Cane You-nicorn Spa Package) to more traditional "Mommy/Daddy & Me" ones but we also spotted a fun Mermaid and Slime themed one!
Once we entered, their jackets were hung and the kids were invited to enjoy a Candy Drink which was a pink lemonade with Cotton Candy. Baby Boy was very hesitant and he hung back near the entrance with Chris but when he heard that we were eating Cotton Candy, he made his way over! By the time he joined, Little Monkey had already requested for more Cotton Candy!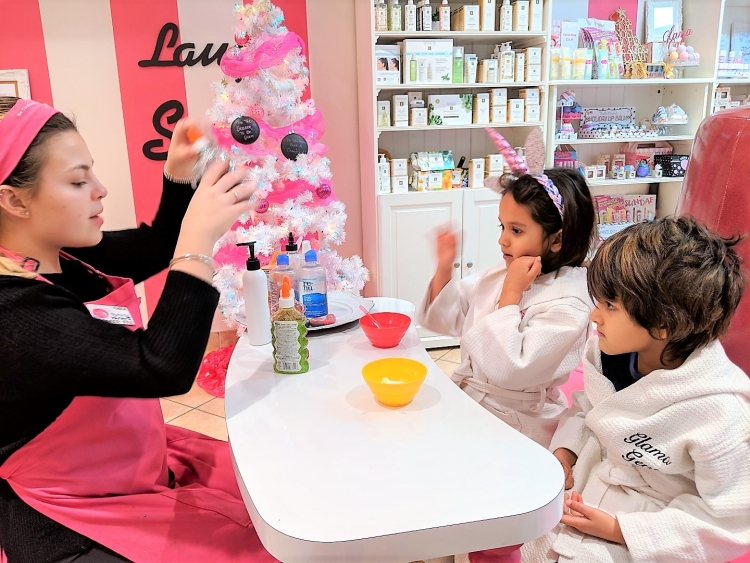 Next up they each received a robe (yes, they have a Glama Gent one for boys) and were invited to make slime. The Glama Gal leader assigned to our kids was very fun and engaging. She had our shy kids chatting and smiling and even Baby Boy warmed up to her by the end of the experience and wouldn't stop chatting. Together they made slime, Little Monkey had her nails painted (took her ages to figure out which colours and sparkles she wanted), her face glittered and her hair sparkled before Baby Boy and she received sparkly tattoos to end it all.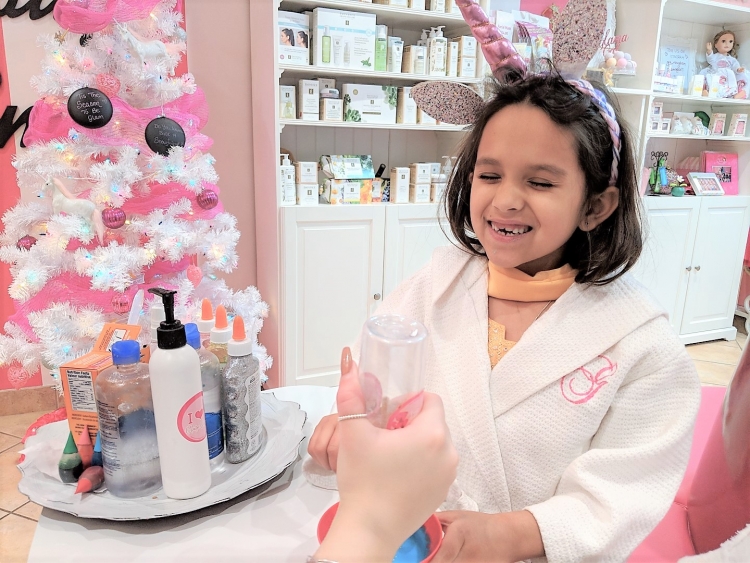 Little Monkey LOVES doing her own nails at home, so this was such a treat. She has watched me at the nail salon but this was the first time she was able to experience it herself. The reason I knew Glama Gal was the right choice for her first experience was not only because they focused on kids, but because they know exactly which ingredients are in their products. We were confident that they were using non-toxic products.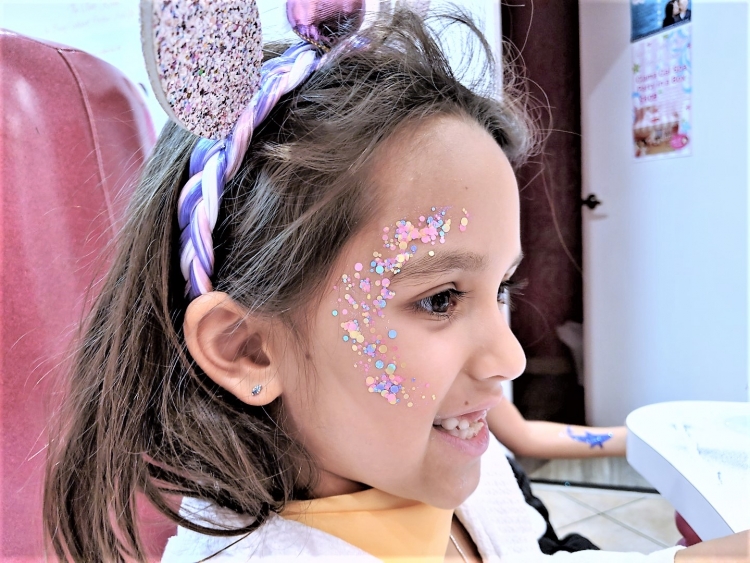 A spa day is totally indulgent and all about the self-care but Glama Gal also pays attention to what's important and their motto is "Be Confident! Be Positive! Be YOU! " They recognize that kids experience societal pressures from peers, television, and social media and so they cultivate an accepting culture whereby kids are empowered and celebrated for who they are. I spotted Little Monkey reading some of the positive messages and "Rules" that were shared throughout the beautiful space and found the messaging to be strong yet engaging.
What Did Baby Boy Think of  the Glama Gal Spa Experience?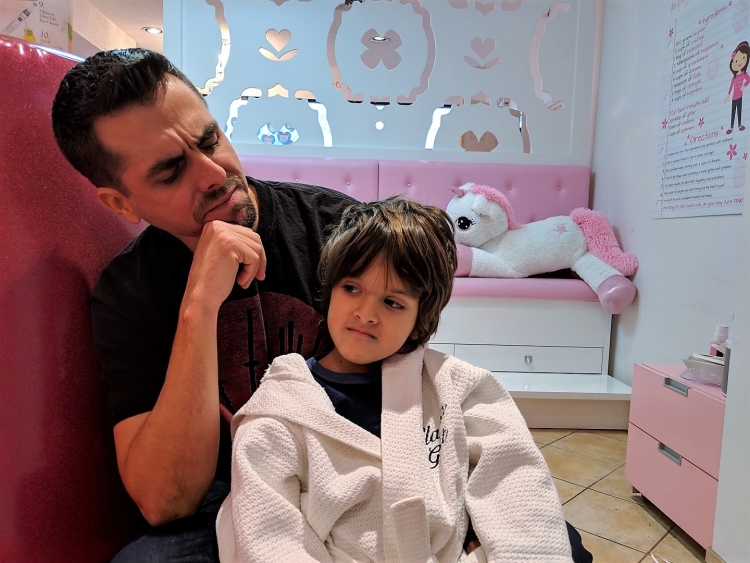 Prior to booking our visit, I had chatted with Baby Boy about him joining us. He is at a stage where he'll on occasion ask to paint his nails but will then immediately wash it off saying "boys don't wear polish". He used to love getting his nails done but in the last year we've seen a lot of gender comments coming from him and Little Monkey. Little Monkey went  through a stage where she refused to wear shorts because "boys says we shouldn't show our legs" but after chatting with her and telling her that if she feels comfortable in her clothing, it doesn't matter what others think, she has grown into that thinking herself (mind you she's only 7 and I am quite a conservative dresser myself). Now it's his turn and they both tell us that boys in their school don't like the colour pink or nail polish. I've swiftly told them to focus on themselves and to reply "it's okay if you don't like it, but I do and that's why I'm wearing it". 5 year old Baby Boy isn't fully convinced yet and that's why I was glad that Chris was joining us for this experience. As parents we were mere observers but Baby Boy was very cautious and wanted us nearby for every move.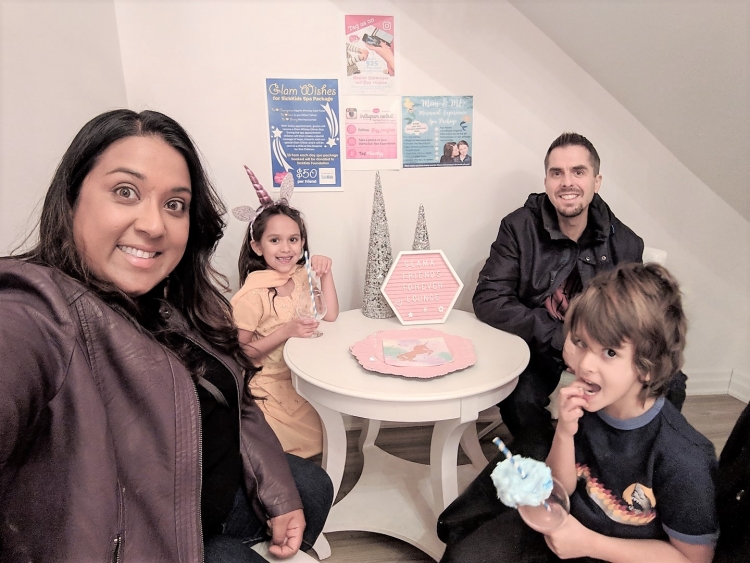 He said he didn't want glitter in his slime and that was easy enough. He said he didn't want his nails, hair or face done and again that was all okay by me. When Little Monkey was getting her pink unicorn tattoo, I encouraged him to get one because he loves tattoos. Just as he agreed, our Glama Gal leader came by with a blue glitter shark tattoo and his face lit up! The tattoo was supposed to last up to 10 days but we went or a swim on day two and that was that – so neither of them were able to show it off to their school friends.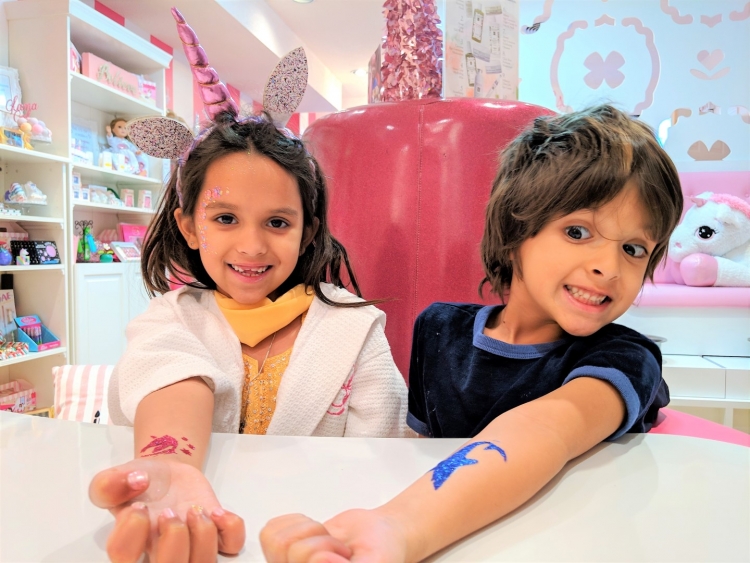 Exposing Baby Boy to situations like this enable us to have open discussions about him immersing himself in new experiences and doing things that may not SEEM like they're for boys. It enables us to teach him about gender equality and that most experiences are gender neutral. He's a boy and she's a girl, there's science in that but what they enjoy doing and gravitate towards should be based on the joy the activity brings them and not the perceived gender approval. These are on-going conversations but  they don't necessarily crop up when we're doing every-day themed activities, which is why Chris and I are constantly looking to expose our family to new adventures. I left Glama Gals thinking Baby Boy wouldn't want to return but he has already announced that next time he plans on getting glitter on his hair and that he'd like to go back!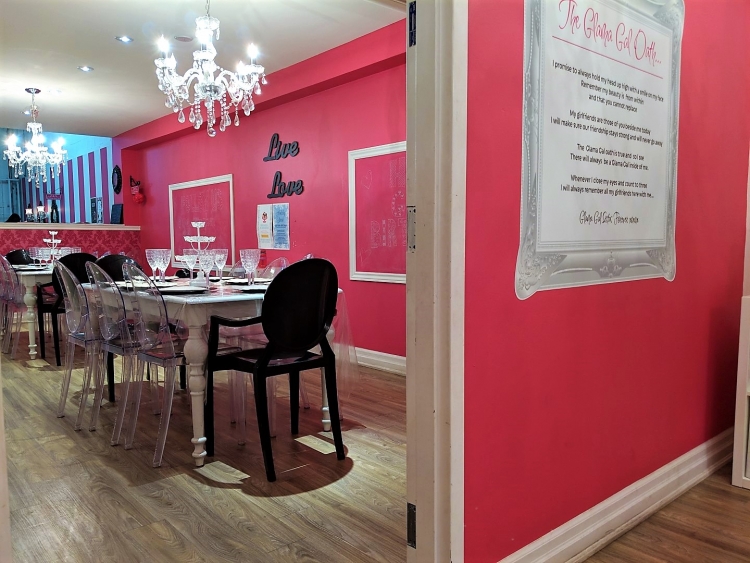 Overall, Glama Gal Kids Spa is fun experience and one that we can see ourselves indulging in for special occasions. Spas and beauty treatments were one area I chose to sacrifice when we became parents because I wanted to allocate those funds towards our family travels and so my kids see me approach spa days like treats. Their Glama Gal experience has made them understand the joy that can come from self-care and occasional indulgences, which is why Little Monkey has added it to her gift list!