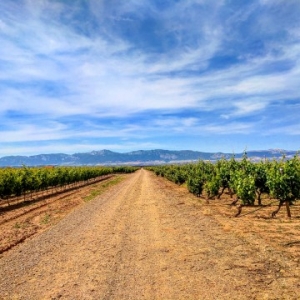 If you have spent a few nights out with me, you will know that I'm a fan of Spanish wine, and so exploring La Rioja was near the top of my list of things to do in Spain. Visiting wine regions with kids seems to be something we've done a lot, especially since we frequent one of Canada's biggest wine regions. If you're thinking of exploring La Rioja with kids, we're here to tell you that it's a lot of fun! And if you haven't heard about Spain's northern La Rioja region, you're missing out. It's a charming area that's off the beaten path, yet close enough to Pamplona and Bilboa to include on your itinerary when travelling to one of those cities. While we only spent two nights in the region, it truly won me over for its culinary scene. I'm going to get this out of the way right now, La Rioja has the best food in Spain!
We found an amazing GuestToGuest home exchange in La Rioja that was a great base for exploring wine country as well as the busy food alleys of Logroño. For those visiting La Rioja with kids and looking for non wine and food related things to do, you're in luck because there's plenty on offer. From historical sites to dinosaurs and caves, there are enough activities to keep the kids busy.
Those seeking outdoor fun will find it at Sierra de Cebollera Nature Reserve and the Sotos del Ebro Reserve, where you can find many trails for active families  Near our home, we noticed hikers and serious walkers armed with walking sticks and backpacks heading towards the mountains. We assumed they were following the famous medieval pilgrimage, Camino de Santiago, which passes through La Rioja. For us, we focused on the wine and food, but here are some additional details on the other kid friendly activities in La Rioja.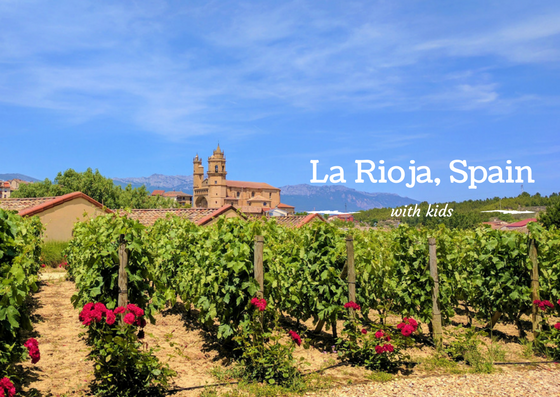 La Rioja's Wine Region With Kids
It can be hard narrowing down which of the more than 500 wineries to visit in La Rioja. Many welcome kids with smiles and even offer them grape juice while the adults are tasting wine. If you plan to do a full tour, I'd recommend limiting it to one winery as they can be long and boring for kids. In addition, you also need to pre-book most tours as not all wineries are open to the public. We decided to visit three wineries and each was unique.  You definitely need a car if you plan to explore La Rioja and the scenery caught me by surprise.  I didn't realize that the La Rioja region would be so picturesque.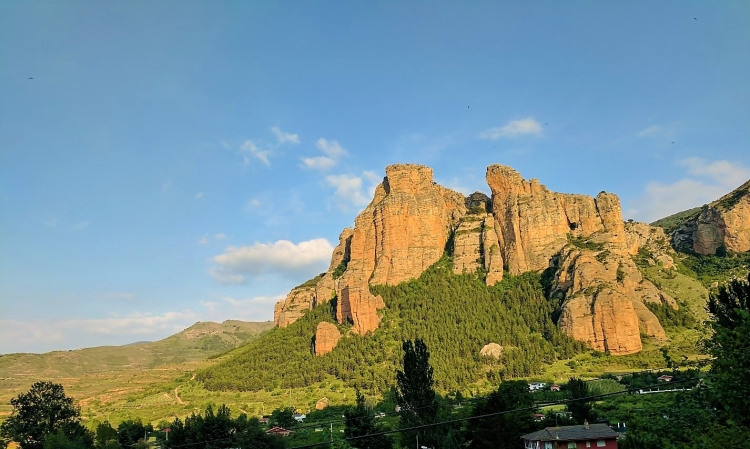 Campo Viejo
Full disclosure, I have worked for this brand during my years in the corporate world and so an ex-colleague helped us secure a tour during our visit. I have heard that the tours are quite popular and can get booked up so reserve ahead of time if you plan to visit Campo Viejo. You can't just swing by the winery for a quick peek. Every visit needs to be scheduled and yes, kids can join in on the tour. Campo Viejo is the largest winery in Spain and one of the largest producers of premium wine in all of Europe. Our 4 p.m. tour took two hours.
The first hour focused on the various sections of the winery and the wine making process. We learned about the region's climate and the history of Campo Viejo. The tour included a visit to the impressive barrel room, where over 7,000 barrels of wine sit aging, as well as the bottle room that holds more than 6,000,000 bottles of wine. The second hour was all about the tasting. We got to sample some wines that I hadn't even heard of. With over 15 million bottles of wine produced annually, Campo Viejo has quite the portfolio of wines on offer.
I totally loved that the tasting came with a chorizo platter and that the kids were given grape juice. They were getting antsy by the end of the first hour (though they seemed to be fascinated by the production process and enormous steel vats), so the snack break was much appreciated. Sure Campo Viejo is a large winery and you may assume that it's all very commercial but we were surprised by how intimate the winery is and how the winemakers operate as if they are a small wine producer. The attention to detail and how they leverage the region's unique climate is absolutely fascinating.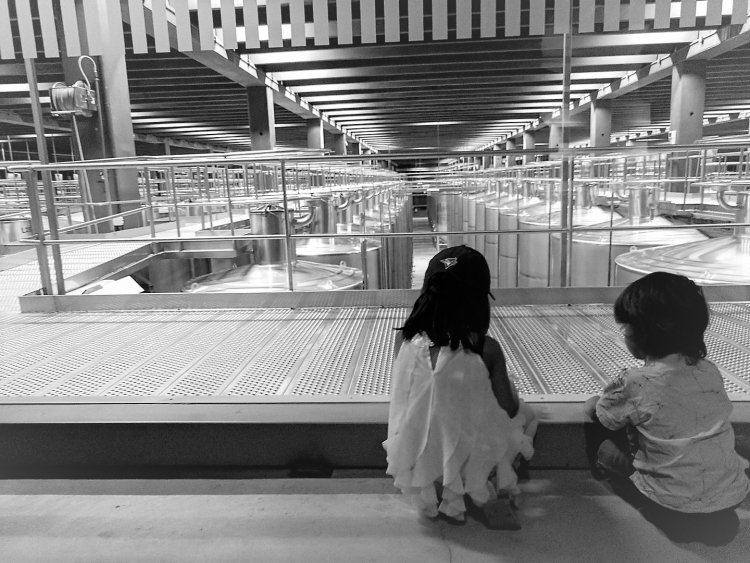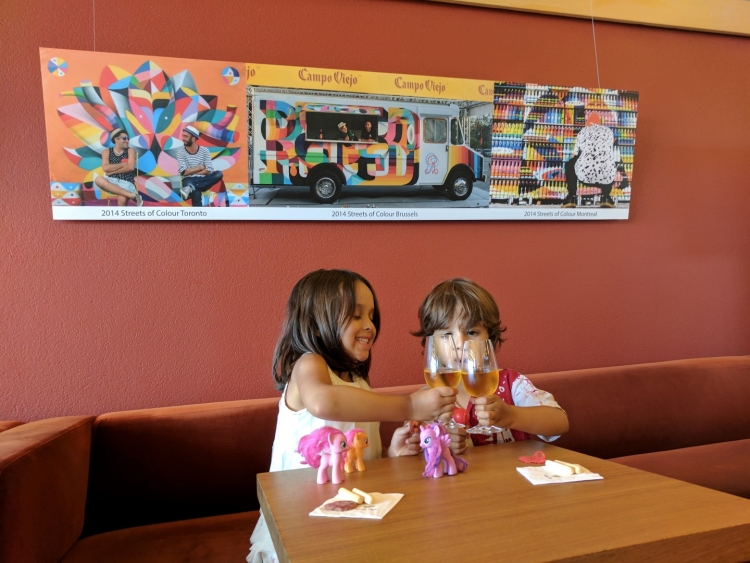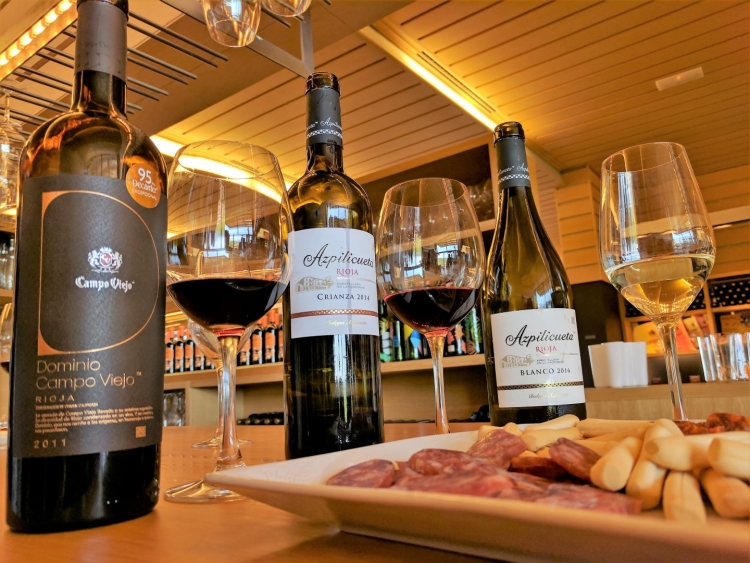 Marqués de Riscal
I came across the Marqués des Riscal hotel on Twitter a couple years ago and luckily remembered it on our drive into La Rioja. A quick Google search told us that we could easily visit the winery and see the stunning hotel designed by Frank Gehry. However, on arrival, things didn't seem as easy. A security guard showed us towards a busy parking lot and ushered us towards the visitors centre, which was also home to a tasting bar and a cafe. We could see the hotel in the background but couldn't figure out how to access it and ended up going in circles.
We finally decided to ask the staff for some help as we wanted to enjoy the views from the hotel's patio. That was the trick! They quickly called the hotel and escorted us through (permission is needed to enter the hotel). We could have spent two hours just taking pictures of the hotel but it was a hot day and the idea of a cool glass of wine was beckoning me towards the patio. Sure we could have sampled and even purchased a bottle at the store for half the price but sitting on the patio enjoying our drinks (wine for me, coffee for the hubs and juice for the kids) while sharing a Crème brûlée as the birds chirped was true perfection.
We relaxed and stared out at the serene view of the vineyard and the charming town's cathedral. It was probably the only indulgent part of our visit to La Rioja as everything else was super affordable. If you want to view the hotel up close, either book a stay there or swing by for a meal or drink at their restaurant. It's the perfect way to spend a hot afternoon and marvel at Gehry's titanium and steel masterpiece. Don't forget the hotel isn't the winery. You can also do a tour of the winery and, of course, sample their wines at the visitor's centre!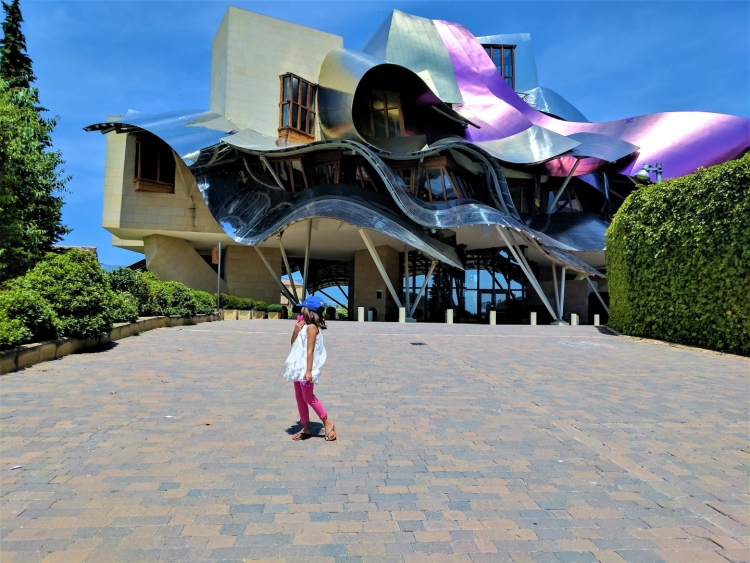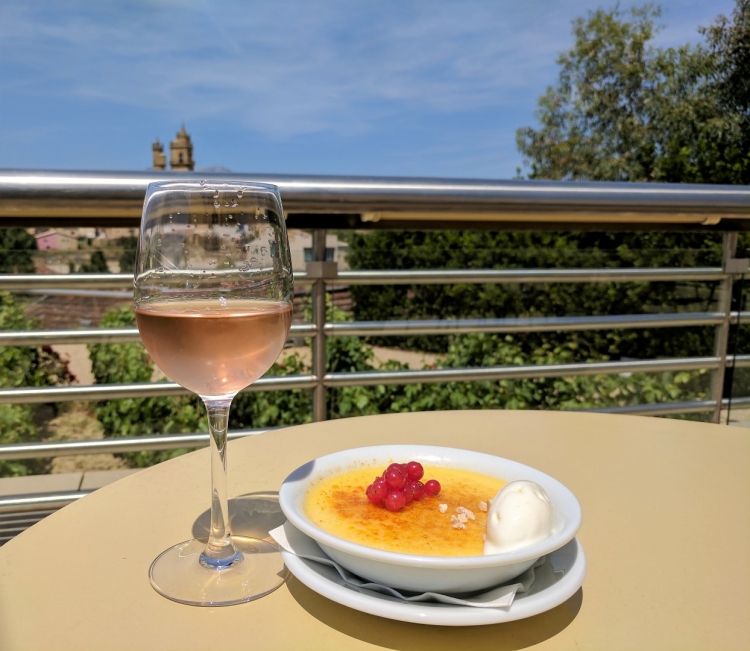 David Moreno
The hubs picked this winery for us to visit because it was open to the public and offered quick tastings versus only taking a tour. They had some fun tours on offer and even mentioned that we could book one for the afternoon but we opted to pay for a couple wine samples as we only wanted to spend half an hour here. We were totally surprised when a plate of chorizo accompanied our wine samples and the kids loved digging into the meat platter. Unlike in Canada, even though we ended up buying a bottle, we still had to pay for the samples. The samples are quite reasonably priced between 1 to 3 Euros, and so it was a nice way to sample a selection of their offerings. And yes, I believe all wine samples in La Rioja come with some meats or cheese!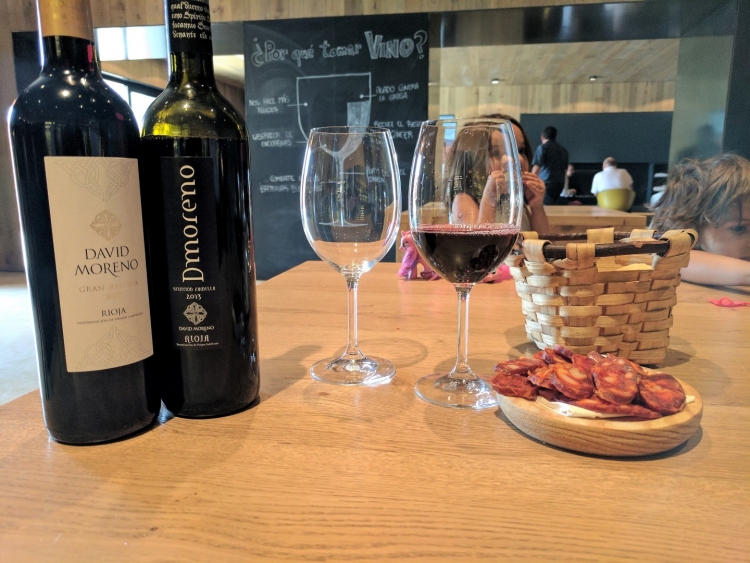 Logroño's Food Streets With Kids
My kids are food lovers, picky eaters, but food lovers none-the-less, and so they tend to enjoy visiting restaurants as much as we do. Logroño, with its delicious street food, was a huge hit with our family. Two streets in particular, Calle Laurel and Calle San Juan, are lined with small restaurants, many of which are standing room only. The way to enjoy these streets is to order a drink and a pinxto and then spill out into the street as you enjoy the offerings. Just roaming around the old town is a lovely way to soak in the atmosphere and stretch out that belly after all the eating and drinking. We didn't bring our stroller as we wanted to tire the kids out but we saw plenty of families pushing strollers over the cobbled stone pathways.
We visited during a festival and so it was quite busy. Even during the usual siesta hour, many spots were open given the festivities. There were people dressed up (very similar to the bachelor/bachelorette parties in North America), and many were roaming around with instruments, providing plenty of entertainment. Logroño is a small city with a playground for kids and many options for food lovers. We ate at quite a few spots including the ever so popular Bar Sorino, which is famous for its garlicy mushrooms (El Champi), but my favourite spot was Gastrobar Torres, which had many dishes on display for us to pick and choose from. This is where Baby Boy re-discovered his love for Foie Gras and now he demands  weekly serving of the pricey dish! Be sure to order their salmon sashmi, as it was an amazing deal, as was the Kobe Beef steak.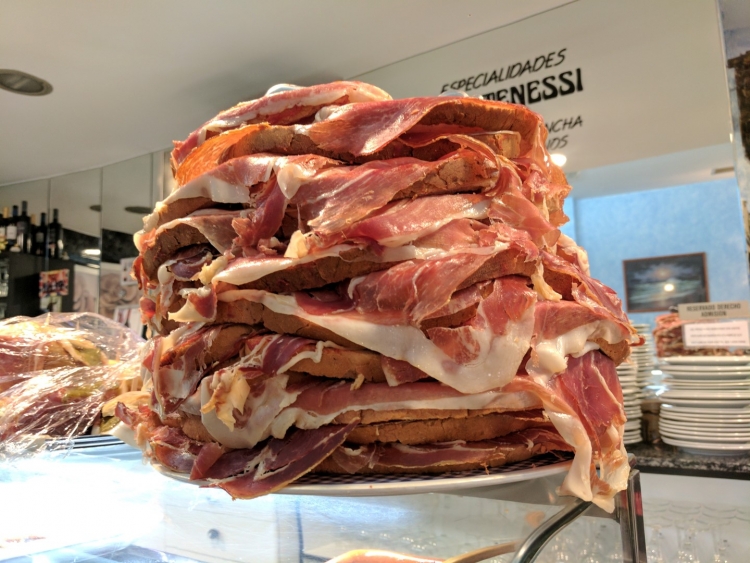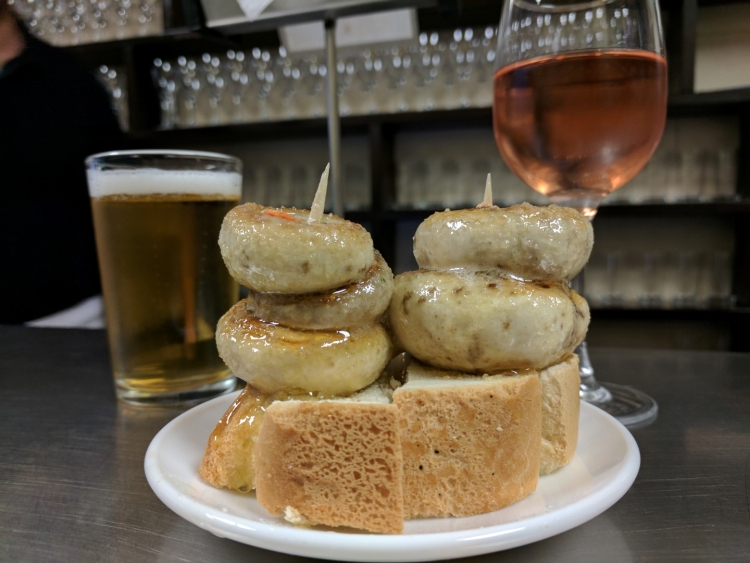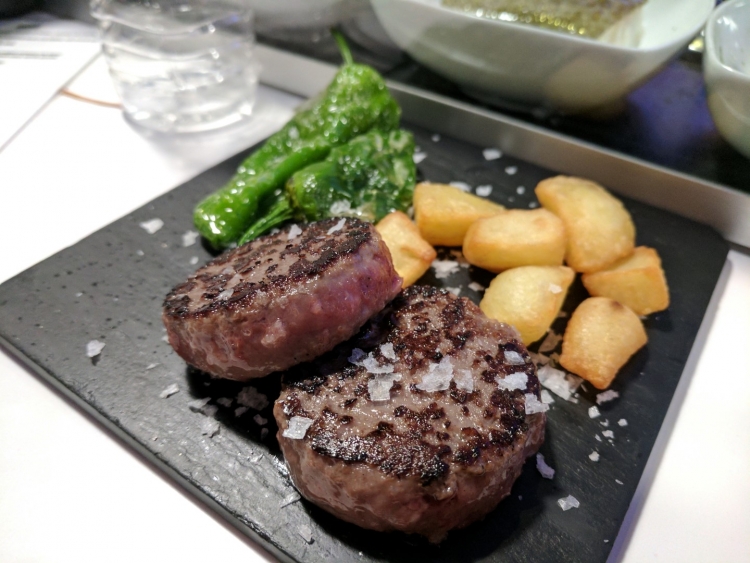 If you're a food lover, Logroño is a secret spot waiting to be discovered. I'd go back and spend a week there in a heartbeat but next time I want to visit with a group of friends. I can just imagine how much fun we'd have on a busy Saturday night bumping into old friends and making new ones as we drank and ate our way through the street. There's an excitement to Calle Laurel and San Juan that pulls at my heart strings and with wine and food pairings priced at an average of 2 Euros, it's no surprise why those who have discovered Logroño keep going back! I'd definitely time our next visit around the famous wine battle, which happens at the end of June.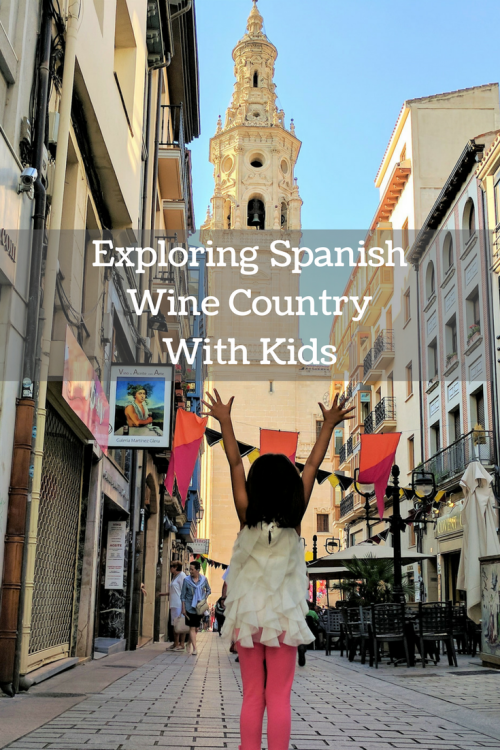 If you're looking for a spot off the beaten track to explore in Spain, I highly recommend La Rioja and unlike us, please spend at least 4 days there. There's plenty to do in between all the drinking and eating, and I know that there are many tours that will enable you to responsibly enjoy beverages without any of driving responsibilities. If you're looking for a home exchange in the area, the one we stayed at was great for families and large groups. Not only did it have enough space for 8 adults to spread our comfortably, there was also  a pool table, a patio, a playhouse for kids, as well as an entire hand-drawn map of the area on the living room wall. Incredible! As you can see, La Rioja with kids is definitely fun and delicious!