We're on day 118 of 148 and that means we're 30 days away from being home in Toronto! I think we've been away long enough to reflect on the realities of long-term family travel. I've been very good at showing our behind the scene struggles and every day challenges through my Instagram stories but I also know that not all of you follow those videos, and you may have missed a few since they disappear after 24 hours. I have been receiving the following question more and more frequently, from you guys and from some of our close friends.
"How is it going? Is everything as lovely as it looks through the photos you share?"
Friends, this trip has been absolutely magical. Back in April, we took a deep breath and dove in. We knew we'd have an amazing time exploring new places and living the "holiday life", but we also knew that we'd be hit with some major challenges. Travelling with two kids under the age of 6 is no easy feat. Would I do it again? YES! Not for a while though. You see, I'm SO looking forward to heading back home to Toronto. Travelling full time is so rewarding, but at times, it's an emotional rollercoaster that makes our life at home seem tranquil by comparison. We've already told you how much we miss our friends and our comfy couch.
Prior to leaving we had some pre-conceived notions about this trip, as did all of you, so shall we take a look at our expectations versus the realities of long term family travel?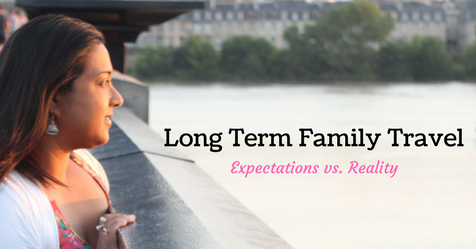 "Your kids are going to learn so much, they won't miss school at all!"
Reality : Yes, they're definitely learning and seeing new things and no one can deny that their questions are increasing in quantity and quality. However, they're also lacking the discipline and structure that comes with schooling. They also miss their friends and Little Monkey even asked to Skype with a friend when we were in San Sebastian.
"You guys will not want to come back to Toronto"
Reality : We miss the comforts of our home! Waking up in a new city every couple days isn't easy. You have to navigate the city to figure out details like where to grab a morning coffee, buy affordable groceries, and pick up diapers. It's a constant struggle and I'm looking forward to the comfort of knowing where things are and being able to roam without the need of researching every LITTLE thing and looking at Google Maps every two minutes (okay, so I'm directionally challenged and will still have to do that!).
"I'll get so much work done!"
Reality : Working has been the biggest challenge. At home, not only did I have a corporate job that saw me clocking 40 hours a week, I also had a consulting gig and still managed to write 5 times a week. On this trip, I'm lucky if I can get one post a week done. It's always a struggle planning our trip on the go while exploring new cities. Writing is often the last thing on my list.
"You'll be in vacation mode all the time!"
Reality : Yes, I wake up whenever I want and the kids usually get to do as they please, but there's also a lot of stress around not knowing what's happening, especially for someone who likes things to have a loose agenda. Lack of routine is something that isn't new to us but it's getting worse. Long term travel means that there's no set agenda and everything is decided on the spur of the moment (not very helpful when it comes to budgeting for flights and trains!). Any waking moment I have is spent researching what to do, where to go and of course, what to eat. I'm exhausted from all the research.
"You'll be meeting so many people you won't even miss us"
Reality : We've been lucky to connect with some online friends during our travels but they've been very short encounters. We haven't been in one place long enough to make strong connections and in most cities, it has just been the 4 of us. Yes, we love each other and enjoy hanging out together, but I'd love a wine and cheese night with the gals and I know the hubs is missing his game nights. We miss chilling on the couch late into the wee hours surrounded by our closest friends drinking one too many bottles of wine and beer. Parenting is parenting no matter where we are…my kids will be melt-your-heart-out cute one hour and absolute jerks the next. Not having family nearby means that the hubs and I have to deal with them 24-7. We have no backup to call and run away towards a kid free weekend.
"When you're back you won't care about all the things you left behind"
Reality : We've become minimalists in a small way. We've been travelling with two suitcases and while I miss my photo albums, the picture frames adorning our walls and my high heels, I know that we will most likely throw away half the things we put into storage. We purged half our items already but I think we'll be moving forward with a quarter of what we had.
"It'll be so cheap to travel around once you're there"
Reality : We've actually been so last minute that we haven't been able to jump on seat sales as much as we thought we would. Travel takes a fair bit of planning if you're trying to budget for a trip and that holds true for long term travel as well. One of the challenges with long term travel is that you need to be flexible and in our case, the flexibility and lack of an agenda has meant that we've made on the spot decisions to head towards some amazing places – but they haven't always been economical choices. I mean we're boarding a $1,000 flight towards Croatia tomorrow and that's only a one way fare!! EEKS!
"Your kids will be more cultured and will learn a foreign language"
Reality : Yes, they're always up for visiting a new place and get so excited at the chance of meeting new friends who speak English but they haven't been very flexible when it comes to making friends with non-English speaking kids. It's something we've been pushing them to do but the most we've managed is having Little Monkey and Baby Boy learn to say "thank you" in Spanish, French and German, and  we had to bribe them with candy to get that far – you see, Europeans have been lovely for the most part and always offer them treats…only if they say "thank you" though!
We're growing as individuals and we're growing together but I think we're all ready to head back towards the known and familiar. There's something to be said about putting down roots and the comfort that comes with that. We're going to make the most of our last month and we're already planning trips into the fall and winter but we're also counting down to Toronto.