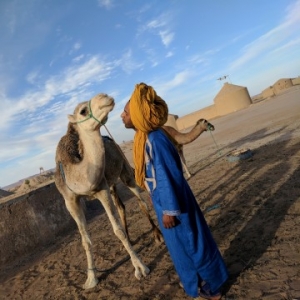 Despite growing up in the deserts of Dubai and Bahrain, visiting the Sahara Desert had been a dream of mine since I was a kid. When we recently made the decision to visit Morocco with our kids my main goal was to get into the Sahara Desert. I spent many, MANY, many hours researching how to get from Tangier to the desert and let me tell you, there are many ways to get there. Which way you choose boils down to your comfort level and budget. For our family, we knew that driving ourselves was not an option and while the hubs wasn't initially impressed that I paid $1200 USD (12,000 MAD) for a six day tour for the four of us, it was ABSOLUTELY worth it in the end. We also helped lower costs by spending 4 of the 6 nights at a GuestToGuest home exchange. My kids are only 3 and 5 years old but they still talk about the camel ride a month later. Their memories aren't usually great, so this tells us that travelling to the Sahara Desert with kids was a good idea!
It takes a fair bit of time to get from city to city in the region but the train in Morocco is convenient. It's what we took from Fes to Marrakech and I will say that you definitely must put Fes on your list of places to visit. We loved it more than Marrakesh because the medina wasn't as hectic and didn't have bikes whizzing by as we clutched our kids for dear life.
Travelling to the Sahara Desert can be done from Fez or from Marrakesh. Initially we thought we'd do it from Fes but it worked out to be cheaper if we got to Marrakesh ourselves and then had the driver pick us up from there. So we took the train from Fes to Marrakesh and hired a tour guide for a six day trip into the desert. There are definitely cheap ways to do the desert but you know us well. We like our creature comforts and so our tour company booked us into a nice hotel (Yasmina) for the night before our desert trek, where we also had a luxury tent.
As we made the trek to the desert I shared our live stories on Instagram and received the same questions I had before making the trip, so I thought I'd answer some below. Of course, you could just watch the video and enjoy our drive from Marrakesh to Ouarzazette into the Sahara, and then back to Ouarzazette and eventually, Marrakech. It ain't easy getting into the Sahara Desert but is it ever an experience! I can't believe my 5 year old rode a camel for an hour by herself!
Should I Take My Kids to the Sahara Desert?
Absolutely. The sights we saw during our 11 hour drive from Marrakech to Ouarzazette were educational and the kids now know what quartz looks like, how the ancient irrigation systems worked, how fossils came to be and, of course, how to bargain for trinkets by the roadside! The drive was long (we clocked over 24 driving hours into the desert and back), but we made plenty of stops to take in the sites and enjoy a drink with gorgeous mountain views. Before getting to the desert there's a fair bit of greenery and the changing landscape had the kids riveted. Yes, they did have their iPads to keep them entertained when things got boring but getting out every couple hours meant that we didn't encounter much car sickness.
Should We Hire A Guide?
You can definitely drive into the desert on your own and then book a camel trek and overnight stay in a desert camp (for around 4,000 MAD for a family of 4), but it was not an adventure we wanted to take. After speaking with numerous travel companies who do desert safaris I opted for Morroco Immersion. I liked the fact that Sharon and her husband live in the U.S. yet have close family in Morocco. In fact, her brother-in-law (who speaks many languages, including English) was our guide and he was able to answer our many questions. Sharon knew the roads well enough to suggest that we take it very slow with the kids so we had the full flexibility to stop when we wanted and our guide even took us to his hometown where the annual Festival of Roses was taking place.
When we didn't see roses in bloom around the village he allowed Little Monkey and Baby Boy to pick flowers in his family field! After Sharon saw us using the miFold travel booster seat she's thinking of getting some for their company so it's definitely something to keep in mind. The drives are long and the roads wind a lot. You should ensure there are functioning seat belts and A.C in your vehicle. Hiring a guide meant that we could relax and focus on the kids when needed. We weren't looking at maps and trying to navigate through the mountains with my poor French! That said, the road is well marked and Google maps works relatively well. My main concern is that I saw the police stopping foreign drivers very often and so, I do wonder how much was spent in handshakes!
Update Sept 2018 : I have recently learned about the Intrepid Morocco family trips and if you have kids aged 10 and older, they are a company that I have much admiration for and believe they'd do an amazing job at not only showing you the ethical way to travel through Morocco, but would also take care of everything for your family. You're guaranteed to have an amazing and safe trip through Morocco with your kids.
Is There More To Do Than a Camel Ride?
OH BOY is there ever! Driving through the High Atlas Mountains via the Tizi n' Tichka Pass was thrilling enough but the area is filled with attractions. We stopped at Ait Ben Haddou, a UNESCO World Heritage Site where kids saw how paintings were done in the olden days and how people still live in Kasbahs. It's also a film studio for many Hollywood movies set in the desert. At the Dinosaurs in Erfoud, where many of the world's museums come to "shop", we learned about colourful quartz, fossils, and rock formations. We were also lucky to visit around the time of the Festival of Roses in Kelaat M'Gouna. Even without the festival going on one can shop for rose water, oils and pretty much anything rose related in the town. We encountered quite a few social enterprises run by women, which are always great to support. We also visited the Rissani market and sampled the local specialty, Medfouna (also known as "Berber Pizza"). In Khamlia, we enjoyed a performance by Gnawa muscians. You see, there's plenty to do!
Remember the pictures we shared from our visit to Todgha Gorge? That was from this drive too. There is a history and geography lesson at every corner but most importantly, a chance to meet people who are friendly and kind-hearted. Take the chance to show your kids how people live differently all over the world. Moroccans LOVE kids and I truly believe that visiting with kids opens more doors here than not. The camel ride was the highlight for my kids but it wasn't the only thing we did during the trip to and from the desert.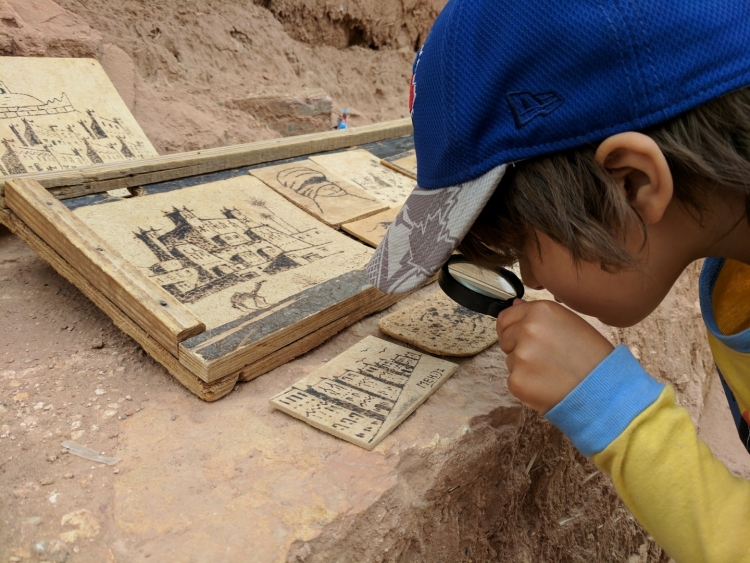 How Many Days Do you Need For a Desert Tour?
My biggest advice to any family visiting Morocco is to travel slow. We decided to take a break in Ouarzazette and broke our journey for 2 nights each way by staying at a GuestToGuest house. This was the best part of our visit to Morocco because we all got to relax, enjoy pretty sunsets and swim in an infinity pool overlooking the mountains. Taking the break both to and from the desert was not only good for our bodies and souls but pockets as well. Not having to pay for 4 nights of lodging by using our points was how we kept the cost at $1200 for a six day trip. The house came with a cook who made our meals each night and it was truly a relaxing experience for all.
The actual desert trek involved an overnight at Yasmina hotel, where we took it easy and explored the area before treking into the desert towards sunset. We then woke up to a desert sunrise before mounting the camels for the trek back to the hotel. From there, we returned to our car to head back to Ouarzazette, a 6 hour journey with stops. Take the time and stop in Ouarzazette each way if you can. Marrakesh to Merzouga is about a 10 hour drive with no stops. Marrakech to Ourzazette was 6 hours, and then another 5 into the desert, where one rides a camel an hour each way into the desert. You know your family so keep those distances in mind when planning your trip to the Sahara Desert with kids.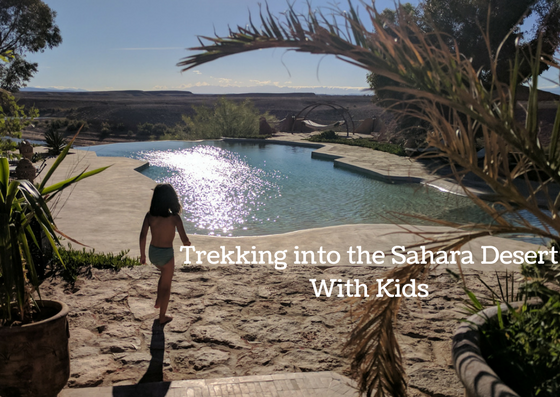 What Should I Expect In The Desert?
The actual desert portion involved riding a camel for an hour to get to our tent. The hubs wrote about his experience riding a camel and you should take a read. It isn't the comfiest of rides but with a Bedouin guiding us through the dunes, it was a safe one (our Morocco Immersion guide and driver stayed back at the hotel). On arrival, mint tea greeted us at our camp and we opted for the luxury tents so we had a queen and two singles in our tent along with a flushable toilet, a standing shower and a basin to brush our teeth at night. The luxury tent also meant a three course meal at dinner and we had our own table, similar to a restaurant. Drinks were extra and no one offered any alcoholic beverages. We wish we had thought to bring a bottle of wine or a couple cans of beer!
Dinner was served around 9:30 p.m. despite us arriving at 7 p.m. for the sunset and so the kids nibbled on some raisins I had with me. After dinner the musicians came out but we were getting tired so we only enjoyed it for a bit before heading to bed. The next morning the hubs and I woke up at 7 a.m. and caught the sun rising. We then packed up and had breakfast before heading back to meet our camels for another hour long trek back. We finally got to our car by 10:30 a.m. and the kids were ready for a nap as we made the journey back to Ouarzazette. The magical part of the desert is roaming through the dunes without anyone else in sight. It's so quiet too. Living with two small kids in the city I forgot what it's like to enjoy silence. I also liked that we had our own private walk into the desert rather than being part of a group. Once at our camp,  of course there were others but the actually journey was just us and I have a feeling this was because we decided to pony up for the luxury desert experience. I'm not one for roughing it!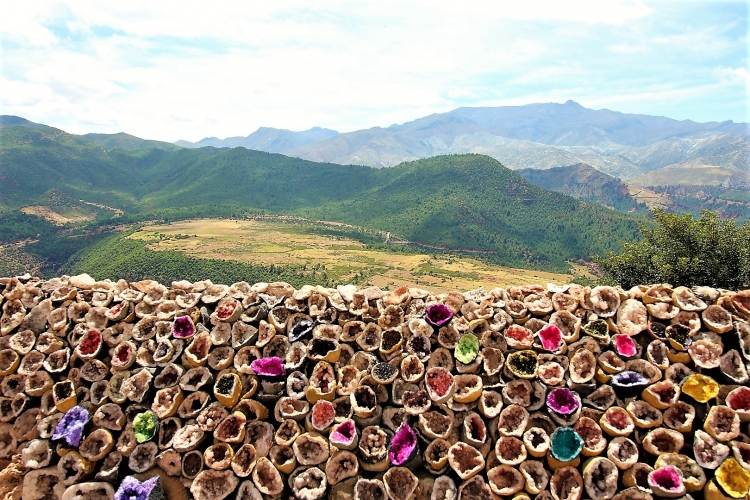 What Should I Bring To The Desert With Kids?
We left our iPads in our car but there was a socket to charge things in the luxury camp and so my phone was juiced up. Definitely bring your cameras, a couple of water bottles and a change of clothes. The kids also brought their backpacks with small toys and enjoyed some down time between the activities. We each brought a backpack and mine not only had a change of clothes but I also our travel medicine kit, just in case.
The luxury tent had all the comforts of a 3 star hotel room so we didn't need to bring much. We didn't even need the sweaters everyone told us to bring. In fact, it was disgustingly hot even at night. I think that's one downside to the luxury tents- there was a sandstorm outside yet I was sweating inside and couldn't sleep all that well. Bring sunglasses, a baseball hat, snacks, a couple drinks (kids hated the powdered milk they served in the night) and a scarf. Bring hand sanitizer if you aren't staying in a luxury tent! I know some tours provide a shawl to keep the sand away but ours didn't and luckily for us there was no wind during our camel ride. It's a desert ride, pack light and enjoy the experience. There's no mobile cell reception and it really forced me to take in the moment.
If you're only going to Morocco for a trip into the desert, I'm here to implore you to spend a few more days exploring other parts of the country. The north was so lush and green with emerald waters and then the south had mountain ranges in every hue of red and brown. Rushing into the dunes is tiring on your body and you truly won't enjoy the experience of Morocco in just a few days. Some countries are just harder to travel through because they require you to slow down and take it easy, Morocco is one of those countries. Taking the kids (and myself) into the desert was the main reason for our visit but I'm so glad that we took three weeks to make our journey from the north to the south. I'd say you need at least a week to really enjoy a desert trek even though you'll only be spending a night in the actual dunes.
If you have more questions for me, please do send them my way! Pin the below images if you plan to visit Morocco one day!