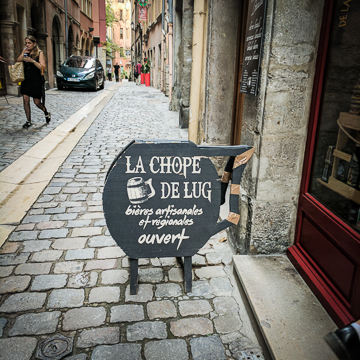 On my first day in Lyon, I discovered that the the city is known as the belly of France. I later watched Anthony Bourdain's Parts Unknown episode in the city, which deftly outlines the scope and influence of the city's revered culinary scene. The city's residents are proud food lovers and I was excited to explore the city in search of great eats, but I still had my top priority, beer. I am always seeking great beer, and my hope was that the city's rich culinary scene would extend to beer. After all, what's a great meal without a fine ale to start things off.
Lyon is by no means a craft beer hot bed, but that doesn't mean some great beer can't be found. I think most people would associate France with wine rather than beer, but there is no reason why a region can't excel at producing both. Lyon may well be on the way to being a famous beer region. It's not the case just yet, but the signs are there. From the excited crowds we discovered in the city's top craft beer pubs to the wide range of options I find in its beer shops, there are clearly a lot of Lyon residents who share my passion for good beer.
Here are some of the best places in Lyon to find craft beer
Les Fleurs du Malt le Bar "La Mise en Bier"
A true watering hole, Les Fleurs du Malt le Bar lies in the Old Town along the Saone River. Its low ceilings give visitors the sense that they are entering into a secret society of serious beer drinkers. Several of the tables are set up for large groups and the sounds of group chatter reverberate throughout the room. Don't visit Les Fleurs du Malt if you seek tranquility. For us, visiting with two small kids happy to add their own voices to the noise, we felt right at home.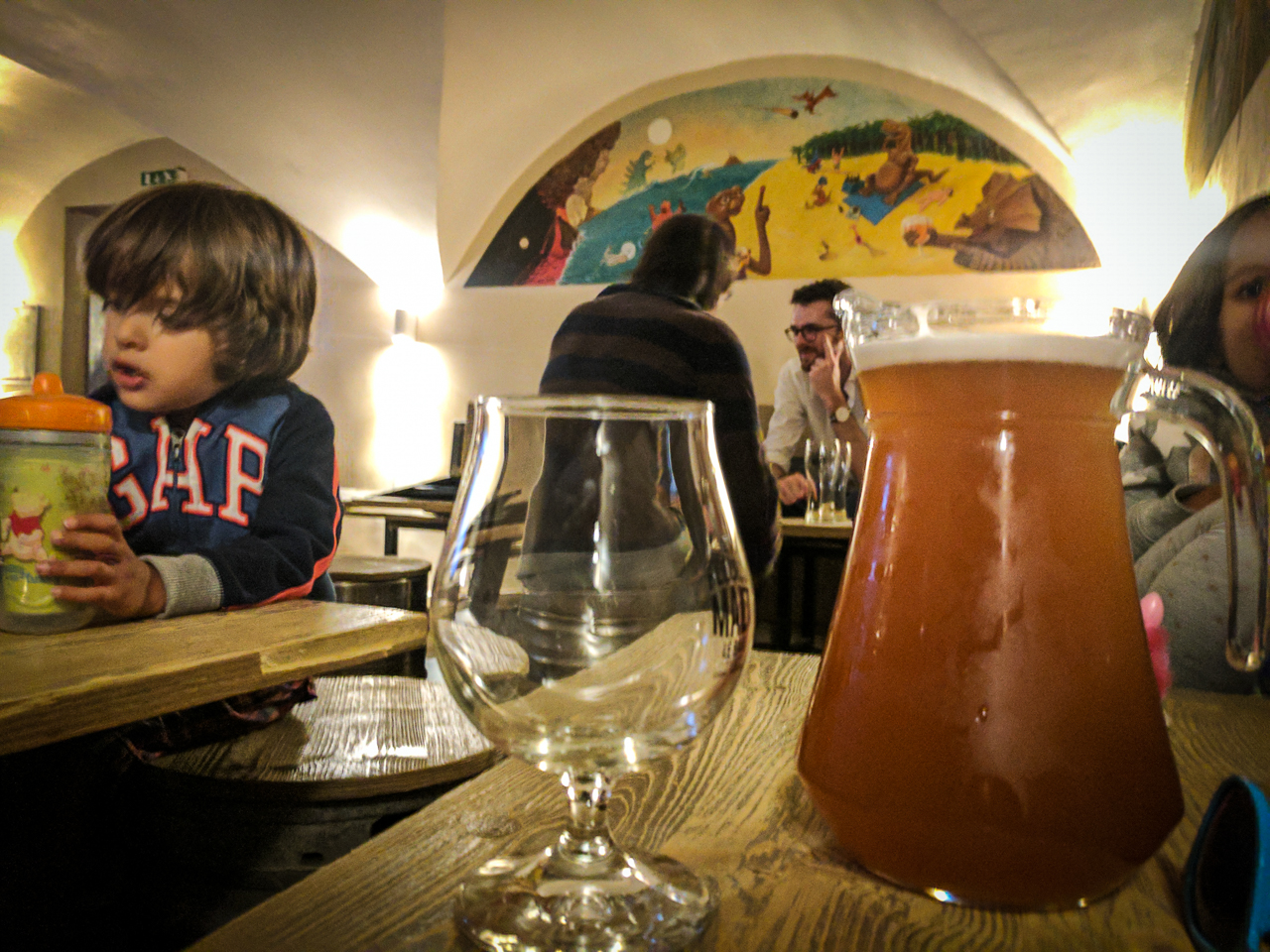 As I walked in, I spotted the beer fridges, which looked promising, as well as the tap list posted on a digital sign near the bar. As the pub was busy, we scurried into the back to find a table and I grabbed a menu off the bar on our way. The place has 16 taps with beer from a wide range of countries. It took me a while to notice, but tucked at the bottom of the list was Fou 'foune, a beer I had tasted just once in my life and had never forgotten. As Fou 'foune is produced only once a year and in fairly limited quantities, I wasn't sure if I would ever get my hands on a bottle again. Imagine my surprise to find it on tap in Lyon, France. Despite the 35 Euro price tag for a 1.5 liter jug, I eagerly placed an order. It was available by the glass of course, but my joie de vivre at the find demanded a healthy portion of the ale.
Its great location, incredible beer selection, and lively atmosphere made Les Fleurs du Malt a pub I won't soon forget, but keep in mind that there is no food available in the pub.
The Malting-Pot
Located near Lyon's Part Dieu Station, the Malting-Pot is a neighborhood brewpub with a large backyard patio and a small selection food pairings. Where Les Fleurs du Malt is a great place to sample beer from around the world, The Malting-Pot is an ideal spot to sample some freshly tapped local beer. On the day we visited, the brewpub had about a half dozen beers available that were produced on site. We went with the Stout Toujours and the Like a Virgin Ale, both quality beers. The pub also serves a small selection of rotating food dishes. I really enjoyed the beef salad I ordered while the kids enjoyed chicken skewers.
The Malting Pot has been in business for two summers and based on the crowds we found on the Tuesday summer evening we visited, it has become a popular place with locals. As one of the few places in Lyon that serves craft beer, its popularity was a welcome sign to me, hinting that a craft beer boom is imminent in the area.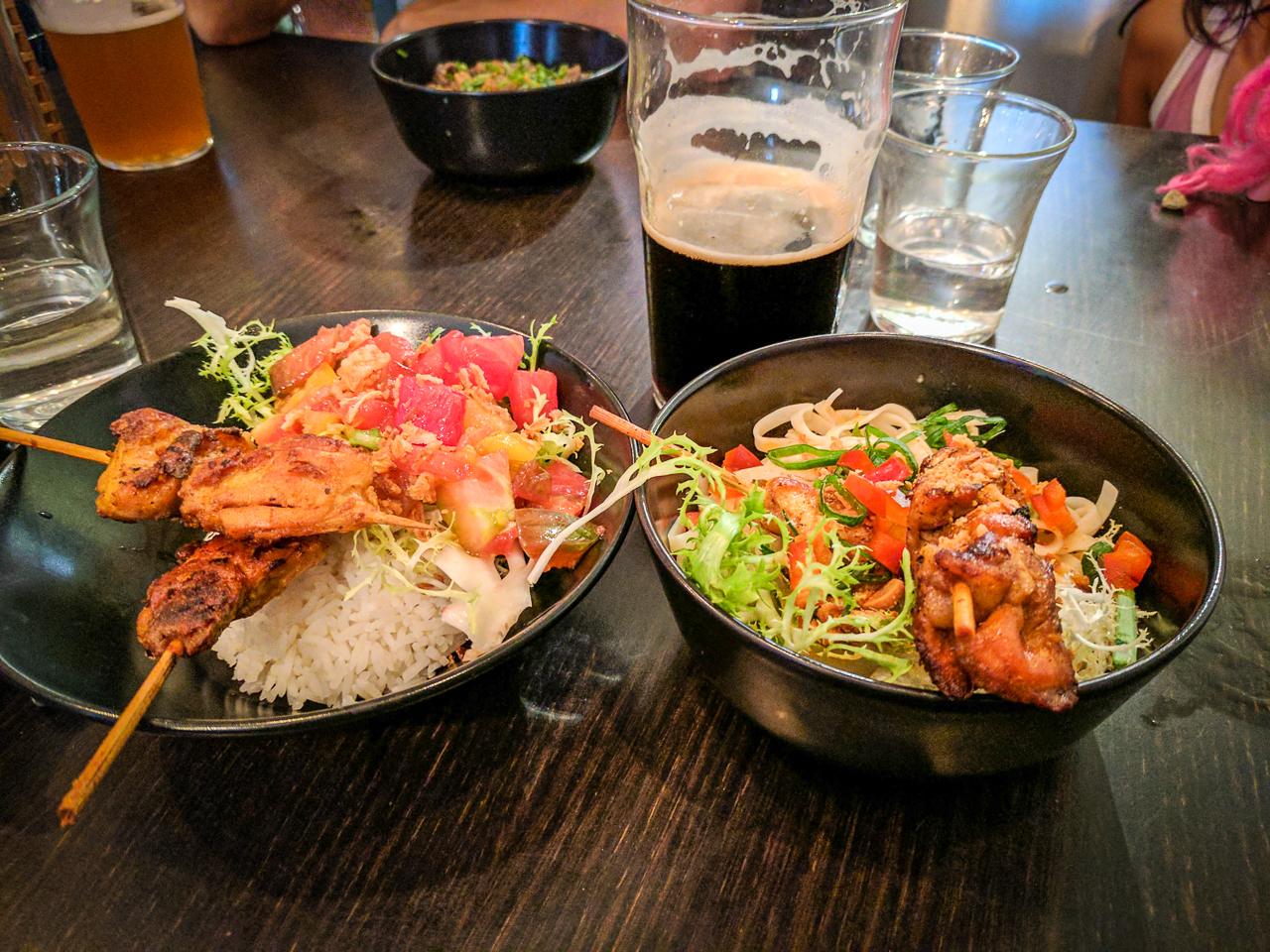 La Chope Lug (Beer Store)
Finding local beer in Lyon pubs can be tough, but a visit to La Chope Lug is the way to rectify that problem. Offering only craft ales from the region, La Chope Lug is evidence that small breweries near Lyon are alive and going strong. With 100s of bottles on its shelves, the place is a beer explorer's dream. I suspect most of the beers in this shop are available either at the breweries where they were produced or at La Chope Lug, and nowhere else. My one qualm was with the pricing. Most of the 750 ml bottles were in the 10 Euro range, while the smaller 341 ml options were 5 to 6 Euros. Those are typically bar prices in North America and so I didn't buy too many bottles, but this is a unique beer shop that gives visitors the chance to explore beer from the Lyon region.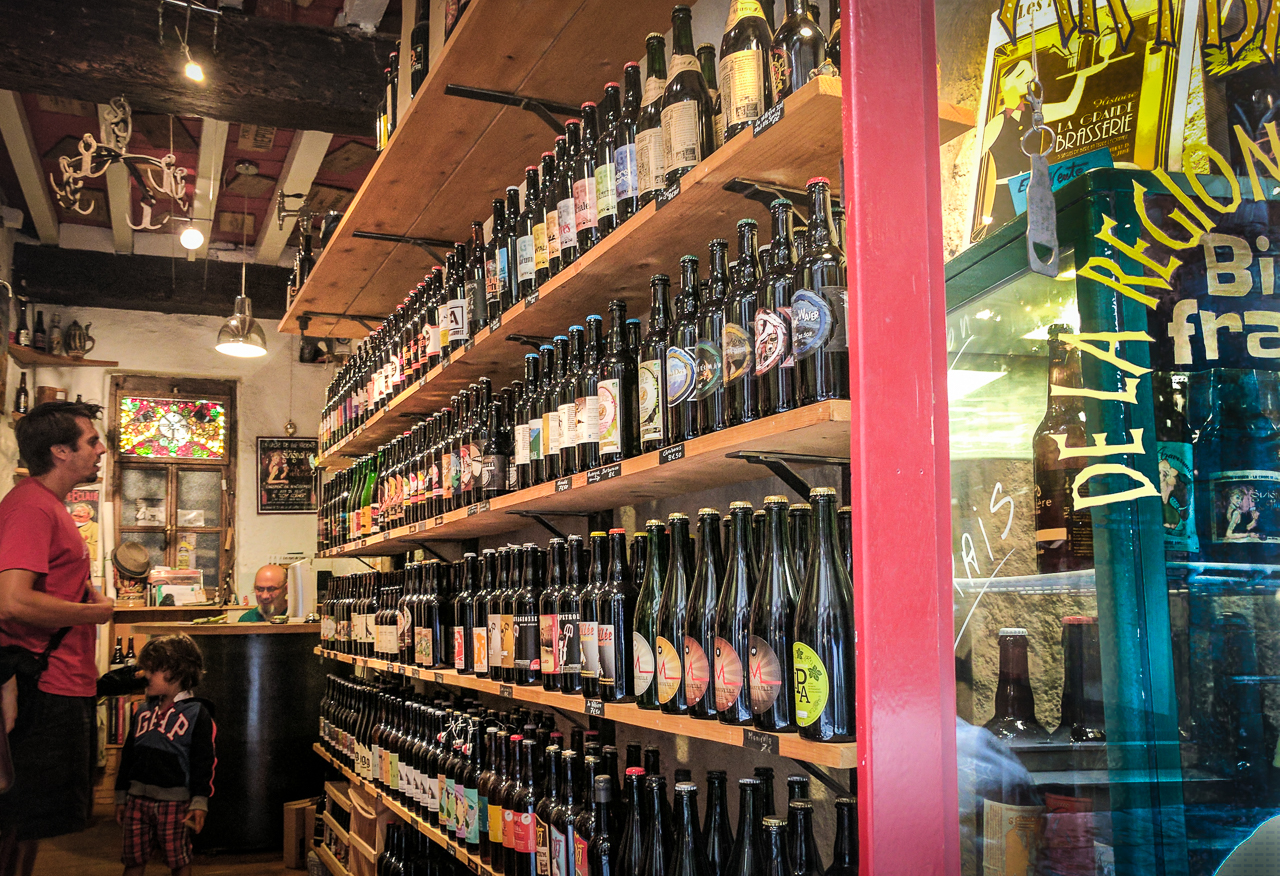 Les Fleurs Du Malt (Store)
Les Fleurs du Malt (the store) is located next to the Saxe Gambetta metro stop. It's a more traditional craft beer shop. I noticed beers from the United States, Canada, Belgium, and France, amongst others. As this was the first beer stop I made in Lyon, I was able to pick up a great selection of beer for my stay, including a couple bottles from the Cantillon Brewery. I was also happy to see beer from Quebec's Dieu du Ciel Brewery, perhaps Canada's best craft brewer. As we experienced throughout France, the prices were on the high side, and so I had to savour my purchases a little more than usual, but I definitely found some good ones at this shop.
I suspect that Lyon's craft beer scene is only starting to grow. We found big crowds during our weekday stops into the two main pubs we entered, and both craft beer shops I visited had a wide selection of options. The city may forever be known as one of the premier food destinations of the world, but if you ask me, beer is an essential part of a great dining experience, and I am sure the influential chefs of Lyon would agree with me.