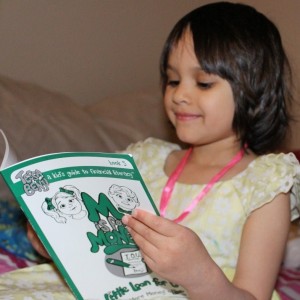 About a month after she started school, the Little Monkey and I began reading a book series called M is for Money, a series of nine 'adventure' books that focus on the activities of two twins named Benji and Tessa as they learn about the meaning and value of money. At the time, she was still getting used to the idea of being at school for 6 hours a day, and as we prodded her to tell us more about the various activities she was involved with at her new big girl school, we were slowly picking up on the fact that, not only did she enjoy having so many new friends, but she was also genuinely enjoying the process of expanding her knowledge of the world. We catch her singing new songs and drawing pictures of her and her friends, and the occasional story comes out about something she learned at school. To my delight, she has pointed out things that I taught her that her teacher has affirmed, as if she was wondering if I had some sort of secret insight into her classroom!
When she talks to me about the lessons at school that enforce the knowledge she already has, I know I am on the right track. Being someone who is interested is just about everything there is to know, I am happy when the kids ask me questions – well, up to the point where I have to answer the ninth "Why?" – and I like to point out that much of what I learned came from books. Now that the Little Monkey has been in school for almost 6 months, I was excited to return to the M is for Money series after receiving Volumes 4 through 6 of the 9-part series. When we recently sat down to open Book 4, she eagerly snuggled up to me to find out what Benji and Tessa were learning these days. As the only Canadian book series of its kind, M is for Money provides parents and teachers the tools they need to start important conversations about money early. The books are aimed at kids 5-9, but it doesn't stop Baby Boy from snuggling up with us too! 
Disclosure : This post is in partnership with M is for Money, but as always, opinions are totally mine!
In Book 4, "The Little Wallet Named Pouch", we discovered how money is spent, as the twins take a trip with their Dad as he runs errands. At each of three stops, we see the twins' Dad pull out his wallet, hand the money over for the items he wants to buy, and on two occasions, receive change for the purchase. This gave me the opportunity to explain the value of goods, as I pointed out that each item cost something different, and that some goods cost more than others, sometimes a lot more, helping me to explain that the big toys the Little Monkey has in her room cost more money than the day to day items, such as playdough, that we buy for her more frequently. Despite being only 4, she was also grasping the addition and subtraction elements of the story as the Dad waited for his change.
Book 5 might have been our favorite to date. A Little Loan for Benji follows the twins trip to the mall to spend some of the money they earned helping out a neighbor. As each twin enters the store with $5, the book displays a series of items with prices. Tessa sees a row of crayons she is considering and some cost more than $5 while others cost less. As I read through the prices and asked my daughter whether the price of that item was more or less than $5, I was was thrilled when she got all 6 items right. Later, after Tessa has bought the $3 box of crayons and received $2 change, another simple calculation the Little Monkey was able to work out on her fingers, I asked her what Benji could do when he discovered that all of the toy cars he was looking at were over $5, and she actually pointed out that Tessa could give him some of the money she had left over. What a proud dad I was to hear that! The intuitive flow of this volume is spectacular and I love how the concept of a loan is introduced, with Benji borrowing the money and eventually signing an IOU to pay it back.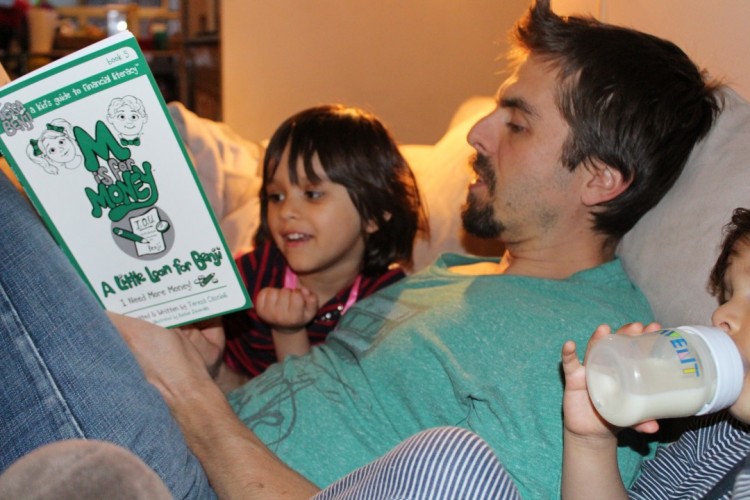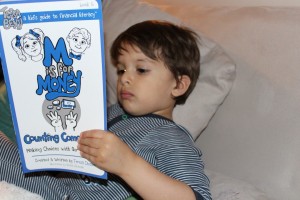 Book 6, Counting Come First, is about budgets. In the story, Tessa and Benji head to the mall with $50 between them, looking to buy gifts for their Mom and cousin. To be honest, I haven't met very many adults with a perfect grasp on budgeting, myself included, and, while I think the budgeting concept used in this book is a little over the head of a 4 year old, this is a book I'll be coming back to in a year or two. The book does an excellent job explaining the need to understand how much money the twins are able to spend, even including the fact that the twins need to keep enough money to buy their own tickets in order to accompany their cousin, for whom they are getting a movie ticket. Another nice element is the fact that Beni and Tessa are using money they earned to buy gifts for loved ones, and I look forward to doing this with my kids on Yashy's next birthday.
This past New Year's, we invited the Little Monkey in on a Sri Lankan tradition. Each year at midnight, Sri Lankans exchange money between loved ones as an auspicious blessing. The recipient is then supposed to keep that money in his or her wallet through to the next year. When midnight arrived at the dawn of 2016, the Little Monkey was, of course, still awake and participating in the excitement. Her grandparents gave her some money and a wallet to keep it safe. To her credit, she held onto it for a couple days until I finally found it lying around one afternoon and put it away until next New Year's Eve. She did a great job keeping the cash in the wallet. The next step for me is to ensure she finds ways to hang onto her money until she can spend it wisely. To impart that lesson and to instill others, I'll be making the M is for Money Book series a staple in our nighttime reading routine for years to come, reopening the set every few months to see how she is progressing on understanding the concepts. After finishing the first 3 books in October, I was very pleased that she continued to request the books for the next several months. With the fresh new material in Books 4 to 6, I expect to frequently be reading about Tessa and Benji for several more.
As a side note, I am not sure if it this was intentional, but the books feature a minimal use of color, with each book using one color along with black and grey. For any parent sick of seeing books filled with crayon and marker scribbles, the M is for Money series invites this sort of creativity. The Little Monkey took one look at the white dress Tessa wore in Book 4 and was excited that the picture seemed to invite a few flourishing marks.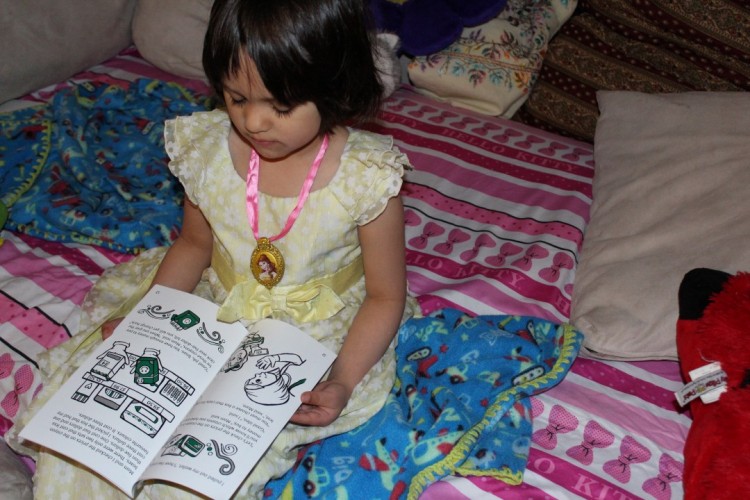 At the back of each book, there are several pages of activities reiterating the lessons in the book, making the lessons both fun, easy to grasp, and memorable. Volumes 1 to 9 are available now on the M is for Money website and at Indigo. A "Fun Stuff" package is also available that includes Monopoly style play money parents can use to reward their children without the fear of losing any real cash and there are a number of free downloads on the website containing materials and concepts used in the books. If you are trying to teach your kids about money, M is for Money is one of the best tools available.