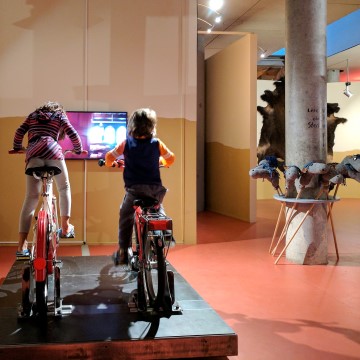 During our ten day visit to Berlin with kids we managed to swing by the childrens' museum and Little Monkey and Baby Boy enjoyed being able to roam around freely and climb things to their hearts' desire. This children's museum in Berlin is housed in what used to be a Church and I found out that the actual museum used to be a travelling museum staged in a motor home until they found this permanent space. As you will see in the video below, there are enough areas to keep kids entertained during one of Berlin's popular rainy days.
Disclosure : We were invited to visit the MACHmit! Kinder Museum but, as always, opinions are TOTALLY ours! 
The MACHmit! Museum is a hands-on learning centre for those aged 3 to 12 years old and they also host various annual exhibitions. We visited during "The Wide Horizon" (Der Weite HORIZONT) exhibition which will be running from June 2017 into June 2018. It is a look into Native American cultures and the art of getting to know each other.  Initially I thought the exhibition was just one small area and that the rest of the permanent structures was the "Regular" spaces but I soon realized that they do a really good job at weaving in the exhibition's story line throughout the small but extremely utilized space.  Interesting objects and unusual stories from different Indian cultures await those who visit and there are workshops and areas with the aim of conveying tolerance, respect and curiosity.
Little Monkey and Baby Boy were more interested in checking out the various physical activity centres such as at the Future Generations bike that lets you think you're driving out of the kids museum in Berlin or the multi-story wooden play house which had tire swings and nooks to explore. They also enjoyed some quiet time by the reading nook. By the time they got around to exploring the artifacts of exhibition and the play area with the shoe store, they were exhausted after having spent 2 hours running around and climbing things. We didn't bring our stroller here but there's space for one though there are a few stairs as well.
If you're visiting Berlin with kids, the MACHMit! Museum is a nice way for little ones to be carefree and enjoy some free play indoors.