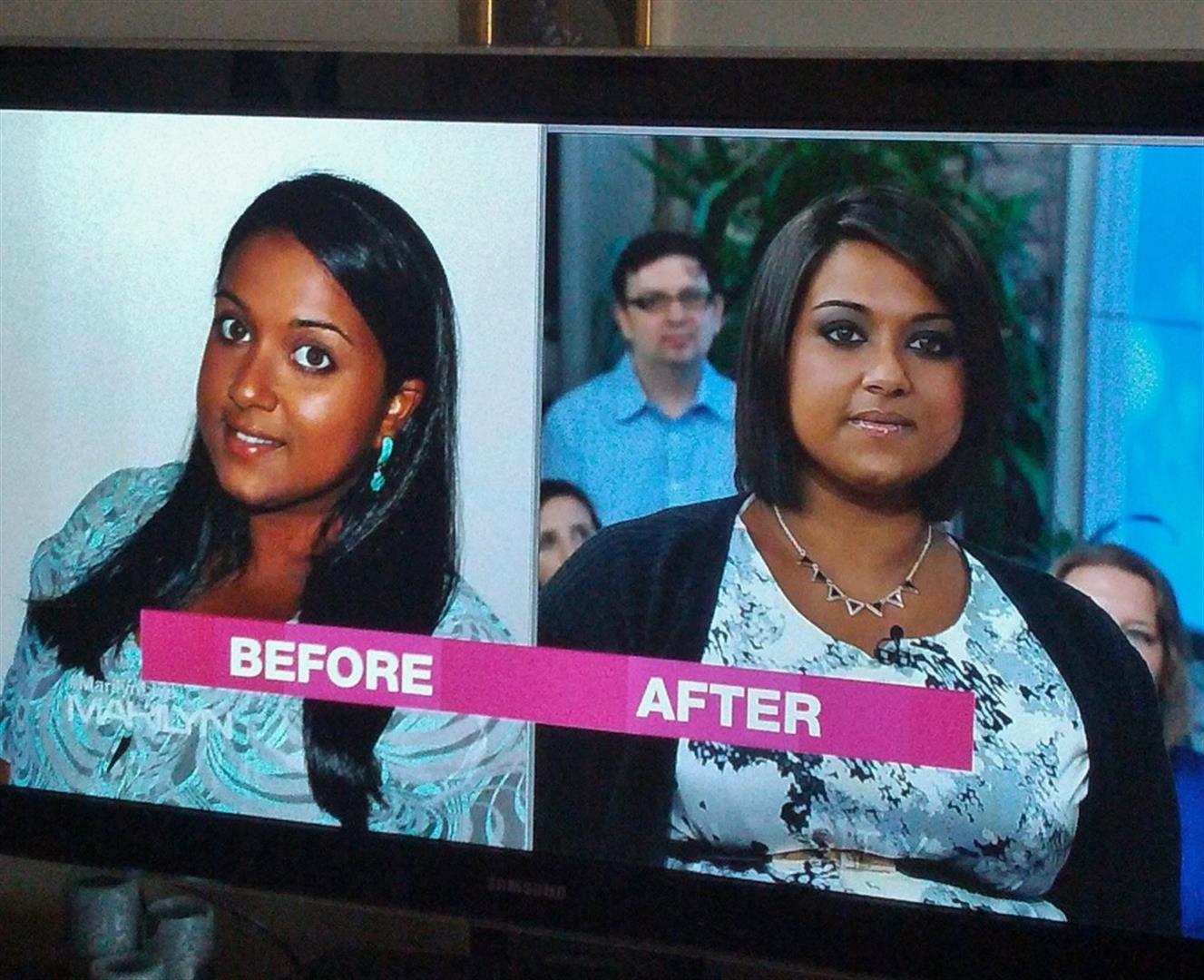 Ever wondered what a makeover experience is like? Well I got a first hand experience on the Marilyn Denis Show here in Toronto! I know you have a lot of questions, so I'm going to tackle them one by one.. and if by the end you still have more… well leave a comment and I'll be sure to reply! Promise! Be sure to check this post for my experience show hopping last summer, lots of tips on what to wear and how to get the best seats as part of the audience!
How does one get on national Tv for a makeover?
That's easy… apply! In this case I saw a Tweet asking for applicants looking to trade in their long locks for short hair and I said.. WHY NOT? I sent in an explaination with my sob story of being preggers and needing a new look (and I really was in desperate need of a new hairstyle!) and I got a reply saying "COME On IN!!".
Now what? What does one wear?
After a couple email exchanges all I knew was that there would be a celebrity stylist for my hair and that make up would be done on site as well. I wasn't sure what to expect beyond that and decided to just go with the flow and see how things unfolded. Ofcourse the dreaded "what ever will I wear" drama unfolds and I knew I should do bold bright colours, after all it's what I usually wear. Being nearly 8 months preggers and not having invested in too many new pieces I knew I was in trouble. I needed to look smart and first impressions are everything… for all I knew the stylist would make a decision on what suited my lifestyle just based on how I turned up looking early that morning. Unfortunately a new wardrobe was not part of this makeover but luckily for me Thyme Maternity came to the rescue and dressed me for the occasion. I discovered the joys of maternity clothing once again… if you're wondering, I've been living in the pants and pleather skirt since the show! So darn comfy! Infact I think I'm going to pick up a smaller size to wear on a regular basis, post pregnancy. Every item I wore that day was made of the comfiest fabric and I was pleased to find out that they also have jewelry on offer. Trust me the flowy dresses can get  you so far, come fall you need some fashionable statement pieces to get you through one of the most fashionable seasons and Thyme Materinity has some very reasonably priced pieces that won't leave you 'hanging'. As you will soon see … totally on trend with pleather accents on every item! I will admit here that I am the worst when it comes to posing…it's hard work and I totally respect fashion bloggers who do this on a daily basis – I am definitely not one who has mastered the art of flattering clothes.
Outfit for the 7 a.m pre-taping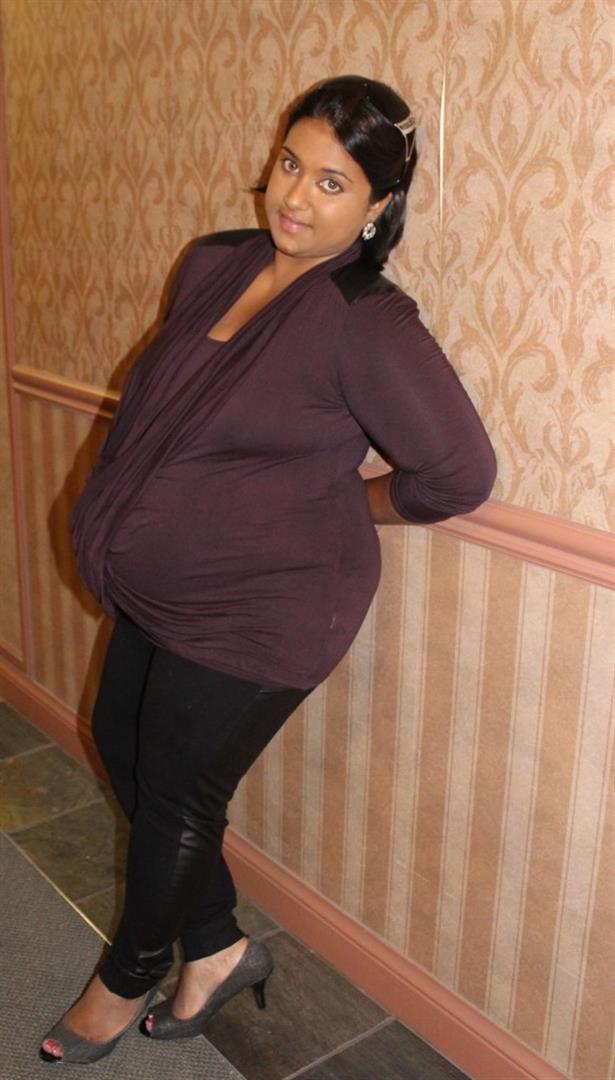 Thyme Maternity Faux Leather Striped Maternity Pant ($65), Crossover Maternity Top with Faux-Leather Detail ($45), Door Knot Mesh Earring ($12) and Popcorn Stretch Bracelet ($12)
Outfit for the reveal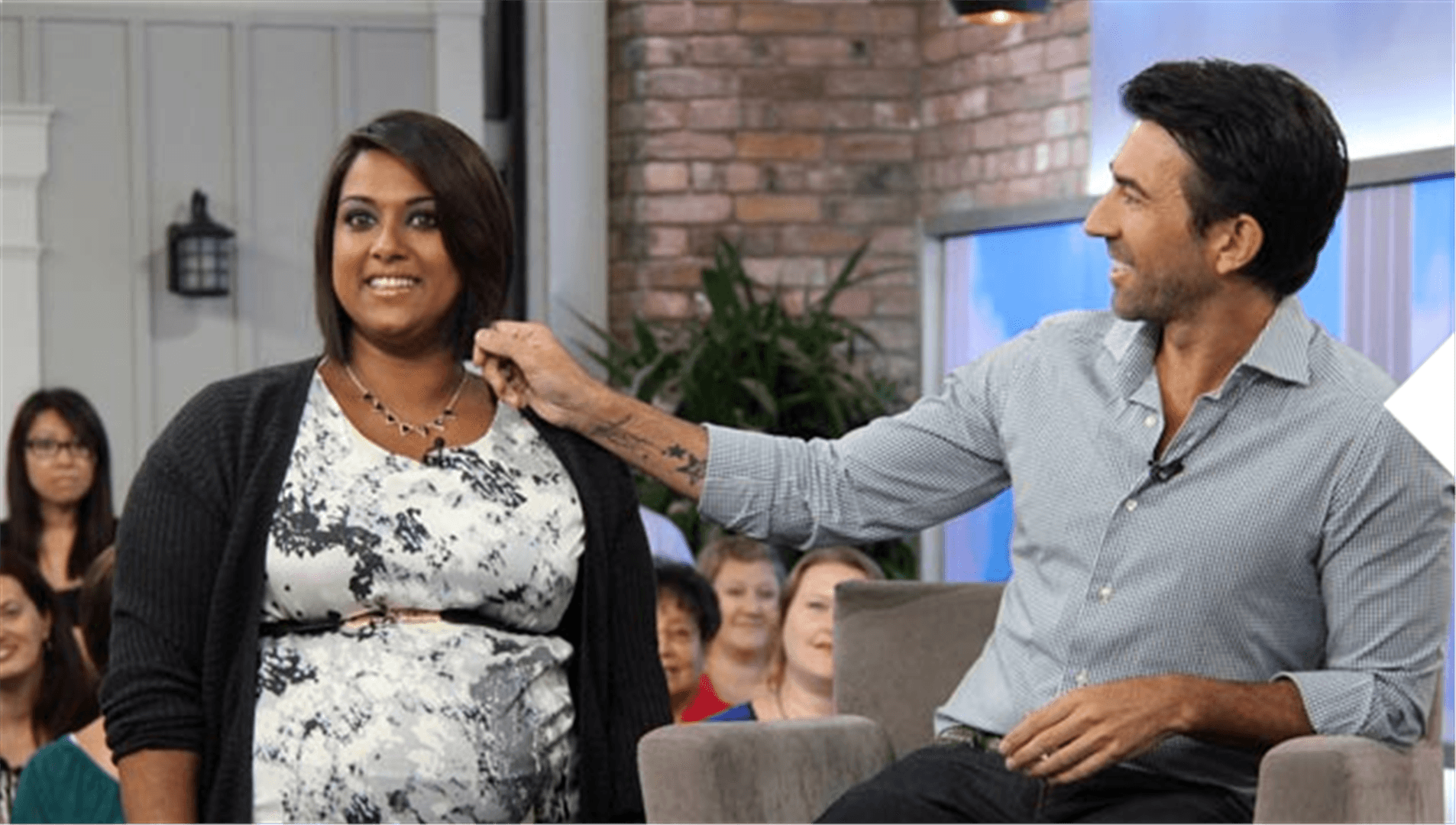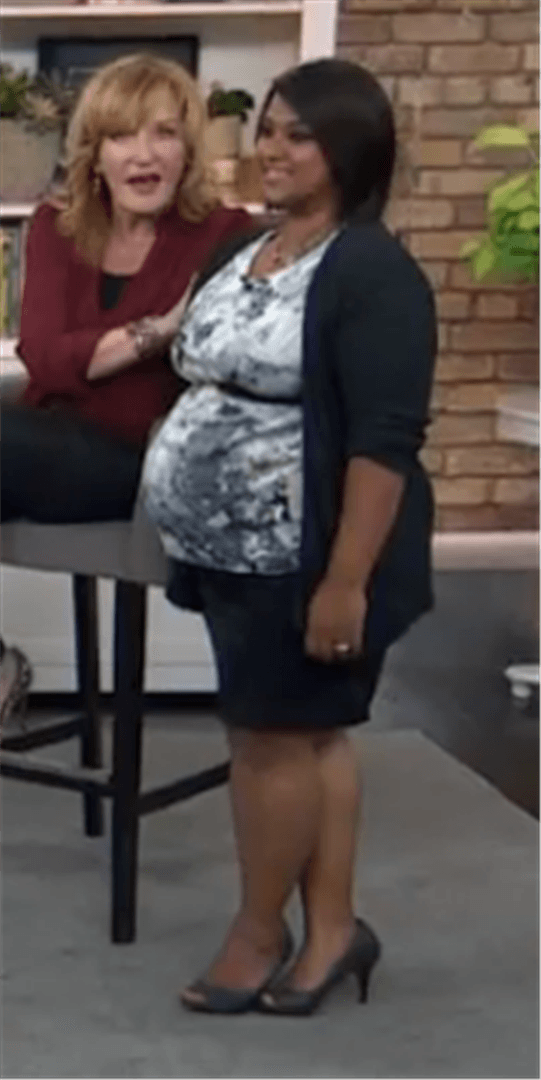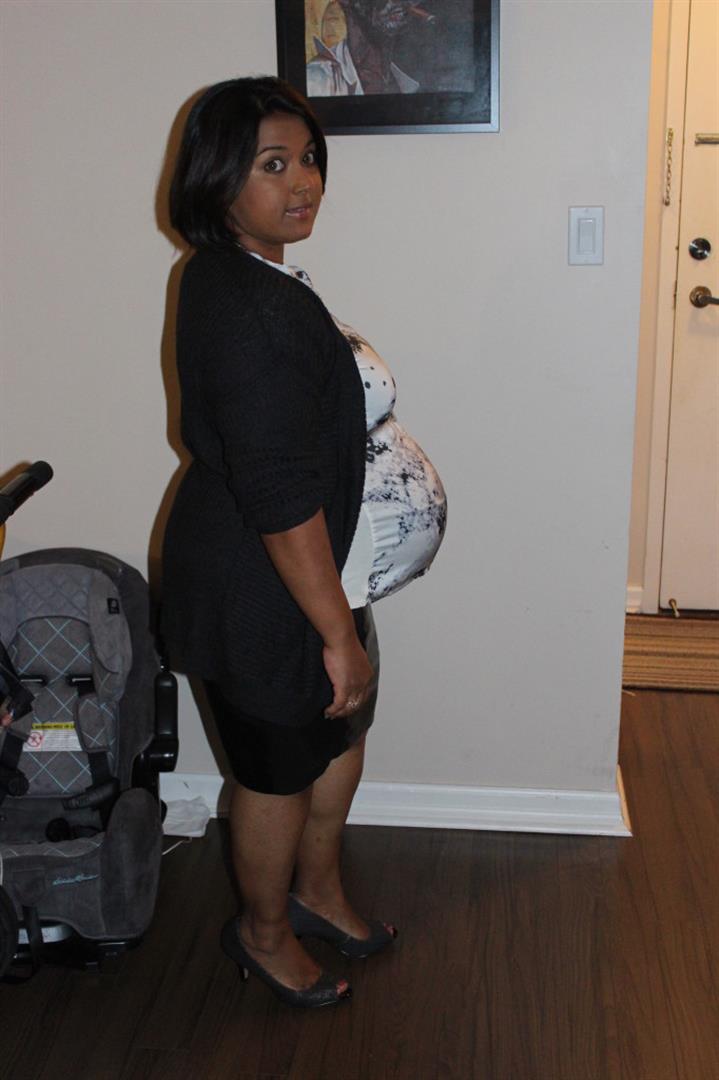 Thyme Maternity Faux Leather Pencil Maternity Skirt ($49), Short-Sleeve Watercolour Maternity Blouse ($45), Rib Wrap Maternity Cardigan ($55), Elastic Empire Maternity Belt ($20), Spike and Faux Leather Cuff  ($18) and Triangle Necklace and Earring Set ($20)
What happened on the day?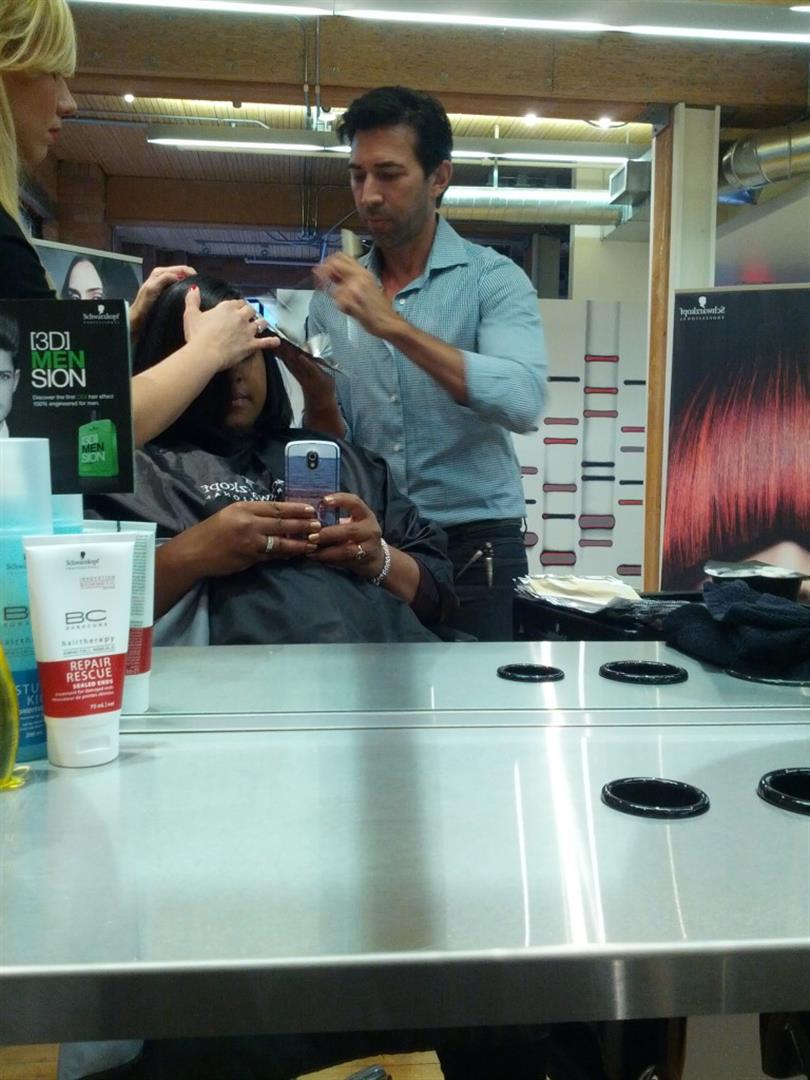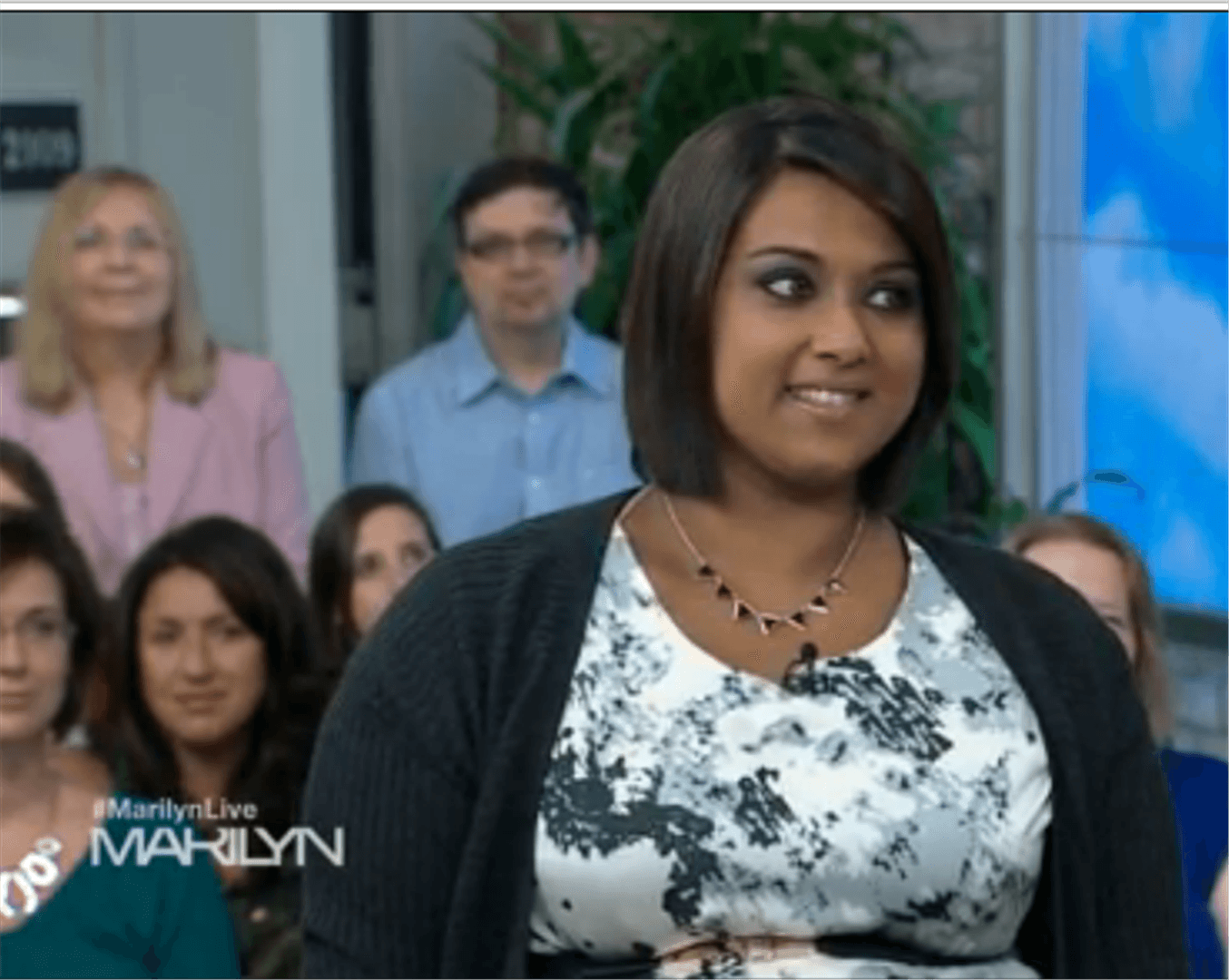 I turned up in my fab pre-reveal outfit sporting heels and met the charming Tyler Colton and his team for the day. I actually didn't realize how famous he was till that morning. This fella's done some REAL celebrity dos! Woah!! I was ready for him to whatever he wanted, he was the pro and surely he wouldn't make me look bad on tv! What I wasn't prepared for were the questions about why I wanted the cut. I apparently write better than I talk because I sent in some fab answers to the questions and had to be reminded by the interviewer on what I had said before. DOH!! Clearly the camera and editing guys are swell at their jobs because the final version doesn't make me sound as much of a ditz as I thought I would. PHEW!! Next things had to get busy because it takes time to cut, style, dye and get it all on camera. The pressure was on but we had a lot of laughs and some fake facial expressions to keep the audience on their toes. I turned up at 7 a.m. and by 10:30 a.m myself and the lovely Brandy were escorted for makeup and final touch ups. The make up artist did her magic and I was shocked by how little foundation she used on me ( I love my MAC !!) and was sure the coverage wasn't enough.. but who am I to complain. By 11:30 we were ready to go on set and in front of a live audience. What happened next is in the clip for you to see… it whizzed by very quickly and then I met some ex- coworkers for some food  truck eats. That's how I roll yo! 
Do you REALLY "Love" it? Would you do it again?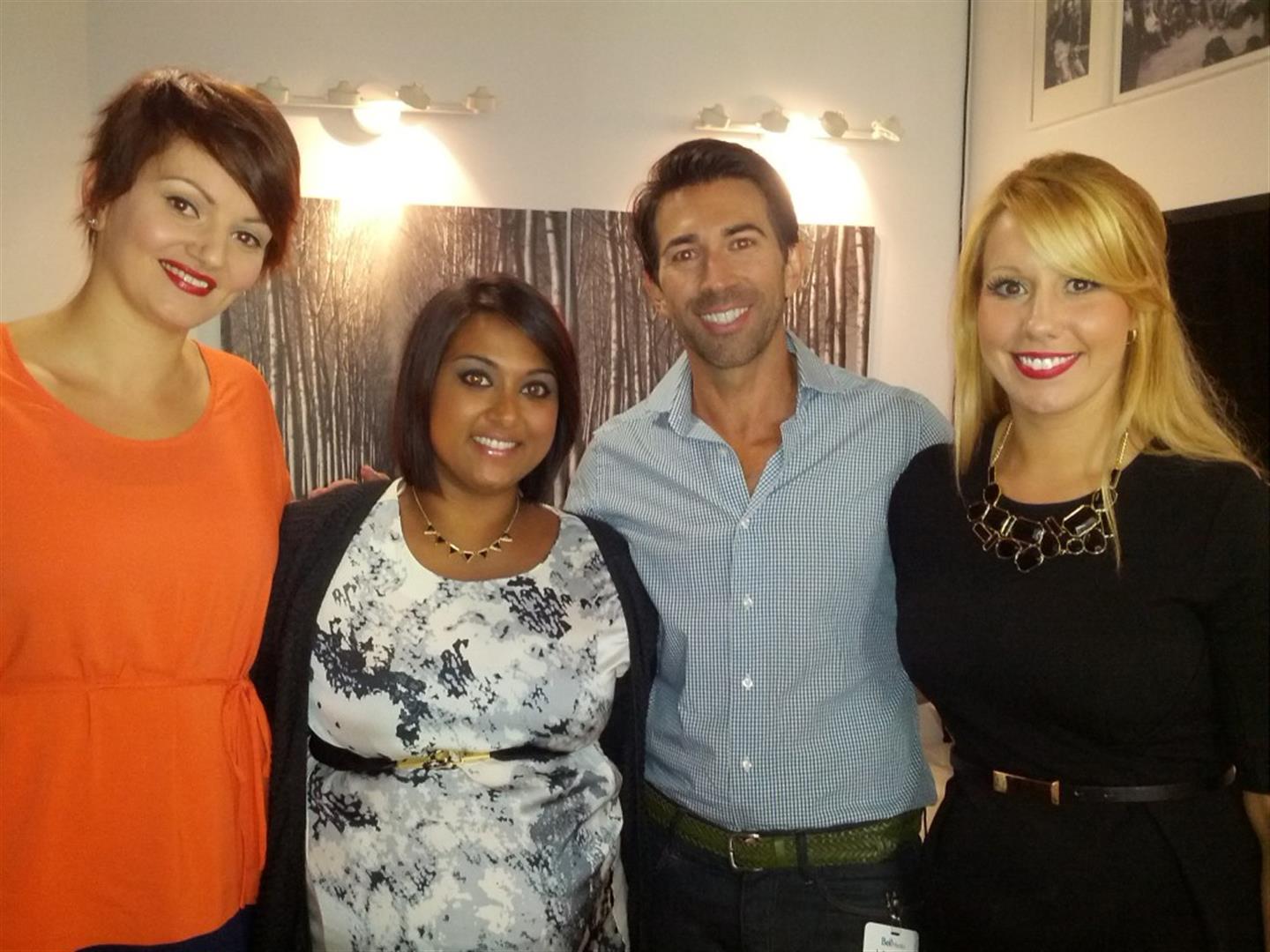 Change is always different and it takes a while to get used to… I knew I liked the cut but wasn't sure of the makeup, especially the bold smokey eyes but once again I just took it in stride and smiled on set. I was actually pleasantly surprised by how good it looked on tv!!
I picked up no tips on how to do my makeup or hair, so while my facebook page has been splattered with complements, sadly it does take a whole team of stylists to make one look that fantastic. I'm back to my regular look.
My advice is to trust what's being done and enjoy the ride. These guys are professionals and there's a reason you needed a makeover to begin with! I'd totally do it again! In a heartbeat. Now if only the Property Brothers would come back to Toronto so I can sign up for a home reno show!
If you want to see the HD version Marilyn Denis has it on their site.