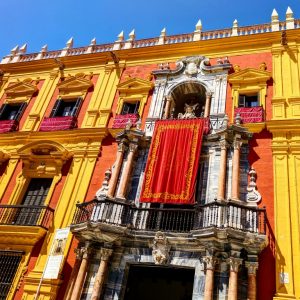 It's been a while since we've shared an update and we're here to say "sorry" in true Canadian fashion. If you follow us on our social media channels, you're aware that we have indeed left Toronto and are now exploring Spain. Today, we're sharing a little about our journey to Malaga, Spain and how we're roaming around Malaga with kids. We found a renter (wohoo!) and spent our last night in Toronto at the Chelsea Hotel and downsized ourselves to two suitcases. Now that we're here, we wish we took it down further…but we definitely need our stuff! Here's a quick video of us packing our stuff!
We checked into our Air Transat flight on April 5th and enjoyed some time at the Plaza Premium Lounge in terminal 3 near gate B24 (mind you, the international one is still my favourite). As usual, the kids enjoyed some fresh fruit while the hubs and I enjoyed a glass of wine and some Asian cuisine. In my rush I had forgotten to switch our Toronto house insurance policy and so, that's what I got up to on my last hour in Toronto! Our flight from Toronto to Malaga was via Montreal and I was super disappointed when our stroller didn't meet us at the gate, despite having gate checked it in Toronto. Luckily for us the Montreal and Malaga airports were both easy to navigate and the kids were in relatively good moods. Air Transat now has a new entertainment system where you can download the app to your phone, I was able to get it all set up whilst in the air but the hubs who is an Apple user wasn't. Be sure to download the app before your flight if you're an Apple user! Android folks, you're totally fine. We had some mini meltdowns but nothing major and so our arrival into Malaga at 10 a.m. the next day had us ready to tackle the day. The hubs was ready for a nap since he barely slept onboard during the overnight flight of 8 hours.
On arrival we had a slight fright of our luggage and stroller not being at the carousel (immigration was a breeze by the way, they didn't even ask us how long we'd be in the country for). An hour later we learned that they were on a completely different carousel. PHEW! An hour wasted we decided to take a van from the airport to the Home Exchange apartment we had booked. However, we should have just walked out and hailed a regular cab because what should have been a quicker trip delayed us another hour! The car companies in the airport lounge area in Malaga made us walk a fair bit and the driver got lost finding us…but we finally made it to the apartment a little past noon. Our host Eduardo met us and we settled in for our week in Malaga. Guest to Guest is a home exchange program where you use points so you don't have to exchange your home with the same person- with so many places to visit, finding direct exchanges can be hard! We plan to spend all of April exploring the Andalucia region of Spain with Guest to Guest so we'll be sure to share more after our travels through the region.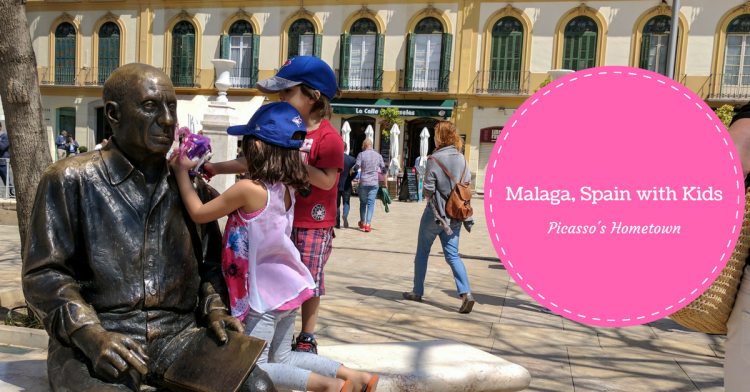 Malaga, Picasso's hometown, is a great port city that saw us walking a fair bit each day. We took it easy in Malaga for the most part and explored a bit while we figured out a game plan. The below video will tell you all about what we got up to in Malaga with kids. It's an easy city to navigate with a stroller (except for the Gibralfora of course) and despite attempting to dine out a couple times, we only lucked out once. The no. 1 spot on Trip Advisor, was quite good and we'll share more on that soon. For a majority of the time we cooked at home and stocked up on groceries. Fresh produce is SO much cheaper here that I THINK we're saving a few dollars when it comes to our grocery bills vs. in Toronto.

Malaga is a turning out to be quite the hub for travellers with so many low cost carriers making this city their destination in Spain. If you plan to explore Spain starting out in Malaga be sure to spend a couple nights here to unwind and learn about the city\s rich history. We found Malaga to be very kid friendly with parks, playground and bouncy castles at many corners!