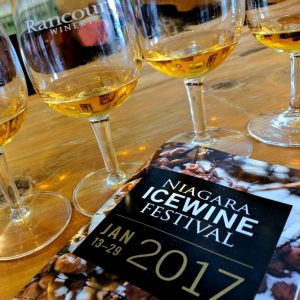 Canada is famous for Icewine and my dad absolutely loves this sweet and decadent liquid. Yet, despite visiting Ontario's wine country quite often, we had never made it to the Niagara region for the Icewine festival. With my parents being away and their Niagara on the Lake Bed and Breakfast being vacant, we decided to head that way with a couple friends (and the kids) to experience the Icewine festival first hand.
If you haven't had the chance to taste or learn about Icewine, know that it is a type of dessert wine produced from grapes that have been frozen while still on the vine. The sugars and other dissolved solids do not freeze, but the water does, allowing a more concentrated grape must to be pressed from the frozen grapes, resulting in a smaller amount of concentrated, sweet wine. This wine of Canada site has more details on the production and harvesting if you'd like more details.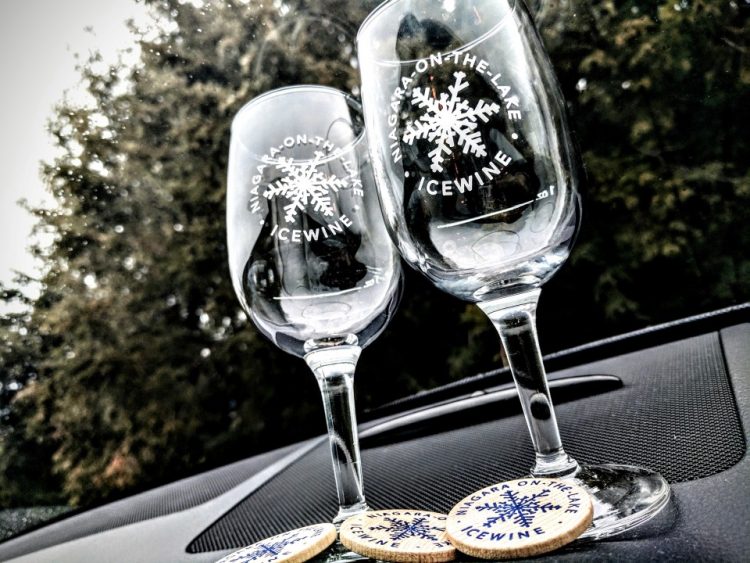 Niagara's Icewine Festival took place in January and for three weeks, the region celebrated Icewine in many ways. From the Xerox Icewine Gala, to wine and culinary pairings, and outdoor activities along the famed Wine Route, the 22nd Niagara Icewine Festival attracted Icewine lovers and those looking to learn more about the dessert wine.
I will admit that I did wonder how much Icewine we'd really be able to have in one day before it got to be too much for me and I'm here to tell you that even after 10 samples, I was ready for more. This was mainly because the region truly is innovative in how they serve and cook with Icewine.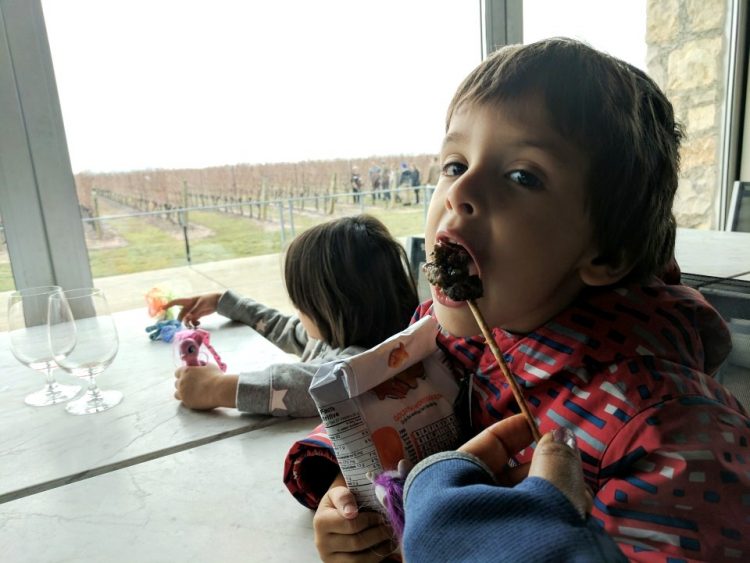 Our day started by visiting 8 wineries with the Discovery Pass. The Discovery Pass is similar to the Sip & Sizzle one we use during the spring and each winery we visited had an Icewine sample paired with an appetizer sized dish. There were over 30 wineries participating in the program and the Discovery Passes could be redeemed Friday to Sunday each weekend of the Niagara Icewine Festival. Priced at $40 (+HST) we did expect to be able to visit all the wineries (similar to Sip & Sizzle) but that was not the case. Given how busy the wineries were during our visit, I completely understand why only 8 wineries were allowed with each passport (we were able to pay $10 for each additional pairing had we chosen to do so). We did not rent a limo this time around and instead, enlisted the services of a friend's brother who chauffeured us around in his van!
What I love about the Niagara region is how kid friendly they are. No one batted an eye when Little Monkey and Baby Boy rolled in with our group of seven adults. The kids enjoyed a few nibbles (they shared stole from the hubs and I) and had their favourite wineries out of the  lot.  Each year they always say Peller Estates is their favourite. Mainly because of the rolling grassy patches they can play at (yes we lucked out with decent weather during our January visit and I was in flip flops!). I know, I know I shouldn't have let them have the pairing here but I couldn't say no to Marshmallow roasting requests and so my kids did infact enjoy Chef Jason Parsons' famous Icewine Marshmallows but don't worry the Cabernet Franc Icewine was all mine! The best and cutest interactive experience out of the 8 we visited, for sure!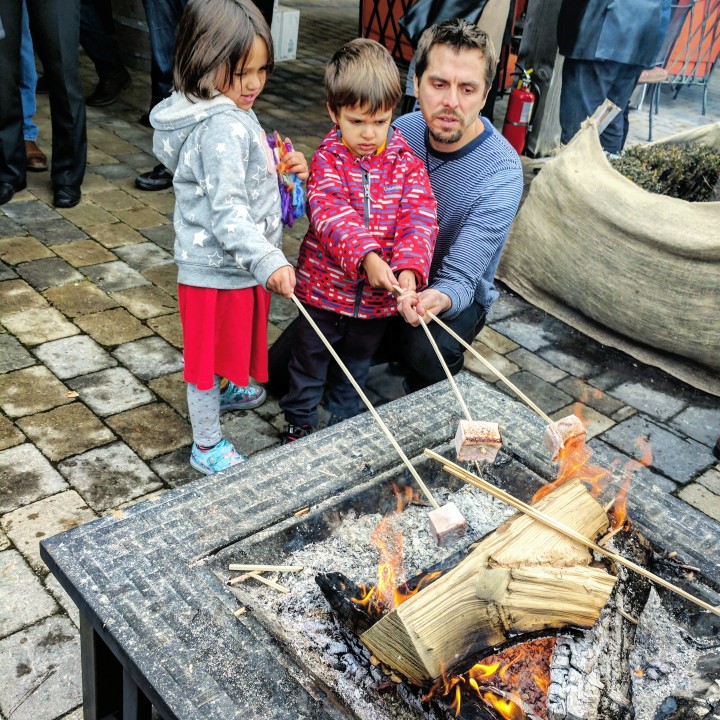 I loved our visit to Trius Winery because not only did Chef Dodd's delectable Pastrami Beef Sausage with Icewine Onion Jam pair perfectly with the sweet Trius Vidal Icewine, but we also had the chance to sit by a fire and chill as a group. Mind you, Little Monkey decided to have a bit of a tantrum and so I had some whine along with the wine and didn't get to enjoy it as much as the rest of the group did!
I had two spots that stood out when it came to the actual pairing: First up is Rancourt Winery who really surprised us with their pairing of  the Harvest Barn Wicked Thai Chicken Soup with their Gewürztraminer Icewine. Soup and Icewine.. who'd have thunk?! They also had space by their garage for the kids to play at, so that was a double win!
Inniskillin Winery  produces my favourite Icewine and their Chicken and Waffles was the perfect way to end our day with! Chef Tim MacKiddie's secret Icewine inspired sauce paired perfectly with our Riesling Icewine and I would love to get the recipe for it!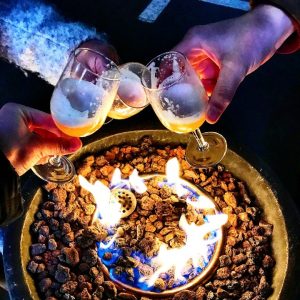 We decided to head home and enjoy a delicious dinner cooked by two of our friends and once the kids went to  bed, our friends started to fade as well. It had certainly been a busy but fun day! The hubs and I (and one of our friends) weren't quite ready to head to bed and so we decided to try our luck with Uber (we were too lazy to walk 10 minutes to Queen Street) to see if we could pop by the Flash and Panache Icewine Cocktail Competition. A small section of Queen street was closed off and various restaurants were sampling their entries into the cocktail competition. Everyone used Icewine as a base and the public got to vote on whose was best. Tokens could be purchased to try the samples and we made our way through sampling various cocktails. All cocktails were priced at two tokens and we sampled 10 drinks between the three of us. I love how innovative some spots were. Oh by the way, Little Monkey's favourite winery won this competition! An Egg White Rum and Icewine cocktail from Peller Estates! I totally love when my friends get lazy at times because we get to sneak out while they watch the sleeping tots!
The Icewine Festival may be over but there's plenty happening in Ontario's Wine Region all winter long. Don't let the snow keep you away!