This weekend we had a glorious time in Niagara on the Lake as we helped test run my parent's soon to be open B&B. We had the most gorgeous weather we've had to date this year and our weekend was filled with blue skies, green grass and 25 C days. While we did lounge around quite a bit on my parent's patio we also decided to swing by some of the wineries featured in the Sip & Sizzle program this year. As you may recall we've done this tour for the last nine years and so we were obviously excited to learn and explore about the 25 Niagara on the Lake wineries on feature.
During Sip & Sizzle each winery pairs one of their wines with a BBQ food pairing and you get to swing by every weekend during the month of May. What I love about this particular program is that your passport is valid all month long, including Fridays, which makes it easier to visit all the wineries on feature if you head back to Wine County a couple times. While we like to do these tours in a limo as a large group, this time it was just six of us on our own. With the sun shining on us Little Monkey joined us on Saturday as we walked to a couple wineries and then on Sunday we decided to drive around while the kids took their naps.
We got to eleven of the twenty five wineries and here's what we had!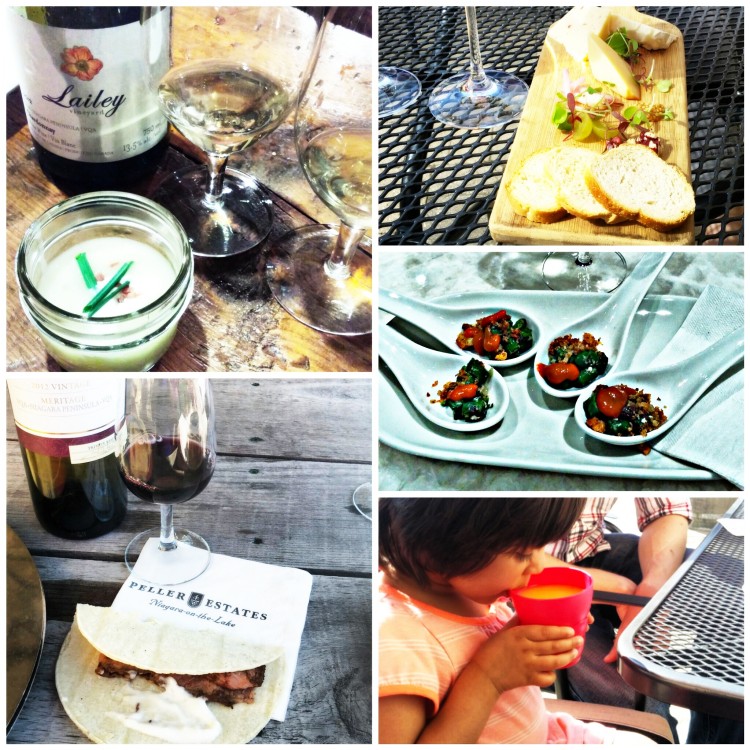 TWO SISTERS WINERY featured their 2013 Sauvignon Blanc with charred asparagus salad with aged pecorino. A greatr idea for our rooftop BBQ sessions!
PELLER ESTATES WINERY was Little Monkey's favourite spot and she insisted on us allowing her to picnic on the grass. Given that there was a great patio here we decided why not! She frolicked in the grass and we enjoyed a bottle of Rose on the patio with a couple cheese and charcuterie boards. This winery impressed us by bringing out juice for Little Monkey in a plastic cup! We loved their 2012 Private Reserve Meritage which was paired with BBQ smoked beef brisket with roasted garlicand& horseradish aioli on a grilled tortilla. Everything was fab except for the corn tortilla which was a bit too dry.
LAILEY VINEYARD wins for their 2012 Chardonnay and leek soup shooter. The soup was delicious and I totally regret not getting the recipe. We only hit three wineries on our first day as we were walking to the wineries vs. driving and it ended on a high note because of the soup.
JACKSON-TRIGGS NIAGARA ESTATE WINERY had the most delicious Miso-grilled Ontario beef ribs with scallion & ginger "salsa" to greet us on Sunday morning! It was paired with their 2013 Reserve Meritage and our second day was off to a great start.
STRATUS VINEYARDS had a very interesting combo with their 2012 Kalabang Red and a chorizo, charred red onion & eggplant mixture. It was served cold and unfortunately our server wasn't able to tell us much about the pairing but it was a happening winery as there were plenty of food trucks at an event happening there.
PILLITTERI ESTATES WINERY served us some mango habanero wings with their 2012 Gewurztraminer and I loved that they thought about the little things. We had an aioli on the side (incase it was too spicy) and wetnaps (to clean our messy fingers). They even offered wings and legs which was truly impressive.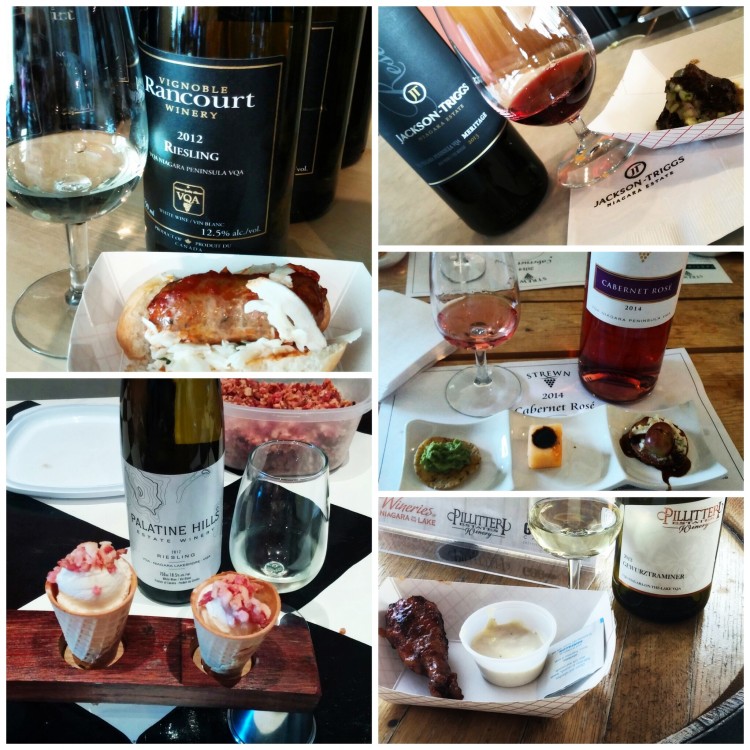 RANCOURT WINERY was a favourite for a couple of us mainly because of the delicious ginger chili lime sausage that was grilled with a peach BBQ sauce and served with coleslaw. I was expecting a red pairing here but instead they had a 2012 Riesling which went quite nicely with the dish.
HINTERBROOK ESTATE WINERY had the friendliest staff of the day. Here they served us their 2013 Sauvignon Blanc with a prosciutto-wrapped lime chicken skewer that had a medley of Mediterranean vegetables and goat cheese.
KONZELMANN ESTATE WINERY featured a 2012 Barrel Aged Merlot with baby back ribs that had an ice wine and Whiskey infused BBQ sauce. It was also accompanied by Niagara maple baked beans which was quite delish!
STREWN WINERY had the best presentation. They offered their 2014 Strewn Cabernet Rose with a sampler trio of Melon with balsamic drizzle; Flatbread with goat cheese and rosemary EVO oil and a pea & mint mash
PALATINE HILLS ESTATE WINERY wins for the most random combo! Who knew that a 2012 Riesling would go so nicely with a maple ice cream cone drizzled with bacon? So fun and a great way to end our hot day!
You still have four weekends to explore Sip & Sizzle and since this year the tickets are electronic you can buy them at the very last minute! Be sure to get out there and explore the region given the lovely weather heading our way!