This post is part of the YummyMummyClub.ca and Ontario's Southwest Build Your Best Beach Vacation, #YMCBestBeaches sponsored program. I received compensation as a thank you for my participation. This post reflects my personal opinion about the information provided by the sponsors.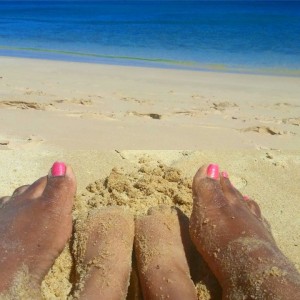 On our Portugal trip in early May, I was bitten by the beach bug, so since our return, I have been making it my mission to explore Ontario's beaches….what is that I heard you say? "What beaches?"…well let me tell you! This month, we have visited Britannia Beach in Ottawa and Woodbine Beach in Toronto – neither had waters warm enough for us to swim so I started to do some research. I soon realized that those weren't even the best beaches available in the province!
The kids love the sand and I enjoy the company of friends as we watch the kids amuse themselves. So I'm hooked. The beach is a magical place when it comes to my kids because they are now finally self-sufficient at entertaining themselves under our watchful eye. With a couple long weekends heading our way and because I have never had the quintessential cottage experience, my friends have tasked me with a mission. My mission is to find a beach destination that is within a couple hours of driving AND one that will satisfy our group's desire to hang out in a beach town with plenty of fun for all.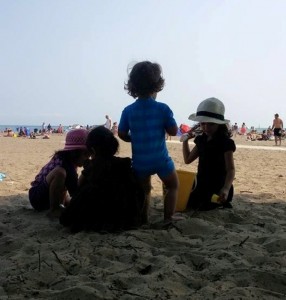 Tall order if you add the fact that we're a group of 8 and will have 4 kids along! I asked around and was directed towards Ontario's Southwest region.
Did you know that Ontario's Southwest is home to 13 of Ontario's best beaches and 5 of them are less than a 2.5 hour drive from Toronto? Why has no one told me this secret in the last ten years of me living in this province?
One of the main challenges I've encountered with beach destinations is that there isn't much in the area and since I can't sit still love exploring spots with new experiences and restaurants to dine at,
I also found a bunch of deals on the site to save at hotels, restaurants and attractions. There are some activities for school-aged kids and many others that are more adult-focused (save those for a couples' getaway!). I was shocked to learn that many of Ontario's Southwest beaches have warm waters, nearby wineries, adventure activities (keep me away from the Zip line courses!) and some amazing chefs to welcome the many hardnosed Torontonians that head their way.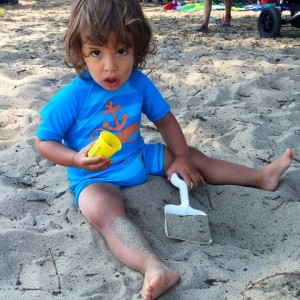 August is my birthday month, so I plan to kick off the month by choosing one of the many beach destinations that can accommodate a group our size and if all goes well, I plan to do the same for the September long weekend.
I'm not the camping type, so I'm looking for a decent cottage or resort-like property to sleep as close to the beach. The shorelines of Ontario's Southwest offer some unique natural scenery that has me yearning to head towards the warm waters. I rarely get into the waters in North America because it's so cold but I've been told that the waters here are quite warm.
Did you know that there are 25 beaches and 6 marinas in Canada who have received the Blue Flag status for commitment to strict water quality and safety criteria – and 3 of these beaches are in Ontario's Southwest? Needless to say, I was looking for those when I was researching the website.
I started my search by trying to decide if I wanted family friendly fun, one of a kind landscapes or best in class beaches. Then I thought…can't I have it all?  No, I can't but I can have two out of the three based on my quick glance at the site! I love that the site makes my life easy by offering suggestions based on what we're looking for. Within fifteen minutes of perusing the site, I was able to narrow down my favourite choices: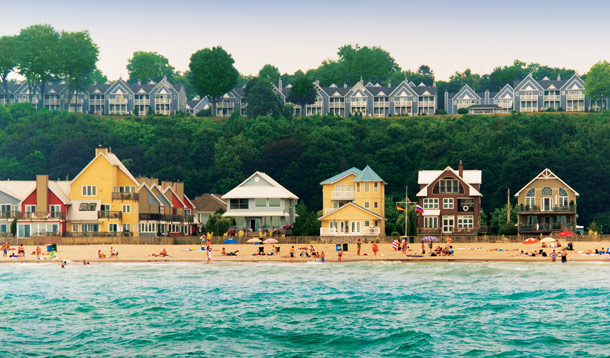 Port Stanley : Blue Flag status Main Beach also has a quieter sister beach (Stanley's Little Beach) for when you feel prefer a quiet, lazy beach session. I also read that there's a shallow entry which means toddlers can safely splash around under your guidance. You can find over 60 cheesecake flavours here so my lips are already smacking away! Little Monkey loves to Kayak and that's something we can easily do if we visit Port Stanley's beach. Picturesque sunsets awaits at Port Stanley which is one of the longest stretches of sandy beach on Lake Erie's north shore.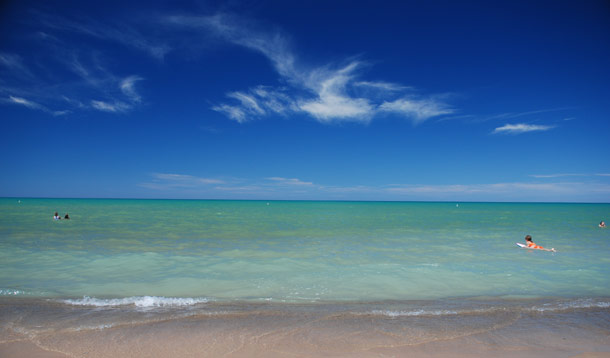 Grand Bend : This Blue Flag status Main Beach also has a quieter South Beach and both of them have soft sandy shores. I'm envisioning a picnic here with me reading under the shade of an umbrella while the kids and the hubs build sandcastles. This area is also home to some culinary delights like Smackwater Jacks Taphouse and the Oakwood Resort. There's a splash pad and playground here so you don't have to deal with the sandy bums if you don't want to!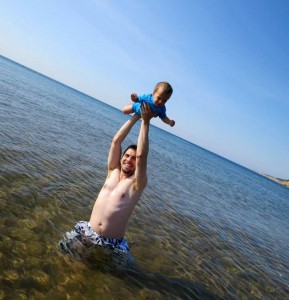 Now I just have to narrow down our accommodation options and share it with our group.
Which beach do you think we should head to?
This summer, instead of getting steamed up in cottage country traffic, chill out on some of the province's best beaches in Ontario's Southwest.
Check out more great stories and information about beaches in Ontario's Southwest: