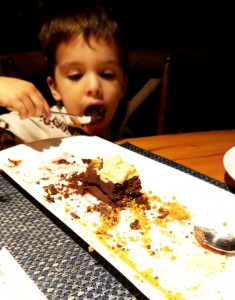 You may recall that Ravine Vineyard's restaurant was on my must eat at list for a while and over the Christmas holidays we finally had a chance to swing by and dine there one evening. It was my parent's anniversary and the only reason I decided to get out of my PJs and dress up for a nice evening out with my parents, the hubs and the kids. I  had heard many amazing things about this spot from my parents and fellow food lovers from Toronto and so I  knew I had to make reservations to secure a table for us all – that was smart thinking!
On arrival, Little Monkey was in a grumpy mood over something or another, so the two of us lagged back as the rest  of our group headed into the main room and was seated. Warm wood tones surrounded us and we had a nice view of their garden where the sun was setting. I did notice quite a few families, a few of them with very young ones along, dining happily and so these guys (just like the rest of Niagara on the Lake) are no strangers to families. The restaurant did have a comfy and casual area at the front where things were a bit more laid back and would work well on days when you have a whiny one along – it's where Little Monkey and I went when we needed a small break to discuss her emotions.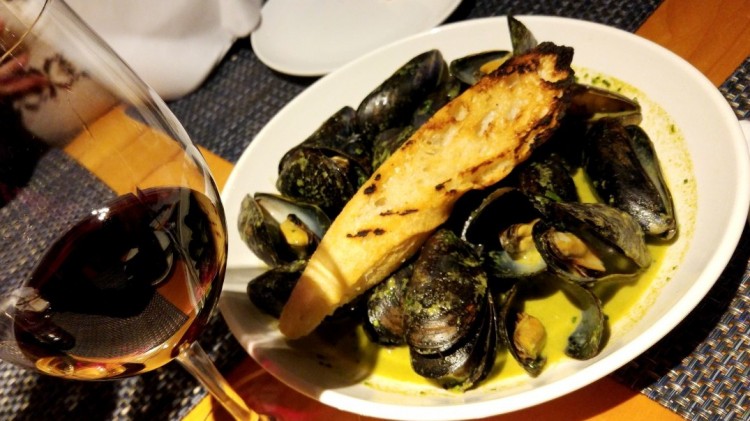 Given that Baby Boy is refusing to sit in an high chair (on most days) we all sat on regular chairs and perused the menu. One thing I will have to say is that our server was a bit awkward and immediately went on to tell me that there's nothing for kids on the menu, which did irk me a bit. Mainly because I was planning on ordering regular dishes for them anyway! The hubs and I decided to order the Coriander Mussels for our starter and it was good, not the greatest but good. I decided that I would share the Arctic Char with the kids, but little did I know that the two of them would DEVOUR the whole meal. Seriously, I needed  to order another one for myself! The dish came with duck fat potato, brussel sprouts, a lemon aioli, wild rice and a parsley emulsion which I licked clean. The hubs ordered the Slow Braised Beef Short Rib which came with buttermilk whipped potato and a delicious horseradish 'ravigotte'. A bit of spice was a nice touch.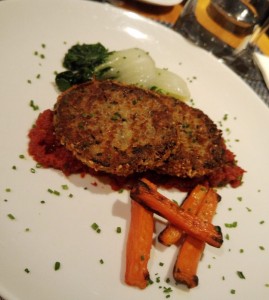 Ravine Restaurant bakes their own bread, raises their own pigs and grows certified organic vegetables – now that's real farm to table folks! There's definitely much love that has gone into the menu and the proof was when my picky vegetarian mom tried to convince our server that she would like an alternate vegetarian dish. Luckily he convinced her otherwise and she LOVED her Sesame and Parmesan Crusted Eggplant dish that came with a  tomato fondue, bok choy and honey candied carrots (which Baby Boy stole).
We decided to share some desserts and I managed to tell our server that it was my parents' anniversary and he brought out the dessert with a nice little wish. That was a lovely touch and wonderful way to end our meal. As we were packing up to leave the kids received compliments and smiles from a couple servers and so they were pleased about that. We always stock up on a couple bottles from Ravine during our wine tours and while I'm still a bigger fan of their wine than their food, I can see us returning in the future.