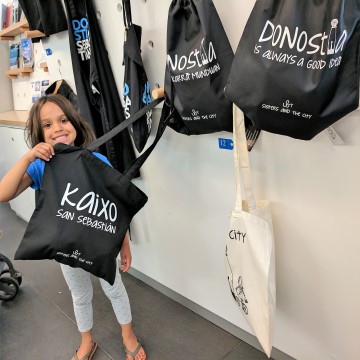 Our final stop during our two month tour through Spain was San Sebastián with our kids. It was one of those spots that I had high expectations of because so many of our friends had told us how amazing a city it was. While it wasn't easy to find a GuestToGuest home in San Sebastián, we did find a lovely gent who told us that we could stay at his place while he went and stayed with his mom. How nice was that? He wasn't even travelling and offered us his place for our three night stay. That online interaction made me realize that we were in for a treat during our visit to the mountainous Basque Country as we made our way into France.
We drove into San Sebastián (also locally known as Donostia) from La Rioja and arrivde early in the afternoon which gave us two full days to explore this small city. It has a beachtown vibe that's mixed in with some history and an amazing culinary scene. It was in San Sebastián that the hubs discovered the best Spanish craft beer and the Parte Vieja (Old Town) was definitely our favourite part of the city (stroller friendly despite the car free cobblestone roads). I should also mention that the entire downtown area has a floral fragrance that will followed us throughout our two days. The brightly coloured flowers and the lush greens will forever be in my memory.
San Sebastián Beaches 
Many visit San Sebastián for the beaches but during our visit in June it was rather cloudy and we even had a bit of a mishap at the beach. Little Monkey loves the water so we took her (and our stroller) to the La Concha beach one afternoon. There was a lovely flat sandy area for us to laze around at and the kids were playing in the shallow water (wasn't even reaching their ankles) when out of nowhere the water gushed past all of us (drowning my kindle, soaking my Pixel phone and wetting everyone and everything). It honestly made me think about the tsunami that took place in Sri Lanka. It was wild and a bit scary to be honest. There were many on the beach and everyone left scurrying for safety. When I mentioned it to a local they laughed a bit making me think that sitting by that beach is a very tourist thing to do and perhaps not the safest spot to lounge by a beach!
San Sebastián's Gastronomy and Craft Beer 
This delicious city not only has the most bars per square meter but it also has the most Michelin star restaurants in the WORLD after Kyoto, Japan. So you know you have to spend most of your time eating here. That was exactly our plan but we quickly figured out that restaurant reservations needed to be made months in advance. OOPS! So between the craft beer crawls we just went for a stroll on our own and discovered some Pinxtos (Basque style tapas) that kept us every happy. Our wallet was also happy with our inability to enjoy a Michelin starred meal, truth be told!  I will highlight that most of the bars and restaurants are quite tiny so it would be best to divide and conquer. One of us parked ourselves by the many tables outside the bars while the other went in to order. We found that most spots were open from mid afternoon and only got busy around 8:30 p.m. so we noshed mostly during the day and enjoyed early meals before parking ourselves on a patio come 9 p.m. so we could enjoy a few drinks instead of fighting for the coveted spots at the pinxtos bars.
Thinking about last night's @SSTurismo eats! So much good food here.So little time! #sansebastiantourism #kaixodonostia #MurphysDo148Days pic.twitter.com/ZPjpufGFXO

— Yashy Murphy (@YashYanthi) June 12, 2017
Here's some spots that put a smile on our faces :
Bardulia was a random find and Baby Boy was thrilled to find foie gras here. They have most of their tapas on display so it was easy to pick which ones we wanted.
Bar Ganbara : This is actually one of the first Pinxtos bars in the area and they serve a few of the popular local favourites.
Beti Jai Berria : Oh boy was this place busy when we arrived at 7 p.m.! Luckily we nabbed a table at the back and our server was more than happy to bring us what we wanted from the busy bar (which is where the tapas were laid out). She also recommended that we try some of the rations (larger plates) which is how we ended up having our only full meal in San Sebastian. This spot is a bit pricier than the others but they offer a great selection of dishes and offers a nice sit down area.
Mala Gissona Beer House is a great spot to chill on a patio and enjoy some amazing craft beers. Sadly the kitchen wasn't open during our visit but we heard they have good burgers.
Bar Desy not only has some great craft beers but this cozy narrow spot offered some amazing tapas and we were lucky to get one of the few tables by the side of the restaurant (so we could park our stroller).
Pub Drop is where we ended up at 9 p.m. for a few drinks as we watched the sun go down on the horizon. Some good craft beer options can be found here.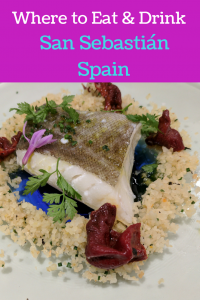 Ironically during our last night I ended up sharing a tiny table with two ladies (while the kids ran around the pedestrian only street and the hubs was inside grabbing us some drinks and pinxtos) and I learned that one of them was taking a food tour and visiting from NY while the other was the owner of Discover San Sebastian, a food tour company! Oh the irony. One of my plans is to leave the kids behind and head back to Logrono or San Sebastian with my friends and WHENEVER I do that, I plan to do a food tour just like we did in Granada!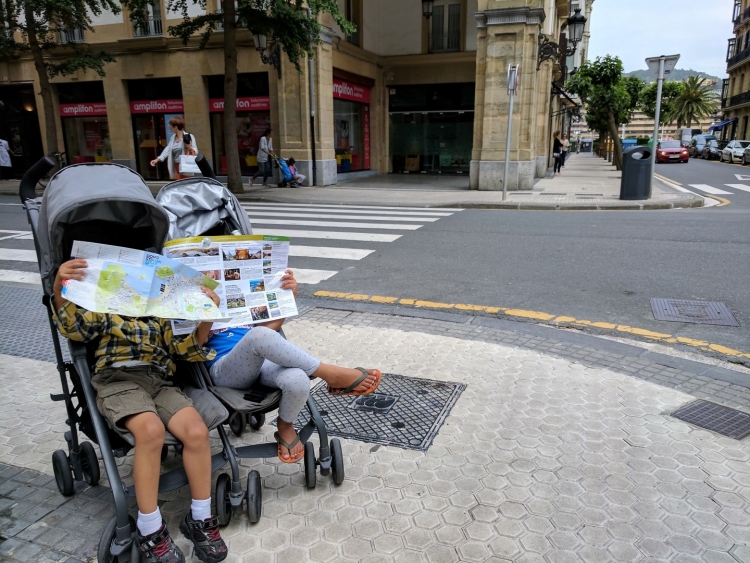 San Sebastián's Attractions
Don't worry, if you're fully stuffed from all the amazing pinxtos there's a few things to do during your visit to San Sebastián. I was aspiring to follow this 3 day tour through San Sebastián however we ended up eating and strolling for the most part. Little Monkey and Baby Boy wanted to visit the playground and the carousel daily and since it was right by the beach and offered a pretty view, we obliged. We also took the hop on hop off train and bus… yes they have two of them in this small city and the kids liked the train best. We got to view the bridges and get a good feel for what lay outside of the old town. There's many architectural sites and buildings one can visit, as well a popular aquarium and funicular as well but we did not get around to those kid friendly things on this visit.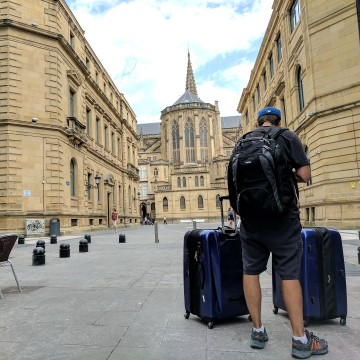 If you're visiting Spain, this Basque country destination should be on your list if you're a craft beer or food lover and don't worry, there's plenty to do with kids and they're welcomed with smiles!