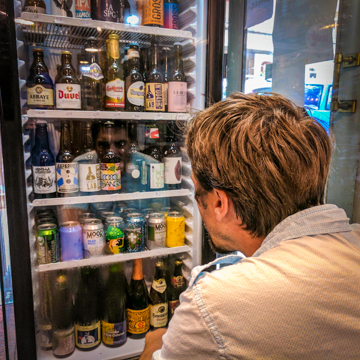 The best craft beer scene I found in Spain lies in San Sebastián, which was the last city our family visited during a 42 day trip to Spain. The city contains a number of great pubs and is small enough to allow beer lovers to visit them all, an adventure we partook during an evening exploring the city. We only spent two days in San Sebastián but discovered an amazing food scene and an unexpected craft beer hotspot. The city's beautiful beach, La Concha, lies within a 10 minute walk of the old town, where one can find some amazing tapas bars and a number of Michelin Star restaurants.
We made sure to sample San Sebastián's great food scene, but I was eager to discover its beer. After consulting with a local beer lover (who was also our GuestToGuest host) and conducting a Google search, we mapped out a trip that would take us to four craft beer stops, each within a 10 minute walk. The charming city is a perfect place to walk around, making the tour fun for the whole family. Here is the a summary of the places we stopped into: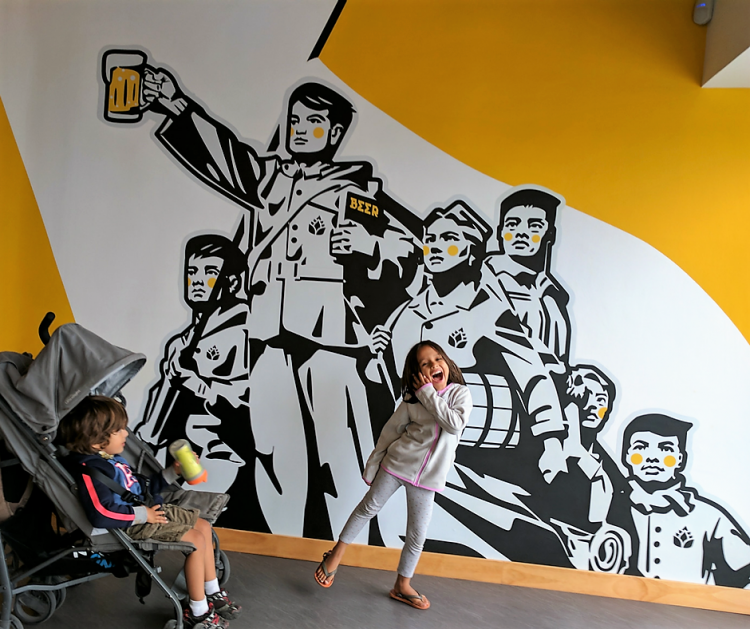 Mala Gissona Beer House
I like to focus on drinking local beers while travelling. In Spain, I was slowly discovering regional breweries but finding their offerings was tough. Often, the only time I would find local craft beer was in specialty shops, usually in a limited selection. At Mala Gissona, I found over 75 Spanish craft beers, a veritable gold mine. The pub produces their own beer off site, and those are the only beers available on tap, and so we ordered the Red Rye Ale and the Porter, both very good beers.
I then moved onto the bottle list, lamenting that I was on a beer tour of San Sebastián and would have to move on after tasting only two beers from the list. We went with the two Sour Ales available, the intriguingly named Sangria Sour from Barcelona's Edge brewery, and the Avet, from Segarreta, which is located in Santa Coloma de Queralt. The Sangria Sour was especially good.
We were starting our tour at 5:00 pm on a Monday, since most establishments in Spain don't open until at least that time. Mala Gissona normally offers a food menu, but not on Mondays, which was unfortunate as it would have provided me with an excuse to stay. I reluctantly left, but was happy to have finally found a bar in Spain that offers a wide range of craft beer.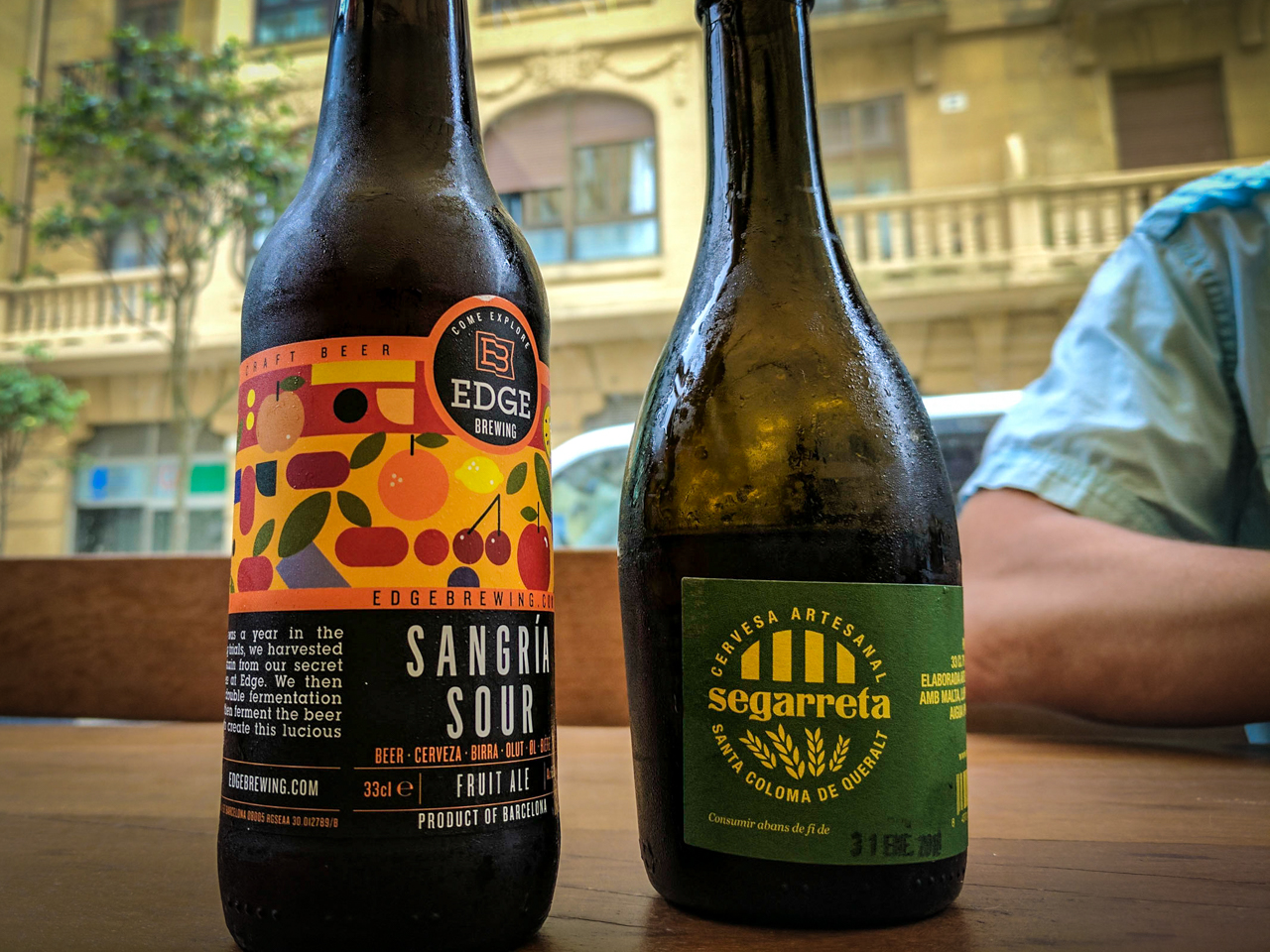 KAÑABIKAÑA Craft Beer Shop
This beer shop is small, but filled with treasure. I found a number of local brews, beers from Belgian and US, and even a few from Canada. KAÑABIKAÑA is mainly a beer shop. Patrons are free to drink beer on site, but it's really a place that allows locals to buy a few bottles or fill up a growler to go. The shop features almost 20 draft offerings in a range of styles. Like most craft beer shops in Spain, the prices are high, even for the locally produced craft beers. We picked up a few Canadian beers as a gift, paying 2.5 times the price we would in Canada.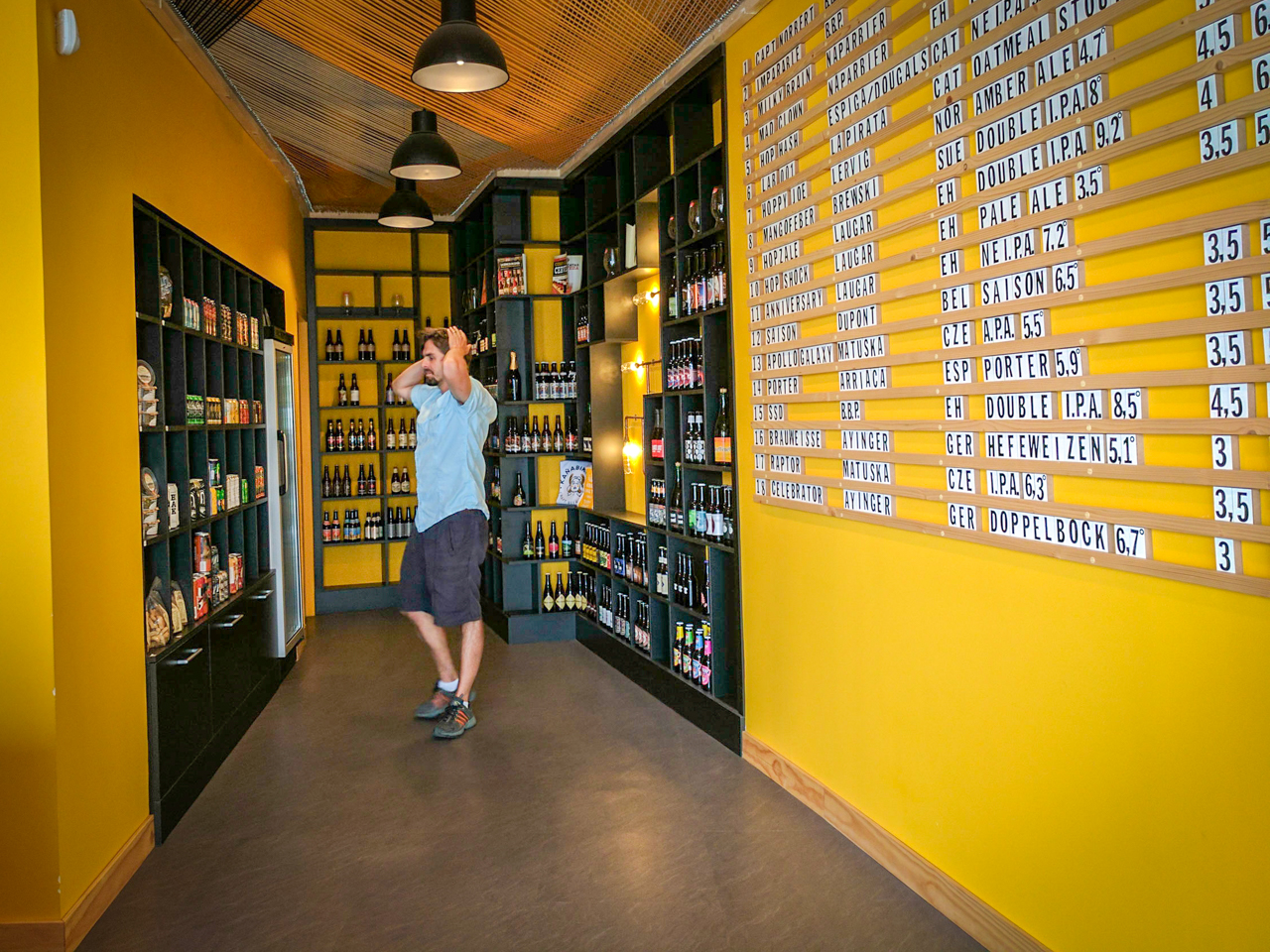 Bar Desy
After our visits to Mala Gissona and KAÑABIKAÑA, places which did not have food available, we were thrilled to walk into Bar Desy to find tapas available at the bar. Like many of the great tapas places we found throughout the city, the offerings were lined up on the bar, awaiting hungry customers. We ordered a number of great tapas, two of which were seafood based and delicious.
The beer selection at Bar Desy was eclectic, but very good. The small bar offers only two beers on tap, but a fridge to the right of the bar contains a number of goodies, which included a few selections from the Cantillon Brewery on the day we visited. I also spotted a few good American beers as well as some local craft offerings. With its great mix of food and beer, Bar Desy is a great place for beer lovers in San Sebastián. The bar is small so most patrons will order food and drink to enjoy on the patio outside.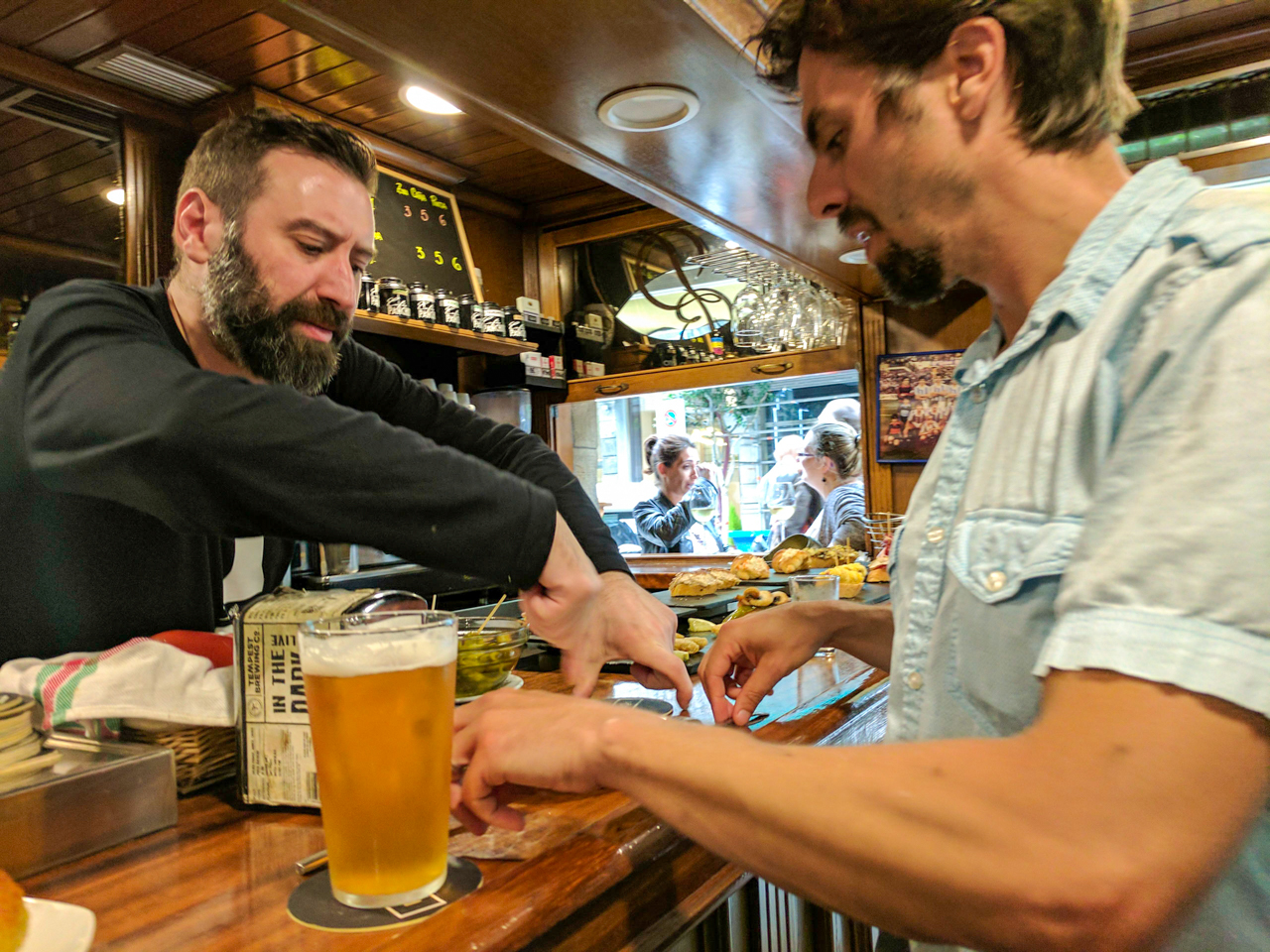 [themify_hr color="gray" width="100%" border_width="1″ ]
Watch our weekend recap of San Sebastián
[themify_hr color="gray" width="100%" border_width="1″ ]
Pub Drop
From Bar Desy, we crossed the Kursaal Bridge and walked into the old town to visit Bar Etzeberria, only to discover that it was closed on Mondays. Undeterred, we continued on to Pub Drop, which is located near the towering San Sebastián Cathedral. We arrived after dark to find a great outdoor patio with a view of the Cathedral and a nice tap list that included some well known Belgian beers, plus a number of other offerings from around Europe. Pub Drop was a great place for our nightcap, and since it was located close to our GuesttoGuest apartment in the city, we didn't have far to go to get home.
Doing a craft beer tour of San Sebastián is an ideal way to spend an evening in the city. After completing our route, I realized that the more ideal order would have been to start at Pub Drop and end at Mala Gissona, giving us a chance to sample more of the latter's extensive bottle list. Doing the tour on a Monday was not ideal either, since Bar Etzeberria was closed and Mala Gissona was not offering food. However, we still had a great time. During our last day in Spain, we had finally found a great selection of Spanish craft beer.